The inaugural Chattanooga TT took place during the Chattanooga Motorcar Festival back in October of 2019. That event welcomed a host of cars of many different vintages, makes, and models, including an IndyCar racer, two Lola T70s, a pair of GT40s, a Cobra, two BMW CSLs, a Lotus Super-7, several Porsche 911s, and even NASCAR driver Bill Elliott driving a 1970 Boss Mustang. All of those cars hit the track vying for the ultimate prize – the Overall Fastest Time award. But it wasn't any of those aforementioned machines that took home that distinction. In fact, it was a classic 1973 Ford Capri.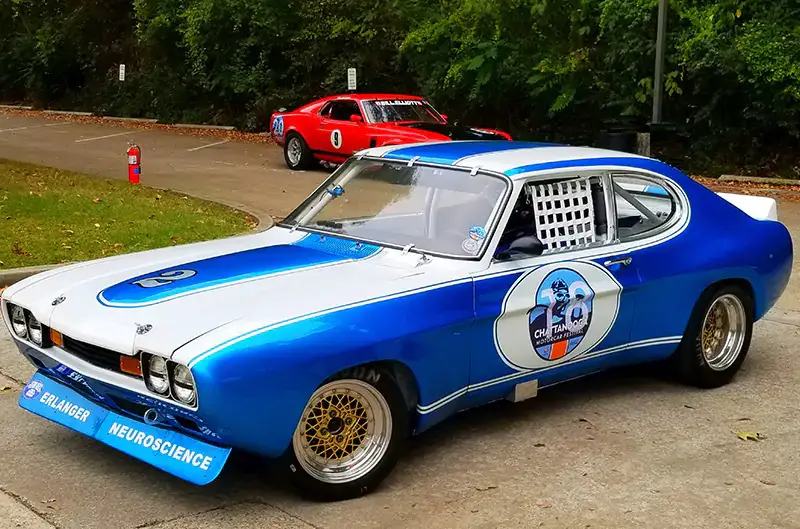 Of course, the winning car wasn't just any old Ford Capri. After all, even the top dog '73 Ford Capri RS 3100 only offered 146 horsepower, 192 pound-feet of torque, and a scintillating 0-60 time of 7.6 seconds. No, this particular Capri is actually a former Trans Am race car campaigned by driver Sam Posey and team owner Harley Cluxton.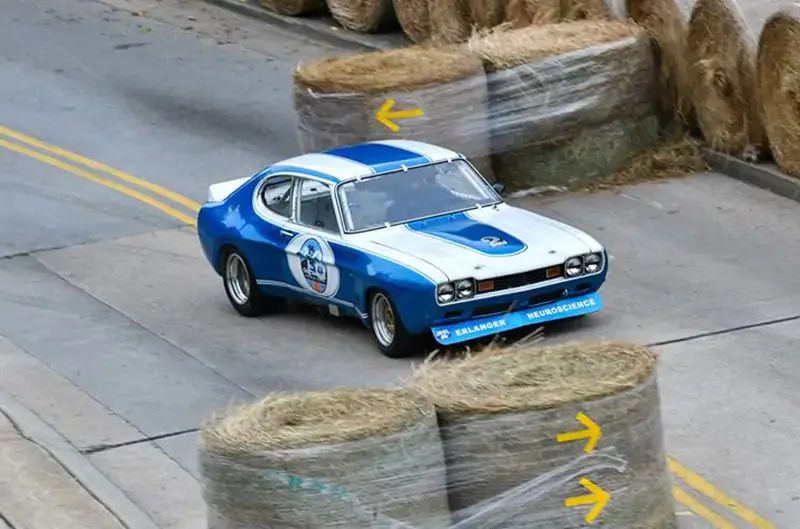 The '73 Ford Capri in question packs a rare 2.9L Weslake Essex V6 engine with mechanical fuel injection that produces around 300 horsepower. That doesn't really sound like much, but we must also consider the Capri's svelte curb weight of just over 2,000 pounds. That superior power-to-weight ratio made this classic Ford quite competitive back in 1973, as well as at last year's Chattanooga TT.
Today, the Ford Capri racer competes in all sorts of vintage racing events and is owned by Norm Murdock, founder of the Capri Club North America. Murdock also owns Team Blitz, a seller of Capri restoration and performance parts, and drives the car himself. Murdock also competes in various SCCA events behind the wheel of his T1 2013 Mustang Boss 302 and F-Production Capri 2.0L.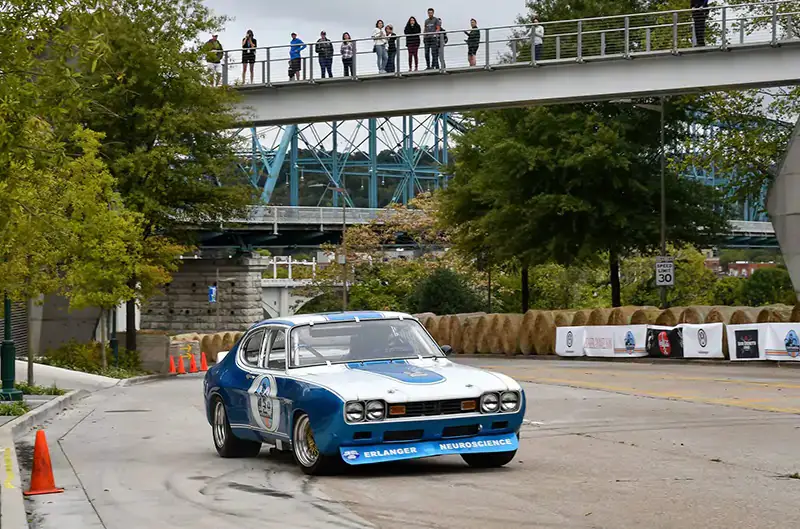 Sure, it's a proper race car with a winning history, but the fact that an old Ford Capri managed to out lap some pretty serious machinery is undoubtedly notable. And also pretty ironic. We would've loved to see the looks on the faces of those Porsche drivers and "Awesome Bill from Dawsonville" after they learned that they lost out to an unsuspecting economy car from the '70s.
We'll have more cool stories like this soon, so be sure to subscribe to Ford Authority for 24/7 Ford news coverage.