In the automotive world, there are cars and trucks to suit every taste. People that aren't really into cars generally drive something like a gray sedan. Even enthusiasts can be separated into many different groups, with some preferring to drive sleepers, vehicles that draw little attention but pack serious power under the hood. On the extreme of the enthusiast spectrum are the folks that want to drive the biggest, baddest, most attention-grabbing thing they can find. And one won't find a much better description of that than this wild Ford Super Duty 6×6 we recently came across after it was first spotted by the keen folks at The Drive.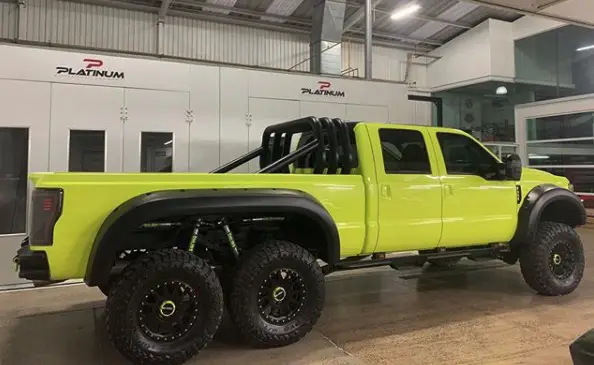 A customization shop by the name of Colorss Motorsport out of Guanajuato, Mexico posted pictures of this insane machine on its Instagram account, and needless to say, it caught our attention. Mission accomplished, we suppose. They call it the T-Rex 6×6, which seems like a fitting name given the fact that it looks like it could tear compact hatchbacks to shreds, plus the fact that it has six wheels.
View this post on Instagram
This isn't the first Ford Super Duty 6×6 we've ever seen, but it's probably the most bodacious. Maybe it's the paint, or perhaps the giant Method Racing wheels wrapped in massive off-road rubber. The huge protruding bumpers could certainly wipe out anything in the truck's way, by the looks of things.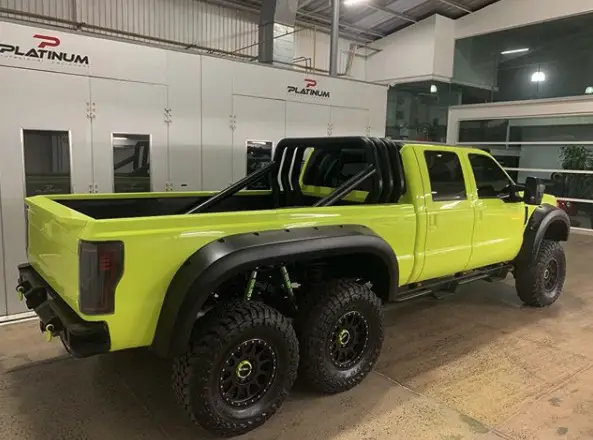 One thing's for sure – no one's going anywhere in this Ford Super Duty 6×6 without attracting attention. So if one's profession includes one or more illegal activities, we wouldn't recommend it. There's only one other downside we see to driving a truck like this – forget about squeezing into any normal sized parking space. Or parking garage. Maybe a big barn would do the trick.
But those relatively unimportant issues aren't a concern for the average extreme extrovert. To them, it's all about being seen. And if this insane Ford Super Duty 6×6 doesn't get the job done, well, we don't know what will.
For more over-the-top stuff like this (and more subtle rides), be sure and subscribe to Ford Authority for the latest Ford F-Series news, Ford Super Duty news, and around-the-clock Ford news coverage.