While Ford Authority is (obviously) all about The Blue Oval, we have nothing but love for the iconic Jaguar XKE (or E-Type, as it was called in the U.K) and all of the many beautifully-styled cats of the past. There are few cars as aesthetically pleasing, and likely even fewer will ever come close to sporting these drool-worthy lines moving forward. But Series 1 examples like this beauty we spotted for sale over at Bring a Trailer were powered by one of two straight-six engines, the best of which propelled it to 60 miles-per-hour in a 6.4 seconds. That was relatively quick in the 60s, but isn't anything to write home about today.
Thus, the owner of this beauty decided to give it a proper power infusion courtesy of a crate Ford 5.0L V8 engine. The Edelbrock electronic fuel-injected mill has a few upgrades including a bigger cam and custom headers, and is backed up by a proper Tremec five-speed manual transmission that sends those ponies back to a limited-slip differential. The engine management system is even tuneable from inside the cabin, which is a particularly nice touch.
But what powers this beautiful Jaguar XKE is only part of the story. The entire car underwent an extensive restoration lasting six years, during which it was also transformed into a James Bond-themed ride. That means a slew of cool kit, including a glass breakage and proximity alarm, satellite monitoring (ha!), a hidden firearm compartment, a retractable digital screen, a rear-view camera, and a cigarette lighter that doubles as a "missile launcher." It also comes with a host of 007 memorabilia.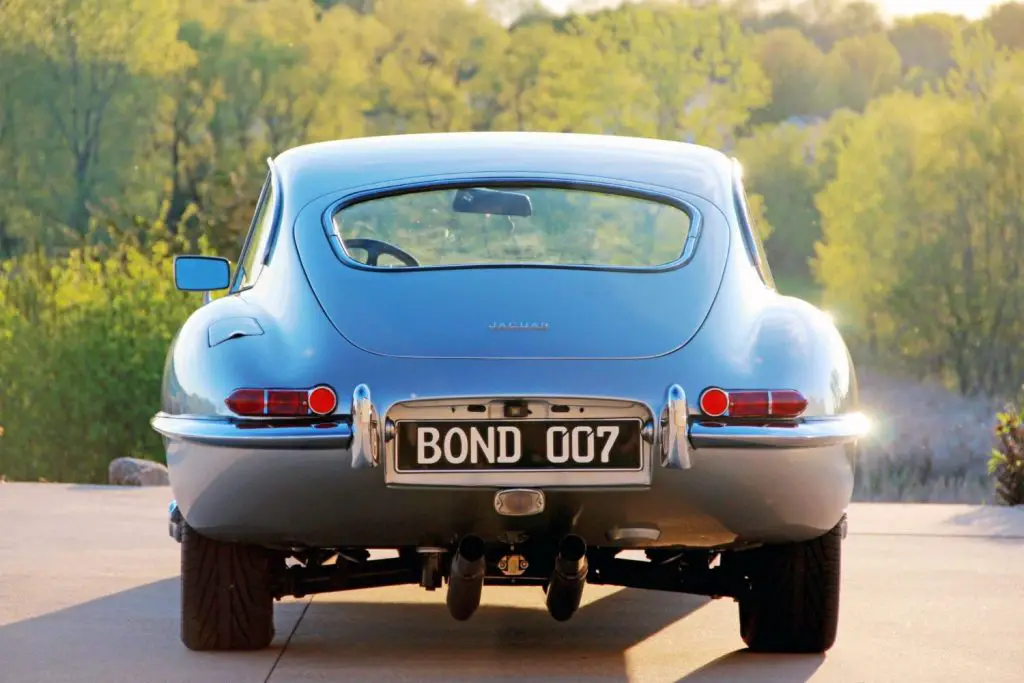 The exterior of this Jaguar XKE was certainly given the royal treatment, placed on a rotisserie and acid-dipped before receiving a shiny new silver paint job. All of the original bodywork remains, as it should, and the car rolls on sweet 15-inch wire wheels with knockoffs. The original independent front and rear suspension components were retained, but modern and more capable Wilwood brakes were added for extra stopping power.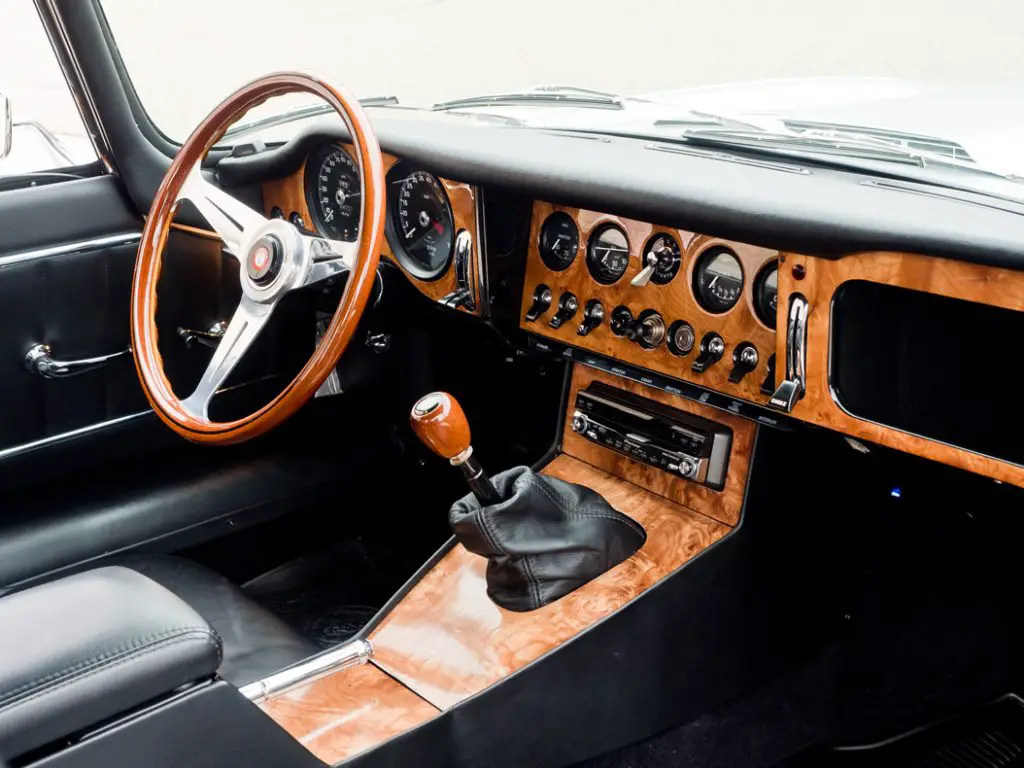 The interior is likewise mostly original and quite luxurious, with black lamb leather, English worsted wool carpeting, a custom-built Carpathian burl elm dash and matching console trim, and a wood-rimmed Nardi steering wheel and wood shift knob. A Pioneer radio and Smiths instrumentation are the only real modern components here.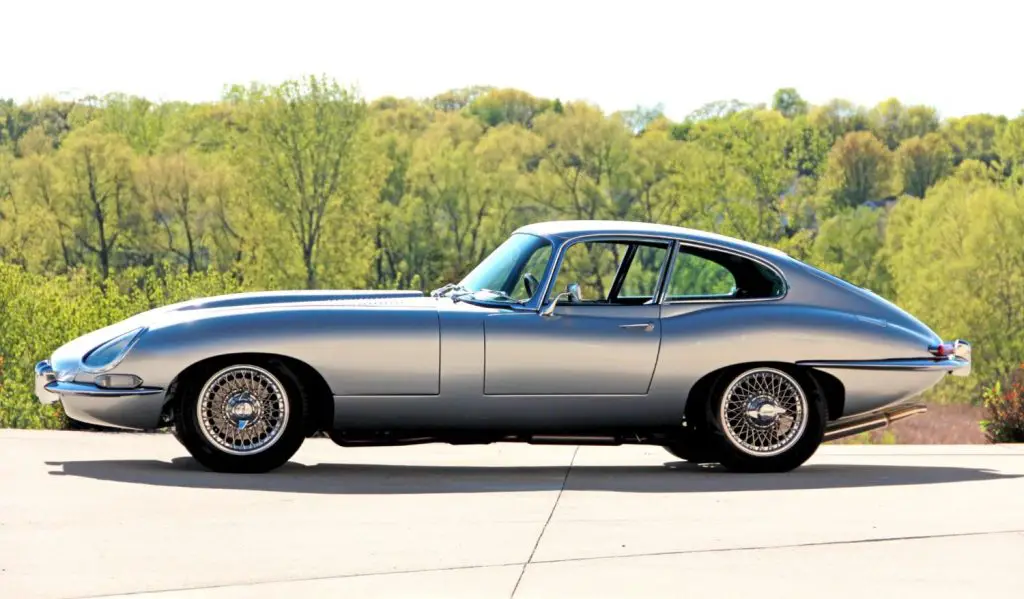 Purists may not be happy with the way this classic Jaguar XKE turned out, but we think it's pretty amazing. And who wouldn't want a very healthy Ford Racing V8 rumble to go along with what is one of the most beautiful cars ever created?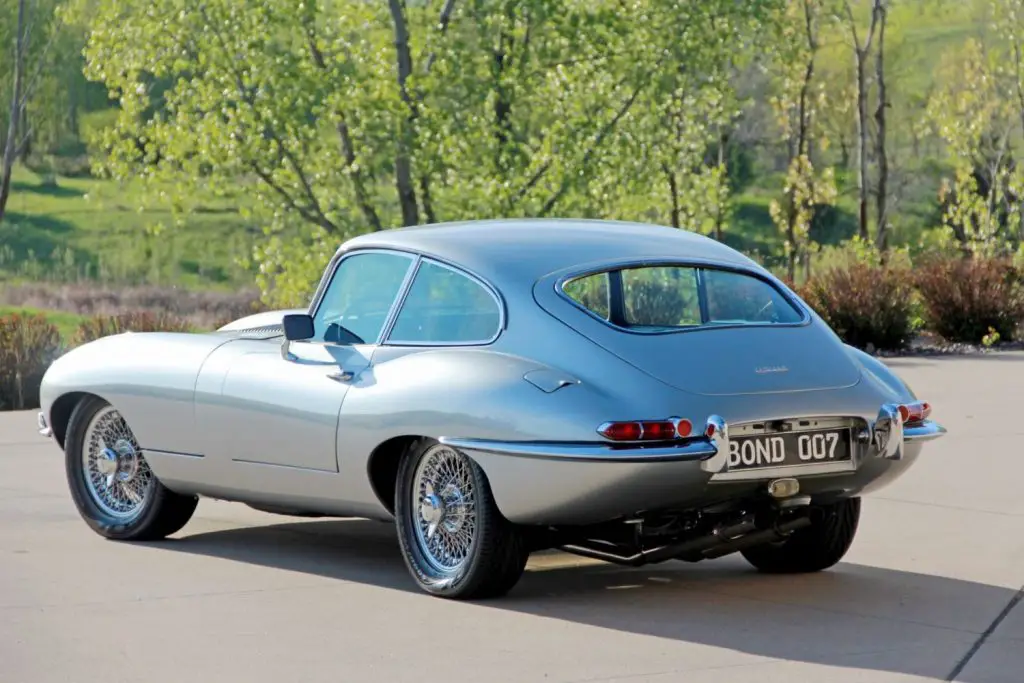 We'll have more cool finds like this soon, so be sure to subscribe to Ford Authority non-stop Ford news coverage.