With a shiny new Mach 1 on the way and the presence of the mighty Shelby GT500, it's easy to forget about the also awesome Mustang Shelby GT350R and GT350. But as we've seen in the past, the Ford 5.2L Voodoo V8 packs tons of potential, as does this platform in general. That fact was clearly on display recently in a video from Livernois Motorsports & Engineering, a well-known Mustang tuner and parts seller.
Like the Ford 5.0L Coyote V8, the Voodoo engine runs a pretty high compression ratio in factory guise – 12.0:1. As such, owners seeking more power run into a wall when they run regular old pump gas, even high grade 93 octane. The answer is E85, which, depending on the quality and content, can easily provide over 100 octane.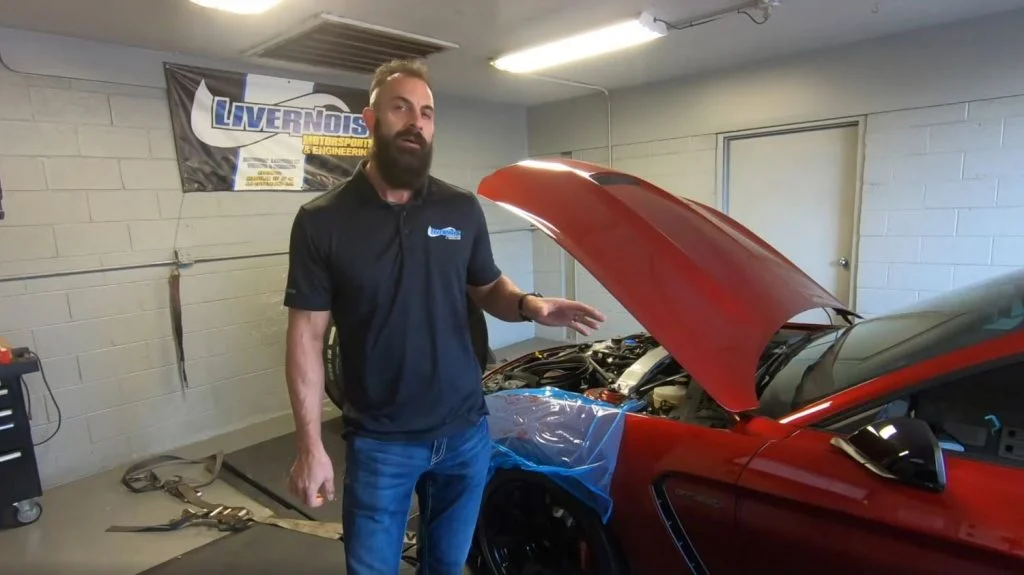 Problem is, E85 isn't quite as readily available as regular pump gas. In some areas of the country, it's easier to find than others. So flex fuel tunes have become quite popular with Mustang owners, giving them the option to switch back and forth as needed. And that's exactly what Livernois has done with this Mustang Shelby GT350R.
E85 is often called cheap pump race gas, because it's inexpensive and high octane. The fast-burning fuel also has an increased resistance to detonation, so tuners can throw more timing at it than pump gas without risking wrecking an engine's internals. In supercharged applications, the alcohol present in E85 can also help cool the incoming air and fuel charge.
There is a downside to E85, however, and that's the fact that it has less energy content than gasoline. As such, it burns faster and subsequently increases fuel consumption by 20-30 percent. And in some applications like a supercharged or turbocharged car, owners might have to install a new high-flow or return-style fuel system to handle that increased demand.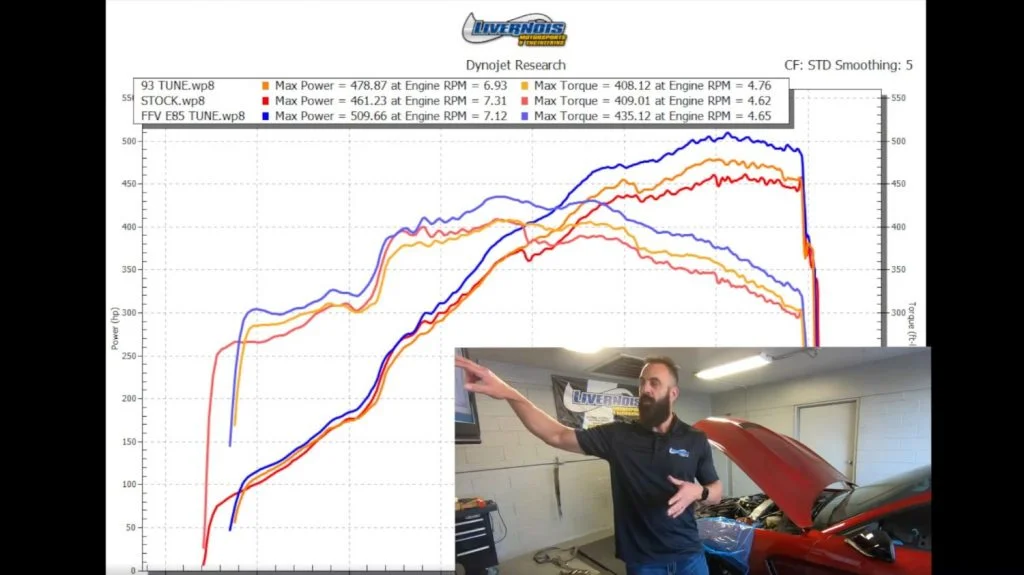 All of this just makes a flex fuel tune that much more appealing, however. This way, owners can tap in to the extra power E85 provides and still switch back when regular gas makes more sense. In this case, Livernois managed to massage an extra 50 horsepower out of the Shelby GT350R.
In stock form, it laid down 461 horsepower and 409 pound-feet of torque. With the 93 tune, it returned 479 horsepower and 408 pound-feet. And on E, the Shelby GT350 made 509 horsepower and 435 pound-feet. Impressive results indeed, and not too shabby for a quick and easy tune that's also quite flexible in the real world.
We'll have more mods like this soon, so be sure to subscribe to Ford Authority for more Ford Mustang news and non-stop Ford news coverage.