These days, any off-road or overlanding focused vehicle is red hot. Everyone wants a piece of that proverbial pie, especially if said vehicle is actually equipped with parts that help make it a performer off paved surfaces. That's a big part of the reason why the Ford F-150 Raptor has been such a huge hit for The Blue Oval, and also why it's eyeing possible Bronco Raptor and Bronco Badlands variants of its already off-road focused SUV. So we thought, why not take the obvious next route and make an Expedition Raptor?
Building an Expedition Raptor would be fairly easy for Ford to do, after all, since the Ford Expedition shares the same platform as the Ford F-150. As such, many, if not all of the F-150 Raptor's parts should bolt right up. Plus, we've already seen just how awesome an off-road Expedition might look, courtesy of LGE-CTS Motorsports' 2018 SEMA build.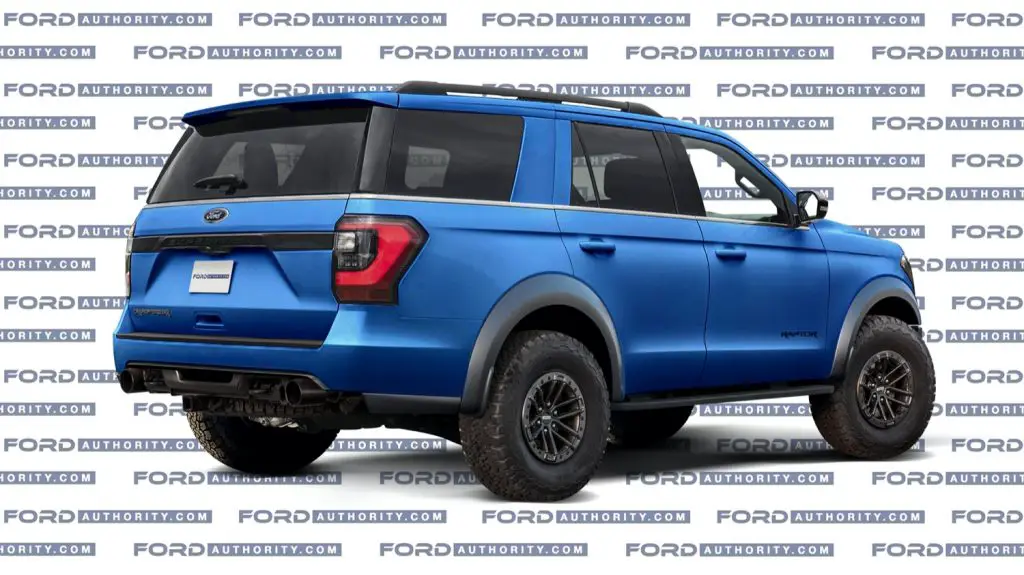 Essentially, our rendering of an Expedition Raptor is exactly what we'd imagine it to be. Covered in Performance Blue Metallic just like the F-150 Raptor and Ranger Raptor, it certainly stands out from the many kid-toting soccer mom rides out there. Especially since it's rolling on a long-travel suspension with Fox shocks and F-150 Raptor wheels with knobby tires wrapped around them.
Up front, our Expedition Raptor wears the same black grille as its stablemates, with giant "Ford" lettering in the center. Beneath that, there's a beefy off-road bumper similar to the F-150 Raptor, along with a skidplate underneath to protect the undercarriage from rocks and other off-road debris that threatens to ruin our dirty fun.
Black fender flares help cover the beefy rolling stock, and all the remaining trim has been blacked out as well, including the side mirrors, roof rack, door handles, and tailgate trim. Throw on some Raptor badges and a proper dual exhaust, and we've got the makings of one awesome full-size SUV.
The prospect of an Expedition Raptor just seems too good to pass up. It certainly wouldn't cost much money to develop or build, as it would mostly use bits already in Ford's parts bin. But whether or not The Blue Oval would actually pull the trigger on such a cool project, well, that's a different story altogether.
We'll have more cool renders like this soon, so be sure to subscribe to Ford Authority for more Ford Expedition news and around-the-clock Ford news coverage.