When Ford unveiled the reborn 2021 Mustang Mach 1 just a couple of weeks ago, it presented us with pictures of both a regular Mach 1 and a version equipped with the new Handling Package. Both of which were coupes, which led us to assume that the newest Mustang Mach 1 would only be available in that body style. But as we saw recently with the Mustang EcoBoost 2.3L High Performance Package, Ford could always swoop in later and drop a convertible on us.
However, that doesn't appear to be the case with the Mustang Mach 1. Ford Authority received confirmation from Ford Mustang spokesperson Berj Alexanian recently that the limited-edition model will in fact only be offered in one body style. "Mach 1 will launch only as a coupe/fastback at this time," Alexanian said.
While this is no big surprise, it is notable. It appears that the new Mach 1 will follow in the footsteps of the vehicles it's indirectly replacing – the Bullitt and Shelby GT350 – by forgoing the drop top route. It makes sense, given the track-focused nature of the Mach 1, as a convertible variant would both weigh more and offer less in the way of structural rigidity than the fixed-roof version. Still, there are plenty of folks that enjoy that open-air feeling, even at the track.
Regardless, we doubt Mustang Mach 1 buyers will be disappointed with what they're getting. Aside from the excellent Tremec TR-3160 manual transmission from the Shelby GT350, or an optional 10-speed automatic, the Mach 1 is powered by an enhanced, naturally-aspirated 5.0L Coyote V8 that produces 480 horsepower and 420 pound-feet of torque.
There are plenty of other Shelby components on the Mach 1, too, including the GT350's intake manifold, oil filter adapter, and engine oil cooler, which increases cooling capability by 50 percent. Underneath, it packs a rear toe-link from the Shelby GT500, as well as the latest MagneRide calibration, a stiffer steering I-shaft, new EPAS calibration, stiffer sway bars and front springs, a brake booster from the Mustang GT Performance Pack 2, and a rear subframe with stiffer bushings.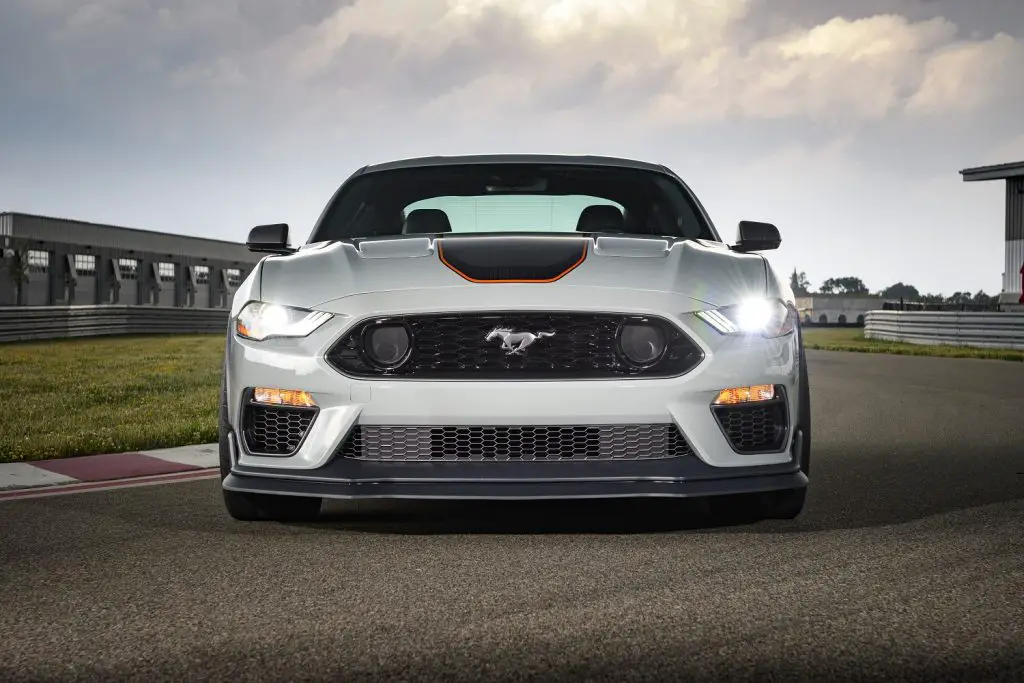 The Mach 1's standard wheels are 19 inch x 9.5 inch and 19 inch x 10 inch five-spoke Tarnished Dark-painted aluminum wheels which are an updated version of the classic Magnum 500 style wheels. Handling Package vehicles come standard with unique, wider 19 inch x 10.5 inch front, and 19 inch x 11 inch rear Tarnished Dark-painted aluminum wheels with Michelin PS4 rubber.
The Handling Package, exclusively available with the 6-speed manual, also includes a larger, unique higher downforce front splitter, new front wheel lip moldings, and a low-gloss Magnetic swing spoiler with a Gurney flap and rear tire spats from Shelby GT500. To enhance track endurance, Ford added two side heat exchangers – one to cool engine oil, the other transmission oil – as well as a rear axle cooling system and lower diffuser from Shelby GT500.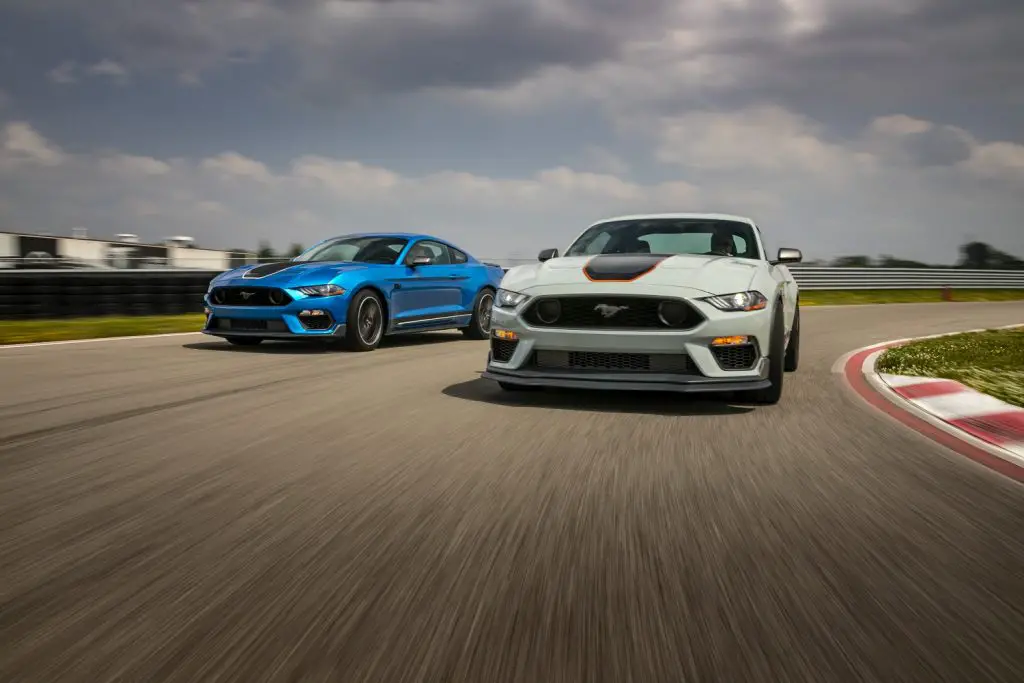 In addition to a new front splitter and rear wing, a larger underbelly pan, underwing, and belly pan work in unison to keep the new Mach 1 glued to the road. Ultimately, the Mach 1 generates 22 percent more downforce than a Performance Pack 1 Mustang GT, and the downforce improvement jumps to approximately 150 percent with the Handling Package.
The new Mach 1 arrives at U.S. and Canadian dealerships in the Spring of 2021.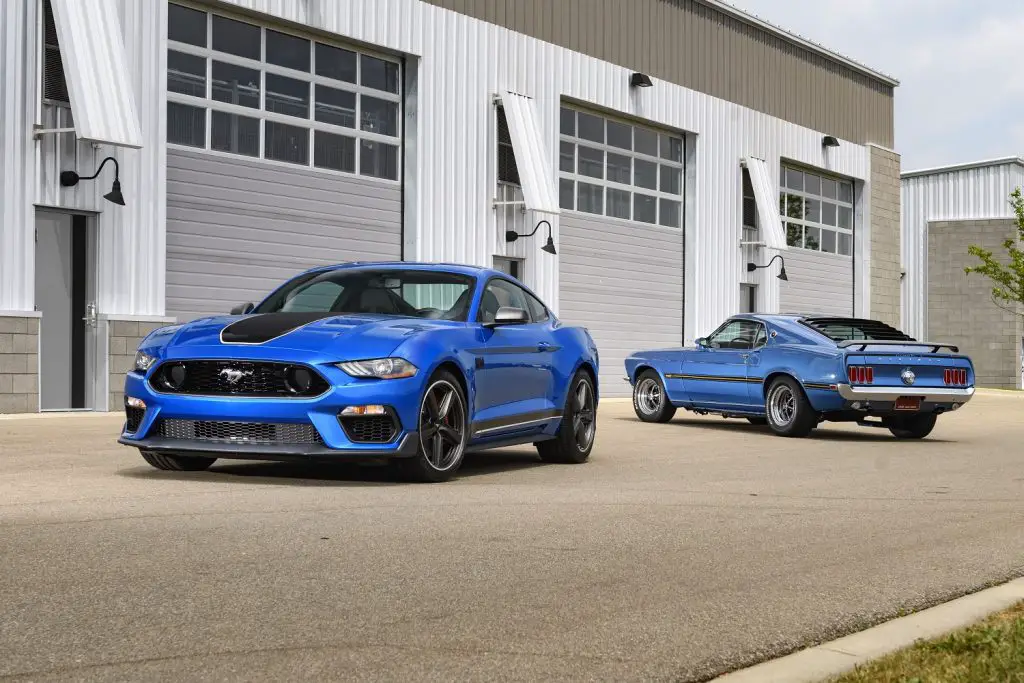 We'll have much more on the 2021 Mach 1 soon, so be sure to subscribe to Ford Authority for more Ford Mustang news and around-the-clock Ford news coverage.
2021 Ford Mustang Mach E Photos