During Ford's recent unveiling of the all-new Ford Bronco and Bronco Sport, the automaker was keen to dive into its archives and revisit the history of the original Bronco. That exploration led to the rediscovery of McKinley Thompson Jr., Ford's first black designer, who also created the first sketches of the original Bronco. Since then, Thompson has had a profound effect on today's designers, including Chris Young, who helped design the Bronco Sport's interior.
Until recently, however, no one really knew much about Thompson or his groundbreaking work. "We found the very first design of the Bronco, and it was signed," Ted Ryan, Ford's archivist and heritage brand manager, told the Detroit Free Press. "We started googling and we were like, wait, this is a McKinley Thompson. It was a discovery. He was not the designer of the Bronco but he worked on the very first sketches. He was groundbreaking in his passion for design. He went on to work on the Mustang, Bronco, Ford trucks and the T-Bird."
Thompson served in the Army Corps of Engineers in World War II before winning a national competition called "From Dream to Drawing Board to?," which was hosted by MotorTrend in 1953. The grand prize of the contest was a scholarship to the Art Center College of Design in Southern California.
Three years later, Ford hired Thompson as its very first black auto designer after finding themselves extremely impressed with his portfolio of work. He came into the company in a very transitional time in the automotive world, when big fins were giving way to more contemporary designs.
Thompson did important work on a variety of Ford vehicles over the years, but it was his sketch of the first Bronco that might be the most important. "Think Lincoln Continental Mark I. It was a new blood of designers. Thompson came in at the end of the big fin era, and saw a transition to Broncos and sporty cars. The world was Brown versus Board of Education, integration of popular sports with Jackie Robinson and slowly the cities were beginning to integrate," Ryan said.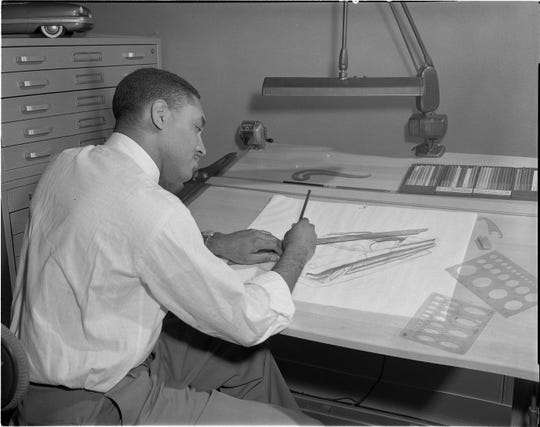 "Mac Thompson was a Ford designer who worked on the Bronco project along with other designers," he said. "But he was the one who penned the first sketch that was used as the base model going forward from 1963."
"McKinley Thompson absolutely broke the color barrier in Detroit in terms of getting into an automotive design studio," added Matt Anderson, transportation curator at The Henry Ford museum. "He joined Ford Motor Company just after Rosa Parks took a stand on the bus in Montgomery."
Now that he's been "rediscovered," Thompson is set to be honored at the Detroit Institute of Arts as part of an automotive exhibit from mid-November to June 2021 that will spotlight 12 cars and a series of drawings from 1950 to 2020.
Thompson retired from Ford in 1984, and passed away in 2006. But his work lives on in a number of iconic Ford vehicles from the past. Not to mention one very big new model that looks like another bona fide hit.
We'll have more fascinating stories like this soon, so be sure to subscribe to Ford Authority for more Ford Bronco news and continuous Ford news coverage.