We're mere days away from the 2021 Bronco's official reveal scheduled for Monday, July 13th at 8:00 p.m. EDT. And to get us ready for this major event, Ford has gifted us with a host of teasers in recent days, including a peek at the Bronco's front end, rear quarter section, the entire Bronco and Bronco Sport in a very cool hype video, eight different exterior colors paired with some sticker clues, and three of the off-road SUV's seven driving modes. Now, it's also released three more Bronco Sport and Bronco pictures to whet our appetites even more.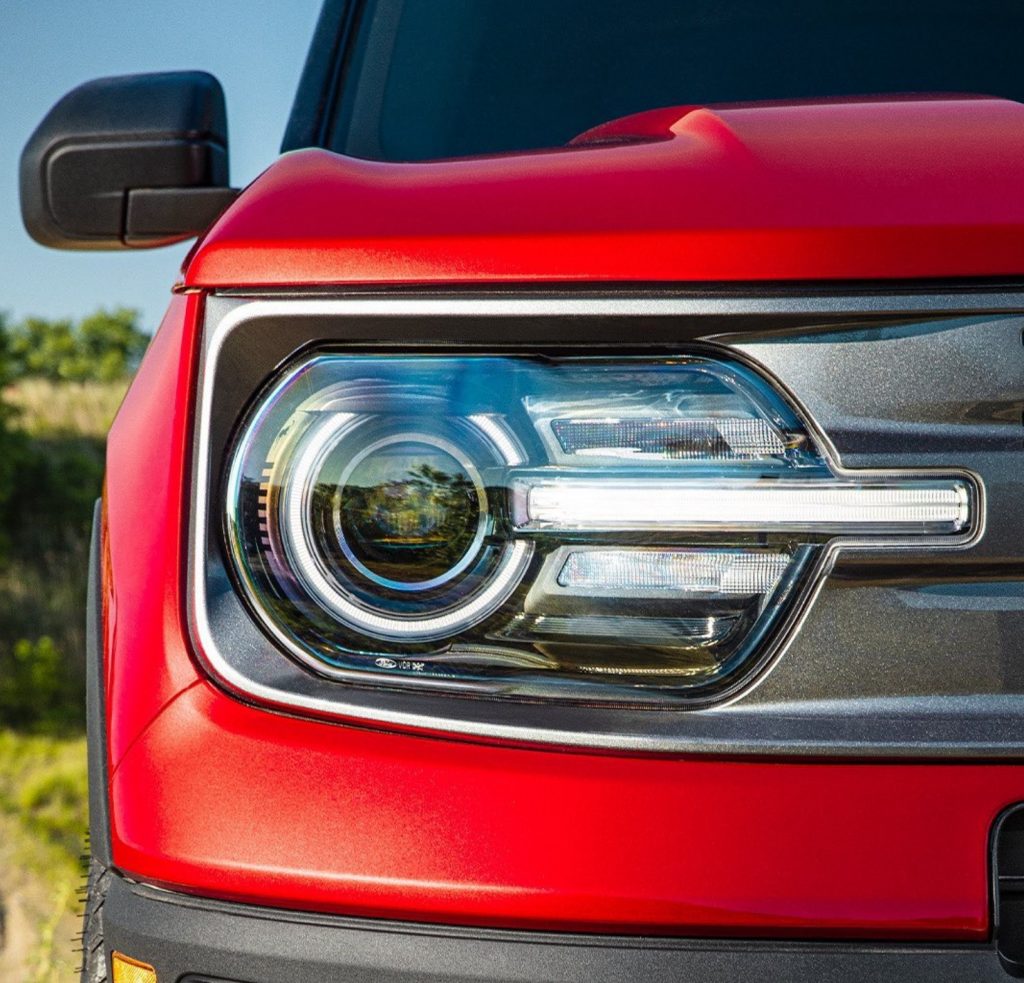 The first picture is a close-up of the passenger side front end of the Bronco Sport in an attractive metallic red color with grey trim. The caption reads "It's all in the details," which is a hint designed to make us take a very close look at the image. And sure enough, after a little staring, we noticed that there's a bucking Bronco logo present in the top left portion of the headlight.
The next in our trio of Bronco pictures is a very revealing shot of the rear portion of a regular Ford Bronco covered in an attractive paint color that looks similar to the 2021 Mustang Mach 1's Fighter Jet Gray hue. There are several other notable items here, however. For starters, the tailgate swings out as expected, and the gas cap is located on the driver's side.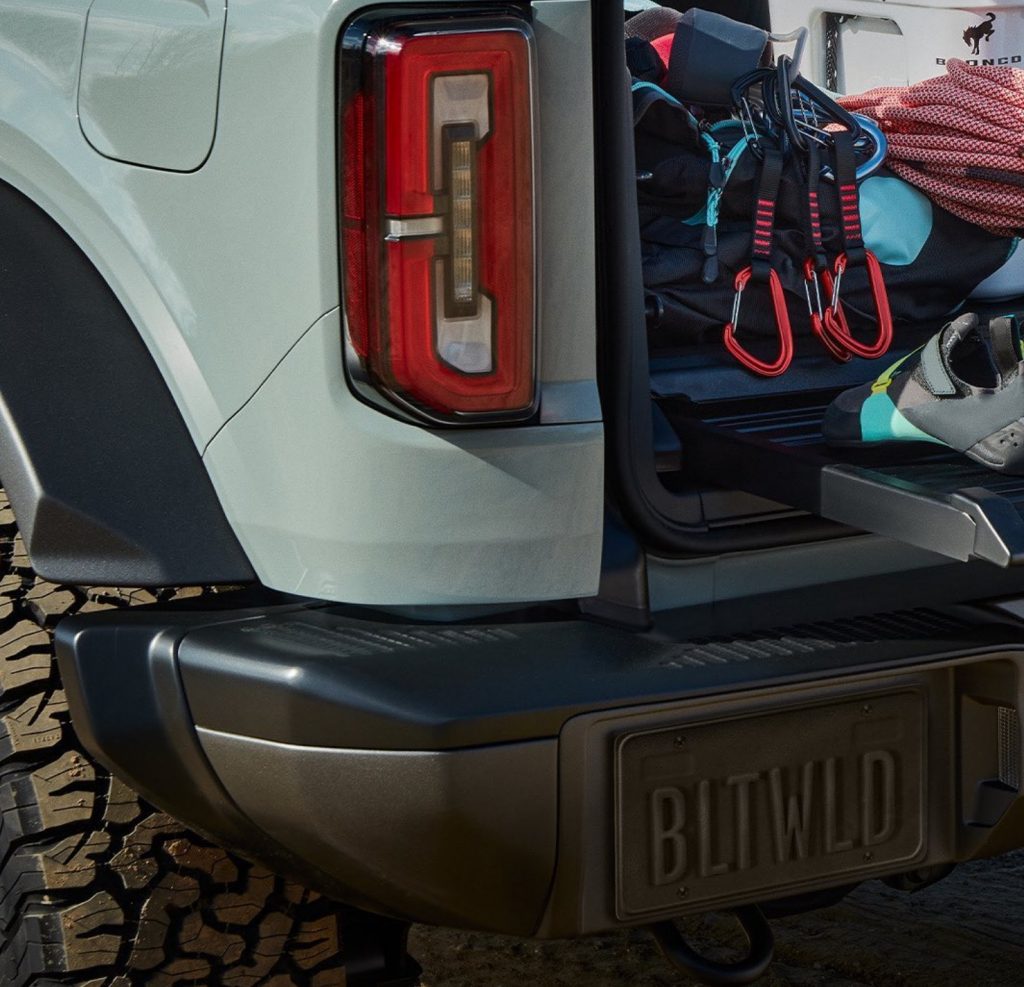 This Bronco is also wearing a set of BFGoodrich K02 tires instead of the Goodyears we've seen in previous teasers and spy shots, as well as a slightly different rear bumper. But perhaps the most notable thing about this particular teaser shot is not only the large amount of storage space in the rear, but also the presence of a slide-out tray.
That little feature figures to be a game-changer for tailgaters, grocery shoppers, and off-road enthusiasts alike. And Ford stuck a Yeti cooler with what appears to be a Ford Bronco sticker on it in the back as well, which is a cool touch.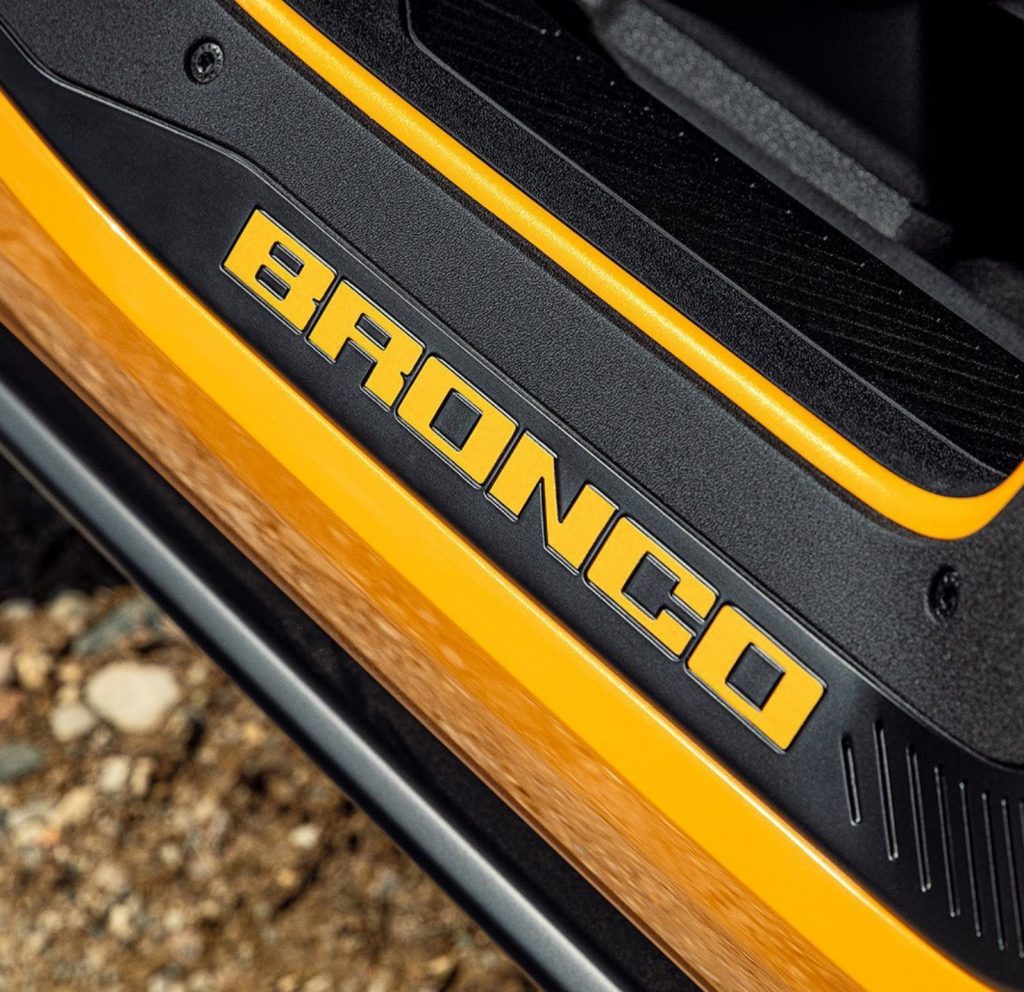 Our final Bronco picture is a close-up of the SUV's door sill, an area that's not terribly exciting in most vehicles. But Ford's attention to detail is once again present here, as this might be the most attractive looking door sill we've ever seen. It's angled instead of simply being flat like most sills, and sports a prominent body-color-matching "Bronco" script inside black trim pieces with exposed screws. One thing's for sure – it'll look great when owners are cruising around with their doors off.
We wouldn't be surprised if more Bronco teasers pop up this weekend ahead of the SUV's reveal on Monday, so we'll be keeping a close eye on Ford's social media channels.
We'll have much more on the new Bronco in the coming days, so be sure to subscribe to Ford Authority for more Ford Bronco news and continuous Ford news coverage.