The Shelby GT350 and GT350R were designed and built to be excellent track machines, capable of carving corners with the best of what's out there. Both are also pretty quick in a straight line as well, but not quite quick enough to hang with, say, a Hellcat Charger. Despite weighing quite a bit less, the GT350's naturally-aspirated, 526 horsepower 5.2L Voodoo V8 engine just isn't stout enough to match the Hellcat's 707 horsepower supercharged 6.2L V8. But that's where the Hennessey Shelby GT350 and GT350R HPE850 comes in.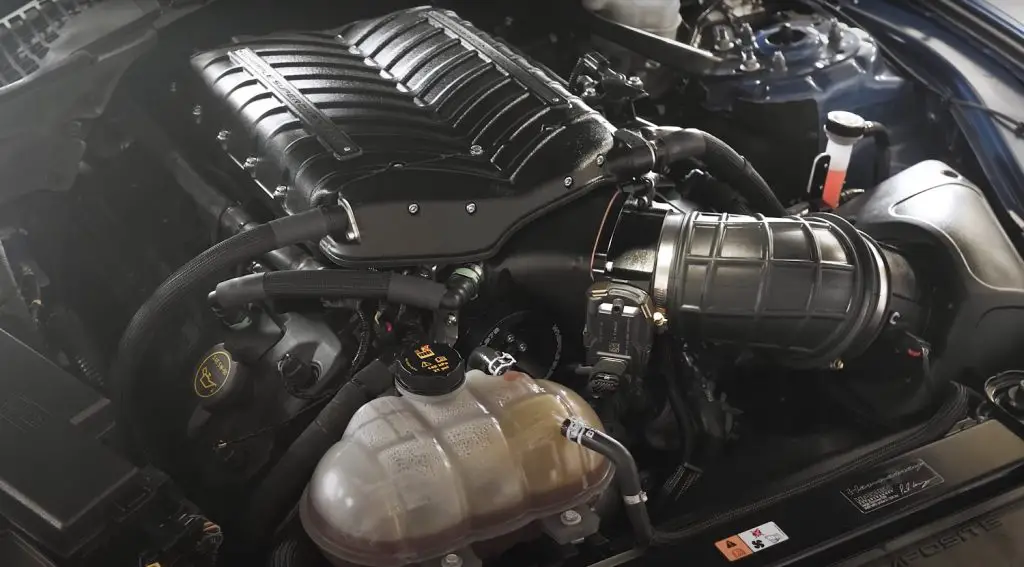 The Hennessey Shelby GT350 package adds a host of modifications including a 3.0L Whipple supercharger, along with a high-flow throttle body, fuel injectors, air induction system, and heat exchanger. After tuning the car on the dyno, the HPE850 package is good for 858 horsepower and 673 pound-feet of torque, a 0-60 time of 3.3 seconds, and a quarter-mile of just 10.8 seconds at 133 miles-per-hour.
That's more than enough to beat up on a stock Hellcat Charger, which does 0-60 in 3.6 seconds and the quarter-mile in 10.96, which is why Hennessey calls the HPE850 "the Hellcat killer." And when these two cars line up in this video for a drag race, it certainly looks like a murder scene. The Shelby simply walks away from the Hellcat, putting a substantial gap on it by the time it reaches the finish line.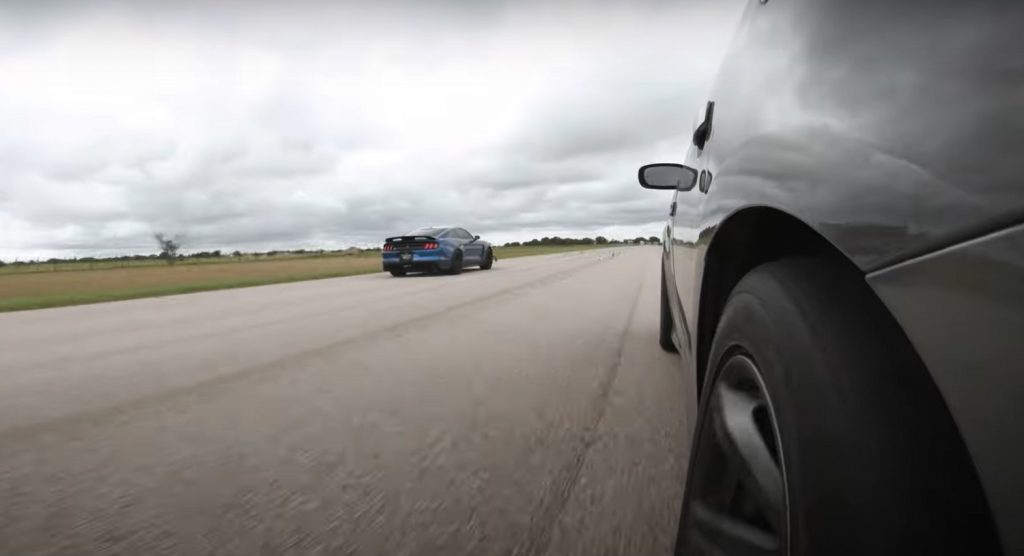 What makes this result even more impressive is the fact that the Charger has an automatic transmission, while the GT350 is a manual. But with substantially more power and less weight to pull around, the Shelby more than makes up for that minor disadvantage. It's quite a stunning turnaround from the stock GT350R that loses badly in the first race, but that's what an extra 300+ horsepower will do.
We'll have more interesting drag races like this one soon, so be sure to subscribe to Ford Authority for more Ford Mustang news, Mustang Shelby GT350 news, and 24/7 Ford news coverage.