We've known for a while now that Ford and RTR were cooking up something extra special. The automaker and aftermarket builder/parts maker have released a few teasers in recent days, including a couple of pictures and a video filled with tire marks and some high-pitched screaming noises. All of this began, however, with a staged video showing off a highly-modified Mach-E ripping up a test track. But now, we finally know what all of that was leading up to, and it's the insane Mach-E 1400 prototype.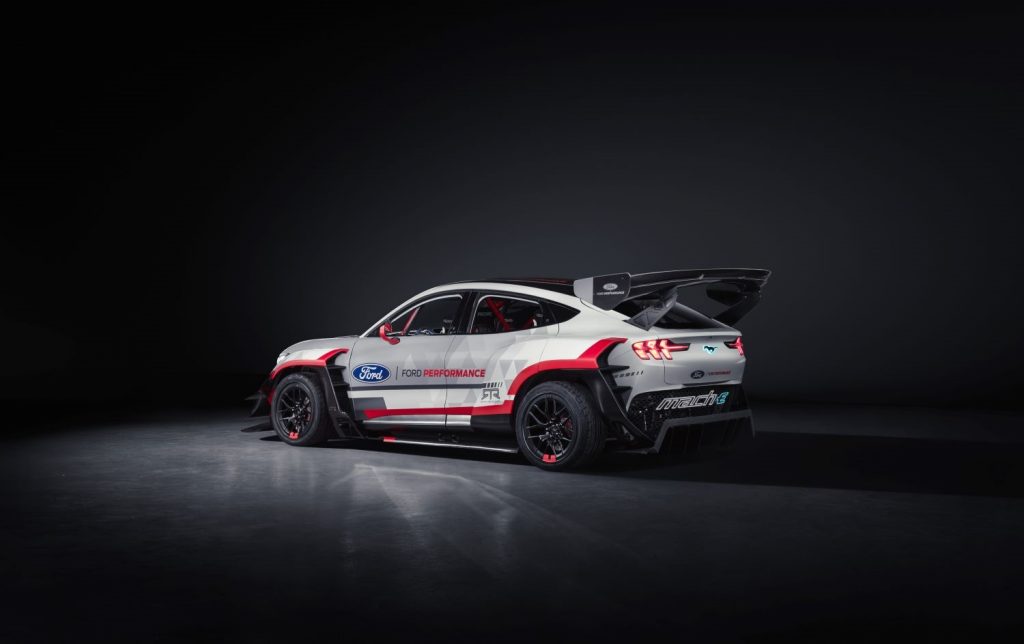 Following on the heels of the all-electric Mustang Cobra Jet 1400, the Mustang Mach-E 1400 is projected to produce 1,400 peak horsepower and more than 2,300 pounds of downforce at 160 miles-per-hour from its seven motors and ultra-high-performance battery. The idea is to challenge perceptions of what electric vehicles can do with performance tuning and advanced technology, and needless to say, we think Ford has achieved that goal.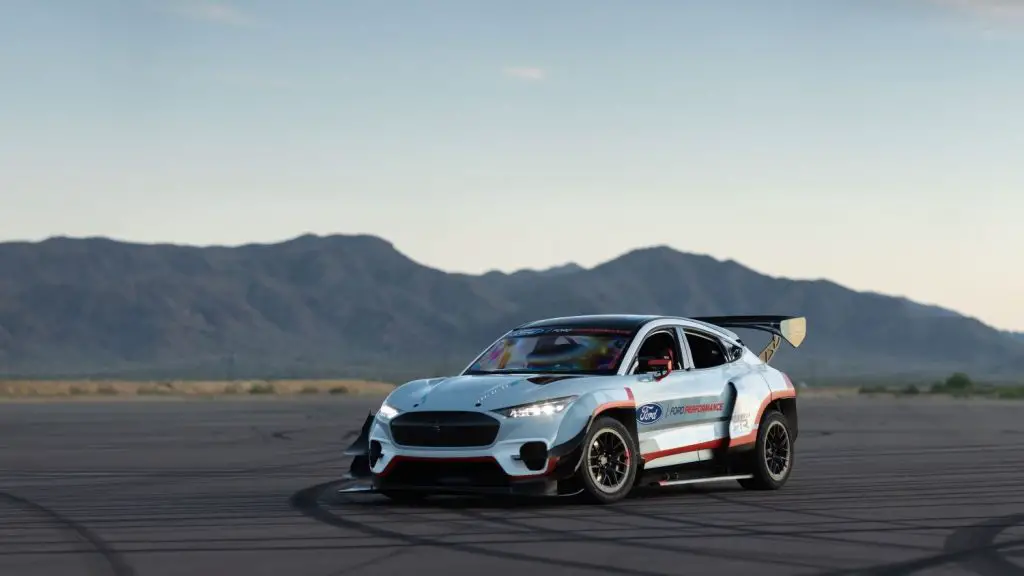 "Now is the perfect time to leverage electric technology, learn from it, and apply it to our lineup," said Ron Heiser, chief program engineer, Mustang Mach-E. "Mustang Mach-E is going to be fun to drive, just like every other Mustang before it, but Mustang Mach-E 1400 is completely insane, thanks to the efforts of Ford Performance and RTR."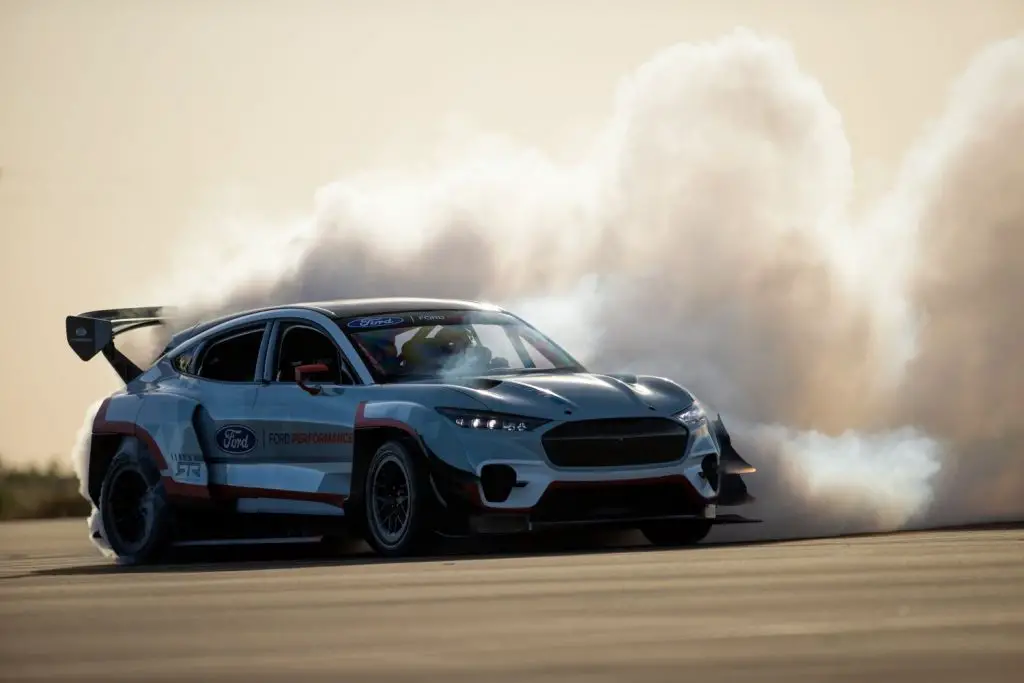 Ford Performance and RTR have been working on this wild machine for some time now, starting with a "body-in-white" Mach-E and then spending upwards of 10,000 hours turning it into one of the wildest track, drag strip, or gymkhana machines the world has ever seen.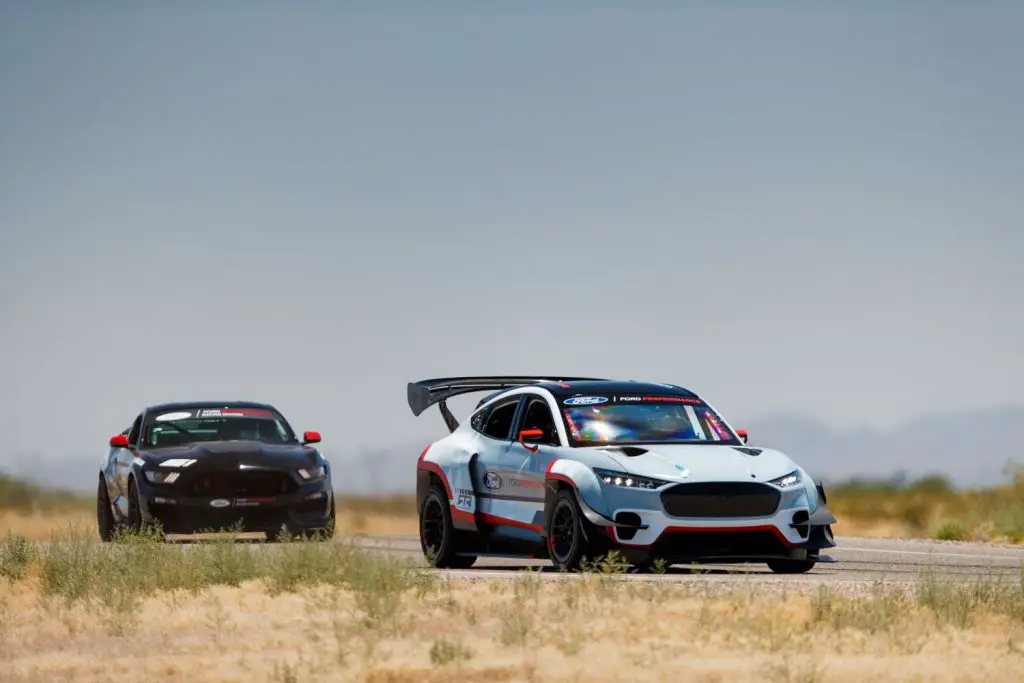 The team utilized many of the same tools Ford uses for its race cars and production programs in the car's development. Aerodynamics are optimized for shape and location, with a focus on cooling ducts, a front splitter, dive planes, and a rear wing. Since the 1400 was built with no rules in mind, it's about as extreme as an EV crossover could possibly be.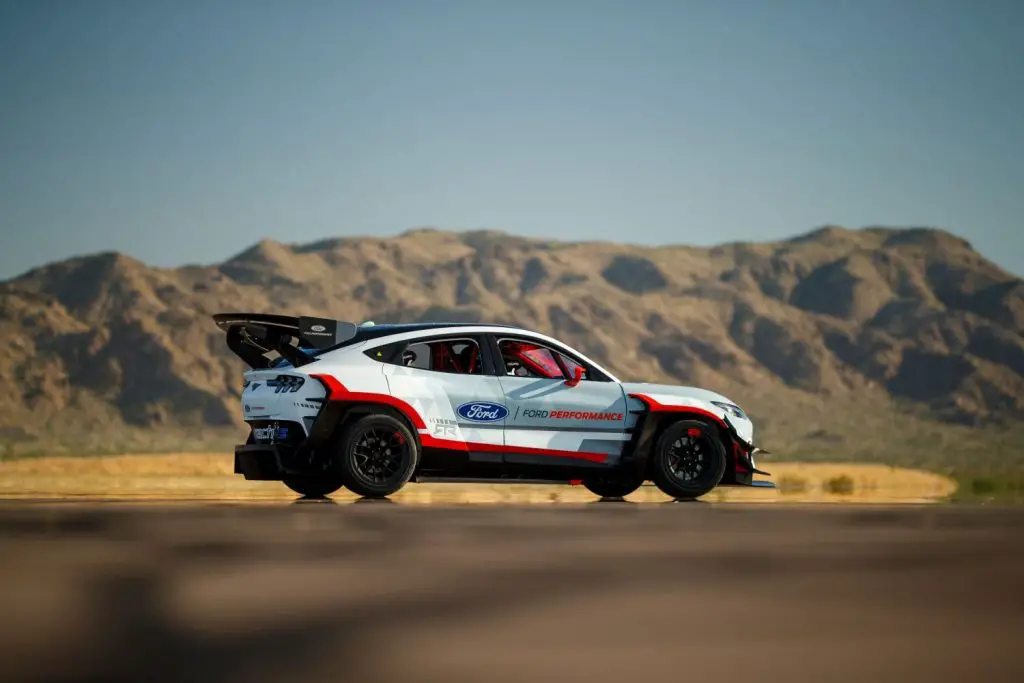 Of the seven total motors, three are attached to the front differential and four are attached to the rear in a pancake style, with a single driveshaft connecting them to the differentials, which have a huge range of adjustability to set the car up for everything from drifting to high-speed track racing.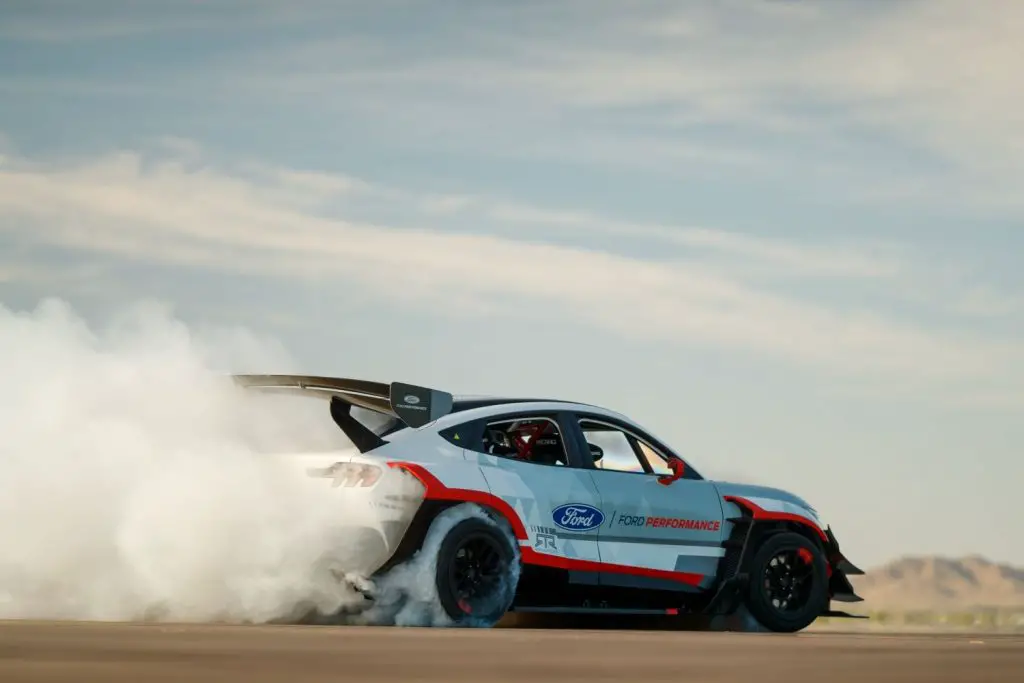 The 56.8-kilowatt-hour battery is made up of nickel manganese cobalt pouch cells for ultra-high performance and a high discharge rate. The battery system is designed to be cooled during charging using a di-electric coolant, decreasing the time needed between runs.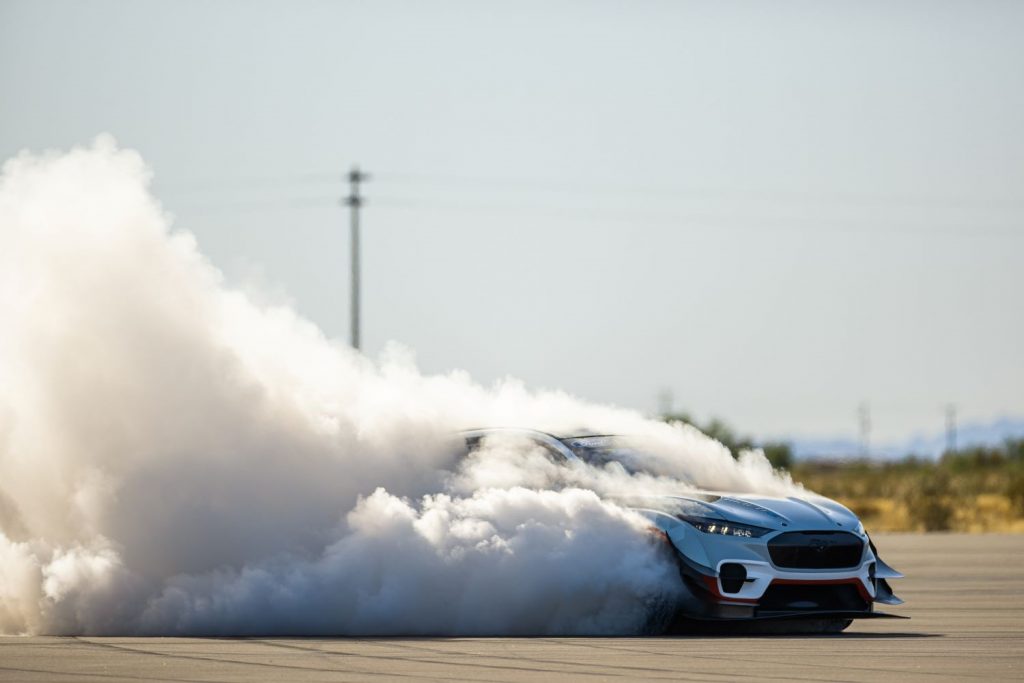 An electronic brake booster is integrated to allow series regenerative braking combined with ABS and stability control to optimize the braking system. The Mustang Mach-E 1400 uses the same Brembo brakes as the Mustang GT4 race car, and a hydraulic handbrake system designed for drifting that integrates with the powertrain controls to enable the ability to shut off power to the rear motors.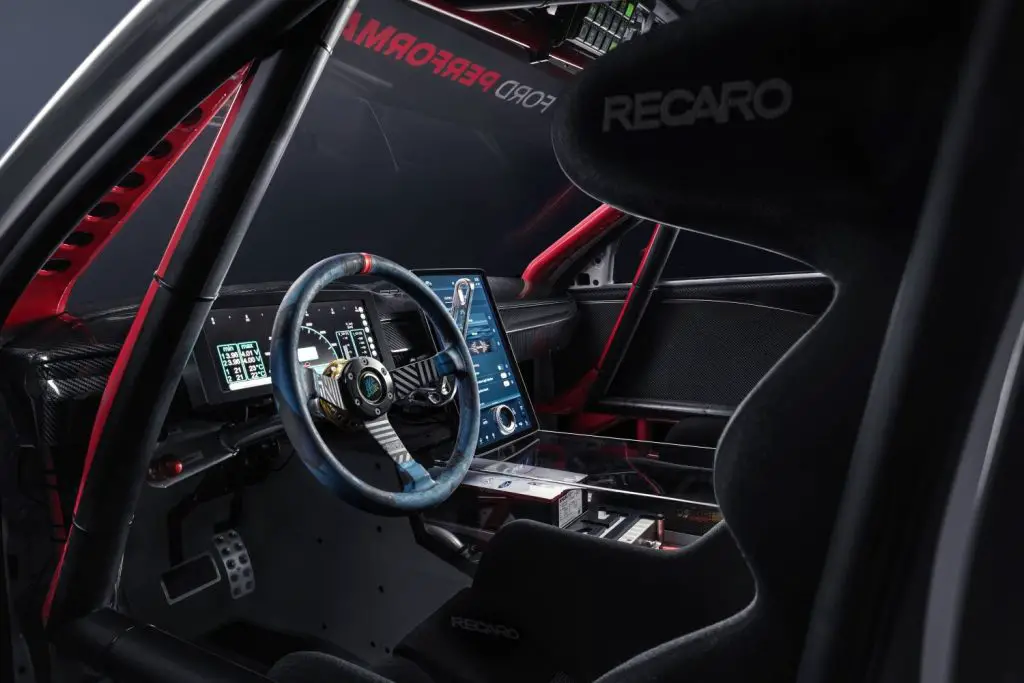 The chassis and powertrain are set up to allow the team to investigate different layouts and their effects on energy consumption and performance, including rear-wheel drive, all-wheel drive, and front-wheel drive. Drift and track setups have completely different front end configurations like control arms and steering changes to allow for extreme steering angles in drifting. Power delivery can be split evenly between front and rear, or completely to one or the other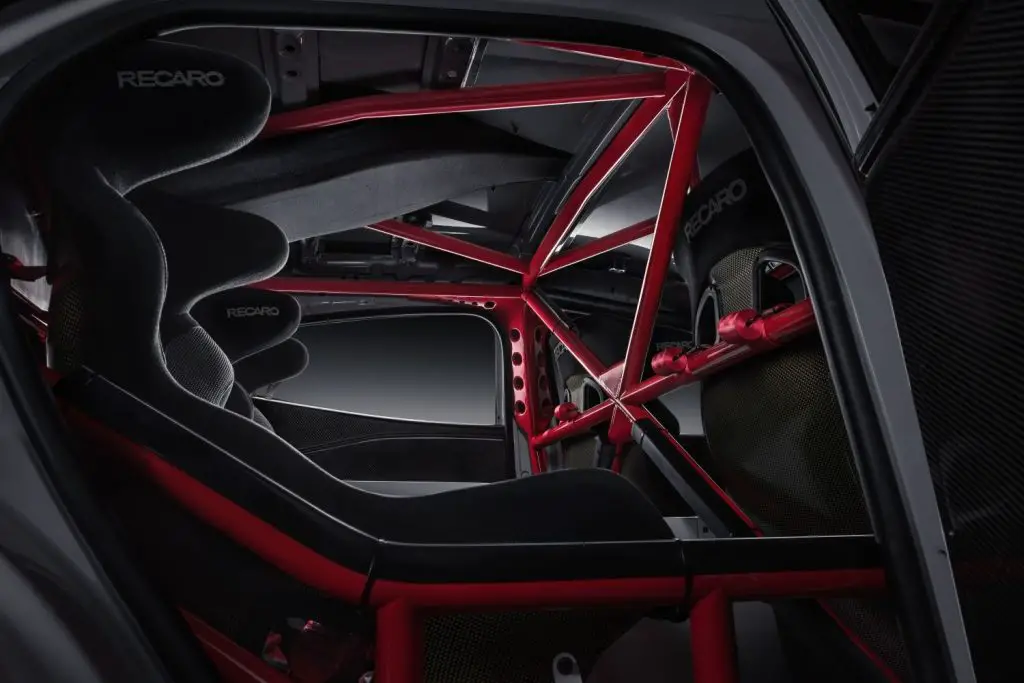 The Mach-E 1400 also serves as a test bed for new materials. The hood is made of organic composite fibers, a lightweight alternative to the carbon fiber that comprises the rest of the vehicle.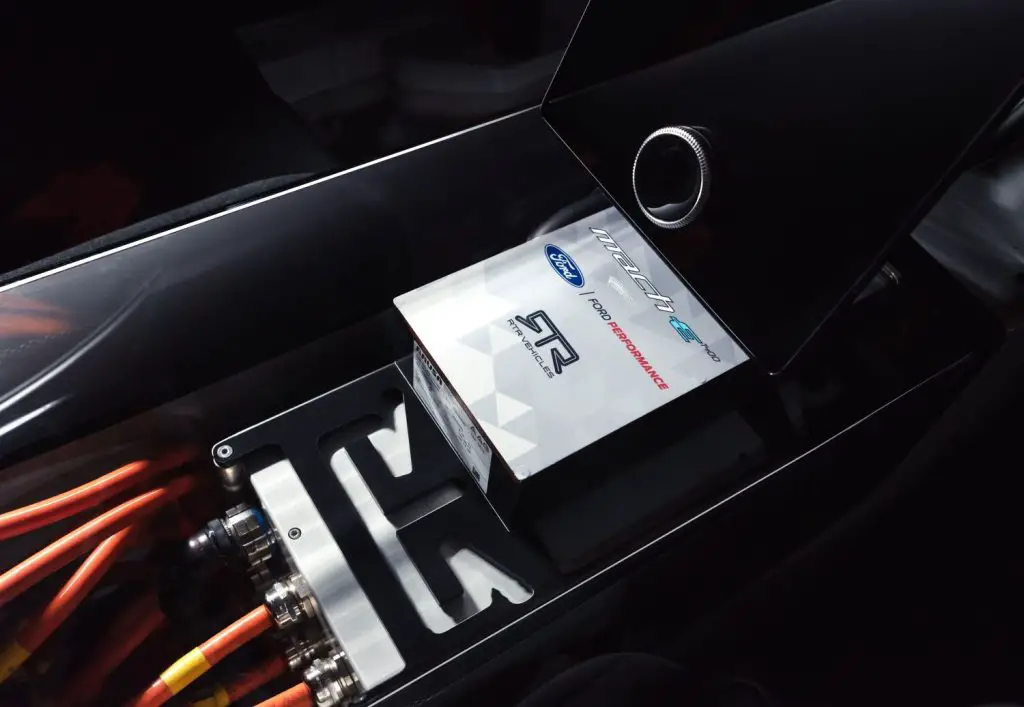 Converting traditional performance car fans to electric power isn't an easy task, but Ford obviously hopes that the 1400 will be extreme enough to do the trick. For what it's worth, RTR Vehicles founder and pro drifter Vaughn Gittin Jr. seems to be blown away by it, at least.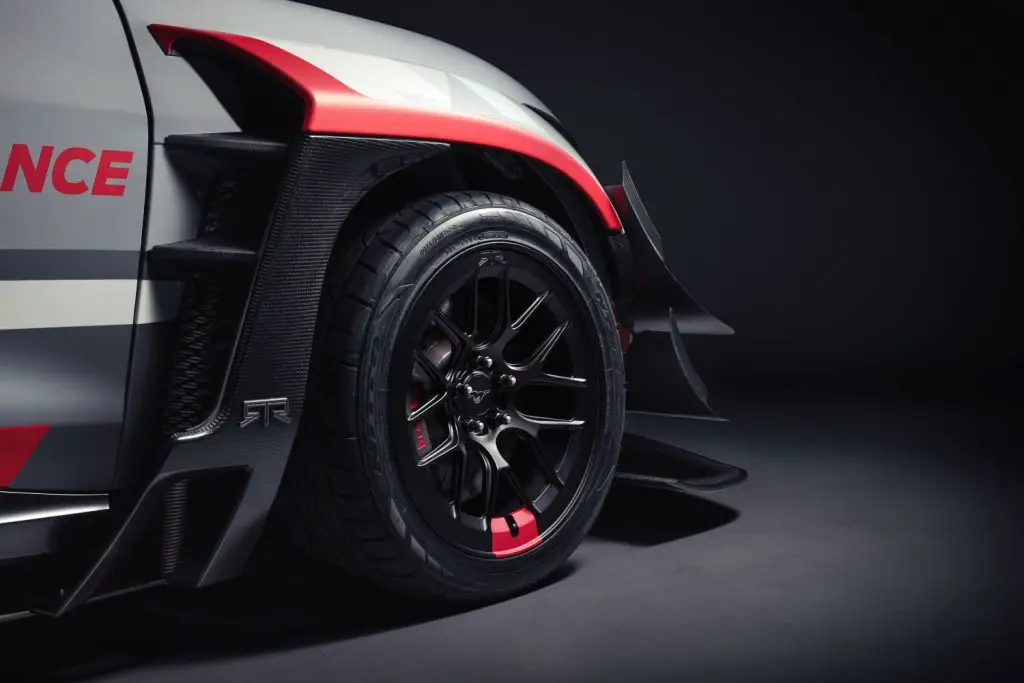 "Getting behind the wheel of this car has completely changed my perspective on what power and torque can be," Gittin Jr. said. "This experience is like nothing you've ever imagined, except for maybe a magnetic roller coaster."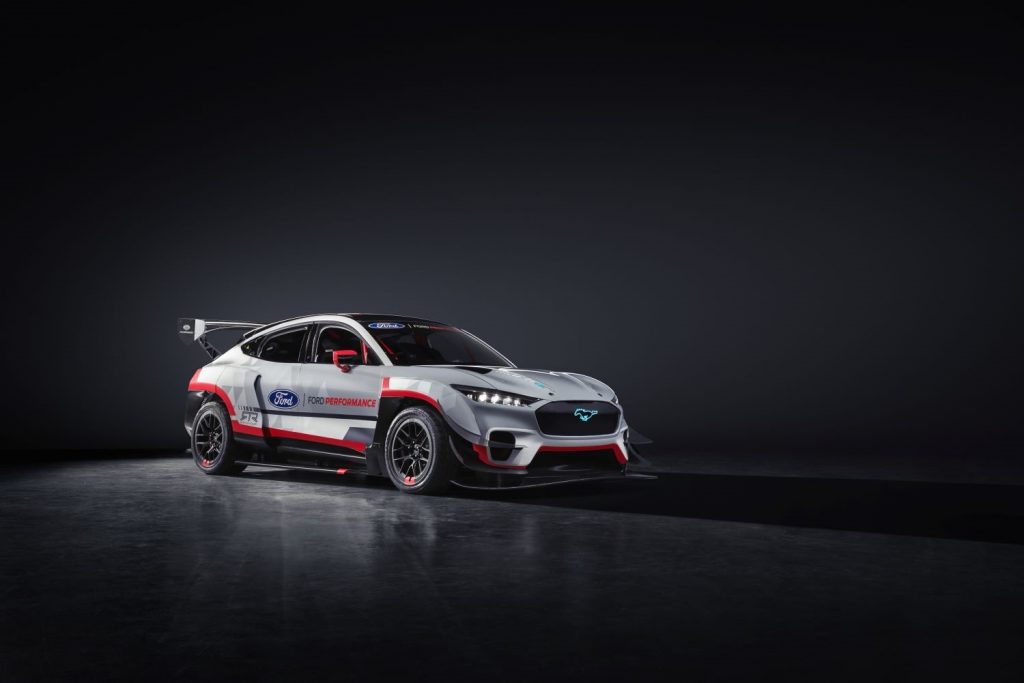 Ford plans to debut the Mach-E 1400 at an upcoming NASCAR race, but hasn't yet announced which one that will be.
We'll have more on this wild EV very soon, so be sure to subscribe to Ford Authority for more Mustang Mach-E news and around-the-clock Ford news coverage.