In recent years, the automotive industry has been trending toward more home-like interior designs, and premium sound system offerings have only gotten better and better. So with the 2021 Ford Mustang Mach-E, the focus is on taking advantage of those trends, as well as capitalizing on the ultra-quiet cabin provided by the crossover's all-electric drivetrain. As a result, the Mach-E B&O stereo system provides a truly unique experience.
The Mach-E B&O stereo system is the first such unit from Ford to dominate the dashboard of the vehicle, with around one-third of the dashboard dedicated to audio. The specially-developed Heathered Grey textile that conceals the dashboard-mounted tweeters is designed to replicate the look and feel of the fabric-based speaker covers of B&O's home speakers, for example.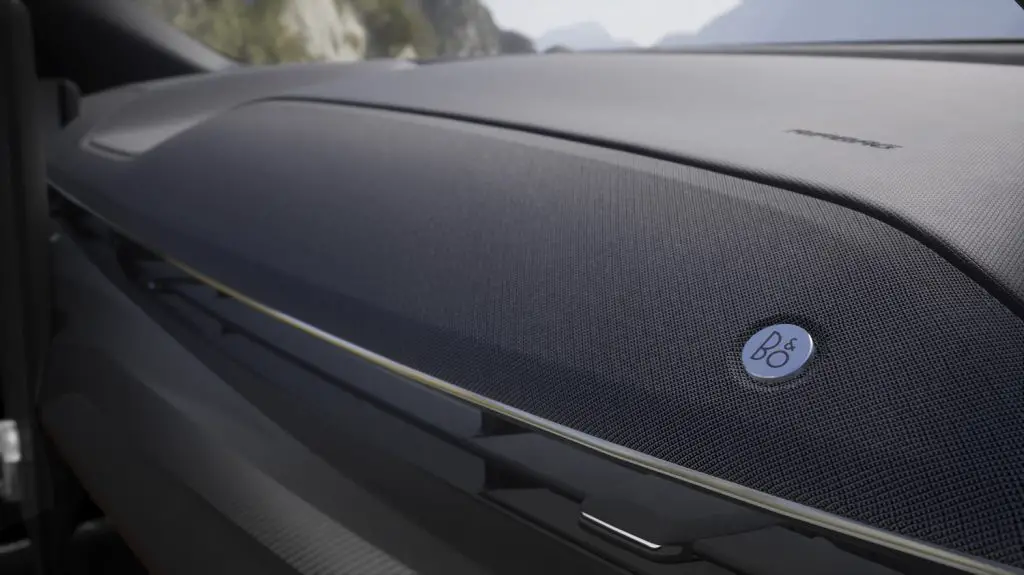 Meanwhile, an Externally Coupled Subwoofer (ECS) also uses the cabin's unique shape to produce powerful bass performance, despite being around half the weight of a traditional subwoofer and taking up around 80 percent less space.
HARMAN acoustic engineers began the process of developing the Mach-E B&O stereo system by using the Ford Mustang as a benchmark to craft a similar aural experience. Electric vehicles are inherently quieter, thanks to a lack of noise from a traditional internal combustion engine. However, this does reveal new sources of noise that are usually muffled.

This was something engineers overcame while leveraging the opportunities of a quiet EV cabin. Special tuning is designed to make audio books to be more immersive, gives phone calls extra clarity, and convey the rich range of sounds in movies with high quality. Mach-E's infotainment system also features integrated apps for podcasts, and is able to play them with optimum performance through the audio.
"Human-centric design is about focusing on all the senses. Sound is an integral part of peoples' lives and has become an integral part of our design too, whether it's for practical business communication or the goosebumps stimulated by musical experiences," said Amko Leenarts, design director, Ford of Europe.
Considering the fact that most drivers spend, on average, around four years behind the wheel, this sort of design helps make that extended period of time just a little more pleasant.
We'll have much more on the Mach-E soon, so be sure to subscribe to Ford Authority for more Mustang Mach-E news and continuous Ford news coverage.