Since its reveal a few weeks ago, we've been learning more and more about the 2021 Ford Bronco. That includes things like where its rear A/C vents are located, the presence of one of its forthcoming accessories, details regarding its nifty navigation system, its flat tow capability, and the purpose of all of those cool Torx screws located inside and outside of the new SUV. But there's one more tiny detail that many might have missed – the fact that the Bronco rear seats don't fold completely flat.
As we've seen in some recent pictures of pre-production prototypes, laying the Bronco rear seats down completely still leaves them somewhat at an angle while they're resting on the rear seat bottoms. We were able to confirm this fact with Ford recently. "The second row seats folds nearly flat with a slight incline. When folded, there's about a four-inch step to the cargo floor," Ford Communications manager, Mike Levine, told Ford Authority.
Looking in from the rear cargo area, there's a plastic grooved trim piece in place that covers this "step." Judging by Ford's photos of its Cactus Grey four-door prototype equipped with the rear slide-out tray accessory, this makes the floor completely flat and level with the bottom of the rear seats when it's installed.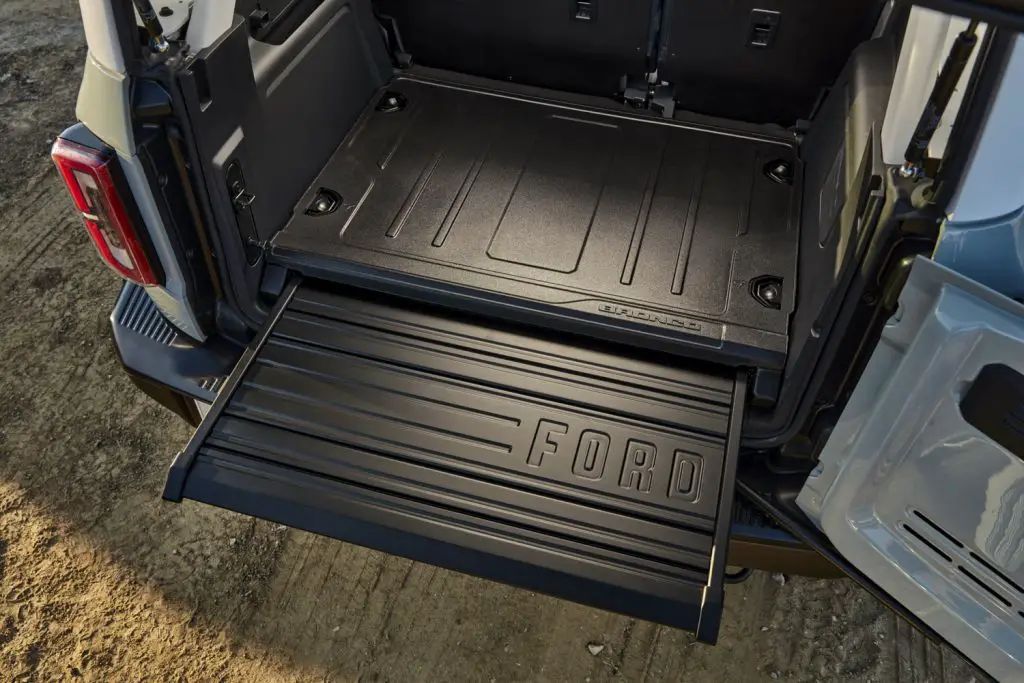 The slide-out tray fits nicely in the rear of the Bronco, and now we know exactly how much cargo space it consumes. And for most buyers, these little tidbits of information are very useful when deciding if the new Bronco is the right vehicle for their particular needs.
We'll have much more on the new Bronco very soon, so be sure to subscribe to Ford Authority for more Ford Bronco news and non-stop Ford news coverage.