From day one, it was abundantly clear that the 2021 Ford Bronco was aimed directly at its only real competitor, the Jeep Wrangler. And since the new Bronco was revealed last month, most have already declared it the winner, nearly a year before the first deliveries are scheduled to take place. But you can't blame Jeep for trying to reassure its dealers that the Wrangler isn't dead just yet, which is what it has apparently tried to do via a recent memo.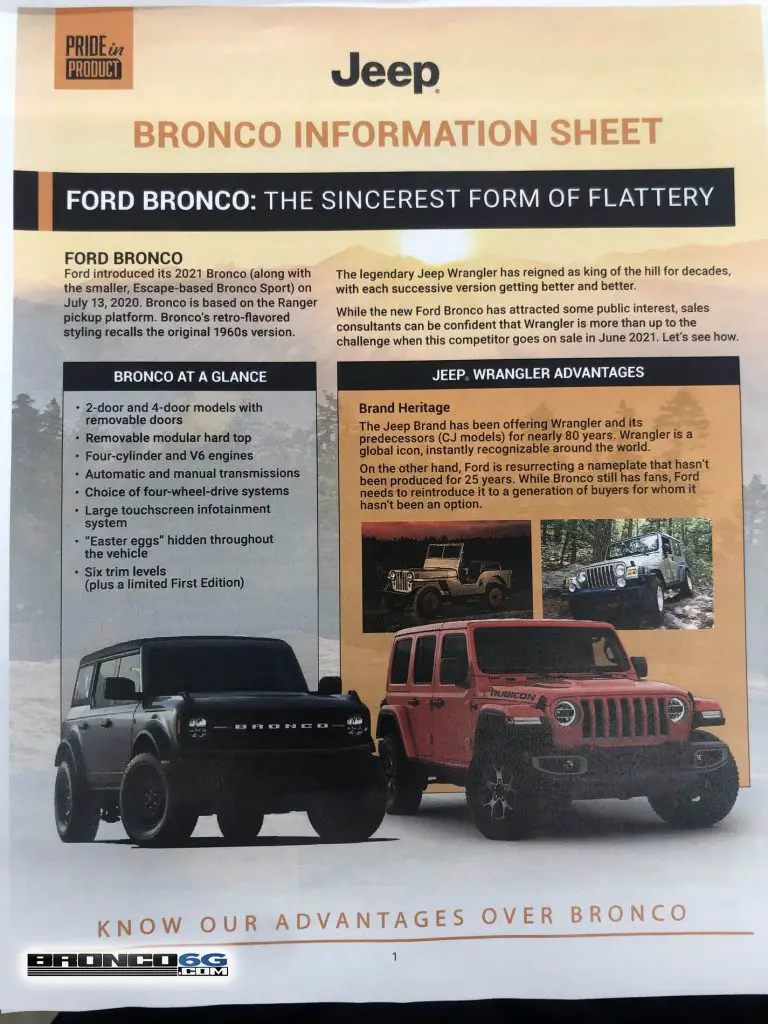 This "Bronco Information Sheet" was posted by a member of the Bronco6G forums recently, and it's a rather humorous read. For starters, the memo mentions the fact that Jeep has been doing this for a very long time, which is true. But the automaker's attempt at downplaying the massive interest the 2021 Ford Bronco has received in the last few weeks is downright hilarious.
"While the new Ford Bronco has attracted some public interest, sales consultants can be confident that the Wrangler is more than up to the challenge when this competitor goes on sale in June 2021," the memo reads.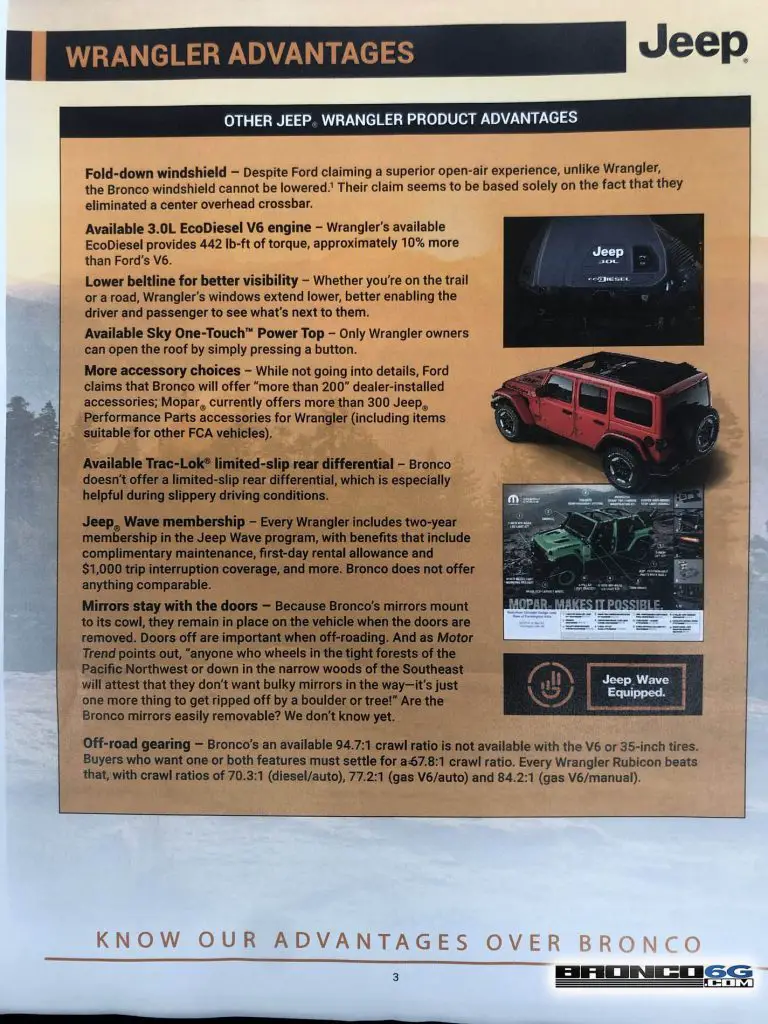 The sheet goes on to break down all the reasons why the Wrangler is a superior product to the Bronco. It mentions Jeep's heritage and long-running nameplates, while pointing out that the Bronco is coming back after a 25 year hiatus. "While Bronco still has fans, Ford needs to reintroduce it to a generation of buyers for whom it hasn't been an option," the memo says. Which is funny, because it sure seems like The Blue Oval has already done that.
As far as the Wrangler's so-called advantages over the Bronco, Jeep is keen to point those out as well. They include the SUV's fold-down windshield, available EcoDiesel engine, lower beltline for increased visibility, one-touch power top, more accessory choices, available limited slip rear differential, Jeep "Wave" membership, an established community, and mirrors that are mounted on the doors. That last one is more of a disadvantage, we'd say.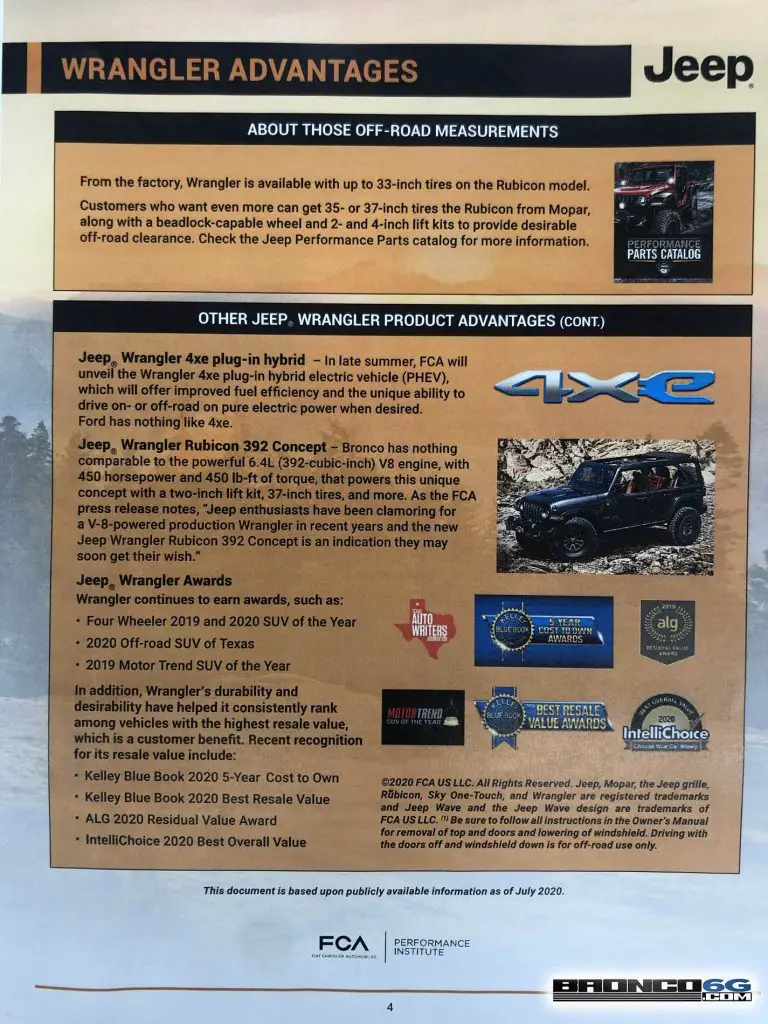 Jeep finishes up by mentioning two Wranglers that don't exist, at least not yet – the 4xe Hybrid and 392 Concept. But while the former has been confirmed for production, the latter has not. So why even bring it up?
The answer, of course, is that the 2021 Ford Bronco has Jeep understandably concerned. We imagine that the automaker is currently hard at work on some updates for the JL Wrangler, because it knows that the Bronco is a serious threat to its dominant market position. But we'll find out for sure sometime next summer.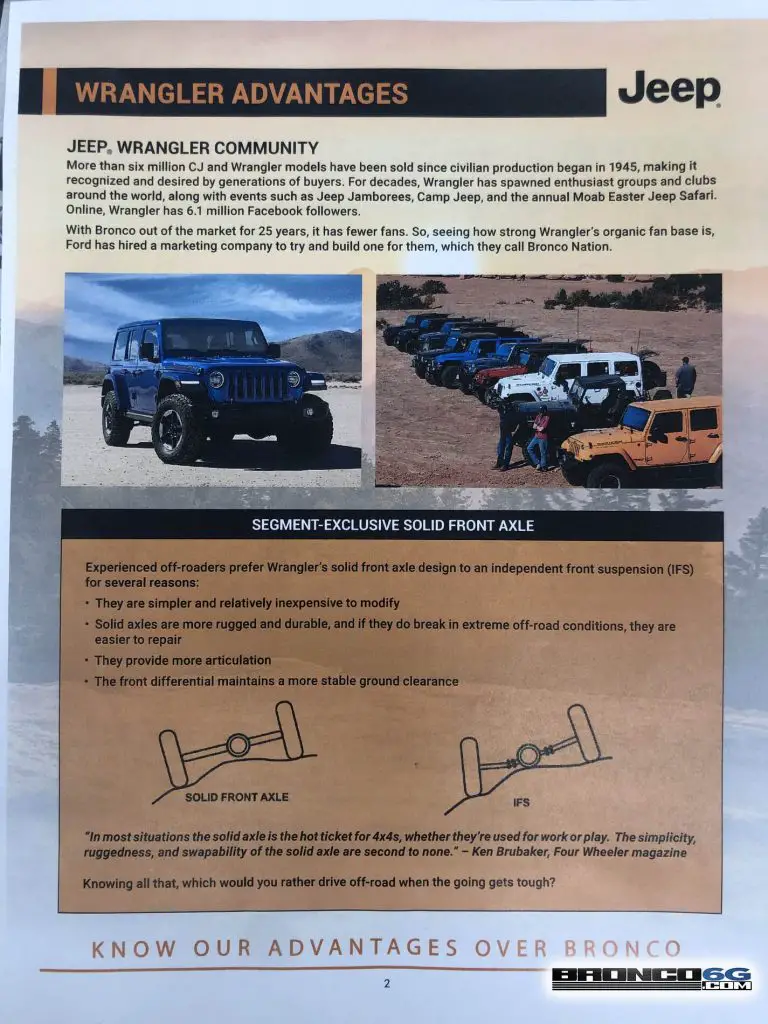 We'll have much more on the new Bronco very soon, so be sure and subscribe to Ford Authority for more Ford Bronco news and around-the-clock Ford news coverage.