By now, we know quite a bit about the 2021 Ford F-150 PowerBoost Hybrid, the first-ever hybrid Ford F-150. We know how much it'll cost, and we know that it consists of the Ford 3.5L EcoBoost V6 and 10-speed SelectShift automatic transmission, coupled with a 35 kilowatt (47 horsepower) electric motor that's integrated into the transmission. What we don't know, exactly, is what the 2021 Ford F-150 PowerBoost Hybrid makes in terms of power.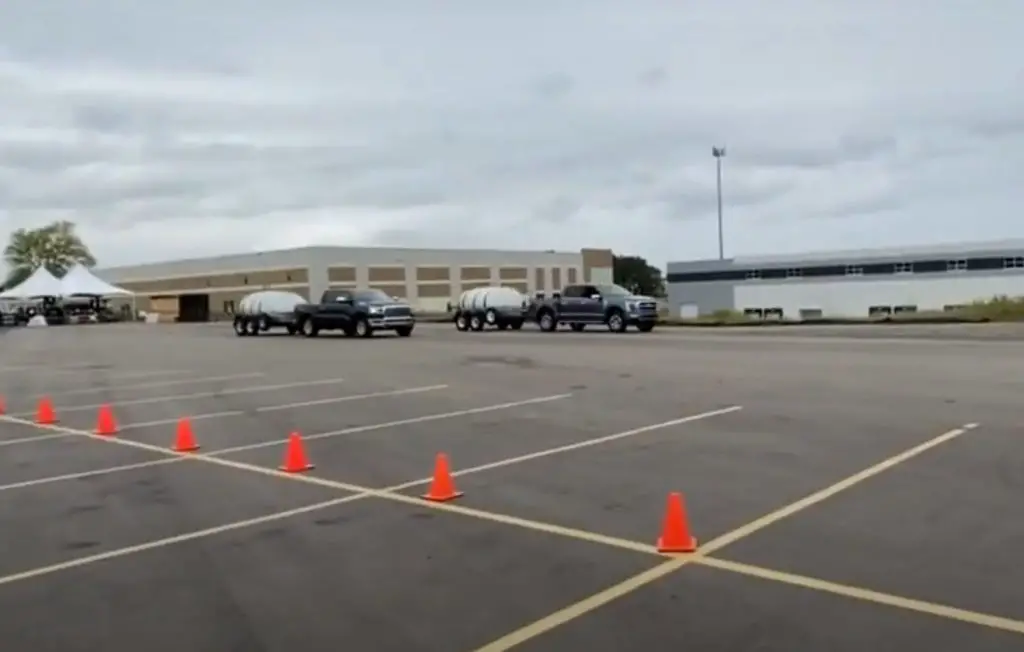 Ford is holding those numbers close to the vest until we get closer to the truck's launch this November. All we know is that is that the PowerBoost will be the most powerful drivetrain available in the new F-150, and Ford says that it will deliver a targeted EPA estimated range of around 700 miles and at least 12,000 pounds of available maximum towing.
Regardless, it does appear that a 2021 F-150 with the Ford 3.5L PowerBoost is more than capable of taking down a Ram 1500 equipped with FCA's 5.7L Hemi V8 and eTorque mild hybrid system while towing a 5,500 pound trailer. That's because we can clearly see the result of that interesting drag race in this video.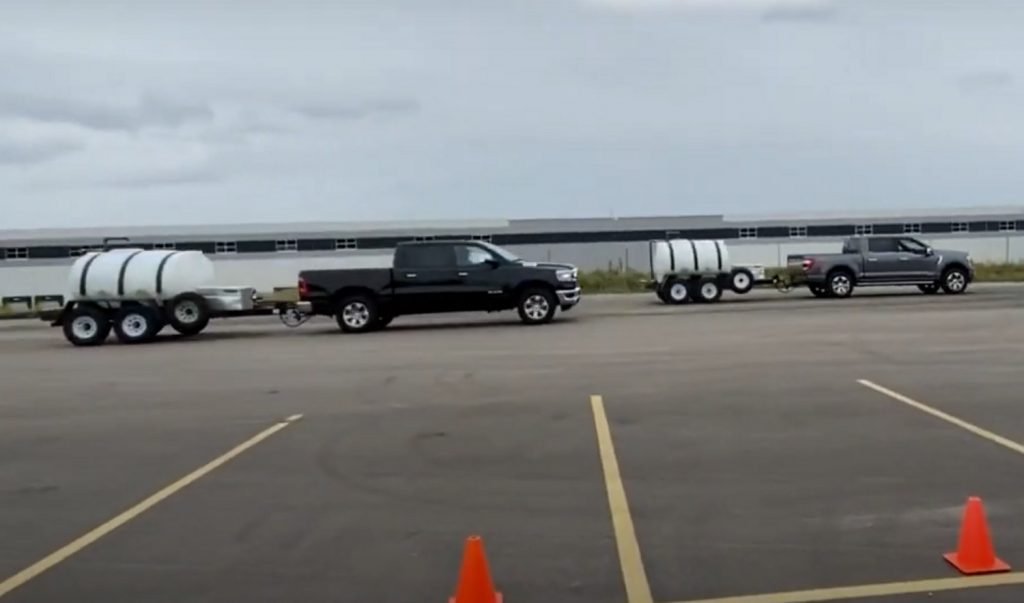 Clearly, this footage was shot at some sort of Ford event, but it's notable nonetheless. The Ram's drivetrain in this configuration is rated at 395 horsepower and 410 pound-feet of torque, which should put it at a large disadvantage compared to the PowerBoost. After all, the current-gen F-150's 3.5L EcoBoost V6 produces 375 horsepower and 470 pound-feet of torque, or 450 horsepower and 510 pound-feet in High Output, Limited trim.
The new 3.5L PowerBoost is sure to make more power than the current-gen non-hybrid model, and perhaps as much or more than the H.O. version. So perhaps this isn't a fair drag race at all. But truthfully, that's the way we like them, and we imagine that our fellow lead-footed F-150 owners will feel the same way when they line up at a stoplight next to a Ram in the other lane.
We'll have much more on the new F-150 soon, so be sure and subscribe to Ford Authority for the latest Ford F-Series news, Ford F-150 news, and continuous Ford news coverage.