We've featured our fair share of PaxPower converted Ford trucks in the past. The aftermarket builder is known for their V8-powered F-150 Raptor conversions, as well as building Ranger Raptor clones for U.S. consumption. It's also going to build and sell V8-powered Ford Bronco conversions, too. So we shouldn't be terribly surprised to see something like this supercharged, V8-powered flatbed Raptor emerge from PaxPower's lab, yet here we are.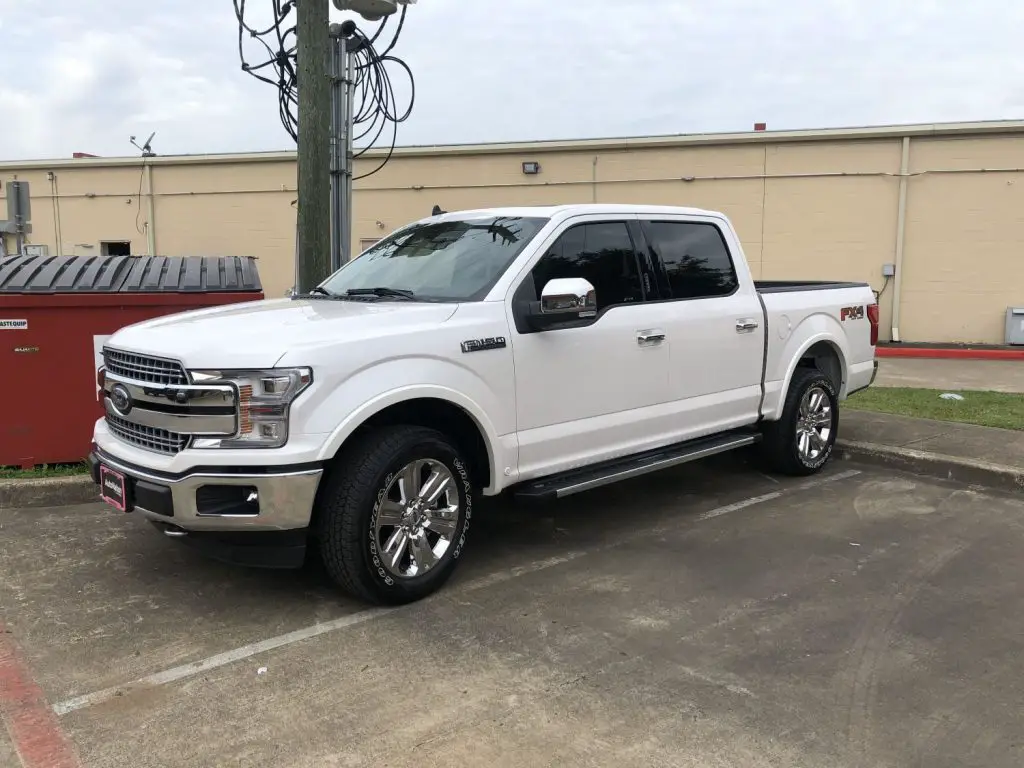 It may seem crazy to slap a flatbed on a blown, lifted, show-quality pickup, but the owner had their reasons. For starters, he owns a construction company and has become accustomed to the utility of flatbed Ford Super Duty F-350 and F-450 trucks. However, he wanted something a bit lighter, faster, more capable, and just downright more fun.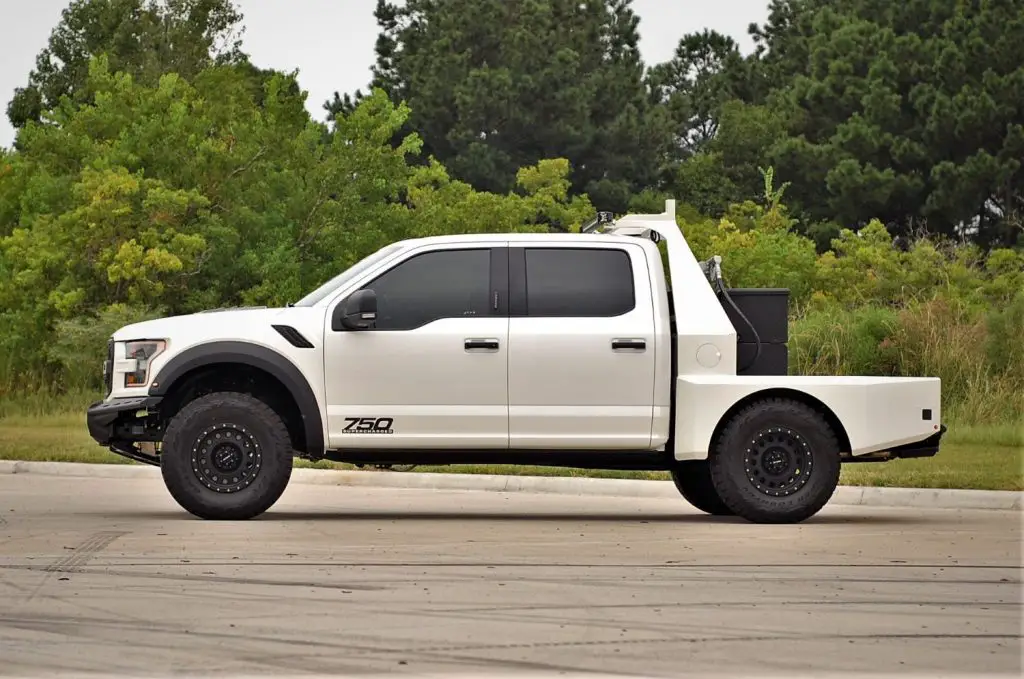 So to check off all those items, PaxPower started with a 2020 Ford F-150 Lariat with Ford's 5.0L Coyote V8 under the hood. It then performed its Raptor conversion on the pickup, which involves replacing all of the stock bodywork and suspension bits with the ones from Ford's off-road maven. Meanwhile, the Coyote was topped off with a 2.9L Whipple supercharger kit that boosts horsepower from 395 all the way up to 758.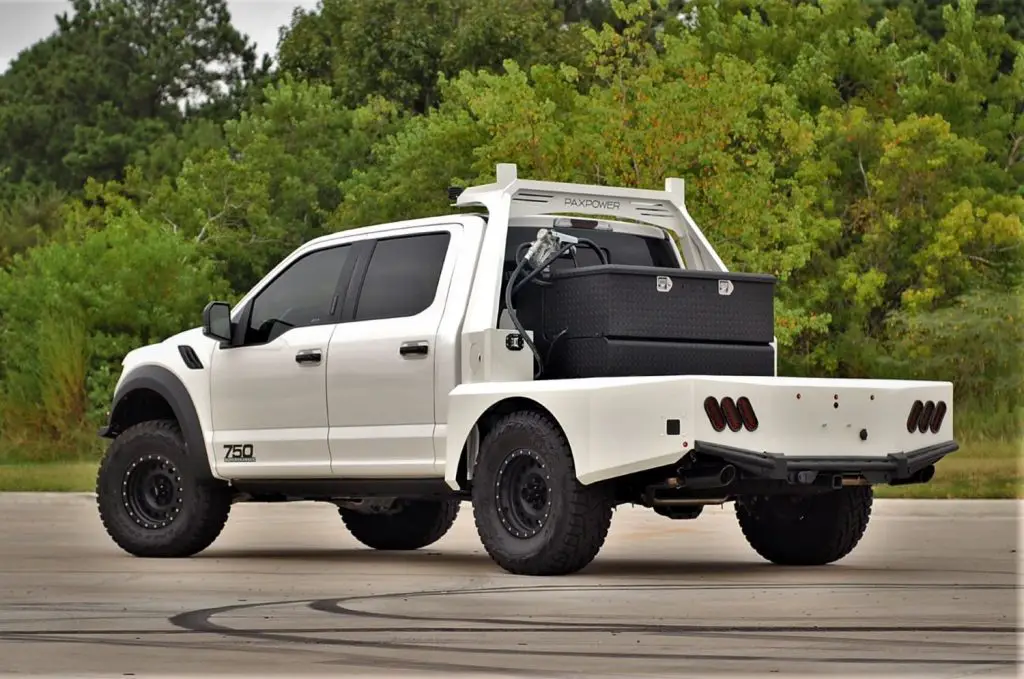 When it came time to make this flatbed Raptor a reality, however, PaxPower ran into a bit of a snag. Turns out, nobody makes a flatbed that fits the 5.5 bed length of the F-150. After doing some searching, it found a company called TurnKey Industries that agreed to make one for the pickup, and they managed to do just that – heck, it even matches the flared front fenders.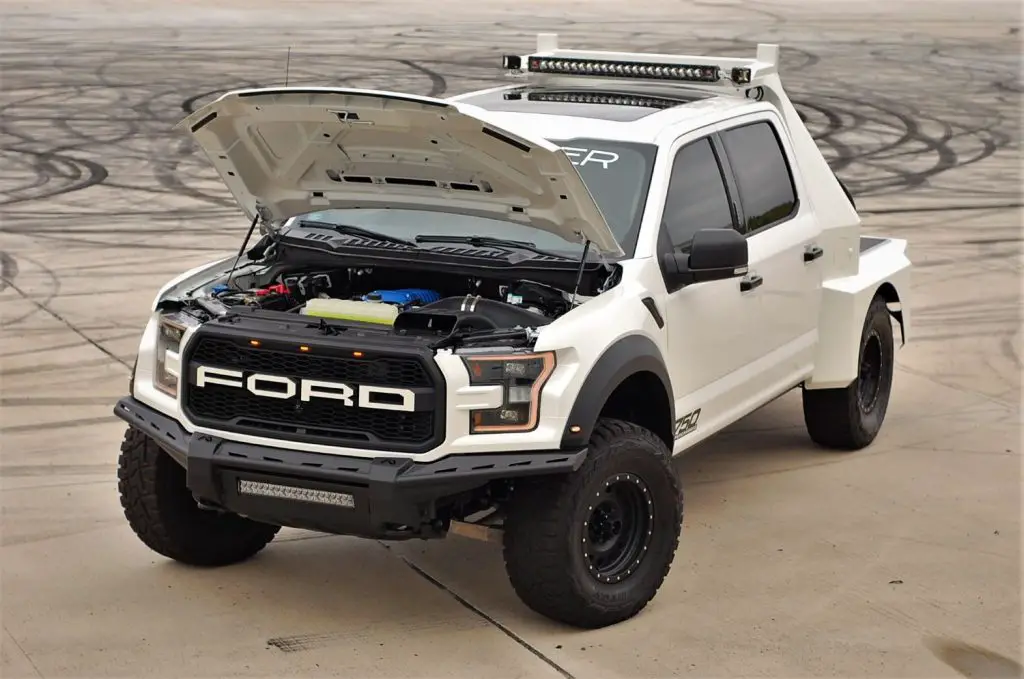 The result is an extremely capable, cool-looking, and useful rig that can tow or haul pretty much anything, including things like snowmobiles, welders, giant tanks of diesel fuel, or campers for those weekend excursions. When it's not loaded down at the job site, the flatbed Raptor is plenty capable of ripping up roads of the paved or unpaved variety. And that wide berth of capabilities makes it perhaps one of the most versatile builds we've seen in some time. No to mention one of the coolest.
We'll have more cool custom trucks like this to share soon, so be sure and subscribe to Ford Authority for the latest Ford F-Series news, Ford F-150 news, Ford F-150 Raptor news, and continuous Ford news coverage.