Back in May, rental car giant Hertz has filed for Chapter 11 bankruptcy after bleeding cash as the COVID-19 pandemic virtually shut down the plant's transportation industry for months. It's a sad development for an iconic company that's been in business for 102 years, and one that's long enjoyed a special relationship with Ford. So we thought  we'd take this time to look back at the many cool and unique Hertz Ford special edition models produced over the years.
The Hertz Ford relationship spans back to the '60s, when the duo paired up to build the very first "rental racer" – the Ford Mustang Shelby GT350-H.
1966 Shelby GT350-H
The original "rent-a-racer" was a truly groundbreaking machine, not only because of its gorgeous design and black-and-gold paint scheme, but because of the sheer novelty of the idea that a regular, working class person could rent a race car and drive it on the street for a day or a few.
A grand total of 1,000 of these Hertz Ford Shelby Mustangs were created following a deal between the General Manager of Shelby American, Peyton Cramer, and the Hertz Corporation. Needless to say, it generated a huge amount of interest and helped Hertz become the second-largest rental car company in America today.
1969 Shelby GT350-H
Hertz revived its rent-a-racer program in 1969, once again turning to the Shelby GT350 as its centerpiece. This time around, however, not every Hertz Ford was black and gold. In fact, 19 of them were painted Gulfstream Aqua with a white clarion knit Corinthian vinyl interior. Today, those very few uniquely painted cars are quite rare and valuable, as one might imagine.
2006 Shelby GT350-H
Following the 1969 Shelby GT350-H, it would be quite a few years before the world saw another Hertz Ford rent-a-racer. Shelby and Hertz paired up again to make a version derived from the S197 Mustang, for the original GT350-H's 40th anniversary.
The GT350-H was a shining new jewel in Hertz's "Fun Collection" – a series of cool cars that bucked the notion that all rentals are boring and vanilla transportation. A grand total of 500 cars were produced, all of them featuring a slight power upgrade to 325 horsepower and 10 extra pound-feet of torque over a stock 2006 Ford Mustang GT.
2014 Hertz Penske Mustang GT
Instead of partnering with Ford or Shelby on its next rent-a-racer, Hertz turned to longtime tuner and racer, Team Penske, for the 2014 pony. The two came up with a limited run of a black and yellow Mustang GT. A total of 150 units were made, then available for rent through the Hertz Adrenaline Collection.
For these cars, Penske installed a Ford Racing Handling Pack suspension with lowering springs, 3.55:1 gears, Ford Racing cold-air induction, a retuned ECU, and a performance exhaust system to give the pony a little more oomph.
2016 Shelby GT350-H
The Hertz-Ford connection returned just a couple of years later with the 2016 Shelby GT350-H. And it would be the last such official black-and-gold pony car, at least for the time being.
This time around, 140 cars were given the black-and-gold paint, a Ford Performance cat-back exhaust, a Ford Racing Handling Package with lowering springs, new dampers, anti-roll bars, 19-inch staggered-width wheels, and carbon-fiber front and rear spoilers.
2014 Focus & Fiesta ST-H
While Americans got the best of the Hertz Ford relationship via five aforementioned Mustangs, Europeans weren't completely left out in the cold. In 2014, Hertz offered up a special edition Focus ST-H and Fiesta ST-H for rental car customers, both with manual transmissions and the familiar black-and-gold color schemes.
Both cars were based on their respective ST versions, which meant the Fiesta came packing Ford's turbocharged 1.6L EcoBoost I-4 making 180 horsepower, while the Focus employed the turbocharged 2.0L EcoBoost I-4 making 252 horses.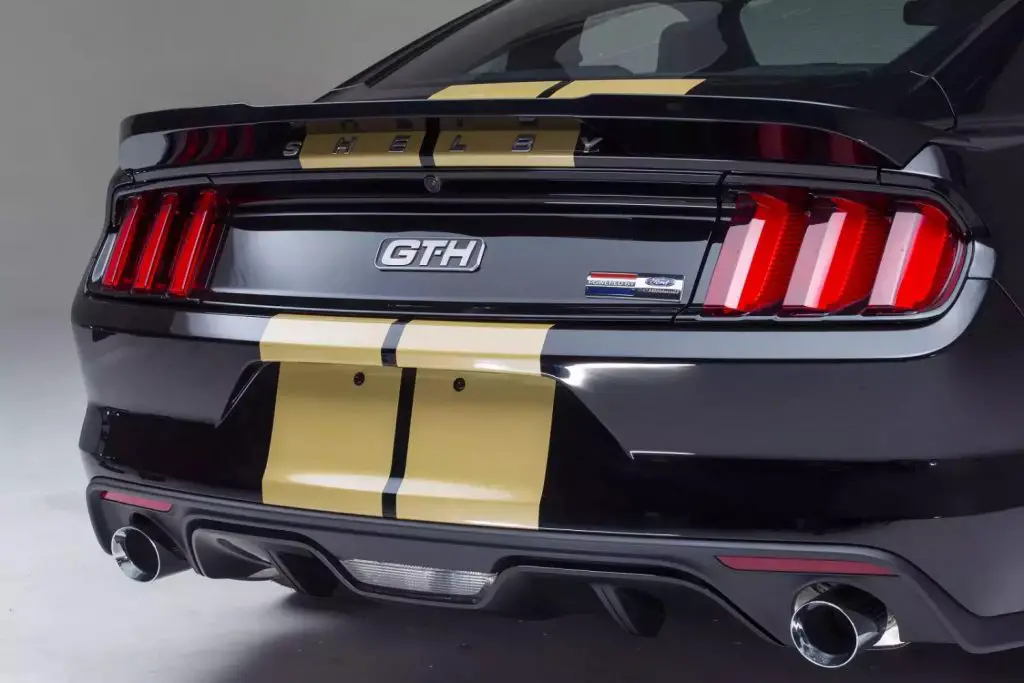 Whether or not we will see another Hertz Ford special edition ever again is unknown for now, but the rental car giant intends to continue operating, with the bankruptcy proceedings focused on restructuring the company. Hopefully, the travel industry will return to normal sooner rather than later, allowing us to rent cool cars like these soon.
We'll have more cool stories like this soon, so be sure to subscribe to Ford Authority for more Ford Mustang news, Ford Focus news, Ford Fiesta news, and non-stop Ford news coverage.