As sales of pickup trucks continue to grow, particularly those of trucks with luxurious appointments and trim levels, one simply can't help but wonder if now is the time for a new Lincoln pickup. On the surface, the idea of a luxurious Lincoln truck, such as a revived Lincoln Blackwood or Mark LT, makes perfect sense given the high levels of interest in and popularity of the increasingly-expensive Ford F-150 King Ranch, Platinum, and Limited trim levels. Even so, it doesn't look like a pickup is in Lincoln's future.
In an interview with FoMoCo Vice President and President of the North American region, Kumar Galhotra, Ford Authority executive editor, Alex Luft, asked whether a Lincoln pickup truck, potentially a follow-up to the Lincoln Mark LT or Blackwood, is something the automaker was considering.
The answer was very simple: "No, no pickup plans for Lincoln," Galhotra said with a chuckle, adding "We're very focused on Lincoln SUVs, which are doing great."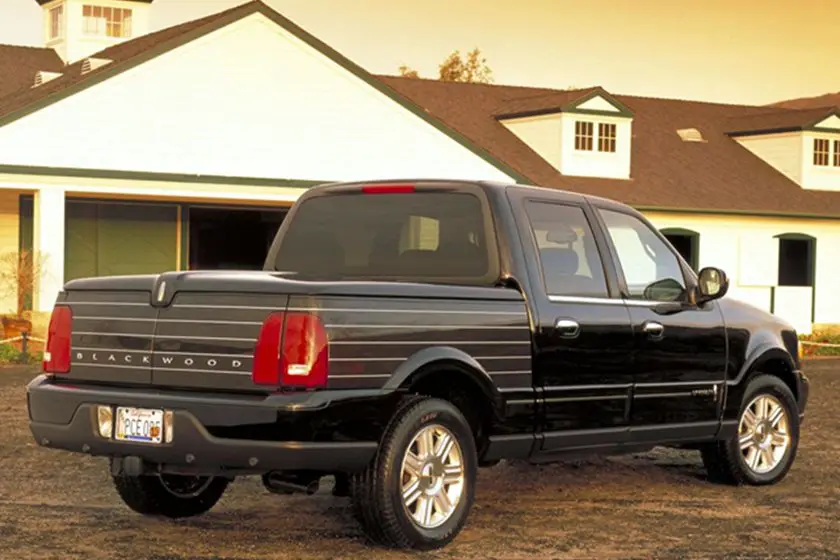 Lincoln SUV sales are showing promise, gaining 1.5 percent in retail market share to more than 7 percent of the premium SUV segment during the second quarter of 2020. The automaker's two remaining sedans – the Lincoln MKZ and Lincoln Continental – will be discontinued at the end of the 2020 model year, leaving the luxury brand with a portfolio consisting of four utilities – three crossovers (Corsair, Nautilus, Aviator) and one SUV (Navigator / Navigator L).
Thus, it doesn't look like we'll be seeing another Lincoln pickup any time soon, if ever, and we can't really blame FoMoCo for shying away from the idea. After all, the Lincoln Blackwood was a failure by all accounts: only 3,356 units were produced across a single model year (2002) before the model was scrapped.
The Blackwood was essentially a Ford F-150 SuperCrew pickup with different body panels, a different grille and front end that was styled to look like the era's Lincoln Navigator. The Blackwood also featured a few unique interior appointments, including a navigation system, plus two very unique features: a split "barn door" style tailgate, and a hard bed cover. Both features were standard. Power was derived from the Ford modular 5.4L V8 engine rated at 300 horsepower, while a four-speed automatic transmission swapped cogs.
Despite the Blackwood's lack of commercial success, FoMoCo tried its luck one more time in making a Lincoln pickup, introducing the Mark LT in 2006. Much like the Blackwood, the Mark LT was also essentially just a rebadged Ford F-150 with a unique grille, tail lights, wheels and a few luxurious interior appointments. Lincoln sold 10,274 units of the Mark LT in its first year of production, but sales quickly waned and the model was discontinued after the 2008 model year.
Despite their lack of commercial success, it's clear now that the Lincoln Blackwood and Mark LT were simply ahead of their time. During the time both models were on sale, the notion of a luxury pickup truck hadn't pickup up steam. Fast forward to today, and luxury trucks are more popular than ever. In fact, many buyers are replacing luxury sedans with premium pickups. To that end, the upper trim levels of the Ford F-150 – such as the Platinum and Limited – are very luxurious in their own right, thereby seemingly negating the need for a new Lincoln pickup.
We'll have more exclusive insights like this to share soon, so be sure and subscribe to Ford Authority for more Lincoln news and ongoing Ford news coverage.