We're all well aware of the reputation the Ford Mustang has for, well, crashing. Crashing into poles, bodies of water, and even houses. But perhaps that uncanny talent is also capable of rubbing off onto other vehicles, or at least the desire to show off with disastrous results. That certainly seems to be the case in this new video that shows a C7 Corvette crashing right in the middle of a pack of Mustangs.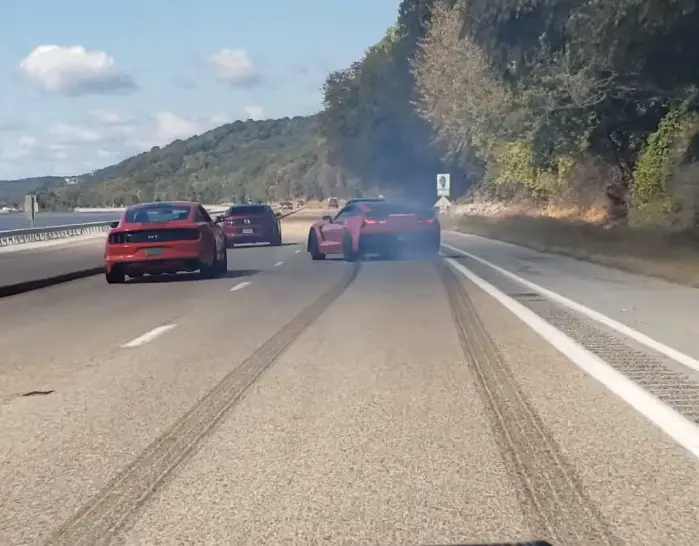 We weren't provided with any sort of backstory as to what's going on here, but it's clear that a pack of Mustang drivers are out enjoying a cruise together. The C7 Corvette, which is in the middle of the pack, changes lanes, only for the entire group of cars to slow down for some reason. We're not sure if they're trying to mess with the Corvette driver or if there's something ahead that causes the procession to brake.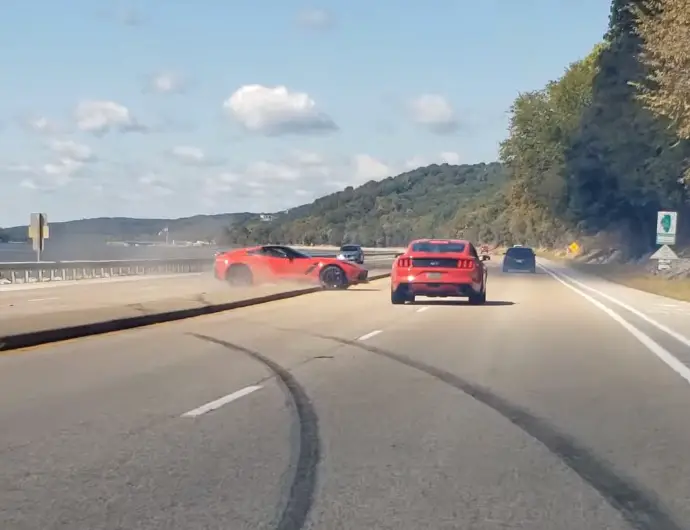 Whatever the reason, this doesn't seem to settle well with the Corvette driver. When the Mustangs in front of him take off, he tries to keep up and validate his manhood, but things go wrong rather quickly. The Corvette driver loses traction, the car pulls hard to the left, and it catapults right over the concrete median, which looks pretty painful for the fiberglass sports car, at least.
Thankfully, the Chevy guy didn't hit any other cars on his way to the lonely town of embarrassing wrecks caught on video. And the two Ford drivers behind him stopped to offer assistance, it seems. The good news is, the wreck doesn't look to be the kind that might cause any sort of bodily injury, at least to the occupants. But as far as the driver's ego goes, well, that's a different story.
We'll have more crazy videos like this to share soon, so be sure and subscribe to Ford Authority for more Ford Mustang news and continuous Ford news coverage.