The value of Ford stock increased during the October 12th, 2020 – October 16th, 2020 timeframe. Shares closed the week at $7.67 per share, which represents an increase of $0.42 per share, or nearly 6 percent, compared to the prior week's closing value of $7.25.
Movement & Ranges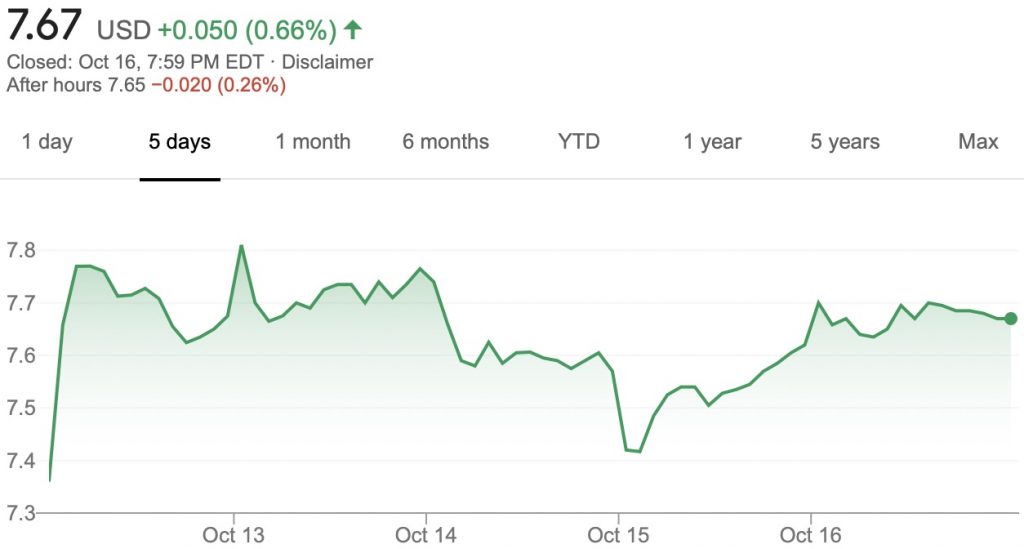 Stock Values - October 12 - October 16, 2020

| Date | Open | Close | High | Low |
| --- | --- | --- | --- | --- |
| 2020/10/16 | 7.71 | 7.67 | 7.75 | 7.61 |
| 2020/10/15 | 7.42 | 7.62 | 7.62 | 7.37 |
| 2020/10/14 | 7.73 | 7.57 | 7.75 | 7.55 |
| 2020/10/13 | 7.82 | 7.76 | 7.88 | 7.63 |
| 2020/10/12 | 7.36 | 7.67 | 7.87 | 7.33 |
By comparison, shares of Ford's cross-town rival – General Motors Company – grew $1.29 per share, or 4 percent – during the October 12th, 2020 – October 16th, 2020 timeframe. It's worth highlighting the fact that Ford shares have risen $3.66 since hitting a low of $4.01 on March 23rd.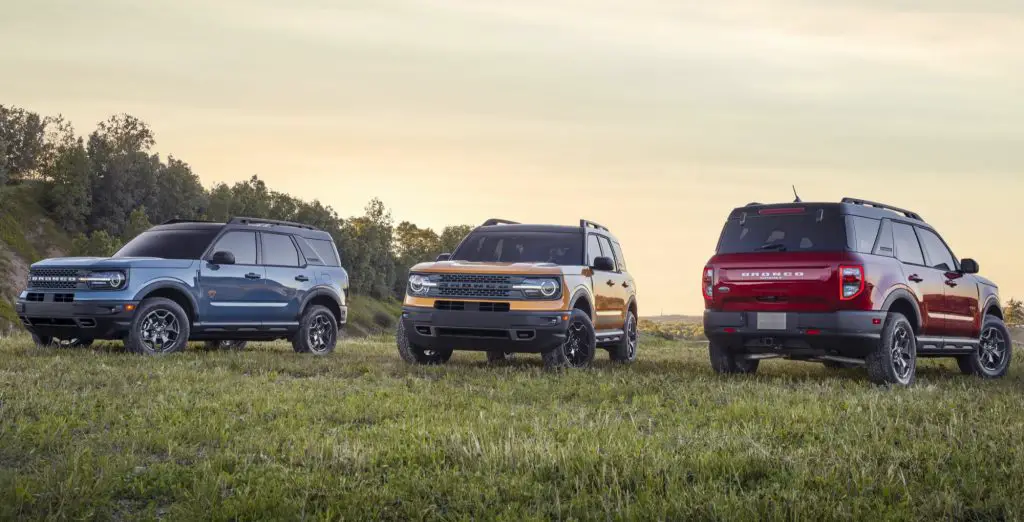 Ford Stock Factors
This week's $0.42 increase in Ford share values is similar to last week's growth rate of $0.38 per share. The two consecutive weeks of upward movement follow a decline, itself preceded by two consecutive weeks of growth in the Dearborn-based automaker's stock.
One of the leading factors in Ford stock values are Ford's recently-reported Q3 2020 sales, which fell 5 percent to 551,796 units. The results represent a very healthy recovery in light of the COVID-19 pandemic.
"Despite the challenging pandemic environment, our retail unit sales were down only 2 percent and we had our best third quarter of pickup truck sales since 2005," said Mark LaNeve, Ford vice president, U.S. Marketing, Sales and Service. "F-Series finished the quarter on a high note with September sales up 17.2 percent with over 76,000 F-Series pickups sold. This is a testament to our winning product portfolio and the performance of our great dealers," he added.
Additionally, Ford sales were up 25 percent in China during the third quarter of 2020, building on the three percent growth in China experienced in the preceding quarter. Notably, Q3 2020 represented FoMoCo's single biggest sales increase in China since 2016.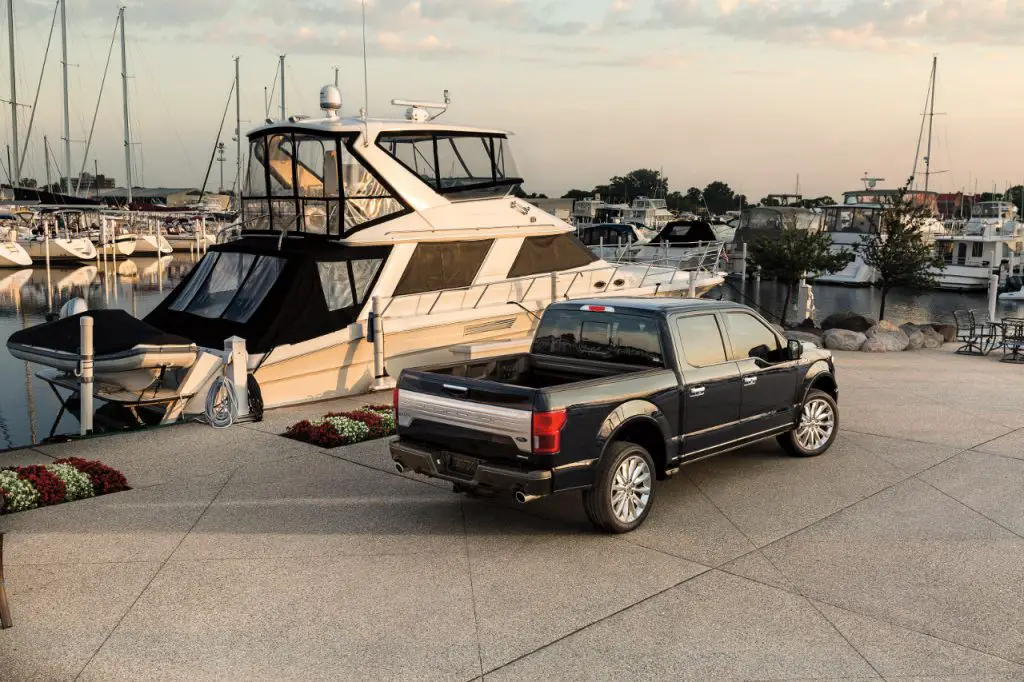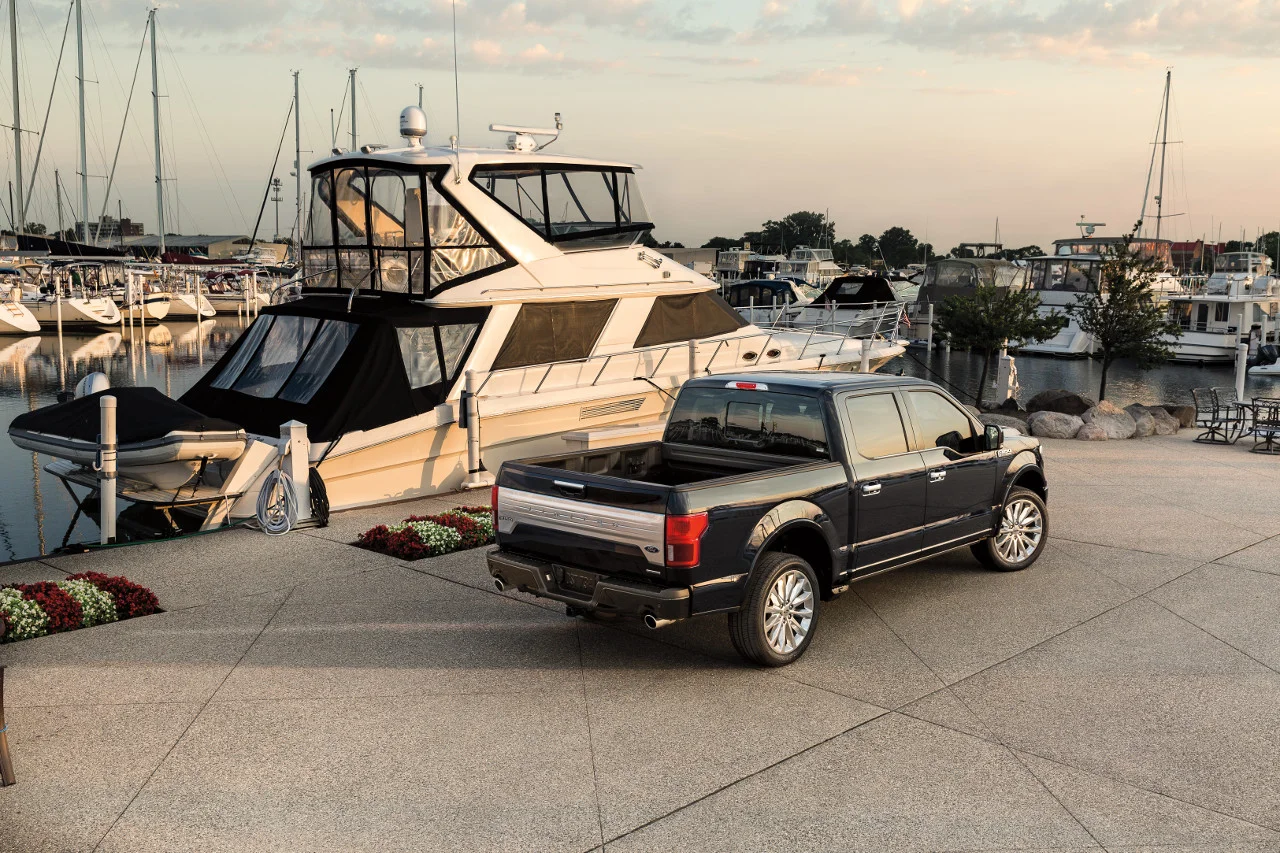 Investors recently found out about the relationship between The Blue Oval and Velodyne Lidar, in which Ford holds a 7.6 percent stake or 13.06 million shares. With Velodyne shares trading around $17.40 puts Ford's stake at approximately $227.2 million. Velodyne is the exclusive provider of Light Detection and Ranging (LIDAR) sensory equipment for Ford's autonomous vehicle projects.
Additionally, Jim Farley officially started as Ford CEO on October 1st. In doing so, he outlined key goals and organizational changes. Farley's growth strategy for Ford includes:
Another noteworthy factor is the overwhelmingly positive reception of the all-new 2021 Ford Bronco and 2021 Ford Bronco Sport. In fact, Ford stock experienced four consecutive weeks of growth following the reveal. The limited-production First Edition model of the Bronco two-door and four-door sold out in just a few hours, prompting Ford to double availability. The Bronco Sport First Edition sold out in less than two days. All three Bronco models have seen massive interest, causing significant traffic spikes on the automaker's website as Bronco reservations exceeded 165,000 in the first three weeks of availability.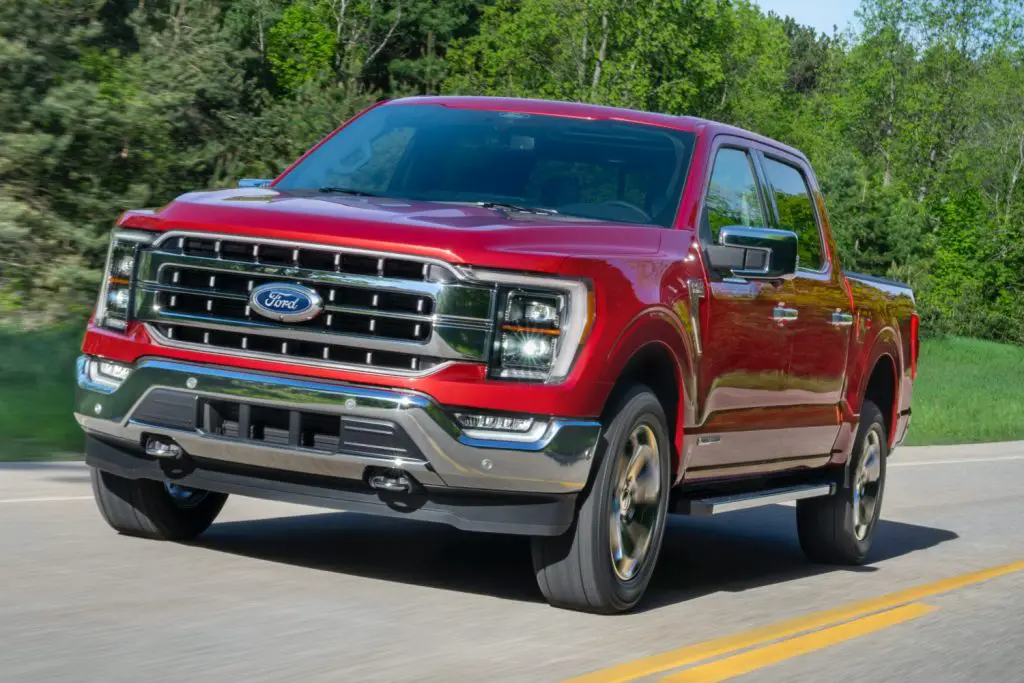 Besides the Bronco and Bronco Sport, Ford also recently unveiled the all-new 2021 F-150 – its most profitable and revenue-generating product. The all-new half-ton, full-size pickup features a significant amount of updates and new features, along with an all-new exterior and cabin.
Production of the 2021 F-150 started on September 17th, 2020 at the Ford Dearborn Truck plant within the Ford Rouge Center complex. The truck will see a gradual rollout before hitting full stride in roughly two or three quarters following the start of production. Additionally, Ford just announced a new plant within the Rouge Center. Termed the Ford electric vehicle center, the new facility will build the upcoming electric F-150, which is slated for launch in 2022.
Prior to the reveals of the F-150 and Bronco family, Ford and Volkswagen agreed upon the finer details of a new partnership wherein both automakers will officially develop and produce several vehicles. Additionally, the tie-up will see VW invest several billion in Argo AI, an autonomous software firm backed by Ford.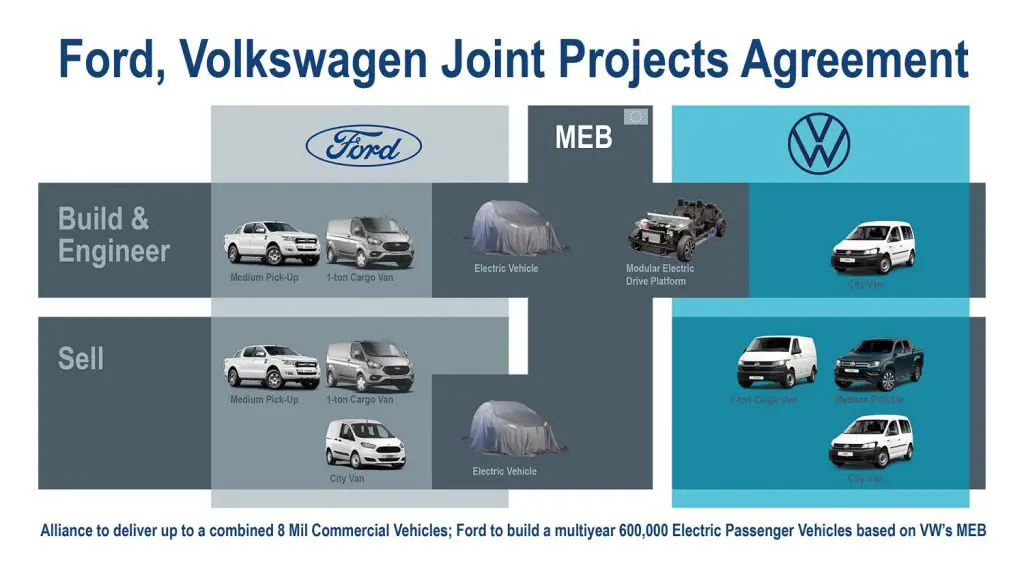 Ford During COVID-19
Ford stock has seen historically-low values during the COVID-19 pandemic, with some being the lowest recorded in over a decade. This week's $6.89 per share price places the value $2.53 below the $9.42 per share mark at which Ford stock opened the 2020 calendar year.
The Blue Oval has had to navigate unprecedented setbacks during COVID-19. For starters, the Coronavirus pandemic forced Ford to idle production across North America, South America, Europe and China, putting the firm in an unfortunate position. The scenario resulted in a steep decline in revenues and an accelerated cash burn, resulting in a loss-making scenario for Ford (or for any automaker, for that matter)
Ford production in China resumed in March, Ford Europe production started back up on May 4th and most North American Ford production resumed on May 18th. The restart in production hasn't been a completely smooth endeavor, as various facilities were forced to pause production for up to 24 hours for cleaning and area disinfection after workers tested positive for COVID-19.
Ford has taken major steps to steer through the COVID-19 pandemic. The automaker's actions have primarily revolved around reducing and/or deferring expenses and shoring up cash. To that end, Ford suspended its dividend while borrowing $15.4 billion in March before borrowing another $8 billion in April.
While it was taking all of these actions during idled vehicle production, The Blue Oval has been producing shields, face masks, and respirators to help medical workers fight the virus on the front lines. Ford will continue making the PPE, at an accelerated pace in some instances, now that vehicle production has restarted.
Ford also helped suppliers get through the trough created by the pandemic by paying its bills ahead of schedule.
In May, Jim Farley, who at the time served as COO, bought $1 million in Ford stock, making it the largest open-market share purchase by a Ford executive in a decade. Then, in early August, Ford CEO, Jim Hackett, announced an early retirement. He will be succeeded by Farley.
More recently, Ford share values have experienced steady growth since the automaker released its second quarter 2020 earnings, wherein FoMoCo lost $1.9 billion in the midst of the COVID-19 pandemic. The results are much better than the $5 billion Ford initially expected to lose when going into the quarter.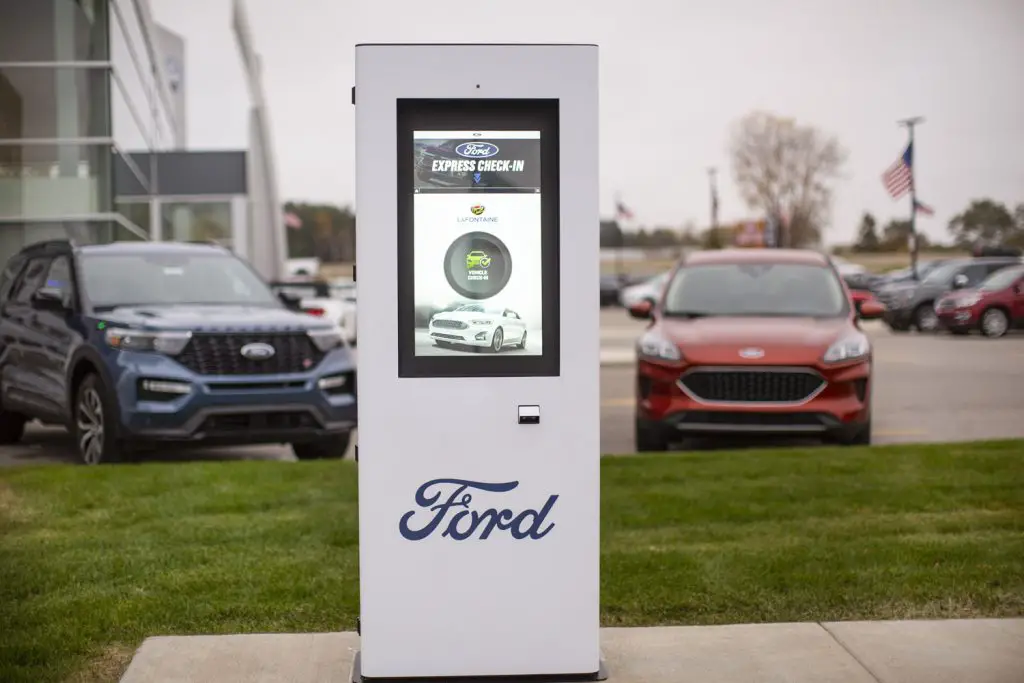 Ford Stock Before COVID-19
The fitness of the Ford Motor Company had several business-related issues well before the global COVID-19 outbreak, including lack of profitability in several key vehicle lines and in international regions, along with quality issues associated with critical product launches. To that end, then-Ford CEO Jim Hackett replaced Joe Hinrichs with Jim Farley as COO, allegedly due to major issues associated with the rollout of the all-new 2020 Ford Explorer and Lincoln Aviator – two key models that come at a critical time, given the popularity of crossovers and SUVs.
Ford announced even more changes to its executive ranks in late April. The changes, made by Farley after a 10 week-long deep dive, were presented as a way to "better serve customers, streamline decision-making and increase accountability."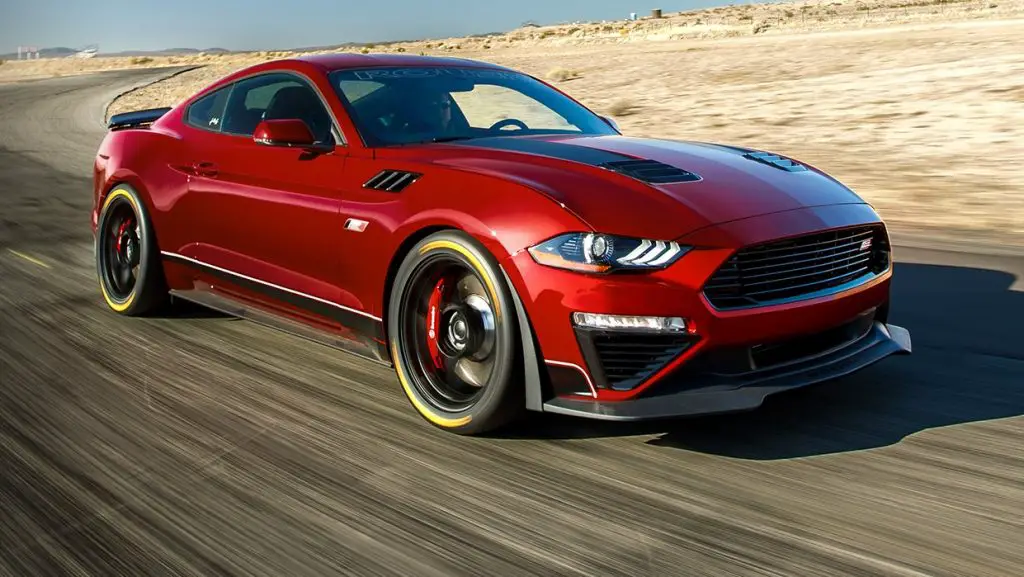 Coronavirus-related items aside, we remain interested in seeing how Ford stock will perform throughout the rest of 2020, especially in light of various actions taken by the Dearborn-based automaker in 2019 and 2020 to improve the fitness of its business. These actions include discontinuing all sedans to focus on more profitable crossovers, SUVs, and pickups in North America, while at the same time investing in resource-intensive autonomous vehicle technologies like its Argo AI autonomous service as well as electric vehicles. Both initiatives have yet to result in a positive ROI for any automaker.
"They key here is, not just for us, the sedan segment itself has been in decline for a very long time, and that decline has been accelerating over the last few years," Kumar Galhotra, President of Ford North America, told Ford Authority executive editor, Alex Luft, in a recent interview.
It's worth noting that The Blue Oval started both efforts much later than its direct rivals. For instance, FCA was the first to discontinue most of its sedan portfolio and General Motors started to invest heavily into EVs and autonomous vehicles much earlier than The Blue Oval.
In late 2020, the very first units of the all-new Ford Mustang Mach-E will begin arriving at dealers. The Mach-E is an electric, four-door crossover-like hatch inspired by the legendary Mustang pony car. The Mustang Mach-E demonstrates that Ford isn't afraid to redefine legendary nameplates, and recreate them in new body styles and as new vehicle types. The automaker sold out the introductory Mustang Mach-E First Edition variant – a promising development that should serve as an indicator of future Ford share values. However, First Editions of the vehicle recently became available once again as a result of higher production. Additionally, Ford Authority was recently first to report official pricing for the 2021 Mach-E, which will start at $43,895.
We'll be here to report more as we have it, so be sure to subscribe to Ford Authority for ongoing Ford stock news and around-the-clock Ford news coverage.