Modern pickup trucks like the 2021 Ford Ranger and 2021 Ford F-150 have a lot to offer shoppers. But there's just one problem: they're quite large, with the Ranger boasting a 210-inch long body. That makes getting into and out of tight parking spaces a bit more difficult when compared to something like a Ford Escape or EcoSport. Fortunately, someone in Redkey, Indiana created the perfect solution. They took a 2002 Ford Escape XLT and molded it into the "perfect" compact pickup, making the Ford Maverick that never was.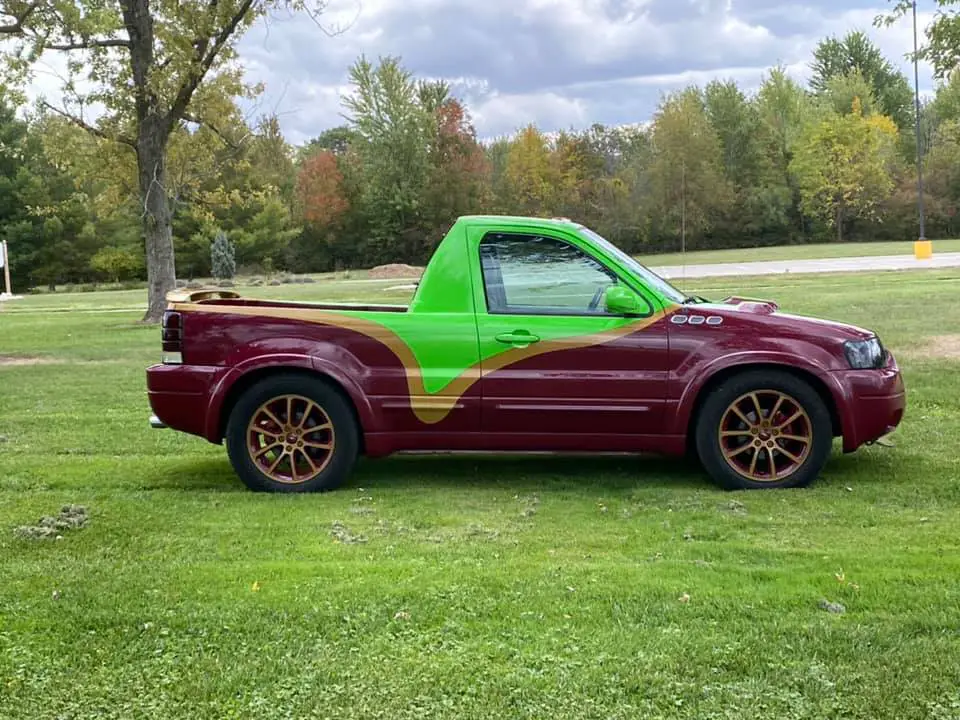 This unique 2002 Ford Escape lived its life as a plain old compact crossover until the owner decided to give it a second life as a surprisingly decent looking pickup. Though some might take issue with the fake side vents, hood scoop, and bizarre paint job, there is no denying this model's uniqueness, as it's radically different than a stock Escape.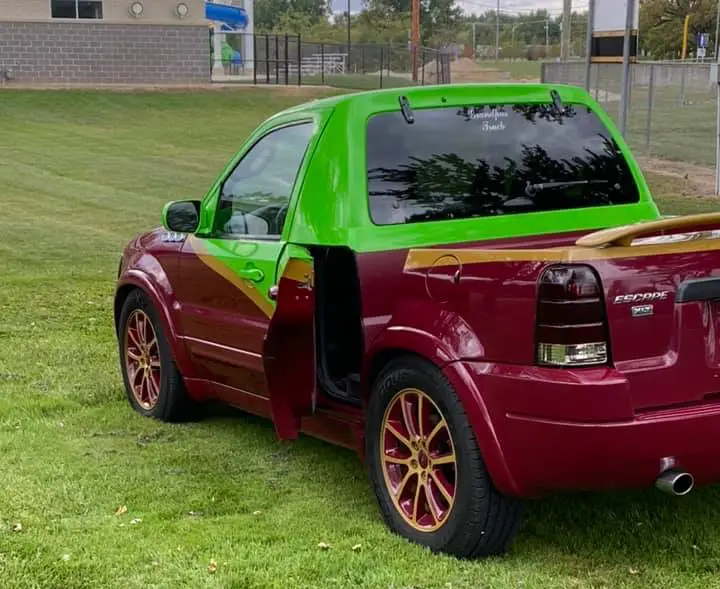 From what we can tell, the 2002 Ford Escape had its roof chopped off and most of the interior behind the front seats removed. But the rear doors and the bottom half of the liftgate were left "intact." The owner seems to have melded the upper rear portion of the roof – which includes the upper half of the original liftgate – to custom bodywork that's combined with a portion of the Escape's roof structure right behind the first row.
While the rear liftgate and rear passenger side door don't appear to function anymore, the driver's side rear door can still open and close! To make matters even more interesting, opening the door allows simultaneous access to the "cab" and the "bed," which is pretty useful and not a feature offered on any regular pickup currently on the market.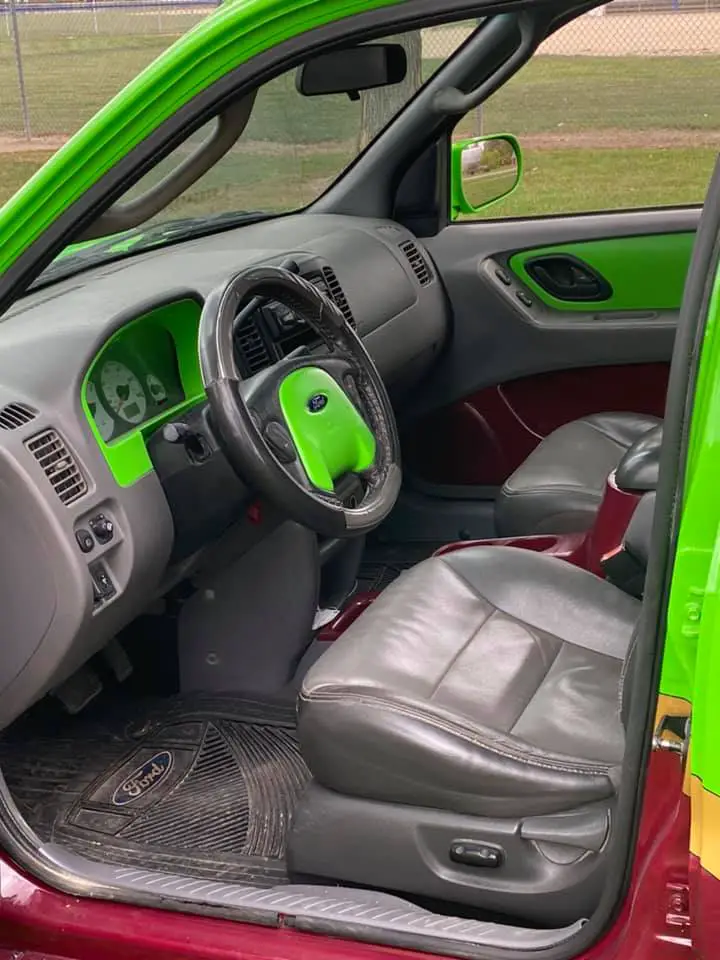 Inside, the owner decided to paint various interior bits to match the exterior color scheme, including but not limited to the steering wheel airbag cover. It's here that we see that this 2002 Ford Escape comes relatively well-equipped, with features like a power driver's seat, leather, power windows, power door locks, and power mirrors. The interior itself also seems to have held up well over the course of its 18-year lifespan.
Mechanically, this Escape pickup seems to have also been well-maintained. The owner recently replaced the alternator and installed new ball joints, tie-rod ends, and sway bar bushings. The SUV-turned-pickup has a respectable 175,000 miles on the clock.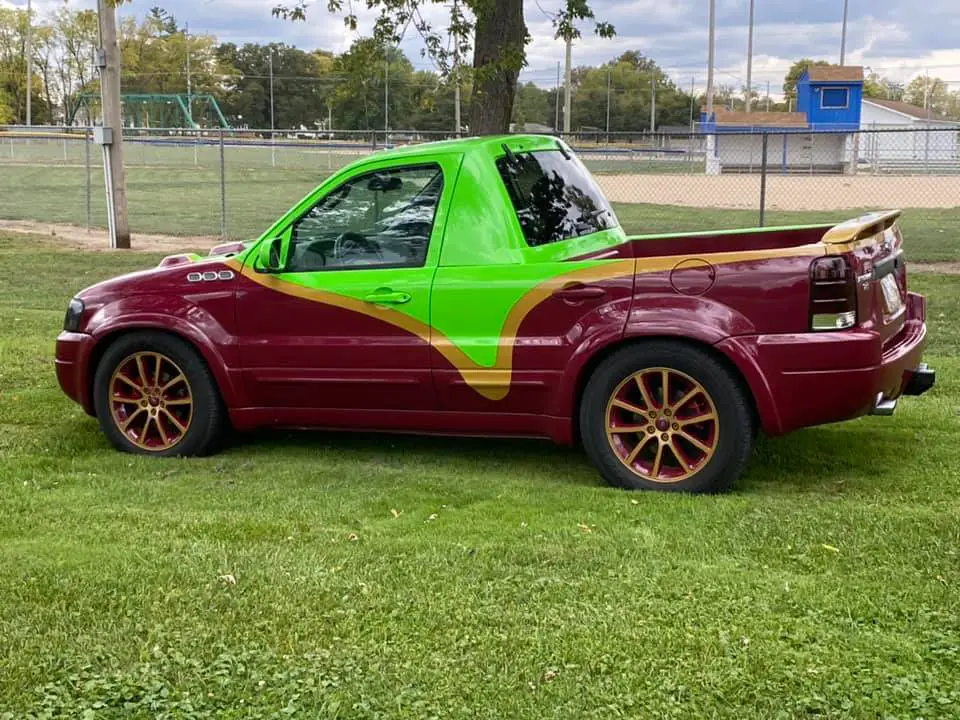 Clearly, a lot of time and money was spent making this 2002 Ford Escape into a compact pickup. That's why it's hard to completely dismiss the $13,000 asking price. A modified Escape from the same model year isn't worth a fraction of that figure, but then again, this is a pretty unique vehicle.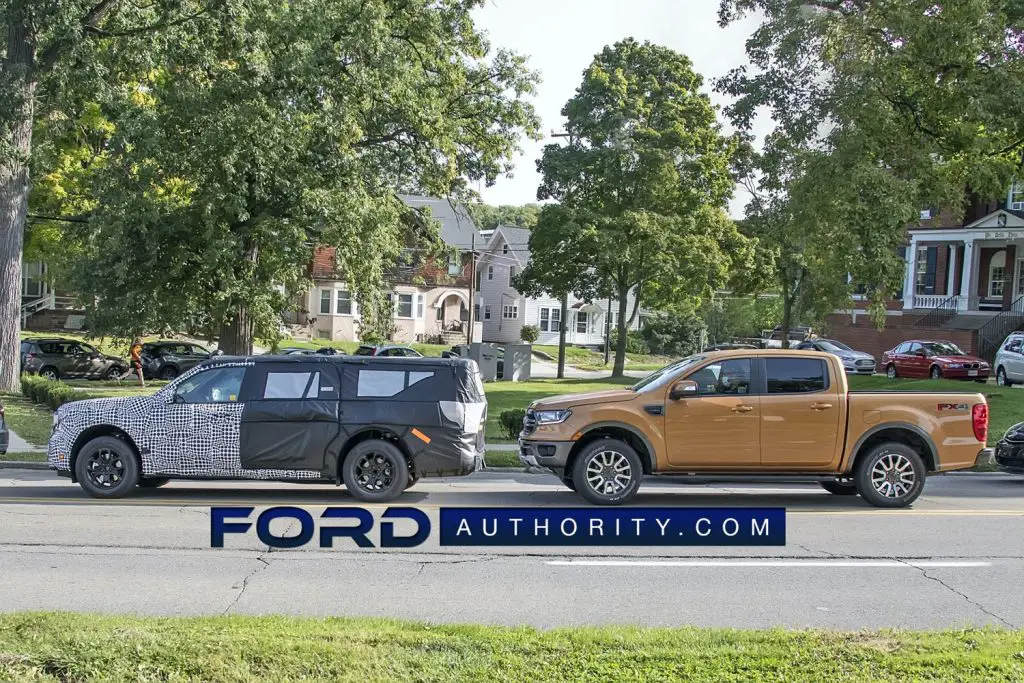 It is also something pickup shoppers will never be able to purchase at their local Ford dealership. That's because the upcoming Ford Maverick is set to come only as a SuperCrew model, with a length similar to that of the the Ford Ranger. By contrast, this 2002 Ford Escape pickup is likely much easier to maneuver and park, although the limited bed access is a bit of a drawback.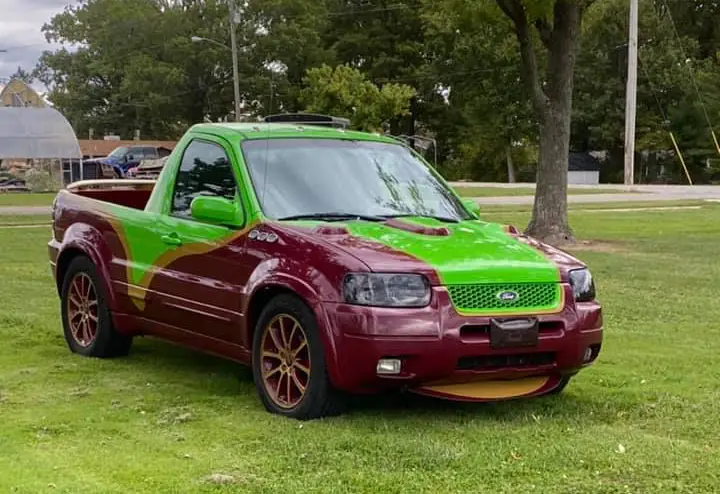 Regardless, the conversion makes its creator something of a visionary, because when the Maverick debuts next year, it will be based on the Ford C2 platform, an architecture shared with the 2020 Ford Escape. In both cases, the pickups should offer buyers some added utility combined with car-like handling characteristics. Either way, those that can't wait can probably still purchase this 2002 Ford Escape pickup, as the ad is still up. It's bound to turn heads wherever it goes!
We'll continue bringing you interesting Ford builds, so subscribe to Ford Authority for the latest Ford Maverick news, Ford Escape news, and continuous Ford news coverage.