If escaping the world for a comfortable off-the-grid adventure is something that tickles your fancy, then it might be time to start looking at advanced overlanding rigs. By combining off-road capability with the practicality of a camper, the overlanding community has carved out an exciting and special niche in the automotive community. Like most hobbies involving automobiles, one's level of enjoyment and safety typically depend on the equipment involved, which is why firms like EarthCruiser started building custom vehicles specifically meant for this very purpose. The EarthCruiser Terranova is the company's latest creation, and it might be the best one yet.
EarthCruiser can make a Terranoova on a GM or Dodge Ram chassis, but we see no reason that anyone would choose a competing truck instead of America's most capable heavy-duty truck to underpin their overlanding rig. That said, the only images made available by EarthCruiser show a Ram, which is rather unfortunate.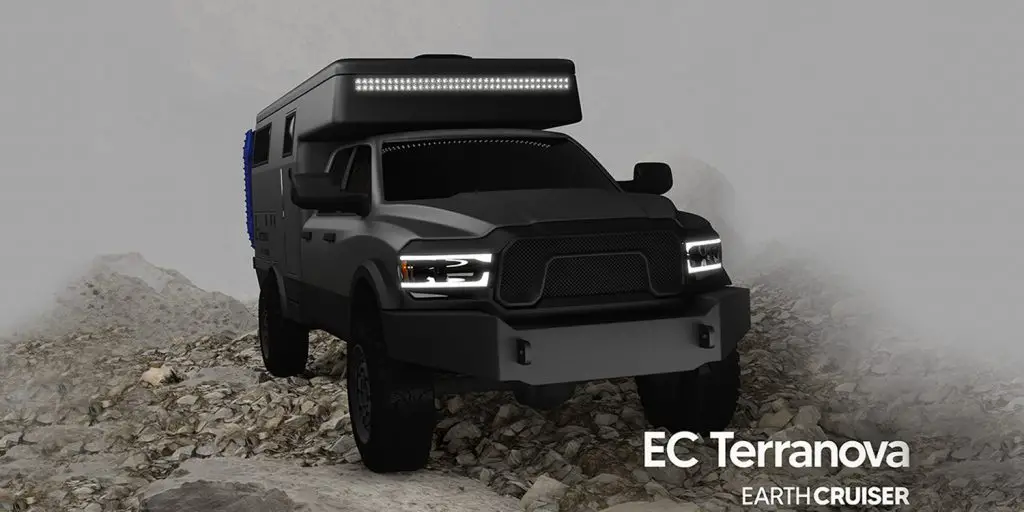 The concept of a Ford F-350 EC Terranova is relatively simple, combining an off-road truck with a camper mounted behind the cab, entirely replacing the bed. Utilizing a heavy duty truck chassis like the Ford Super Duty instead of its light-duty counterpart results in a stronger frame necessary to support the extra weight of the camper. The additional capability afforded by the Super Duty chassis also allows one to tow trailers, thereby retaining one of the key elements of a pickup truck.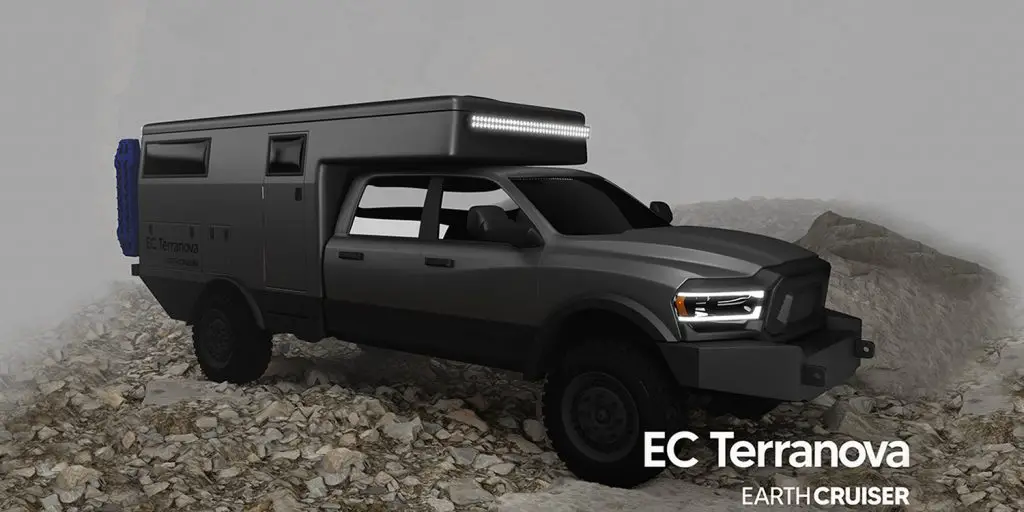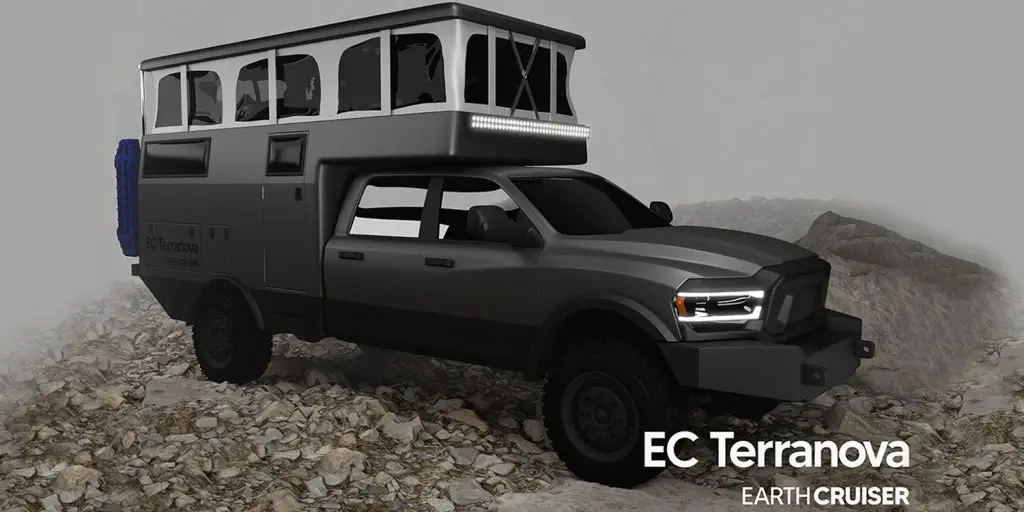 Back to the EarthCruiser Terranova: its feature set is what separates it from the competition. The new camper chassis is hewn from advanced fiberglass composites and high-density polyethylene (HDP) to keep weight as low as possible, while increasing strength and durability. Lower weight also helps to keep the center gravity of the entire package under control.
The pop-up top, meanwhile, is built with a core of foam insulation to provide rigidity and help regulate camper temperatures. The roof also features no locks or clasps, so it can be raised and lowered without having to trek out into the rain to undo a collection of clips and latches.
To make the wilderness adventures as comfortable as possible, the EarthCruiser Terranova features a hot and cold shower mounted to the exterior of the truck, as well as a purified water faucet. Mounted to the roof is a 108W solar panel system that feeds a set of lithium batteries rated at 400Ah. That means no self-wiring for solar, no constantly blown fuses for not being able to find a loose ground wire, and no mounting holes that inevitably leak.
Inside, the Ford F-350 EC Terranova is just as intelligently-designed. All the interior trim is coated in fiberglass to make cleanup easy, and help prevent any issues related to moisture and condensation. Of course, moisture buildup is highly unlikely thanks to an integrated fan system that can circulate a maximum of 200 cfm. An optional air conditioner is also available. There is room for four full adults in the Terranova, and that includes a dinette, kitchenette with fridge and stove, and a full bathroom with a full-height shower and cassette toilet.
So if escaping the modern world (and all of its COVID-19 shenanigans) is at all attractive, there are few solution better equipped to handle the task. The EarthCruise Terranova is currently in design and engineering phase, and is set for release "in early 2021," with reservations available now.
We'll have more cool rigs like this soon, so be sure and subscribe to Ford Authority for the latest Ford F-Series news, Ford Super Duty news, and continuous Ford news coverage.