PaxPower has been building some pretty cool Ford trucks in recent years, including V8 F-150 Raptor conversions, Ranger Raptor conversions, soon, a 5.0L Coyote V8 powered 2021 Ford Bronco will join the lineup. So it makes sense that the tuner would turn its attention to the all-new 2021 Ford F-150, and that's exactly what it plans to do with this – the 2021 PaxPower Alpha F-150.
PaxPower takes a bit of a different approach to building out the Ford F-150 than other tuners like Shelby and Hennessey. That starts with the suspension, where instead of just installing some aftermarket coilovers or a lift kit, PaxPower replaces every single suspension component with parts from the F-150 Raptor. That includes the upper and lower control arms, axles, brake lines, steering links, and Fox shocks.
On the outside, the 2021 PaxPower Alpha F-150 has been treated to a host of appearance upgrades, including fender flares, which add an additional 3-inches of tire clearance to cover the wider Raptor track. The new vented hood helps keep the engine bay cool, while a graphics package adds a little visual punch. The exterior is capped off by a set of 17-inch wheels wrapped in 35-inch off-road tires. Along with a dual exhaust, this base package rings in at $18,950.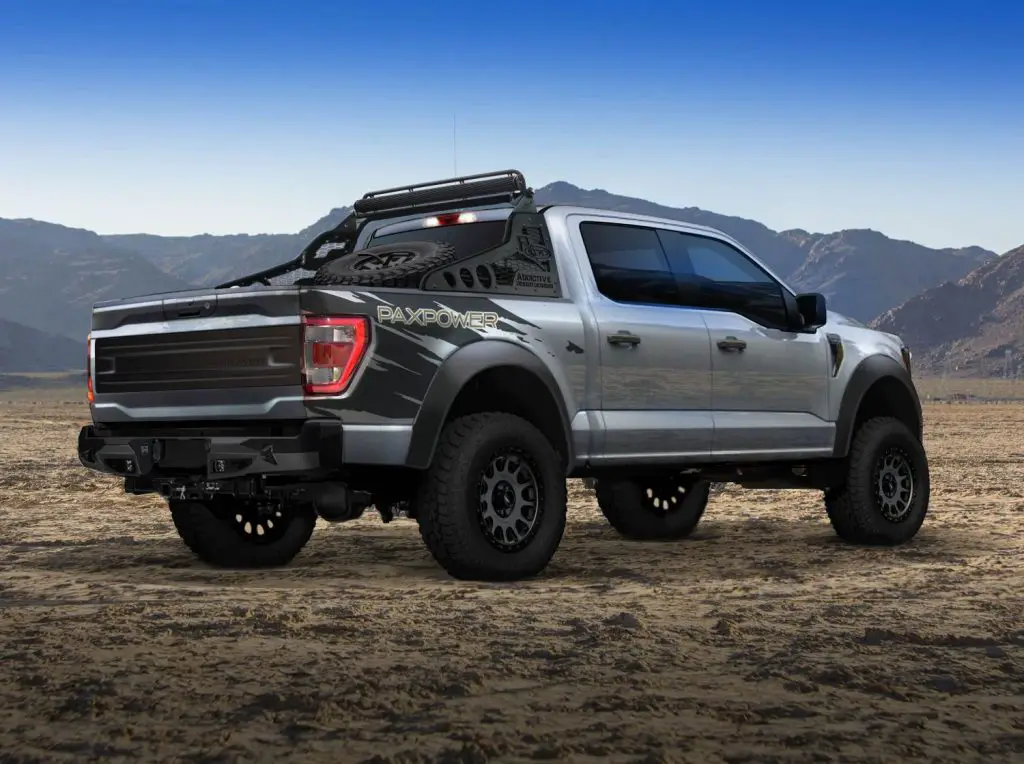 Those that want more can certainly get it with the 2021 PaxPower Alpha F-150. Optional upgrades include a set of off-road bumpers with integrated lighting for $6,950, as well as some serious performance upgrades, depending on which engine the customer starts with. The top option is PaxPower's Stage 2 supercharger upgrade for the 5.0L Coyote V8, which costs $12,450 and nets 770 horsepower and 675 pound-feet of torque.
For those that opt for Ford's 3.5L EcoBoost V6, PaxPower offers a cold air intake, larger intercooler, and engine calibration that results in an output of 500 horsepower and 625 pound-feet of torque. Even 3.0L Power Stroke diesel owners can get in on the fun with a power package that bumps output to 400 horsepower and 610 pound-feet of torque. Either of these packages can be had for the reasonable sum of $2,950 installed.
The result is a full lineup of tuned trucks that come priced under similar offerings from the likes of Shelby, Roush, and Hennessey, and PaxPower can even work with Ford dealers to roll these costs into Ford Credit financing. And, after the three-week build process is finished, the truck can be delivered straight to the customer's home. Not a bad deal for such an extensively modified pickup, we'd say.
We'll have more tuned trucks like this to share soon, so be sure and subscribe to Ford Authority for the latest Ford F-Series news, Ford F-150 news, and continuous Ford news coverage.