Pioneering research by Ford has shown how emerging technologies such as blockchain and dynamic geofencing can complement plug-in hybrid-electric vehicles (PHEVs) to help contribute to cleaner air in urban centers. The findings follow an extensive three-year study into the potential for commercial Ford PHEV vehicles to help cities solve air quality challenges.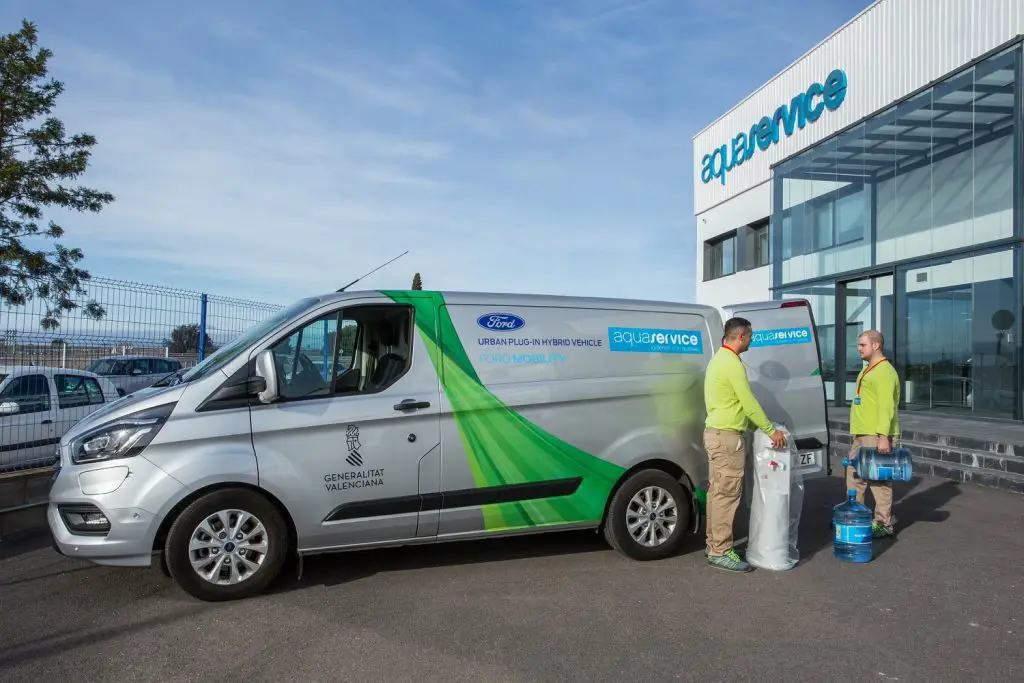 More than 400,000 kilometers (248,000 plus miles) of data was collected during the program with dozens of Ford Transit and Tourneo PHEVs deployed to a variety of municipal and commercial fleets in London, Cologne, Germany, and Valencia, Spain.
Among the learnings was how geofencing and blockchain technology can complement PHEVs to further improve urban air quality by triggering zero-emission running based upon local air quality. The trial also featured an innovative Ford PHEV van fitted with an electric refrigeration unit powered independently of the vehicle's batteries, showcasing the operational flexibility and range of use cases supported by the platform.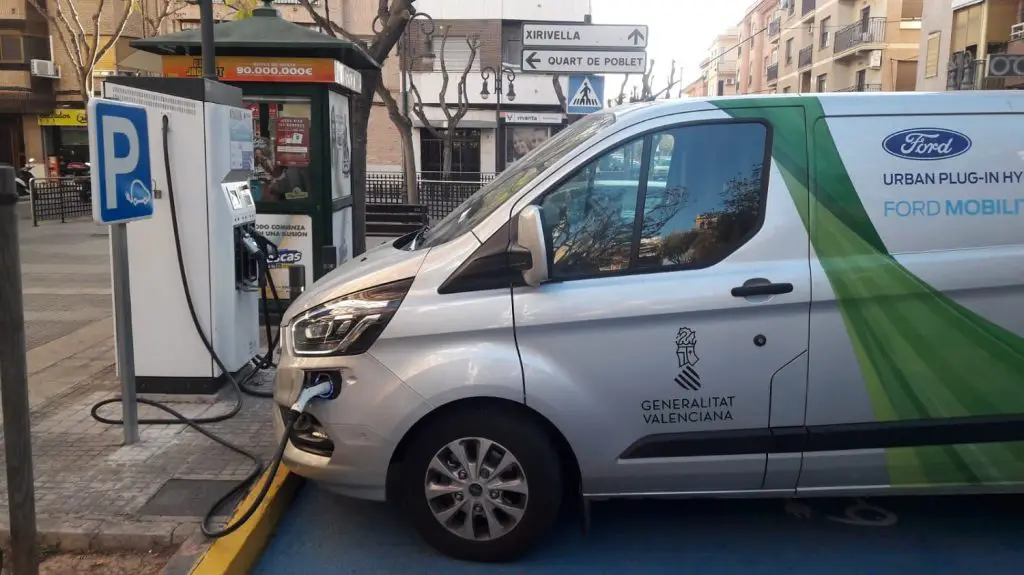 "Our research has shown how plug-in hybrid vehicles, and emerging connected technologies such as dynamic geofencing and blockchain, can play a major role in transforming cities," said Mark Harvey, director, enterprise connectivity, Ford of Europe. "With their zero-emission capability with no range anxiety, PHEVs offer a practical, flexible alternative to diesel, making them ideal as general-purpose vehicles for work in and around cities."
Ford's geofencing feature, fitted as standard on the Ford Transit Custom PHEV, can help cities to maximize air quality benefits where they are most needed. With geofencing, the vehicle's zero-emission electric-drive mode can be activated automatically whenever it enters a low‑emission zone, without intervention from the driver.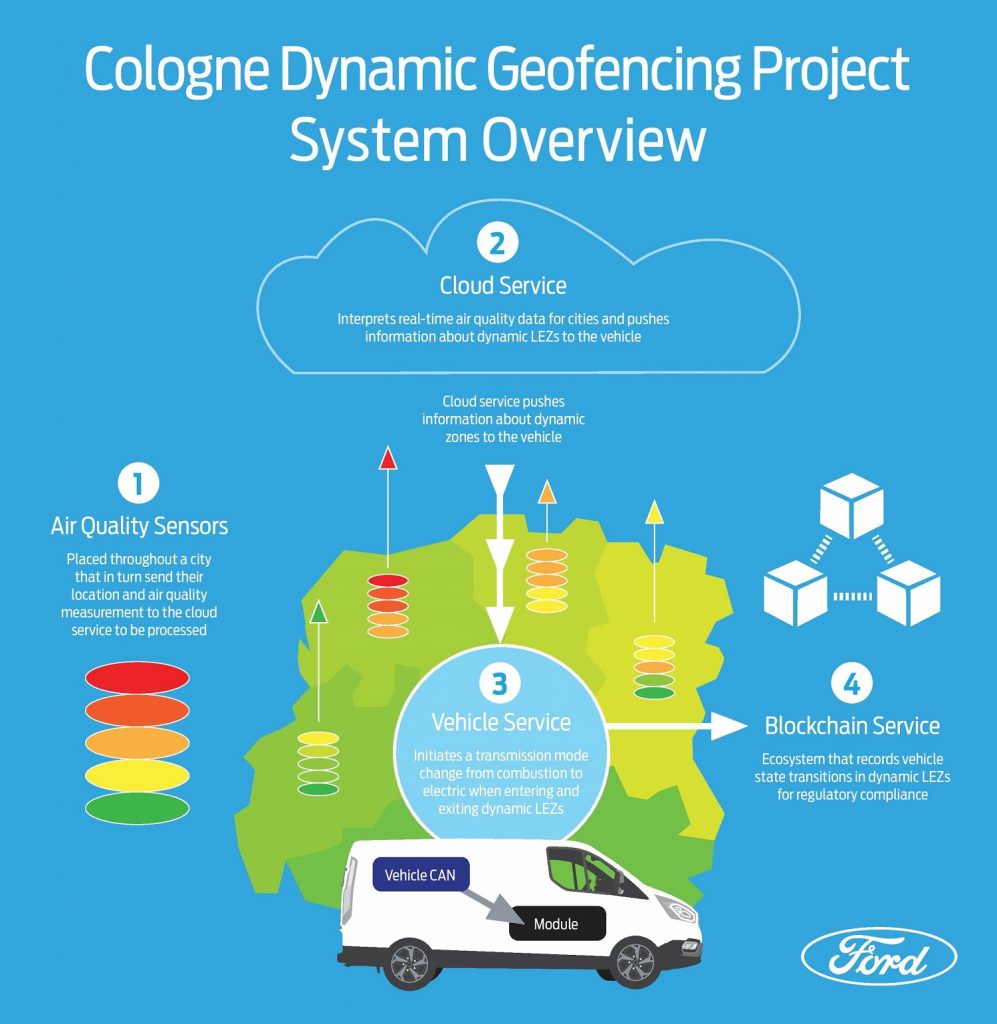 The Cologne municipal fleet trial took this one step further, showing how blockchain technology can complement geofencing to further enhance efforts to improve air quality. The time a trial vehicle entered or left a geofenced zone was recorded into a blockchain – a secure and transparent digital ledger that creates permanent time‑stamped records which are saved on multiple computers – ensuring 'green miles' driven could be safely stored and potentially shared among relevant parties such as city authorities and fleet owners.
The trial also tested dynamic geofencing: instead of a fixed low-emission zone triggering the vehicles' zero-emission modes, Ford's dynamic geofencing pilot constantly adjusted the boundaries based on air quality data captured by Climacell and the City of Cologne. As Ford's connected PHEVs entered these constantly fluctuating zones, they automatically switched to low-emission mode.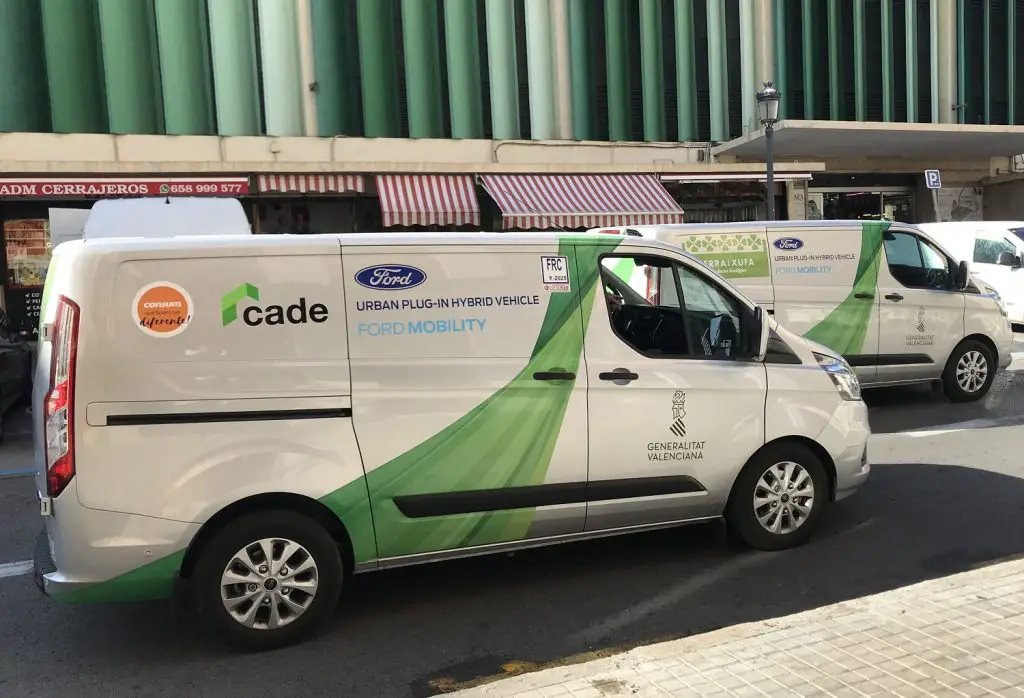 The work in Cologne and Valencia concludes a successful research program that began in London in 2018. Supported by the U.K. Government-funded Advanced Propulsion Centre and Transport for London, participants including Addison Lee Group, British Gas, Metropolitan Police, and Sky helped to show how PHEVs could offer a compelling solution for commercial vehicle owners in cities with low-emission zones.
We'll have more on Ford's efforts to improve air quality soon, so be sure and subscribe to Ford Authority for ongoing Ford news coverage.