Any time a classic or vintage vehicle becomes a candidate for restoration, a dilemma arises: should the vehicle be reconditioned to its stock specifications or transformed into something else? There is no right answer to this question, as both courses of action can produce a great result, while aso delivering valuable contributions to automotive history and culture. But in the case of this 1955 Ford F100 wagon that recently popped up for sale on Garage Kept Motors, we're going to side with the customizers who turned the once ordinary vehicle into a ride that righteously chafes against conformity.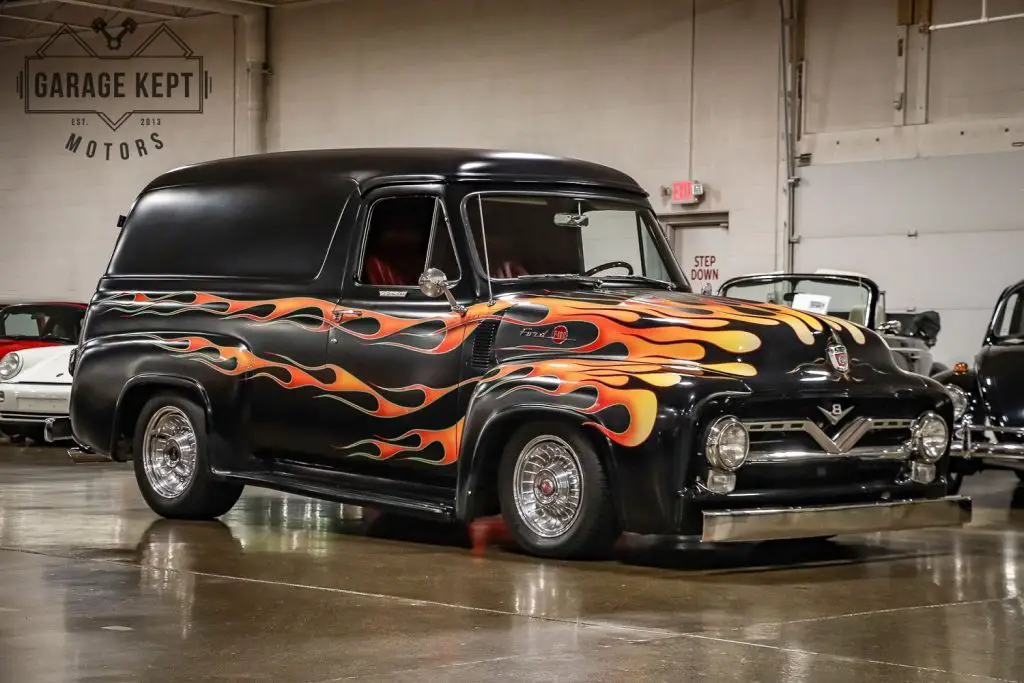 Unsurprisingly, the main draw for this 1955 Ford F100 wagon is the exterior, which has been repainted with a healthy dose of flames that start at the front end and trickle to the rear. The chrome is either brand new or has been restored back to its original condition too. Paired with the black paint, this is a ride guaranteed to ruffle feathers out in the suburbs, and those who'd prefer the wheel covers to not come from Cadillac. It is unclear why the wagon comes equipped with covers from GM's luxury division, but they do look good, which is probably why they're on the Ford. A lowered suspension with staggered wheels gives the wagon an imposing presence.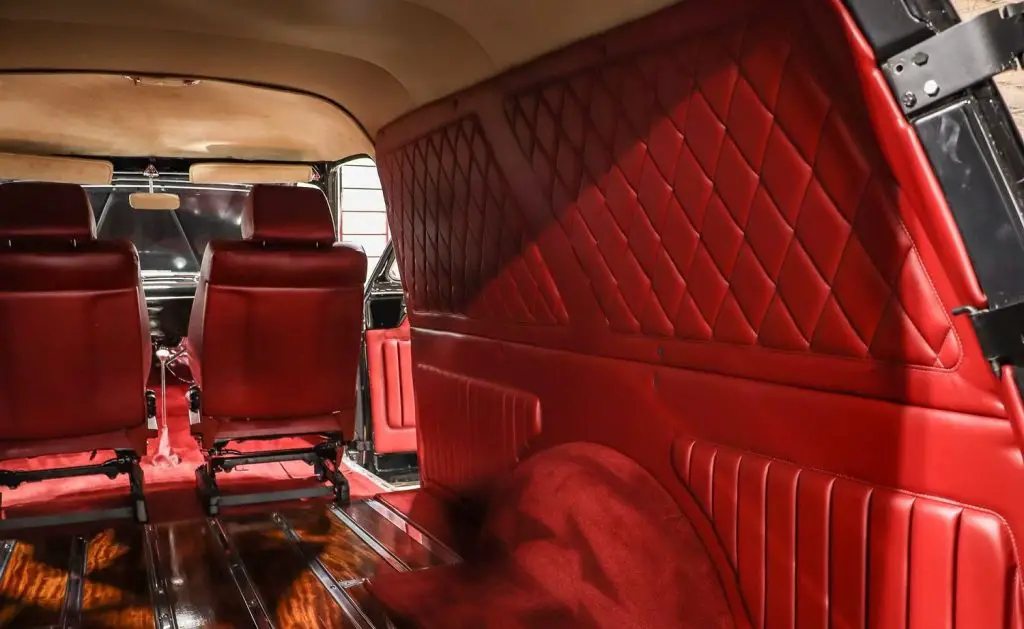 Attention, money and resources were also devoted to the interior, which received an extensive rehab. There's new, highly polished wood on the floor of the 1955 Ford F100 wagon, but it's the new upholstery that really stands out. To complement the exterior, the carpets, seats, and sides of the cabin are very, very red, a fitting look for a wagon with flames on its side.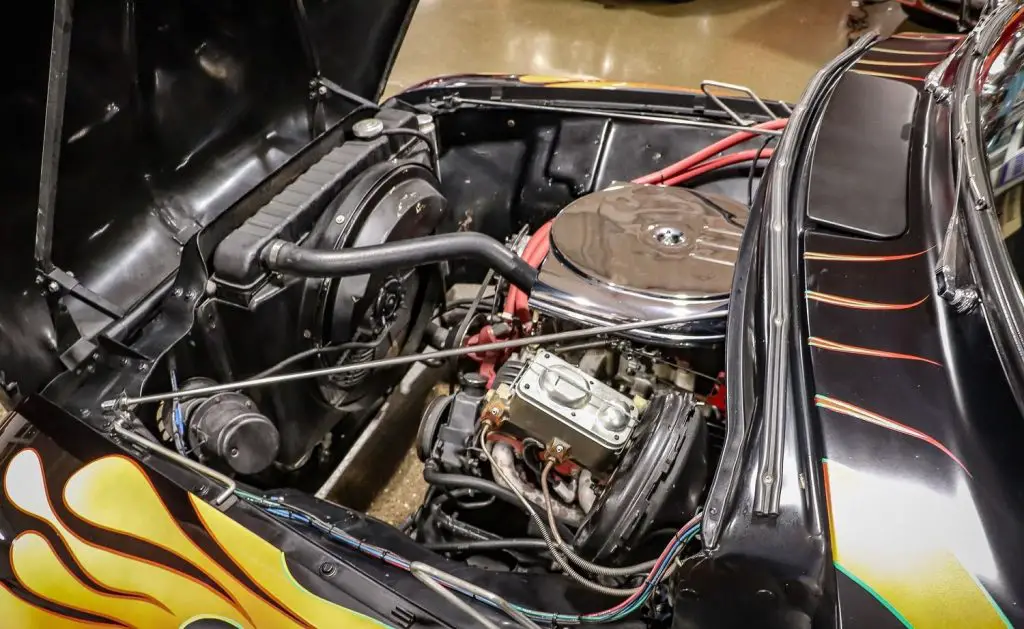 Fortunately, anyone who wants to shake up their neighborhood will have an easy time doing so, as this 1955 Ford F100 wagon sports an automatic transmission, plus a 350 cubic-inch V8, which should make burnouts a cinch. It also should hold up well over time, as the wagon has apparently only traveled 9,243 miles since new.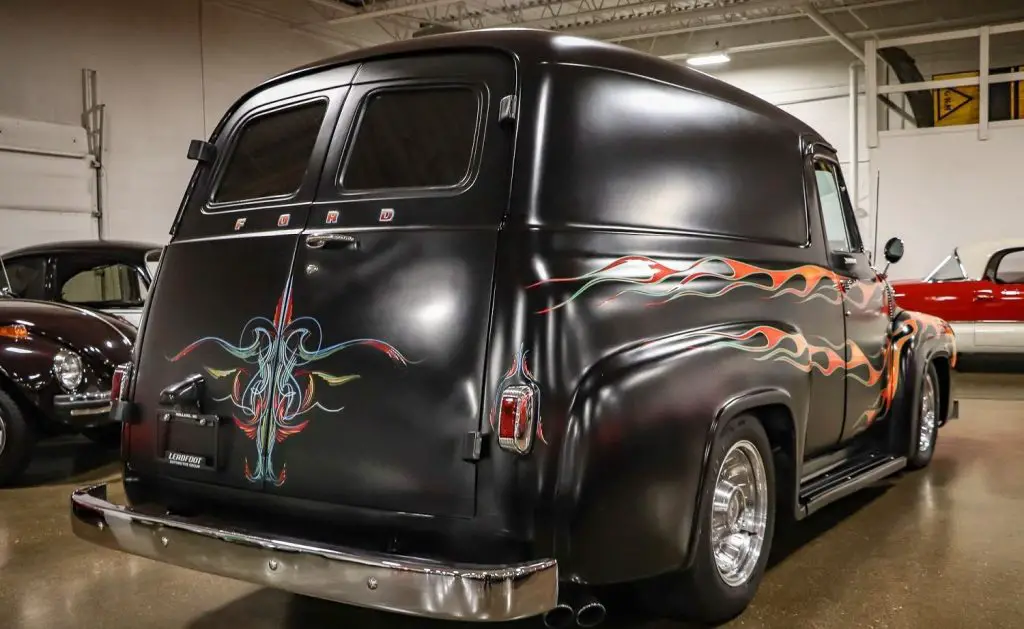 Garage Kept Autos is currently asking $32,900 for the wagon, which seems appropriate, given the amount of work put into it. In any event, it's bound to turn heads wherever it goes.
We'll have more vintage Fords to share with you soon, so subscribe to Ford Authority for the latest Ford F-100 news, Ford F-Series news, and continuous Ford news coverage.