The Ford Mustang has perpetually motivated plenty of aftermarket firms to get into the turning and modification business. One of the more well-known names in the Mustang tuning game is Roush Performance, and a rare pony that's the result of a tie-up between itself, Barrett-Jackson and Sherwin-Williams will soon be up for auction. Specifically, this 2010 Ford Mustang Roush Barrett-Jackson Edition is the first of just 25 units built, and it will be headed to the March 2021 Barrett-Jackson Scottsdale Auction, where all proceeds from its sale will benefit the Michael Phelps Foundation.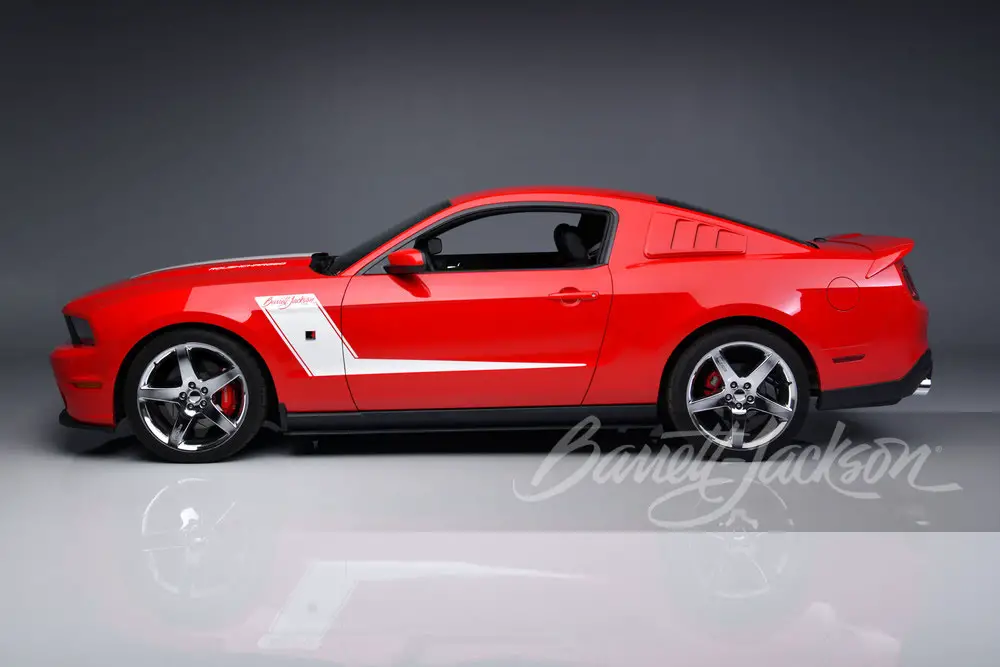 The 2010 Ford Mustang Roush Barrett-Jackson Edition came to fruition based on the support of three companies: Roush Performance, Sherwin-Williams, and Barrett-Jackson. Roush outfitted all 25 examples with an extensive roster of performance upgrades while Sherwin-Williams provided the paint through its Planet Color automotive paint division. Barrett-Jackson allowed its name to appear on the vehicle itself and heavily promoted the cars when they were completed. This particular example is the first model constructed, and it bears a plate indicating as such in front of the shifter.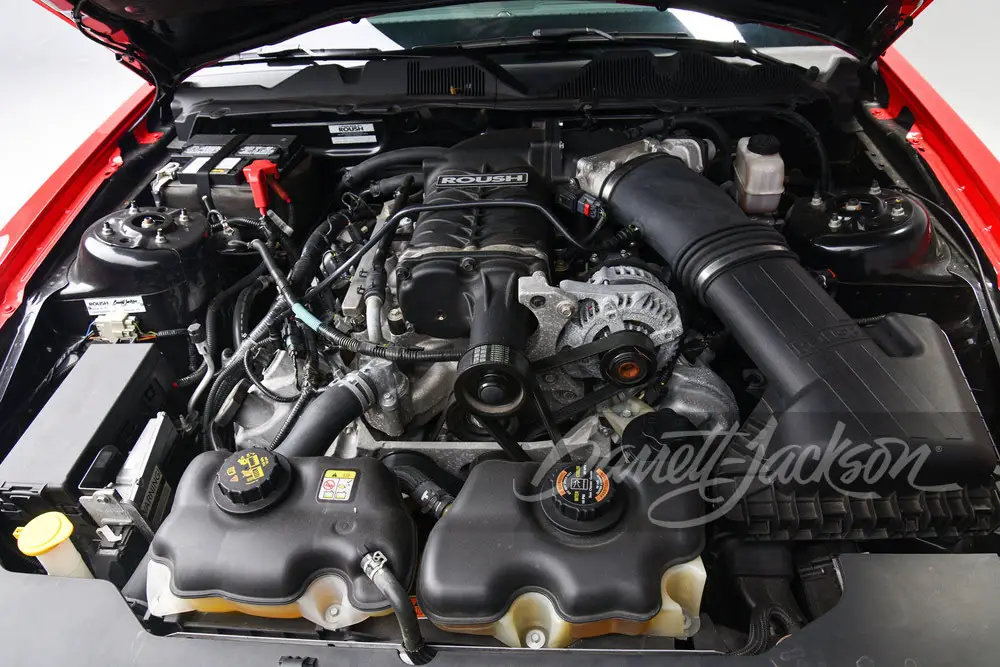 What makes this limited edition 2010 Ford Mustang stand out from the crowd is the engine, which was only used for a single year. The stock Ford 4.6L V8 got forced induction via a Roush R2300 supercharger, which pushed performance to a stout 540 horsepower and 510 pound-feet of torque. Additional modifications included a revised clutch for the 5-speed manual, forged internal components, custom intake manifolds, intercoolers, radiators, and cold-air induction, plus a revised fuel system.
Roush also outfitted the pony with a custom front and rear suspension, braking system, upper and lower billet grille, and 20-inch chrome alloy wheels featuring Cooper RS3 tires.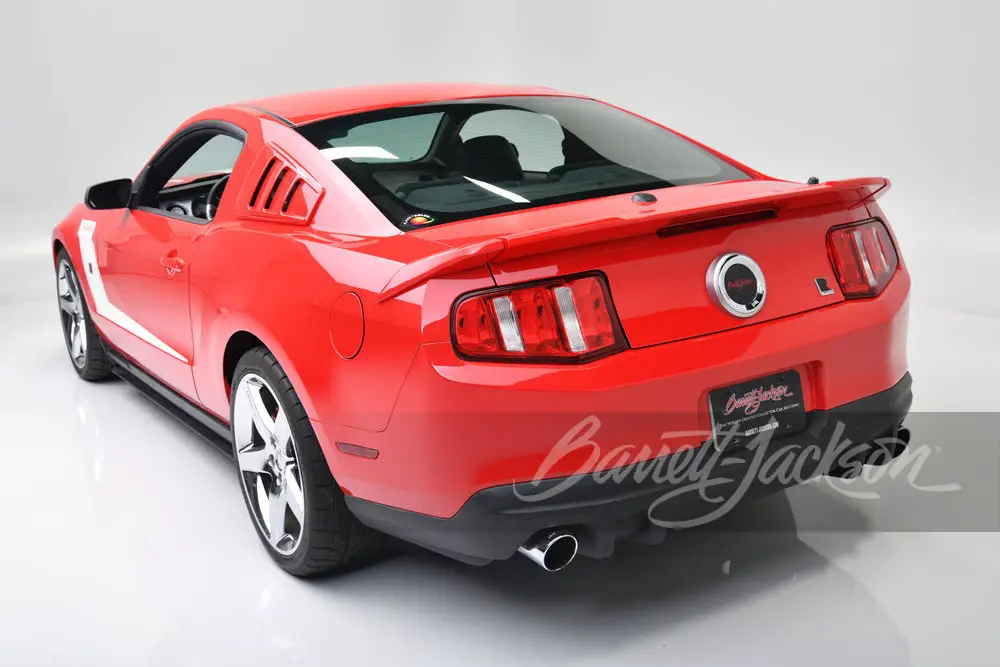 Aside from the Planet Color Red Hot Chili Pepper paint with Snow White striping, the 2010 Ford Mustang Roush Barrett-Jackson Edition featured a body kit that provided the pony car with a subtle yet distinctive look that paired well with the chrome exhaust and custom wheels. Additionally, all 25 examples were outfitted with Barrett-Jackson badges on their exteriors and with embroidered logos on the leather seats.
Any Mustang featuring cosmetic signifiers from the famed car auction company is an unconventional vehicle by default, and this specific model should no doubt fetch a decent amount of money when it comes up for bidding later this year, simply due to its unique place in Mustang history.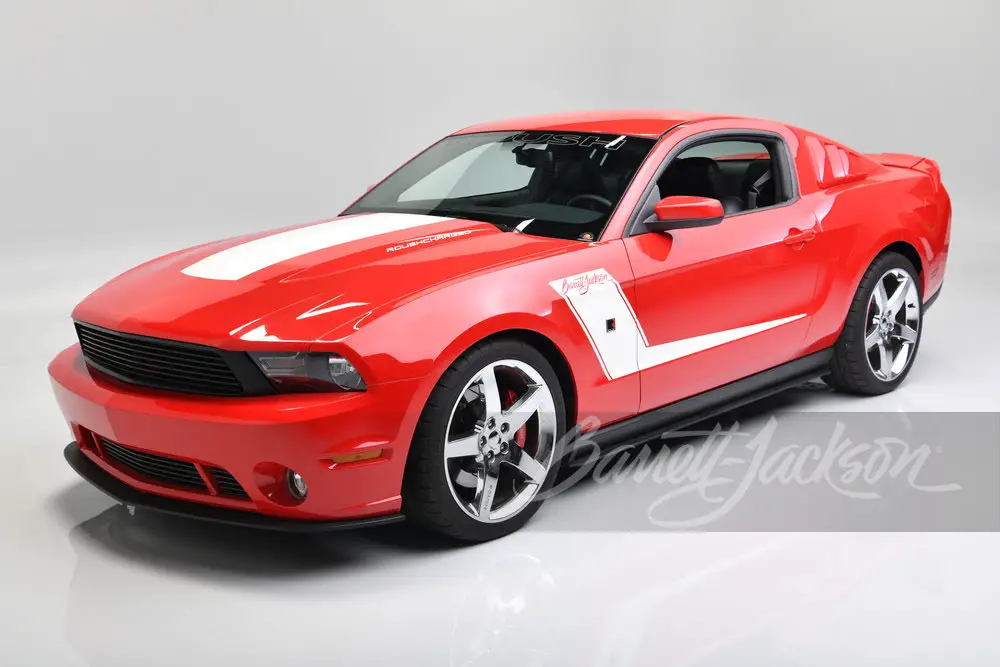 All cash generated by the auction will support the Michael Phelps Foundation, an organization created by the Olympic Gold Medalist in 2008 to promote healthy lifestyles in children. The Mustang will be fittingly auctioned off at the Barrett-Jackson Scottsdale event, which will take place between March 20th-27th, 2021.
We'll have more cool Mustangs like this to share soon, so subscribe to Ford Authority for the latest Ford Mustang news and continuous Ford news coverage.