Back in January, we provided dimensions of the 2021 Ford Bronco that show just how easy it will be to use the SUV as a makeshift camper. Now, we've obtained measurements of the 2021 Ford Bronco two-door cargo area, courtesy of Bronco Nation. The schematics, which have been heavily requested in recent weeks, give us a detailed look at just how much stuff we can fit in the back.
As we can see from these 2021 Ford Bronco two-door schematics, there's a lot to digest here. Every single little piece of weatherstripping, trim, and hardware has been accounted for to give us an ultra-realistic look at the exact dimensions of the cargo area and storage bins.
While the walls of the cargo area are not exactly flat/plumb, we can see that it is essentially 52 inches long, 43 inches wide, and just under 22 inches high. The rear seat takes up a large portion of the cargo area when it is not folded flat, of course, and leaves a little under 18 inches of depth behind it when it's in place.
The storage bins, as we can see from the second schematic, provide a nice amount of additional storage space, however. They're roughly 27 inches wide, 15 inches long, and nearly as deep as the cargo area. The schematic also shows the location of the drain plug, jack storage, handle, storage pockets, and storage lid, as well as their relative location to each other.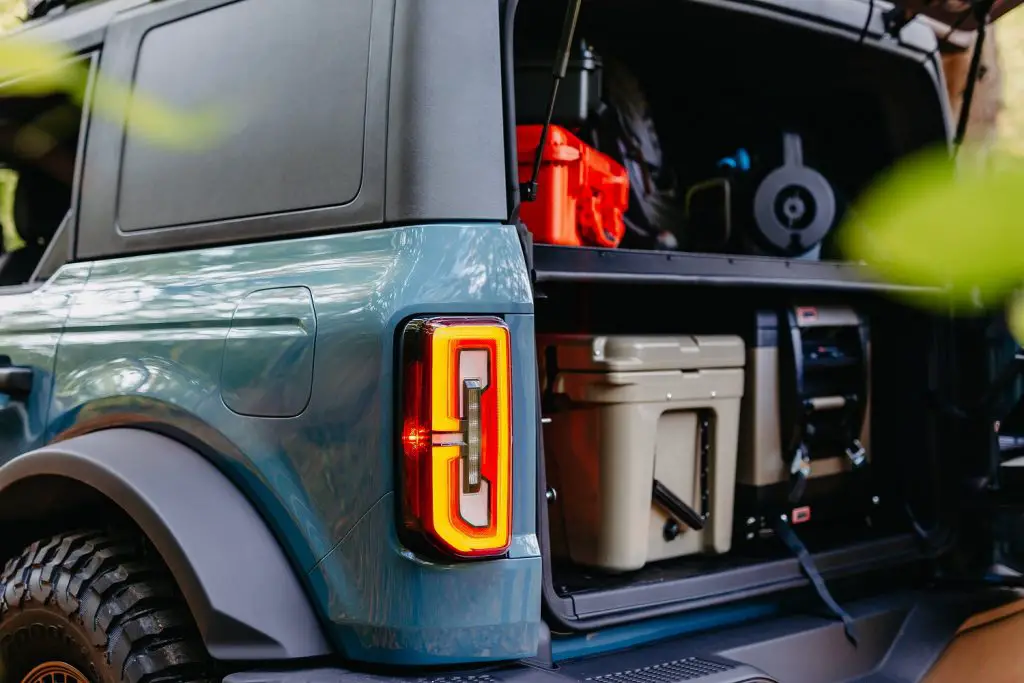 This is great information for those looking to purchase a 2021 Ford Bronco two-door, especially those that have specific items they hope to carry in the rear cargo area or auxiliary storage areas. Now, we can all break out our tape measures and start figuring out just how much stuff we can fit in the back of our Broncos when they arrive later this year.
We'll have much more on the Bronco soon, so be sure and subscribe to Ford Authority for more Ford Bronco news and around-the-clock Ford news coverage.