Ford and Harley-Davidson have long enjoyed a relationship as two of America's most iconic manufacturers. The two also celebrated that fact from 2000-2011, when the Harley-Davidson Edition was available as an option for the Ford F-150 as well as the Ford Super Duty F-250 and F-350, beginning in 2004. Since then, those wanting an H-D Blue Oval pickup have had to turn to Tuscany Motor Co., an aftermarket outfit. But what if FoMoCo was to build a 2021 Ford F-150 Harley-Davidson edition? Well, it might look something like this.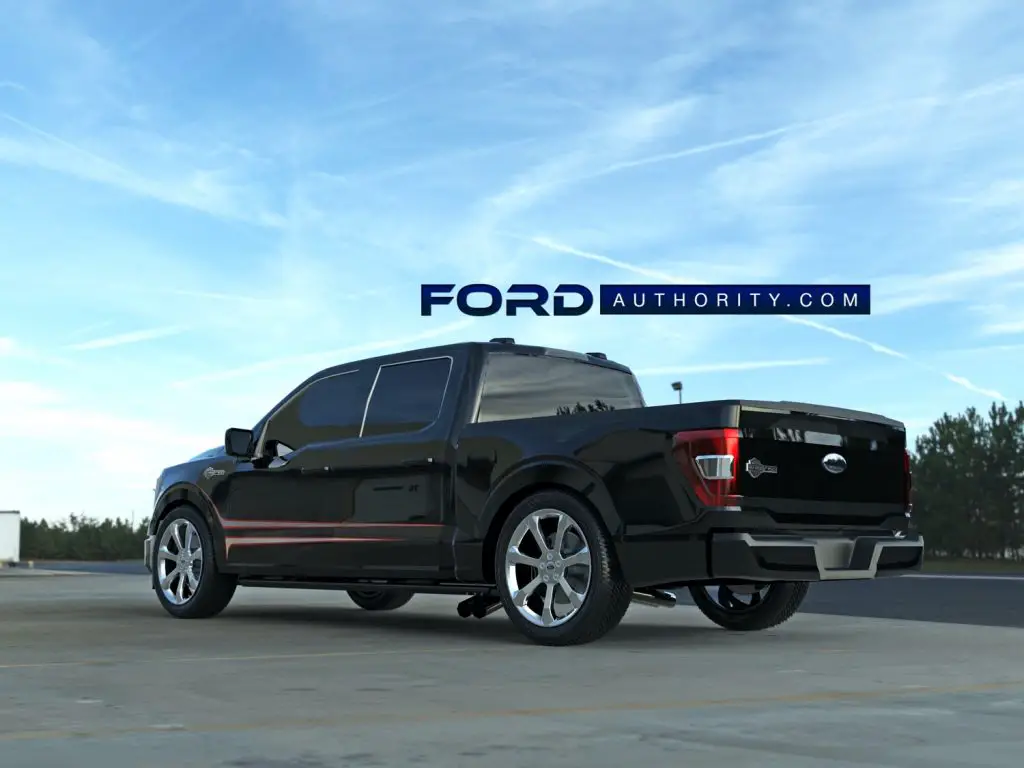 As far as we know, there are currently no plans to produce a 2021 Ford F-150 Harley-Davidson edition pickup, nor for any model year in the immediate future. Regardless, we came up with a couple of renderings depicting what we think one might look like, and at the risk of sounding full of ourselves, we think it looks amazing.
As was the case with prior H-D F-150s, these pickups sit lower to the ground and are fitted with larger wheels and tires for a sporty look. The original H-D F-150 models were essentially an appearance package, save for the 2002-2003 model years, when they were fitted with a detuned version of Ford's supercharged 5.4L V8 and later its 6.2L V8. Thus, that's the case here as well.
We gave this imaginary pickup black trim, just like its predecessors, along with Harley-Davidson badges and orange accents, as well as the obligatory black paint. The side-exit dual exhaust is also a nod to the past, and the 2021 Ford F-150 Harley-Davidson edition would presumably ride on a slightly modified suspension with a one-inch drop, tuned sway bar, and upgraded shocks.
The only question left to answer is – what engine would Ford theoretically go with in this imaginary H-D revival? We'd love to see some form of V8, but since The Blue Oval previously gave the H-D edition its hottest powerplant, perhaps a detuned version of the Raptor's 3.5L EcoBoost V6 or even the 3.5L Power Boost V6 would be a logical choice. Either way, we'd love to see the H-D edition make a comeback, in real life.
We'll have more cool renderings like these to share soon, so be sure and subscribe to Ford Authority for the latest Ford F-Series news, Ford F-150 news, and continuous Ford news coverage.