The Ford F-150 Lightning came into our lives and left very much like its namesake – far too quickly, and in a flash. Ford's Special Vehicle Team (SVT) officially launched the first-gen Lightning for the 1993 model year, and over 11,000 were produced through 1995. The second-gen Lightning didn't appear until 1999, but it was worth the wait, thanks to its vastly improved output, and Ford managed to sell over 28,000 of them through 2004. However, we recently asked ourselves – what would a 2021 Ford F-150 Lightning look like?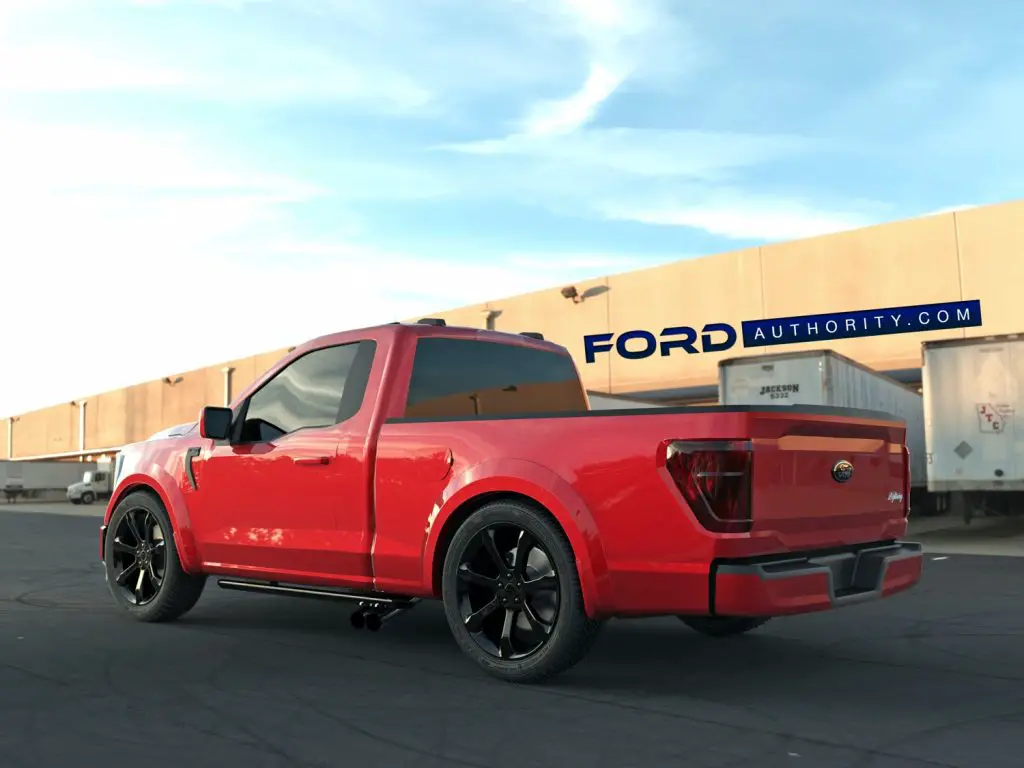 Sadly, it doesn't look like the Lightning will ever return, at least from Ford. There are several alternatives currently available, such as Beechmont Ford's supercharged, 725 horsepower pickups. But folks just aren't as interested in lowered, street-performance-focused pickups anymore, and the Ford F-150 Raptor has essentially taken the Lightning's place.
That's a shame really because these 2021 Ford F-150 Lightning renderings look pretty fantastic in our opinion. The 14th generation pickup's new lines lend themselves well to the Lightning treatment, especially in a regular cab, short bed configuration. This gussied-up truck also has zero chrome, with only black accents to complement its bright red paint.
A set of large black wheels fills up the fenders quite nicely, as we'd expect them to on a Lightning. After all, this is a model that's designed specifically to win drag races and corner admirably, not venture off-road or bother to carry more than one (or two, with a bench seat) passenger. A singular Lightning badge on the tailgate is the only clue as to what's going on here, but by the time the competition sees it, it's too late.
Selecting the right powerplant for a 2021 Ford F-150 Lightning would be pretty easy too. We'd just stick with Ford's tried-and-true 5.0L Coyote V8 and give it a boost in the form of a supercharger. Horsepower could easily top the 600-700 mark and make this a seriously fast pickup. And while none of this is likely to happen, we can dream, no?
We'll have more cool renderings like these to share soon, so be sure and subscribe to Ford Authority for the latest Ford F-Series news, Ford F-150 news, and ongoing Ford news coverage.