Over the last several months, we've seen a number of 2021 Ford F-150 Raptor prototypes out testing, heard its decidedly deep engine notes, and learned quite a bit about the all-new, third-generation model, which is based on the all-new 2021 Ford F-150. But now, the rugged off-road pickup's official reveal is finally upon us, and we know everything there is to know (for now) about the newest Ford F-150 Raptor.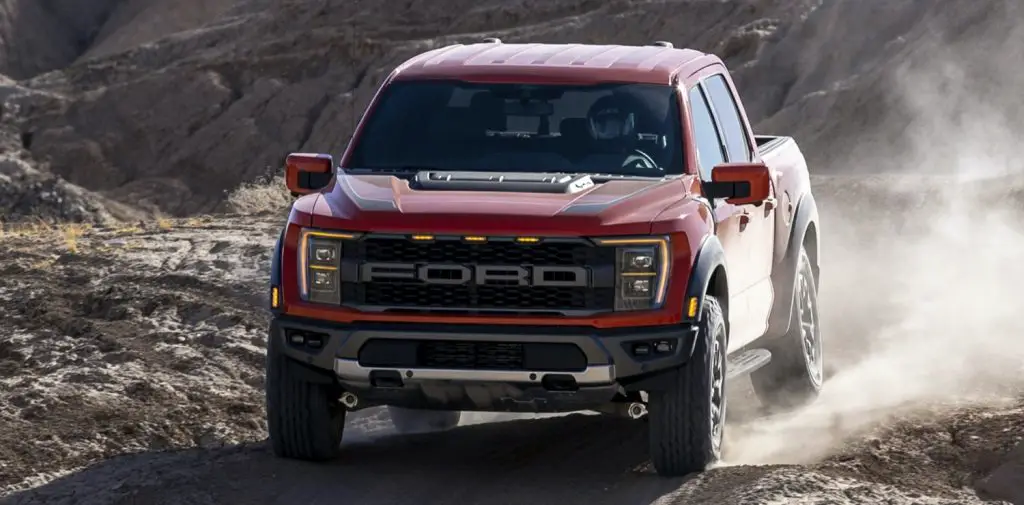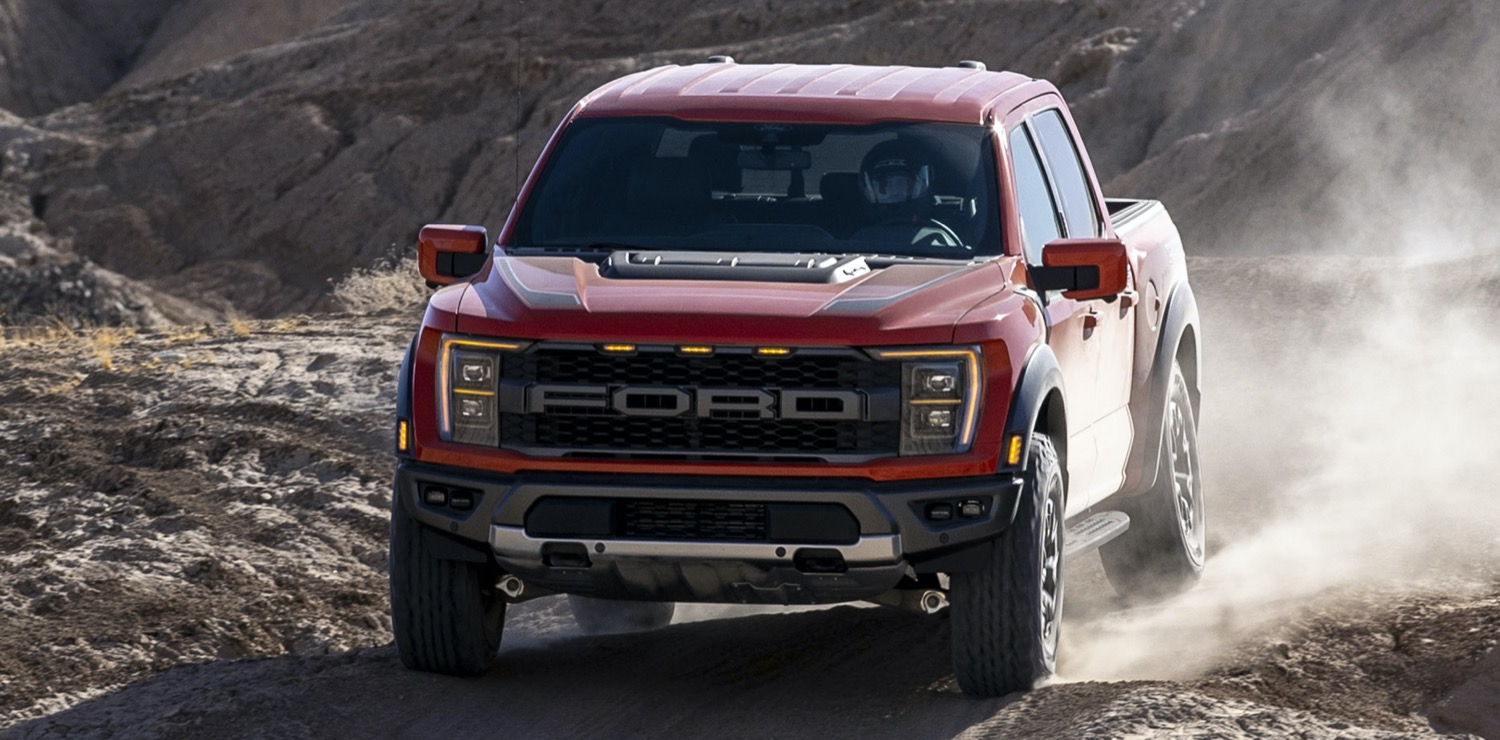 Ford calls the 2021 F-150 Raptor "the most off-road capable and connected F-150 Raptor ever," pointing out that it has taken the mechanical and technical brilliance of the previous generation and infused it with the latest enhanced connected technology to make the most formidable desert-dominating truck on the planet.
"Raptor is the original desert truck. We just took it to another level," said Ali Jammoul, Ford Performance vehicle program director. "The all-new Raptor splices high-speed off-road performance muscle with advanced technology and connectivity that comes together in a unique Built Ford Tough way."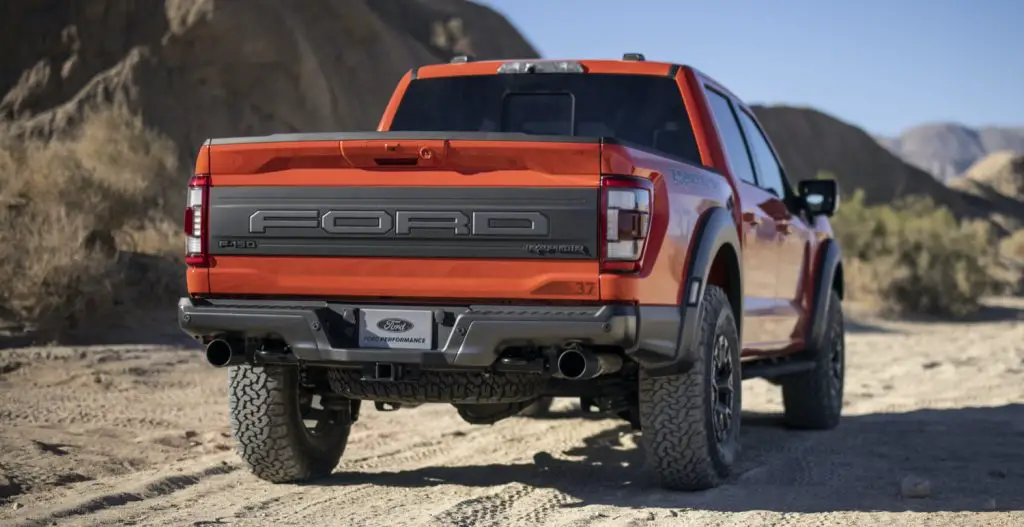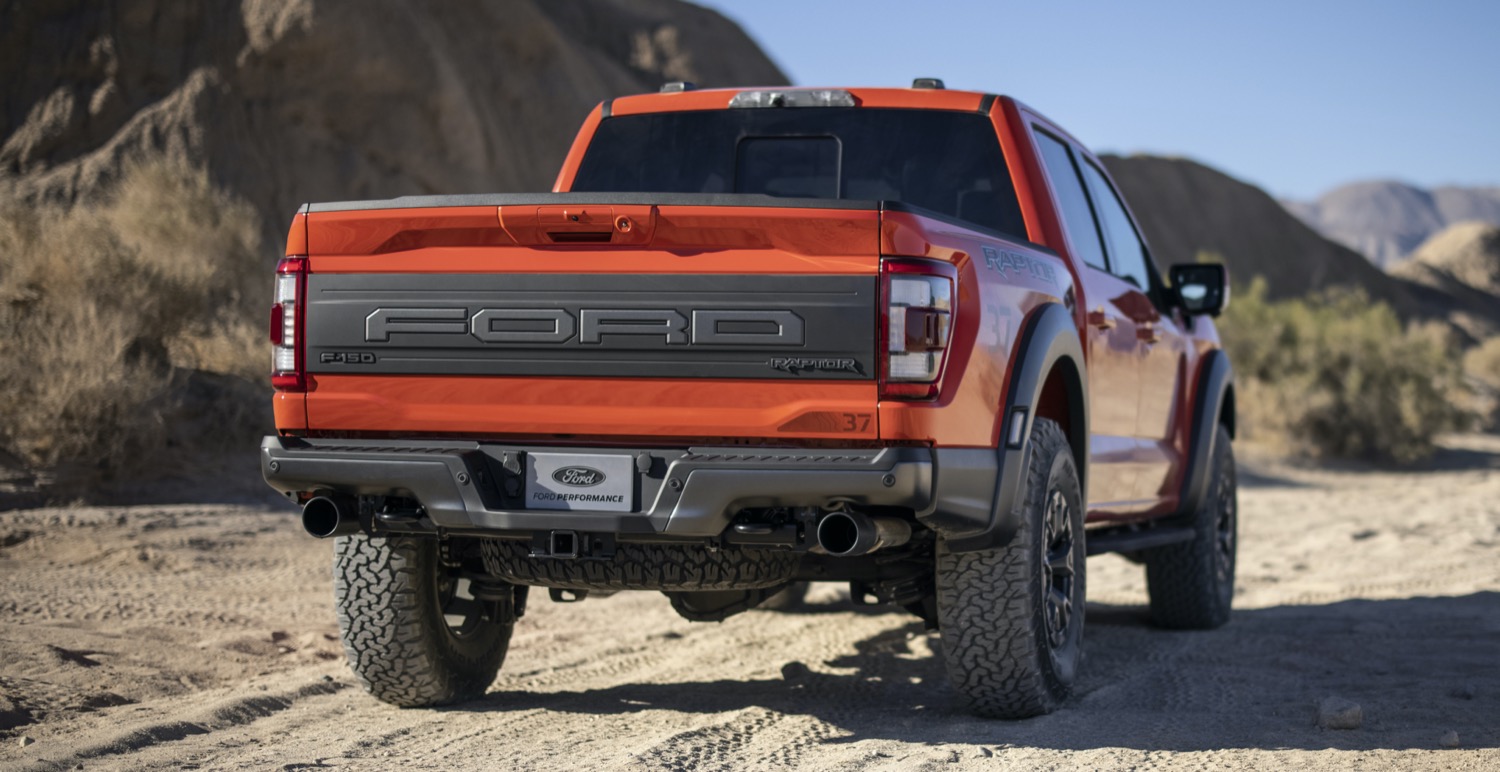 The F-150 Raptor has become a performance icon since it originally launched in 2009, and over the last four years, has even outsold Porsche's entire lineup of sports cars and the Chevrolet Corvette. To help keep it atop the sales charts, the 2021 Ford F-150 Raptor debuts with entirely redesigned running gear, consisting of a five-link rear suspension with extra-long trailing arms, a Panhard rod, and 24-inch coil springs – the longest in its class.
This new suspension design, when coupled with more sophisticated engine management software, means that the 2021 Ford F-150 Raptor can send more torque to the rear wheels for quicker starts off the line, better acceleration, and improved throttle response. And of course, the new Raptor also utilizes the latest Fox Live Valve internal bypass shocks with electronic control technology and position-sensitive damping.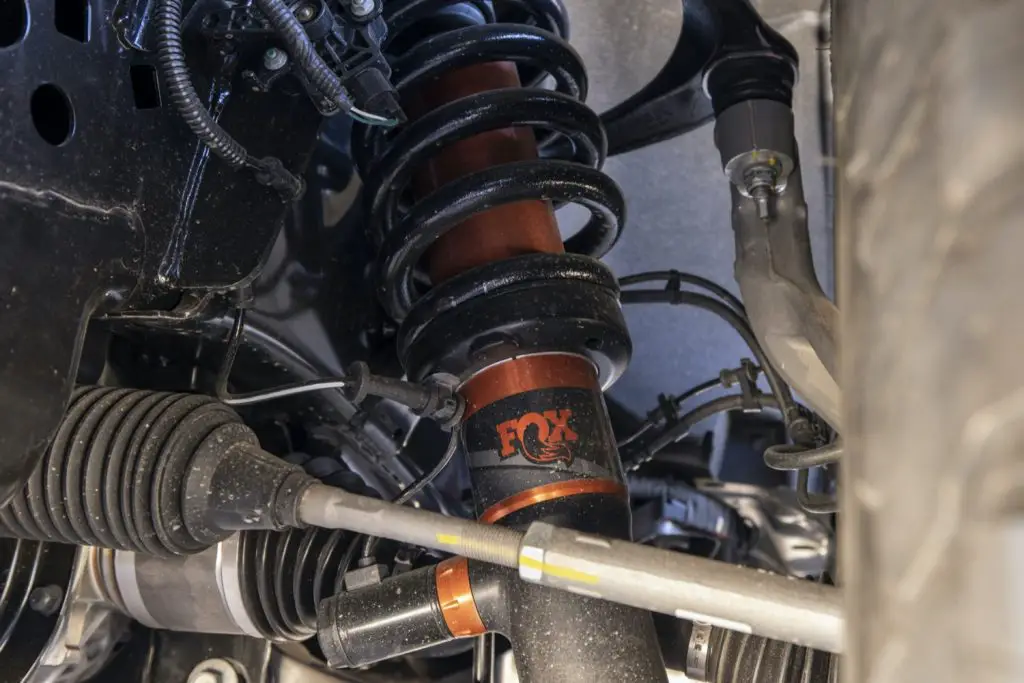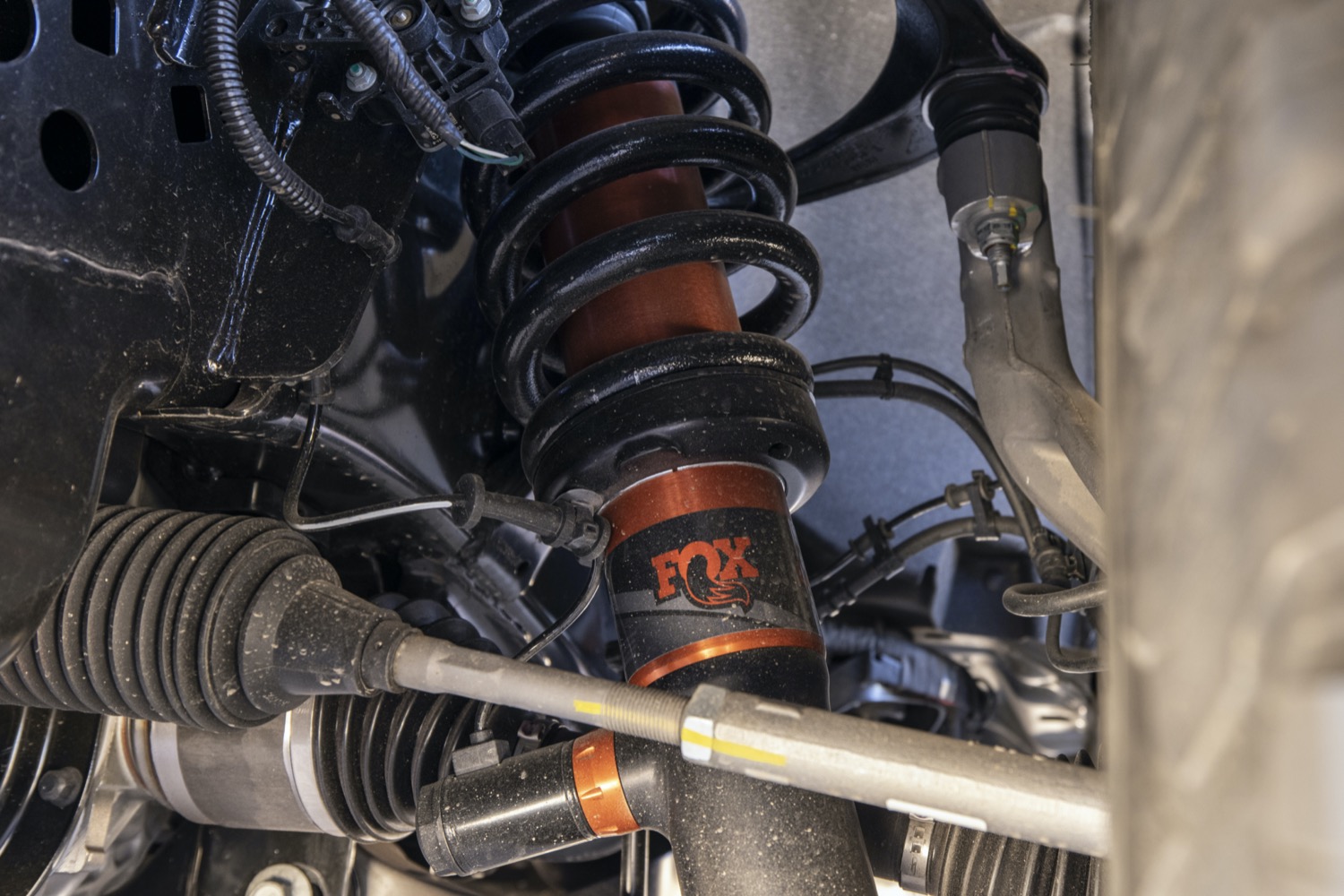 The larger 3.1-inch-diameter anodized aluminum shock bodies are filled with all-new low-friction shock fluid specially designed to decrease frictional losses inside the damper for improved off and on-road comfort. New electronically controlled base valves are race-proven with an upgraded design enabling upward of 1,000 pounds of damping per corner at desert speeds.
Readings from suspension height sensors and other sensors around the truck change damping rates independently at each corner 500 times per second, with the shocks responding at the same speed the human brain processes visual information. The truck responds by the time the driver even registers a terrain change.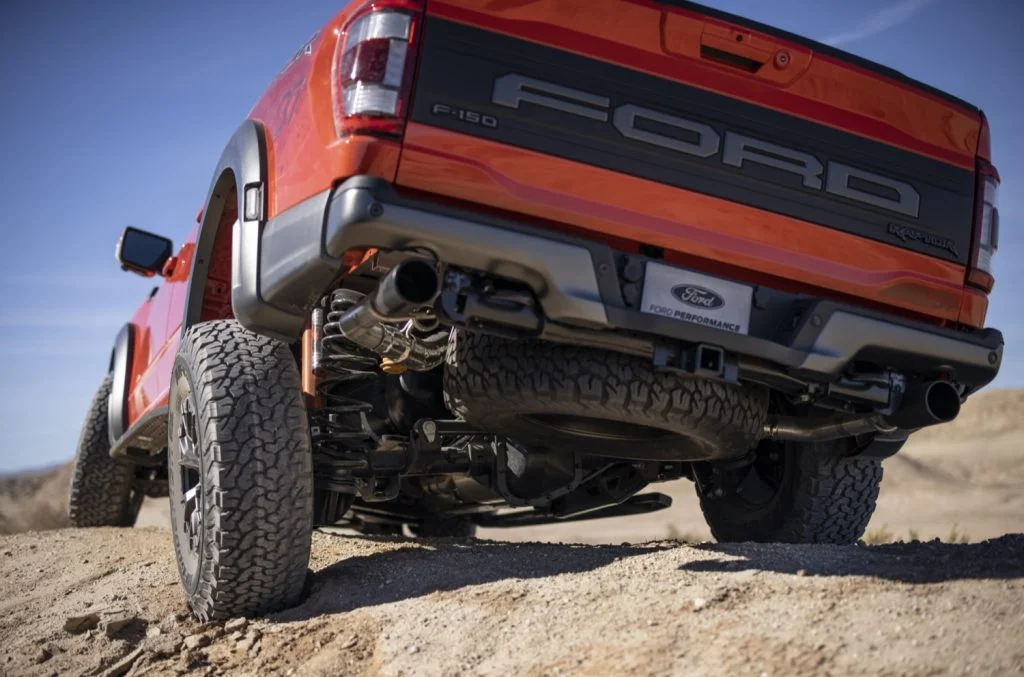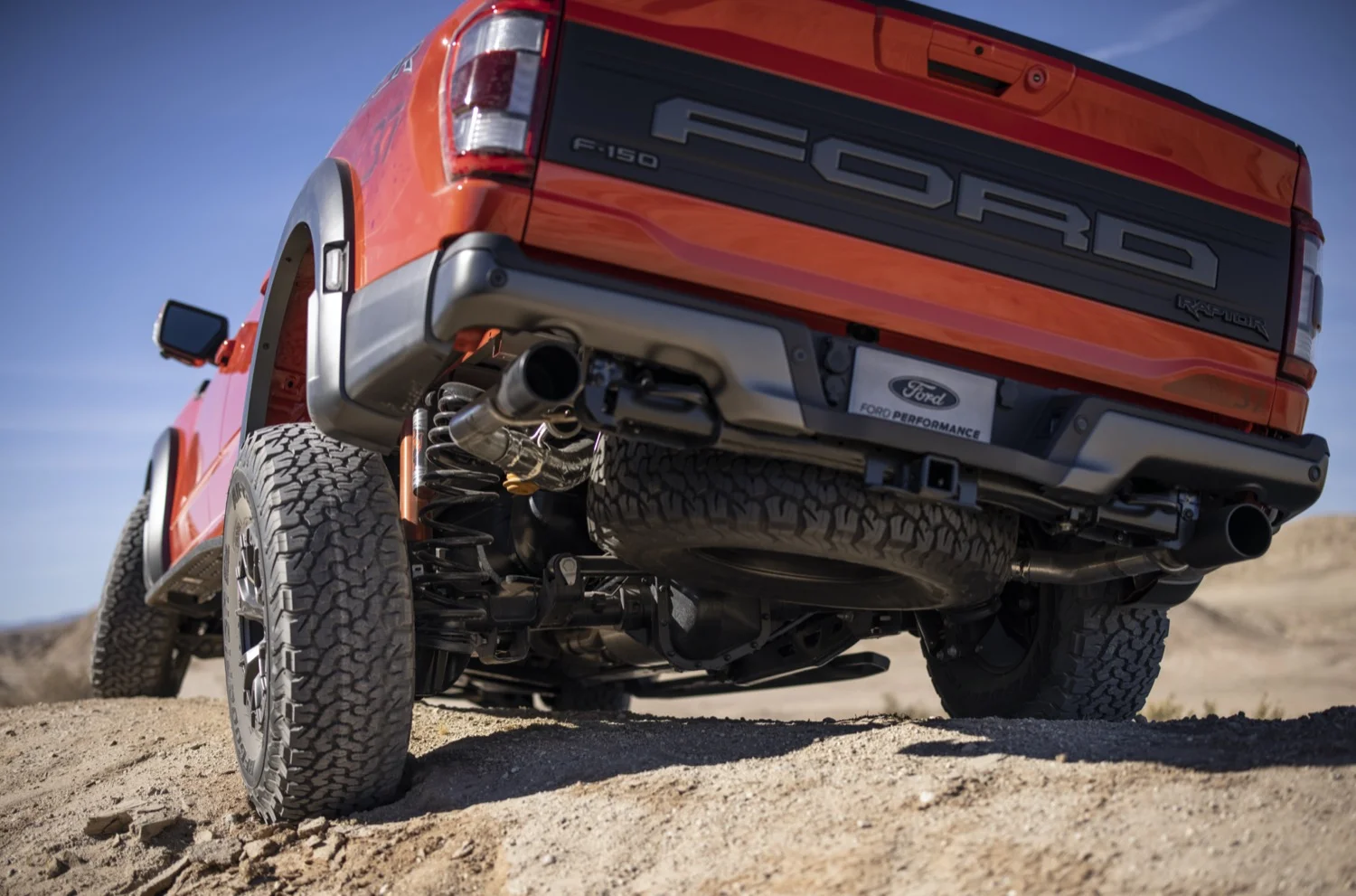 The 2021 F-150 Raptor is available with either 35-inch or, for the first time, 37-inch, specially-designed BFGoodrich all-terrain T/A K02 tires. When equipped with the 35-inch tires, Raptor clears 12-inch obstacles with an approach angle of 31 degrees, maximum departure angle of 23.9 degrees, and breakover angle of 22.7 degrees.
With the 37-inch tires, the Raptor offers 13.1 inches of running clearance, 33.1 degrees of approach angle, a maximum 24.9 degrees of departure angle, and 24.4 degrees of breakover angle. Desert runners and rock crawlers alike will appreciate the outstanding wheel travel with 35-inch tires, reaching 14 inches at the front and 15 inches at the rear – 25 percent more travel than the first-generation Raptor.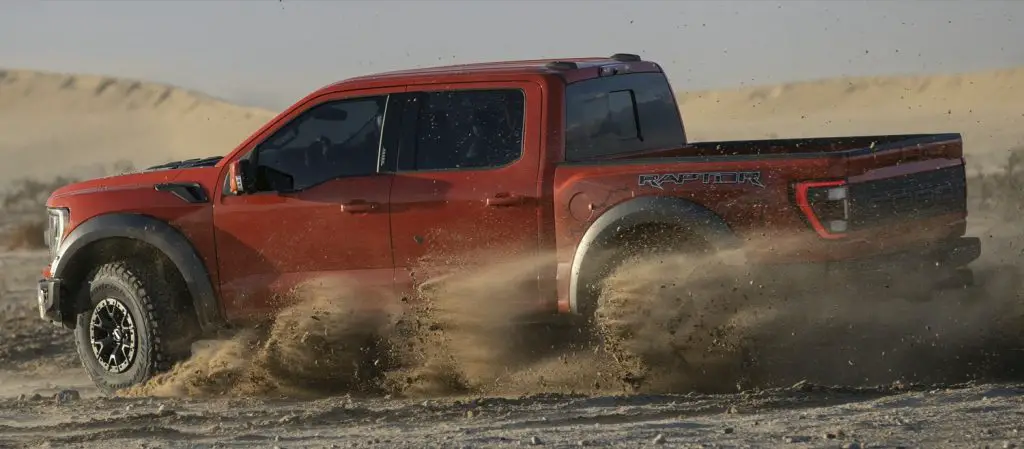 The 2021 Ford F-150 Raptor is available exclusively in SuperCrew configuration, as Ford Authority reported some time ago, and is equipped with Ford's third-generation 3.5L EcoBoost V6 with state-of-the-art turbos, a 10.5:1 compression ratio, and new high-power fans in the cooling system. Ford has not yet released final power figures for the new engine, but we expect it to trump the previous gen's 450 horsepower and 510 pound-feet of torque.
The EcoBoost powerplant is mated to Ford's 10-speed automatic transmission, which has been upgraded with next-generation controls and is bolted to an innovative torque-on-demand transfer case. An electronic locking rear differential is standard, while a Torsen front limited-slip differential is available as an option. Both are fitted with 4:10 final drive ratios. Maximum payload increases by 200 pounds, to 1,400 pounds, while maximum towing also increases 200 pounds, to 8,200 pounds of conventional towing.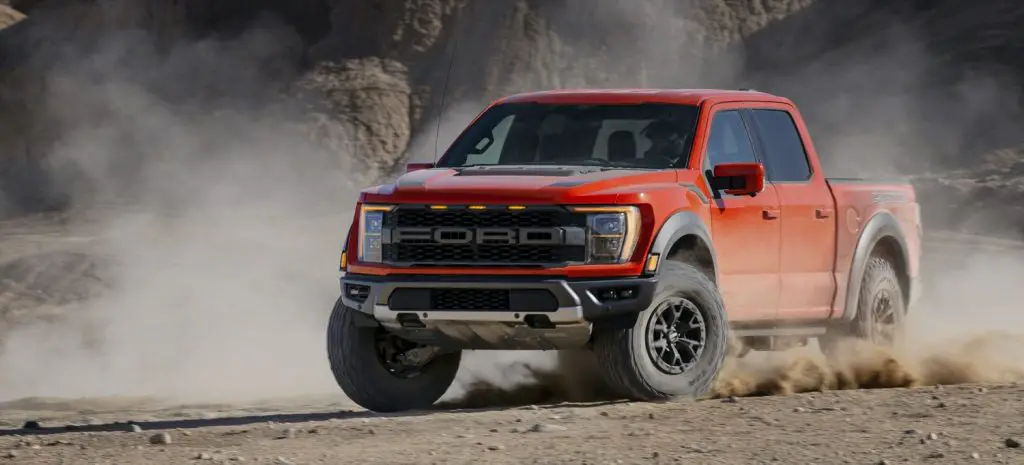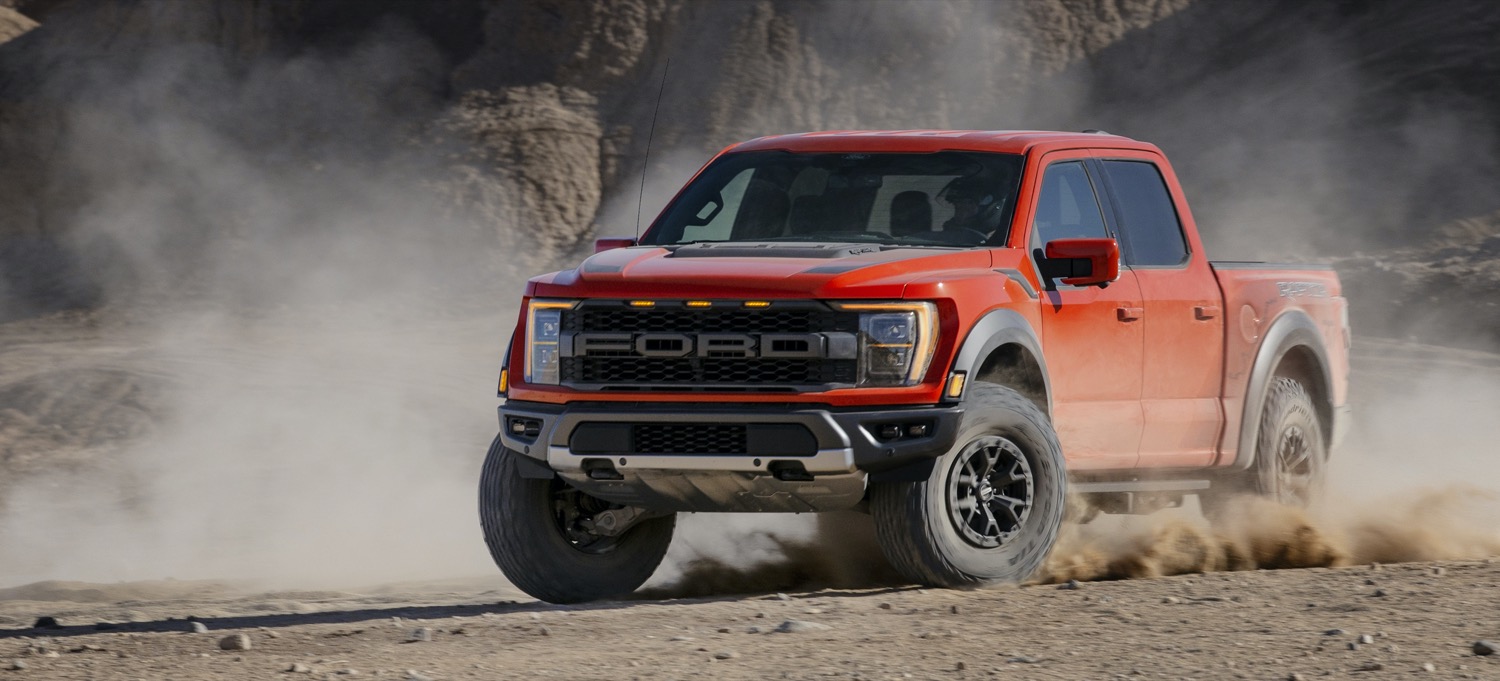 The Raptor's V6 breathes through a new three-inch equal-length exhaust system that features a patent-pending built-in X-pipe, unique "trombone loop," and first-for-Raptor active valves. The system takes advantage of a true passthrough muffler design that improves sound quality. Customers can also configure four sound level modes – Quiet, Normal, Sport, and Baja.
Like the 2021 Ford F-150, the new Raptor is also available with Ford's new Pro Power Onboard mobile generator, which provides 2.0 kilowatts of exportable output to run power tools, camp lights, and other equipment. The Raptor also comes standard with the 2021 F-150's new 12-inch digital gauge cluster and center screen, as well as SYNC4.

The 2021 F-150 Raptor is capable of receiving over-the-air updates, which opens up possible upgrades like trail maps plus Trail Turn Assist. The Raptor's Terrain Management System features seven selectable drive modes including Slippery, Tow/Haul, Sport, Normal, OffRoad, Baja, and Rock Crawl.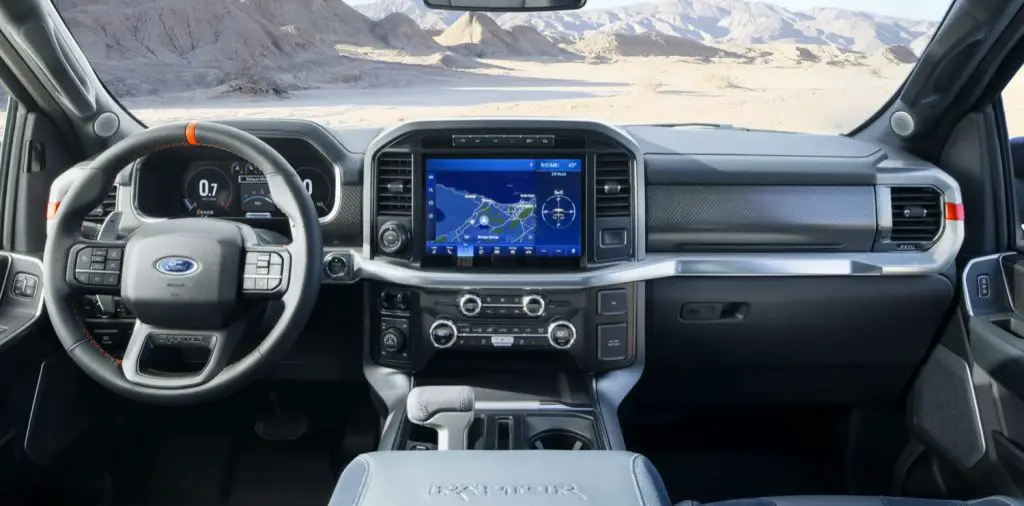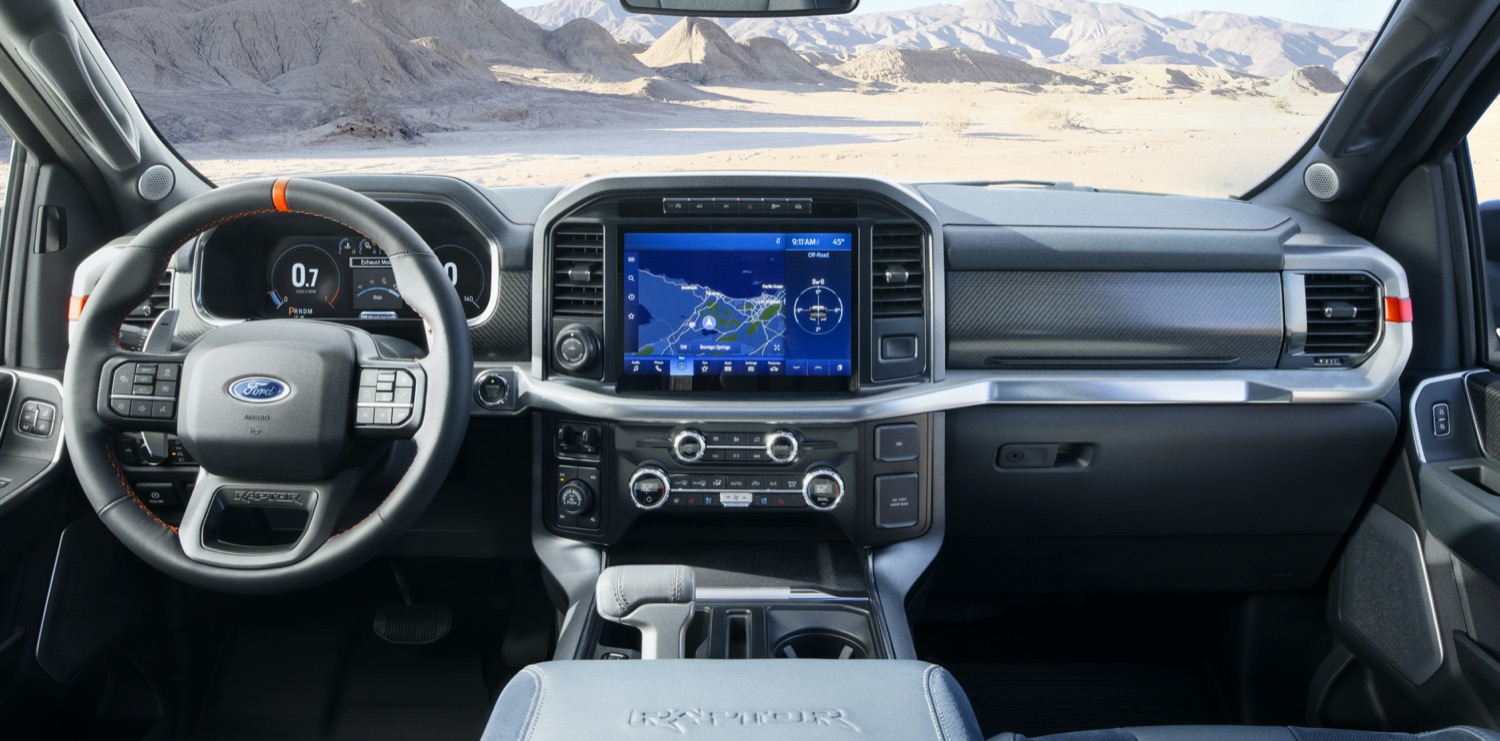 Drive modes adjust steering feel, transfer case behavior, stability control, active valve exhaust, active damping system, throttle mapping, and transmission shift points, as well as the display on the digital gauge cluster.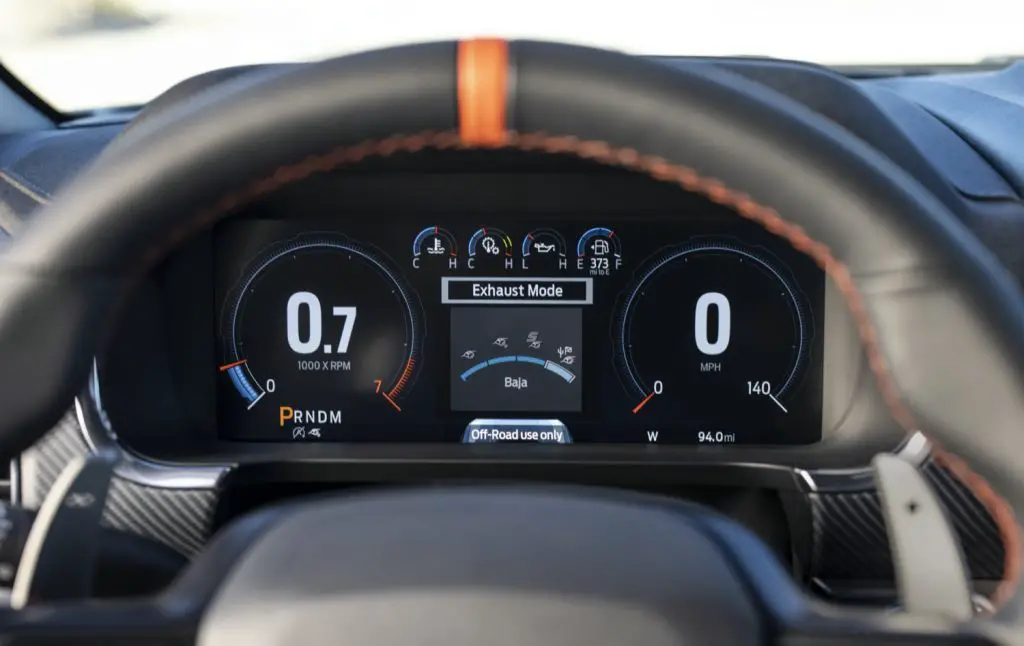 The available 360-degree camera package provides an in-cabin view of obstacles around the truck, with the front view offering a real-time tire track overlay to dynamically show the path of the wheels ahead to reduce the need to stop for spotter guidance. A dash-mounted hard button calls up the 360-degree view and rearview cameras.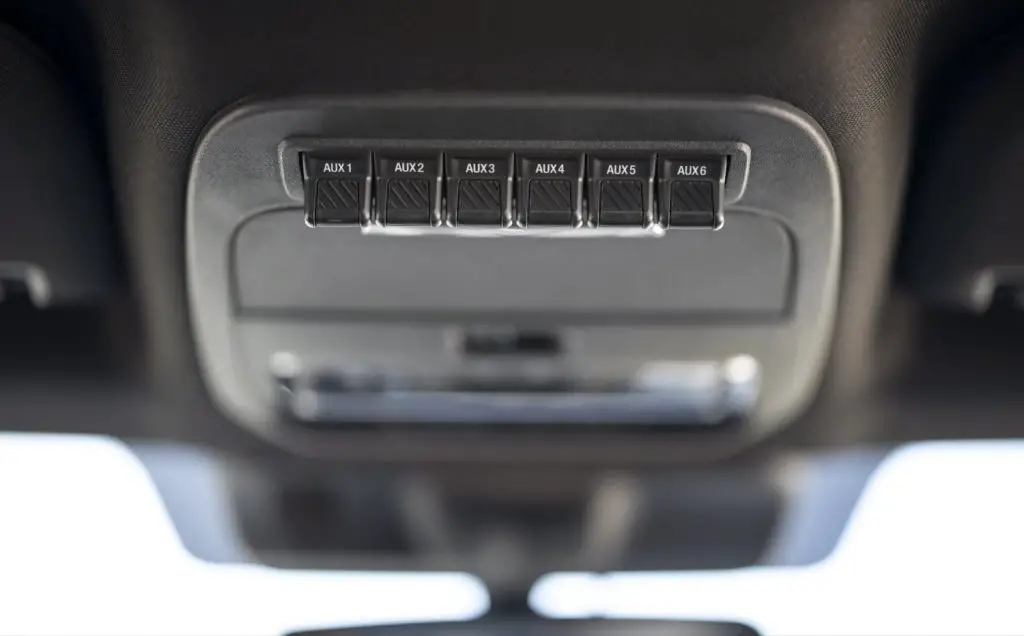 Standard Trail 1-Pedal Drive helps make extreme off-road driving like rock crawling easier. In harsh trail situations, a driver typically must use both pedals, modulating throttle and brake simultaneously to advance the truck. Trail 1-Pedal Drive simplifies all that, combining those operations into activating just the throttle – press to move forward, release to brake. The truck applies the brakes proportionally as the driver lifts from the accelerator.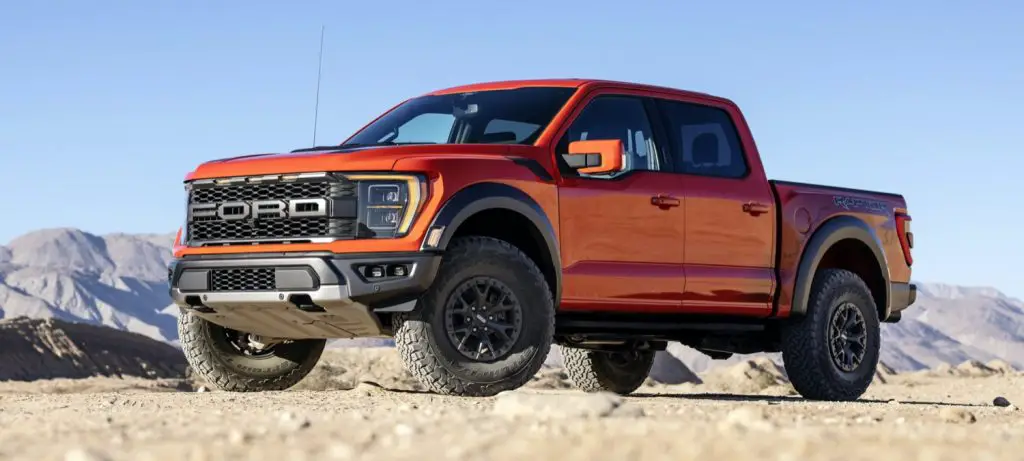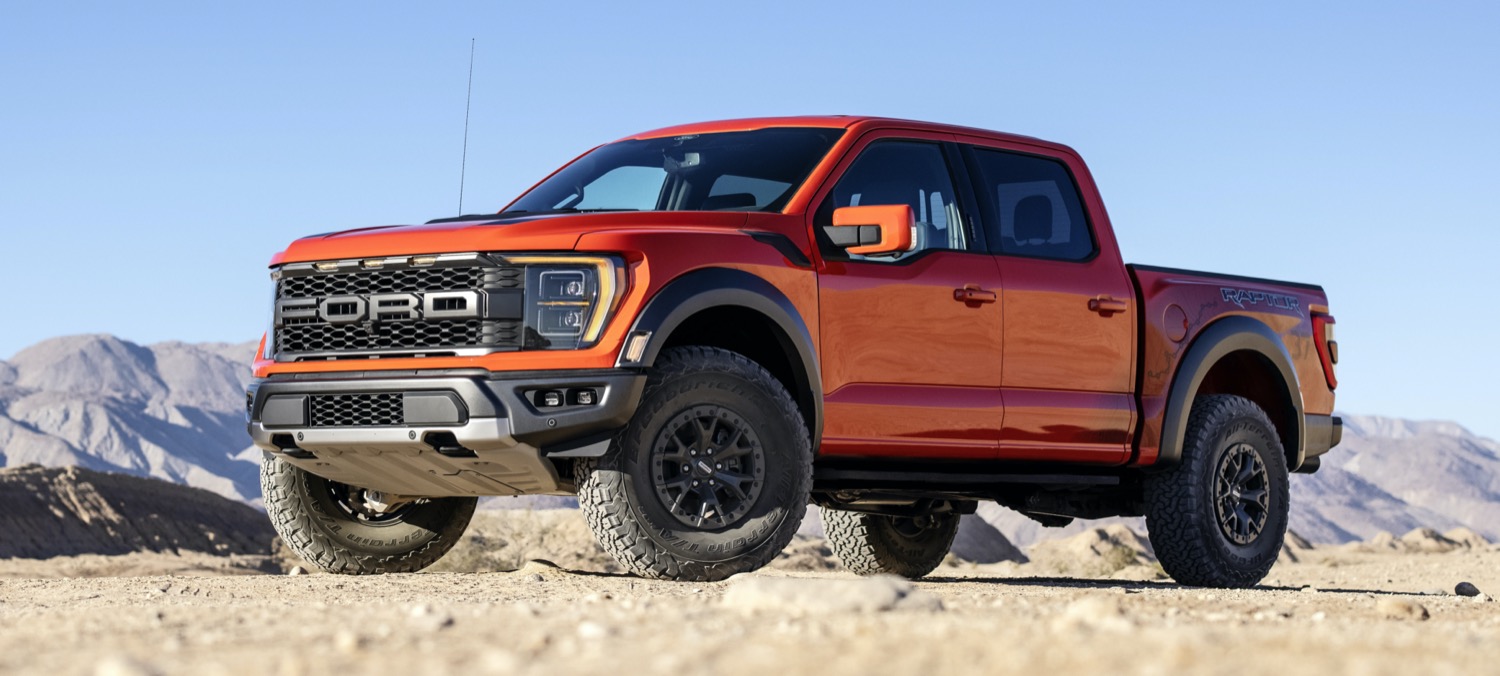 F-150 Raptor also comes with standard Trail Control, which operates like cruise control for off-road use. Drivers simply select a set speed and the truck manages throttle and braking to allow them to focus on steering through challenging off-road conditions.
Inside, the new Raptor features a laser-etched logo on the steering wheel, top center marking, and aluminum paddle shifters. Heavily bolstered seats come standard, and Recaro buckets are available as an option. Standard aluminum or optional carbon fiber interior packages add some character to the doors, instrument panel, and center console.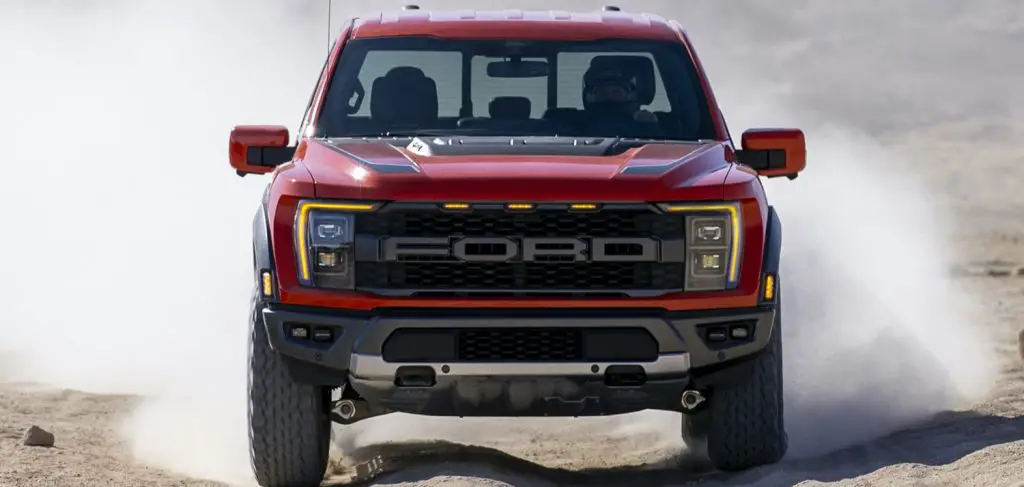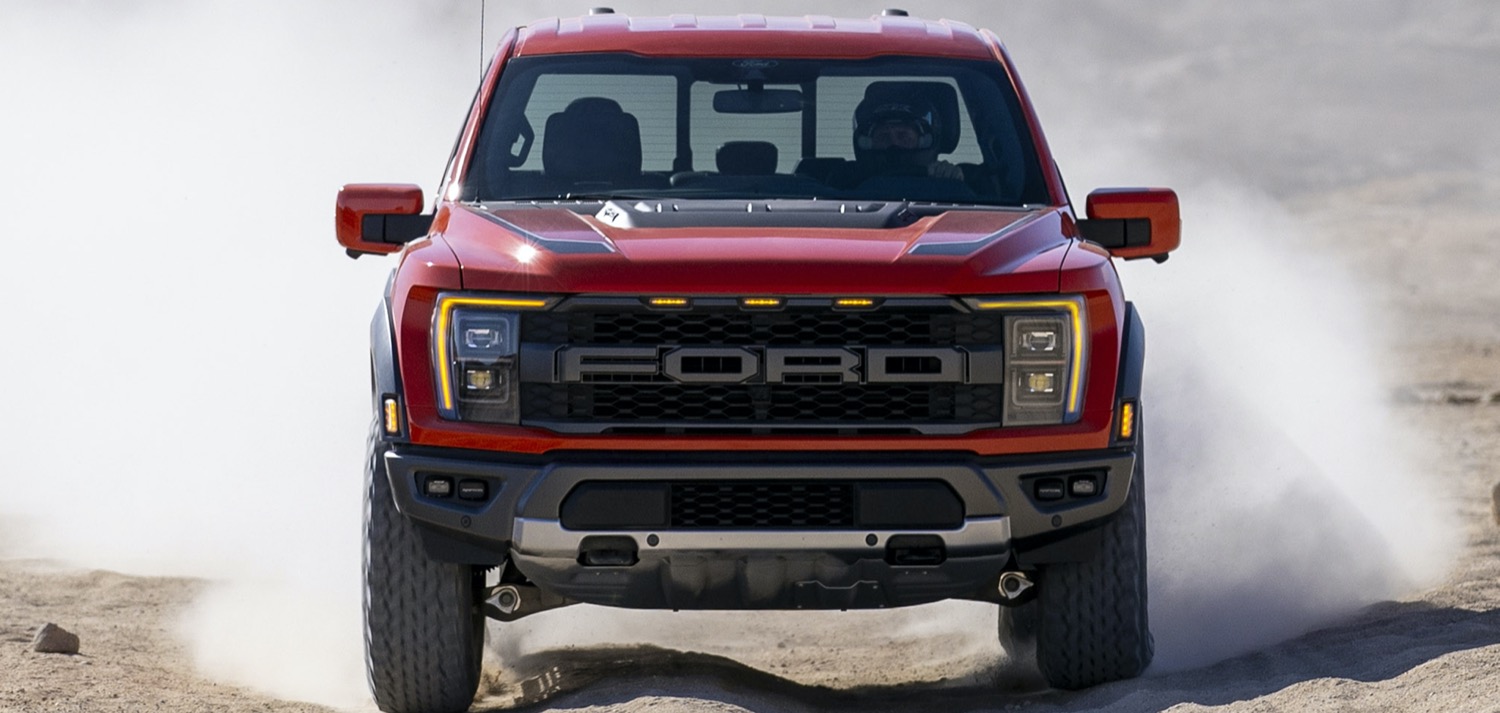 On the outside, the 2021 Raptor combines the 2021 F-150's new design with signature Raptor elements including its power dome hood with a heat extractor, a blacked-out grille with "Ford" script, headlights that stretch fender-to-fender, functional side vents at the top trailing edge of the fender, wider fenders, blacked-out taillights, and an available tailgate applique.
Steel front and rear bumpers, a tucked-up exhaust, and a wider front skid plate helps protect the Raptor when the terrain gets rough, while available Rigid off-road lighting provides plenty of lumens for nights out on the trail. The 2021 Raptor is available with three different 17-inch wheel designs as well – two with beadlock capability.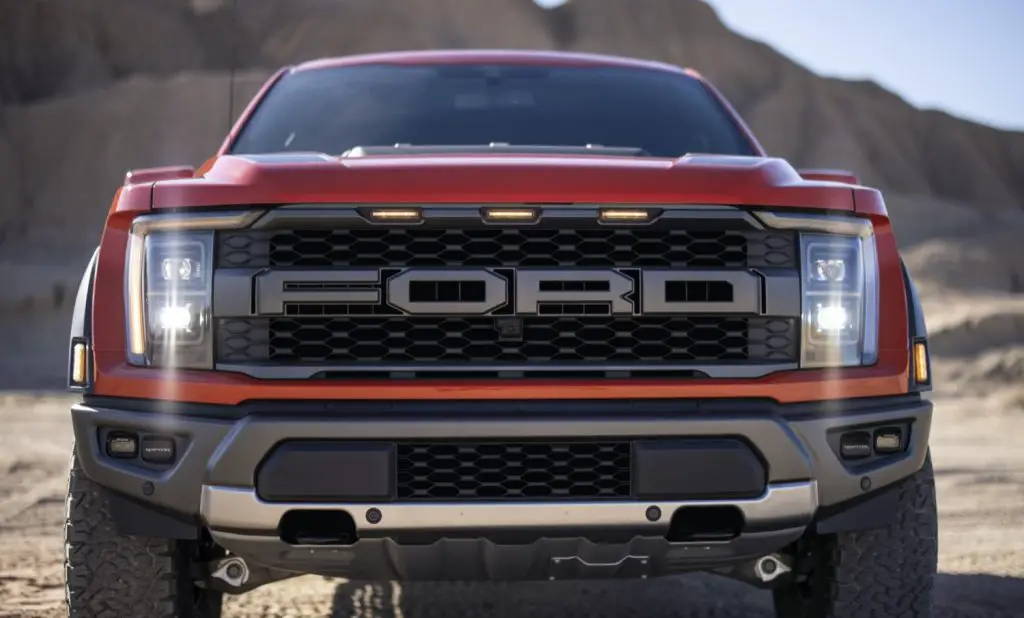 The 2021 Ford F-150 Raptor will be built at the Ford Dearborn Truck Plant in Dearborn, Michigan, and will be available in showrooms this summer. As far as the long-rumored 5.2L Predator V8 powered, Ram TRX killing version, well, all Ford will say for now is that a "Raptor R" is coming next year. It's at this point that we'll toot our own horn a bit by saying that Ford Authority was the first to report that the third-gen F-150 Raptor will offer a V8.
We'll have more on the 2021 F-150 Raptor soon, so be sure and subscribe to Ford Authority for more Ford F-150 Raptor news and ongoing Ford news coverage.