For commercial vehicle owners and operators, maximizing the amount of time those vehicles spend on the road – otherwise known as uptime – is critical for maximizing productivity and profits. In recent months, Ford has introduced a number of useful tools to help fleet owners keep an eye on their vehicles, including its Telematics features. Now, the new Ford Liive Connected Uptime System, which just debuted in Europe, takes those efforts a step further.
Ford Liive is designed to help keep commercial vehicles moving by avoiding breakdowns, reducing the number of trips to the dealer, and making servicing faster, all by sharing data from the connected vehicles with customers and dealers.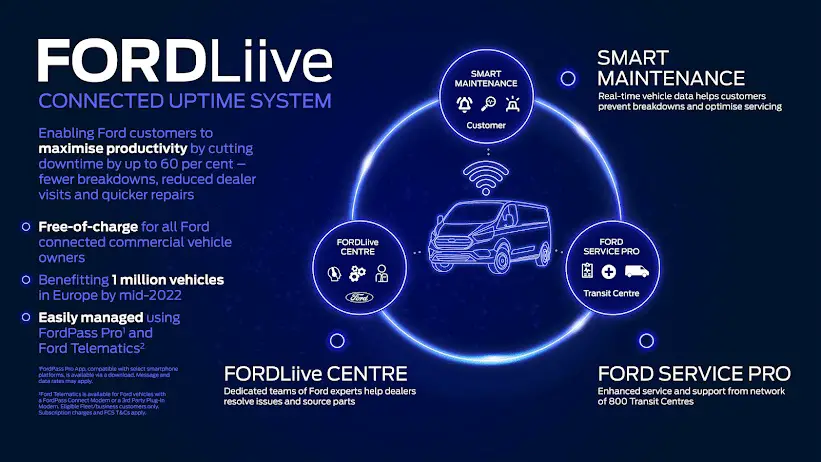 Connected vehicles enable customers to maximize uptime via usage-based Smart Maintenance alerts. Keeping track of oil changes, tire pressures, and battery and fuel levels via an app allows customers to schedule service when it's convenient for them and could reduce breakdowns by 30 percent. Smart Maintenance also simply explains what warning lights mean, and what to do if they appear.
Meanwhile, The Blue Oval is also introducing Ford Service Pro to its 800 Transit Centers across Europe – a set of data-powered services designed to boost uptime. These include enabling technicians to check vehicle data for diagnosing issues and ordering parts before vehicles arrive, using virtual reality goggles to "teleport" engineers into the workshop if needed, and bundling upcoming tasks to save customers from making multiple trips to the dealer.
Uptime experts in the new Ford Liive Centres can see all this data and track workshop visits to spot issues developing, helping them identify the parts and expertise needed to get vehicles back on the road ahead of time. Ford Liive will be rolled out across Europe as FoMoCo work towards its ambition of achieving 100 percent uptime to support its commercial vehicle customers' businesses.
We'll have more on Ford's commercial vehicles services and technologies very soon, so be sure and subscribe to Ford Authority for 24/7 Ford news coverage.