From the day the 2021 Ford Bronco was revealed last summer, it seemed almost inevitable that at least one aftermarket company would turn the reborn SUV into a six-wheeler. After all, we've seen it done with the Ford F-150 Raptor, Ford Super Duty, and various other rugged vehicles. And now, Maxlider Motors seems more than happy to oblige, as it's already taking deposits for its Ford Bronco 6×6, which will be available in 2022.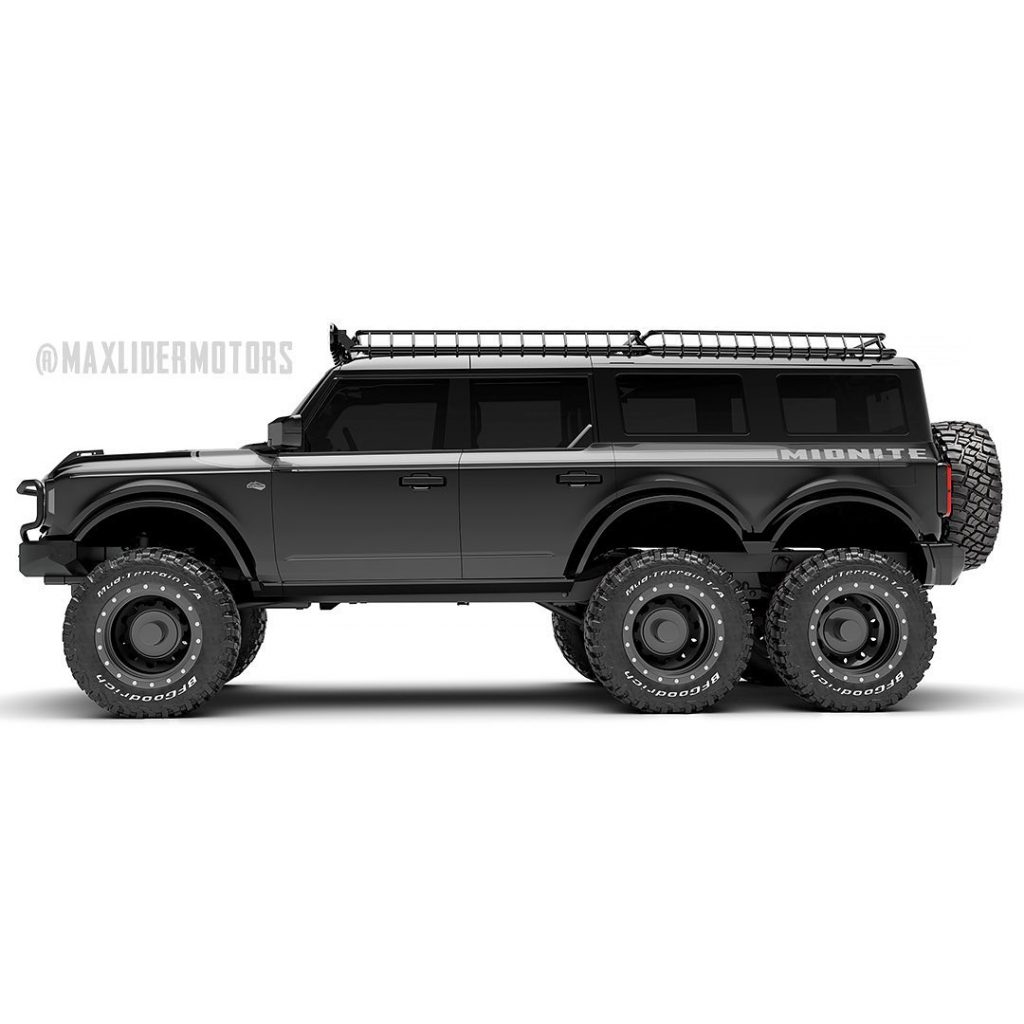 This extra-long, extra-ridiculous creation is perfect for the extrovert who's flush with cash because, with an asking price of $399,000, this Ford Bronco 6×6 isn't cheap. But at the same time, it's pretty much guaranteed that whoever buys one will be the only person in their town with a six-wheeled Bronco, at the very least.
Maxlider has plenty of experience building all sorts of wild and crazy vintage Broncos, of course, including a four-door version. The aftermarket builder also announced that it would be reviving a model from the Bronco's past – the Nite Edition – with its forthcoming Bronco Midnite Edition, which comes finished in black paint and fitted with a whole host of modifications.
Additionally, Maxlider will be offering a series of complete, custom 2021 Ford Bronco packages ranging in price from $10k to $35k and more. What's nice about these upgrades is that buyers can purchase a new Bronco from the dealership and have it shipped straight to Maxlider, which will then modify the vehicle and ship it back.
View this post on Instagram
Regardless, the Ford Bronco 6×6 is by far the most radical of the bunch. Maxlider is adding an additional axle out back, and effectively stretching the rear cargo area of the Bronco to make room for it and another set of wheels and tires. Obviously, this will add a good amount of weight, and we wouldn't be surprised to see Maxlider offer up some performance enhancements for the 6×6, too, maybe including a V8 swap like PaxPower and Hennessey Performance have planned, perhaps?
We'll have more custom Broncos to share soon, so be sure and subscribe to Ford Authority for more Ford Bronco news and around-the-clock Ford news coverage.