While we've seen a few teasers of the next-gen NASCAR Ford Mustang racer in recent weeks, the official debut is set for today at 3 pm EDT. However, the brand new race car has already leaked via Reddit, where we can see the next-gen NASCAR Ford Mustang sitting behind the next-gen Chevrolet Camaro ZL1 1LE racer, looking an awful lot like it was inspired by the Ford Mustang Shelby GT500.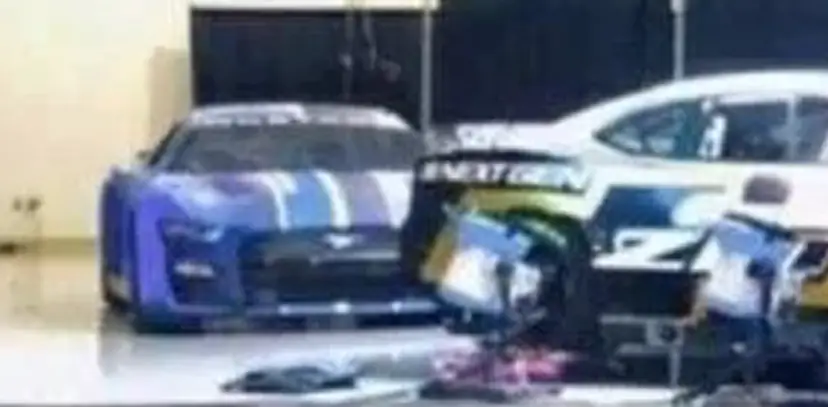 This picture gives us a good look at the front end of the next-gen Mustang racer, which looks just like the one present on the production GT500. Given the fact that NASCAR wants its next-gen cars to look more like the ones we can buy off dealer lots, this doesn't come as a major surprise, but it is a big departure from the current model.
In addition to the front end styling, the next-gen Mustang racer has a set of stripes painted down the center, also much like the GT500. But the overall shape of the car is lower and wider than the production Mustang, with pronounced fenders covering large wheels and tires, just like a proper race car should have.
In addition to these styling changes, the next-gen NASCAR models will continue to use naturally-aspirated gas-powered V8 engines but will make the switch from four-speed manual transmissions to six-speed sequential gearboxes. The new bodies are said to vastly improve downforce and aerodynamics and cover a more modern chassis and suspension. New, 18-inch aluminum wheels are also designed to mimic what can be found on the road-going versions of these racers.
We'll get a better look at the new NASCAR Mustang very soon, but for now, we're certainly liking the direction Ford went with the car's design.
We'll have much more on the next-gen NASCAR Ford Mustang soon, so be sure and subscribe to Ford Authority for more Ford Mustang news and non-stop Ford news coverage.