Ford Motor Company sales increased by 4 percent to 161,725 units during May 2021 in the United States. Sales increased at both FoMoCo divisions – the namesake Ford brand as well as the Lincoln marque.
"Ford sales were up 4.1 percent on tight inventories, while year-to-date sales increased 11.3 percent," said Vice President, Ford Sales U.S. and Canada, Andrew Frick. "Ford and its dealers are working harder than ever to match the right mix of inventory to best meet the needs of our customers at the local level. We have been receiving a massive number of reservations for our all-electric F-150 Lightning over the last two weeks – totaling over 70,000 trucks. Ford brand SUVs had their best May sales in 18 years, while Lincoln SUVs posted a new May record," he added.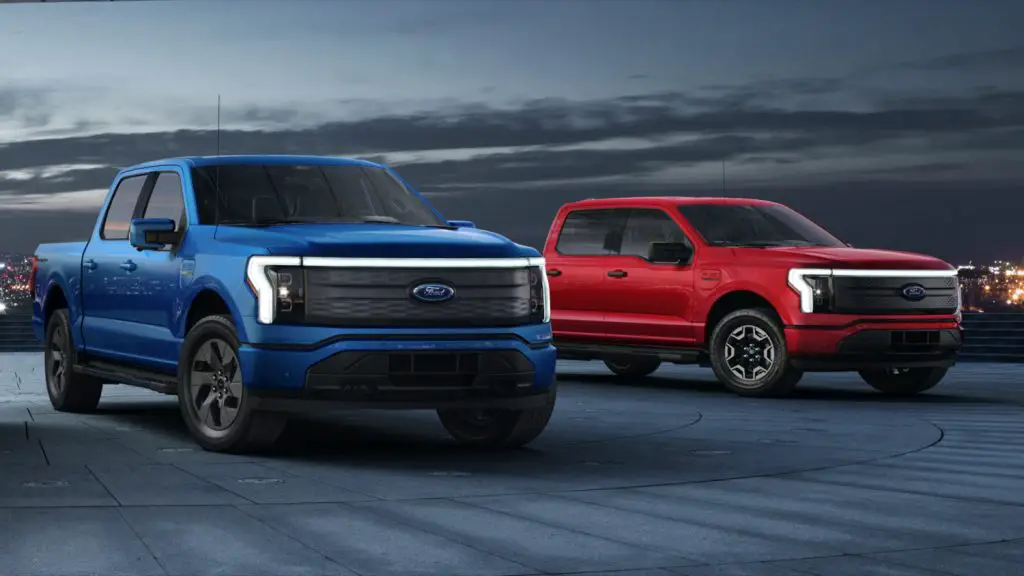 FoMoCo Sales Notes – U.S. May 2021
Total Ford Motor Company sales during May 2021 increased 4 percent to 161,725 units

Ford did not provide any information on retail vs. fleet deliveries

In May, average transaction prices at Ford were up approximately $3,400 over a year ago thanks to new products. Ford's newest products – Bronco Sport and Mustang Mach-E – expanded their sales relative to April 2021, with sales of the two totaling 16,892 vehicles, while turning quickly on dealer lots.
F-Series posted sales totaling 316,359 vehicles through May. This is a 4.7 percent increase over last year and represents 53,000 more trucks than Ford's second-place competitor.

With tight inventories, F-Series continues to turn at record rates whit retail orders are up threefold over last year.
Ford continues to fill orders as more semiconductor chips become available.
Ford's fully electric F-150 Lightning, which goes on sale next year, already has more than 70,000 reservations.

Ford brand retail SUVs post best May sales since 2003, were up 51.8 percent over a year ago on new product introductions of Bronco Sport and Mustang Mach-E, along with the continued momentum of Escape, Explorer and Expedition. Meanwhile, Ranger sales recorded their best May sales since 2004 with a total of 14,303 units for the month, an increase of 41.8 percent relative to last year.
Lincoln SUVs posted another record sales result in May, with a total of 7,871 SUVs sold and up 24.3 percent.

The Corsair is Lincoln's bestselling vehicle in its lineup. In May, sales of the compact premium crossover increased 16.2 percent.
Aviator sales expanded 32.5 percent in May with sales of 1,927, while Navigator increased 65.6 percent with sales of 1,492 SUVs.
Brand & Model Sales
Ford sales increased 4.1 percent to 153,582 units:
Lincoln sales increased 5 percent to 8,143 units:
During the first five months of the 2021 calendar year, Ford Motor Company sales increased 11 percent to 880,872 units.
| Model | May 2021 / May 2020 | May 2021 | May 2020 | YTD 2021 / YTD 2020 | YTD 2021 | YTD 2020 |
| --- | --- | --- | --- | --- | --- | --- |
| Bronco Sport | N/A | 14,947 | 0 | N/A | 52,159 | 0 |
| E-Series | +21.3% | 2,086 | 1,720 | +15.1% | 15,208 | 13,215 |
| EcoSport | -15.2% | 4,919 | 5,802 | -9.9% | 22,784 | 25,296 |
| Edge | -32.1% | 5,077 | 7,480 | -15.9% | 35,273 | 41,951 |
| Escape | +51.4% | 19,951 | 13,178 | +9.4% | 76,621 | 70,043 |
| Expedition | +110.4% | 8,912 | 4,236 | +47.7% | 40,055 | 27,125 |
| Explorer | +2.1% | 16,512 | 16,177 | +26.8% | 108,796 | 85,822 |
| F-Series | -29.2% | 46,260 | 65,314 | +4.7% | 316,359 | 302,199 |
| Fusion | -85.4% | 1,210 | 8,289 | -78.9% | 10,937 | 51,919 |
| GT | +300% | 8 | 2 | -33.3% | 54 | 81 |
| Heavy trucks | +118.3% | 1,205 | 552 | +105% | 5,578 | 2,721 |
| Mustang | -24.7% | 4,436 | 5,893 | +1.5% | 29,710 | 29,264 |
| Mustang Mach E | N/A | 1,945 | 0 | N/A | 10,510 | 0 |
| Ranger | +41.8% | 14,303 | 10,089 | +32.8% | 51,270 | 38,616 |
| Transit | +55.1% | 8,381 | 5,402 | +1.4% | 47,277 | 46,625 |
| Transit Connect | +34.9% | 3,430 | 2,543 | +20.8% | 14,260 | 11,803 |
| Total | +4.1% | 153,582 | 147,575 | +11.1% | 836,851 | 753,518 |
| Model | May 2021 / May 2021 | May 2021 | May 2020 | YTD 2021 / YTD 2020 | YTD 2021 | YTD 2020 |
| --- | --- | --- | --- | --- | --- | --- |
| Aviator | +32.5% | 1,927 | 1,454 | +34.2% | 10,857 | 8,088 |
| Continental | -46.6% | 171 | 320 | -46.3% | 1,197 | 2,231 |
| Corsair | +16.2% | 2,348 | 2,021 | +38.7% | 12,283 | 8,858 |
| MKZ | -90.8% | 101 | 1,100 | -69.1% | 1,606 | 5,199 |
| Nautilus | +7.8% | 2,104 | 1,951 | +23.2% | 10,085 | 8,183 |
| Navigator | +65.6% | 1,492 | 901 | +45.2% | 7,993 | 5,506 |
| Total | +5% | 8,143 | 7,752 | +15.3% | 44,021 | 38,183 |
| Brand | May 2021 / May 2020 | May 2021 | May 2020 | YTD 2021 / YTD 2020 | YTD 2021 | YTD 2020 |
| --- | --- | --- | --- | --- | --- | --- |
| Ford | +4.1% | 153,582 | 147,575 | +11.1% | 836,851 | 753,518 |
| Lincoln | +5% | 8,143 | 7,752 | +15.3% | 44,021 | 38,183 |
| Total | +4.1% | 161,725 | 155,327 | +11.3% | 880,872 | 791,701 |
About The Numbers
All percent change figures compared to Ford Motor Company sales for May 2020, unless noted otherwise
Further Reading & Sales Reporting
Running Ford Motor Company sales numbers
Ford Motor Company Q2 2021 sales reports:

Ford Motor Company sales Q2 2021 U.S.A
Ford China sales Q2 2021
Ford Motor Company Canada sales Q2 2021

Ford Canada sales Q2 2021
Lincoln Canada sales Q2 2021

Ford Motor Company Argentina sales Q2 2021
Ford Motor Company Brazil sales Q2 2021
Ford Motor Company Korea sales Q2 2021

Ford Motor Company Korea sales April 2021

Ford Korea sales April 2021
Lincoln Korea sales April 2021

Ford Motor Company Korea sales May 2021

Ford Korea sales May 2021
Lincoln Korea sales May 2021

Ford Motor Company Korea sales June 2021

Ford Korea sales June 2021
Lincoln Korea sales June 2021

Ford Motor Company Mexico sales Q2 2021
Ford Russia sales Q2 2021

Ford Russia sales April 2021
Ford Russia sales May 2021
Ford Russia sales June 2021