As Ford Authority was first to report, a new Ford Expedition Timberline model will join the growing family of rugged, off-road-oriented utilities at The Blue Oval. The outdoorsy model will launch in conjunction with the 2022 Expedition refresh. Ford Authority spies have recently captured prototypes of the Expedition Timberline as well as the "regular" 2022 Expeditions, and we're setting them side-by-side for an up-close comparison.

Starting at the top of the front fascia, the grille of the 2022 Ford Expedition Timberline has an entirely different pattern than that of the "regular" Expedition. Whereas the regular model features a wavy grille pattern, the Timberline features a set of uniform rectangular cutouts. Additionally, the upper grille's design motif on the Expedition Timberline extends to a matching lower grille, which is flanked by a set of blockier solid plastic panels that are also quite different from those on the standard model.
As on the Ford Explorer Timberline, orange-red tow hooks add a splash of color to the bottom of the fascia. A silver skid plate replaces the lower air dam on the regular model. In addition to protecting the engine from damage, the design of the skid plate and its integration into the lower end of the front fascia appears to deliver significantly better approach and departure angles for greater off-roading capability.
Moving outward, we can clearly see fog lamps on the Expedition Timberline, with surrounding trim that appears to have sharper angles and edges. As a result of all the Timberline-specific design elements, the front end looks decidedly more rugged, and the increased functionality will certainly be appreciated off the pavement.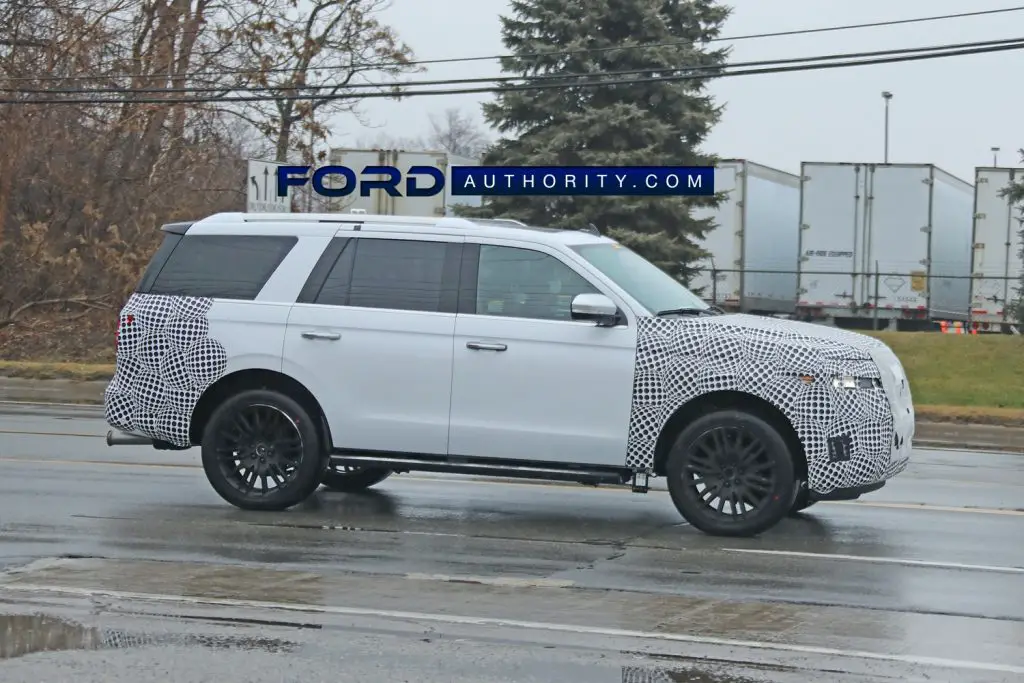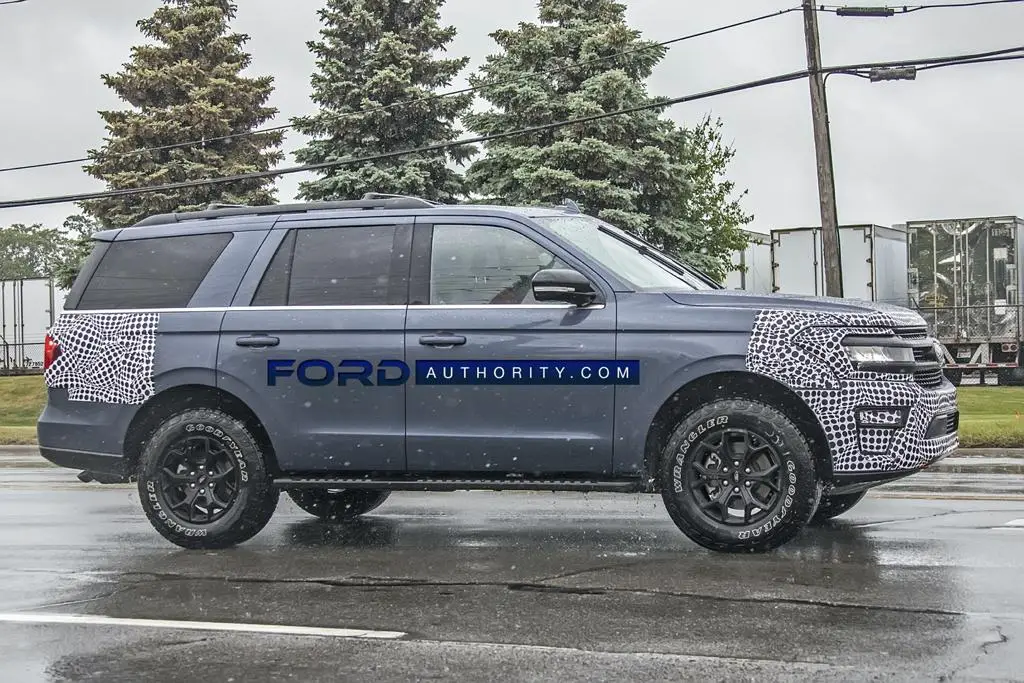 The 2022 Ford Expedition Timberline is expected to deliver off-road spec shock absorbers, special stabilizer bars, and a unique steering calibration, along with standard 4×4. The prototypes we've seen most recently have been wearing Goodyear Wrangler all-terrain tires with an even more trail-centric tread pattern than the 32-inch all-terrain Michelin tires that ship on the current Expedition FX4.
With a host of unique visual touches and upgrades over the standard model, the 2022 Ford Expedition Timberline should better compete against rugged rival SUVs like the Chevrolet Tahoe Z71 and GMC Yukon AT4 from FoMoCo's cross-town rival, General Motors.
Subscribe to Ford Authority for more Ford Expedition news and obsessive Ford news coverage as it happens.