When the 1965 Ford Mustang debuted as a fastback, it understandably become quite desirable. It couldn't have hurt that it was the body style of choice for Carroll Shelby's original GT350 racer, but even a standard Ford-issue fastback will almost always command a higher price now that these models have passed into the annals of automotive history. Custom models that take the original design to new, unique heights only enhance things further, and one in particular fetched good money when it crossed the auction block at the Barrett-Jackson Las Vegas auction in June.
Wide body conversion methods vary widely, depending on budget and taste. It can be as quick and dirty as trimming the existing fenders and literally bolting new ones over the top, with exposed fasteners. If budget allows, one can spend (or pay someone else to spend) countless hours in a body shop for a more seamless, streamlined and higher quality result. This 1965 Mustang fastback clearly falls into the latter category.
The sheet metal hardly appears modified at first glance, but the fender wells can now accept a much wider wheel and tire combo than a stock shell. Concealing the metalwork underneath, a tri-color paint scheme pays homage to the Mustang race cars of the Trans Am series in 1969, some of which wore a similar livery on the track. Custom bumper panels have been integrated smoothly at front and rear, eliminating the chrome bumpers typically seen on early pony cars.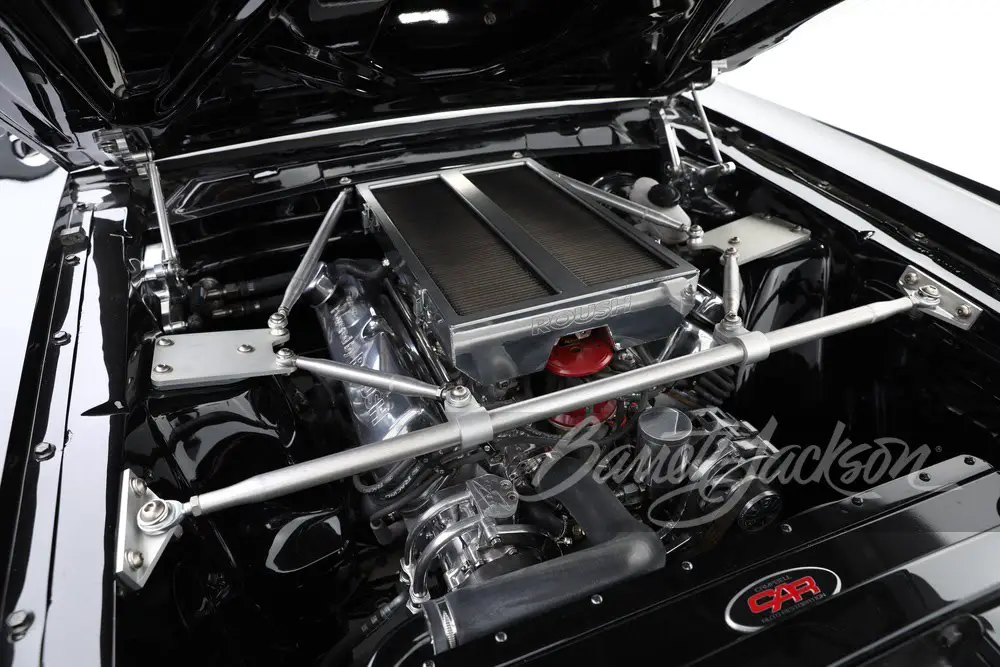 Under the hood is a 427 cubic-inch Roush crate engine producing over 600 horsepower. It's mated with a six-speed manual gearbox and 9-inch rear end, which should make for a very stout powertrain combination. One notable engine bay feature is the positively massive intake, which draws outside air from a Mercury Cougar Eliminator scoop that was modified to fit a Mustang hood. A coilover suspension from Total Control Products can also be seen up front, with tubular control arms and a power steering rack having been installed as well.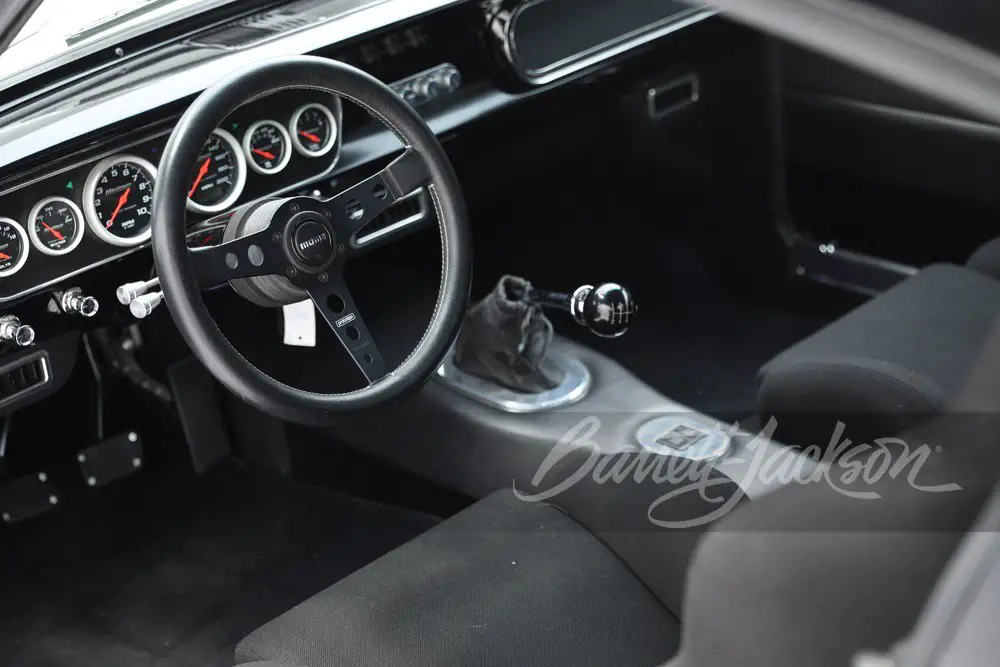 The fastback's new owner will have many interior niceties to enjoy, with a full complement of custom gauges, Recaro racing seats, and a leather-wrapped MOMO steering wheel to round out the interior modifications that enhance the ambiance of the cabin. This one-of-a-kind 1965 Ford Mustang Custom fastback sold for a stout $143,000, as part of Barrett-Jackson's Las Vegas auction that ran from June 17th-19th 2021.
We'll have more cool Mustangs like this to share soon, so subscribe to Ford Authority for the latest Ford Mustang news, Ford auction news, and comprehensive Ford news as it happens.