With production and deliveries of the 2021 Ford Bronco well underway, we're starting to see the rugged off-road SUV on public roads, despite various supply chain issues. But Ford wants new Bronco owners to take them out to off-road parks and trails across the U.S. as well, and there's no better way to do that than by arming them with the knowledge and skills required to wheel their shiny new Ford Bronco. As I found out this past weekend at the Bronco Off-Roadeo Texas, that's precisely what the automaker's new off-road driving school is designed to do.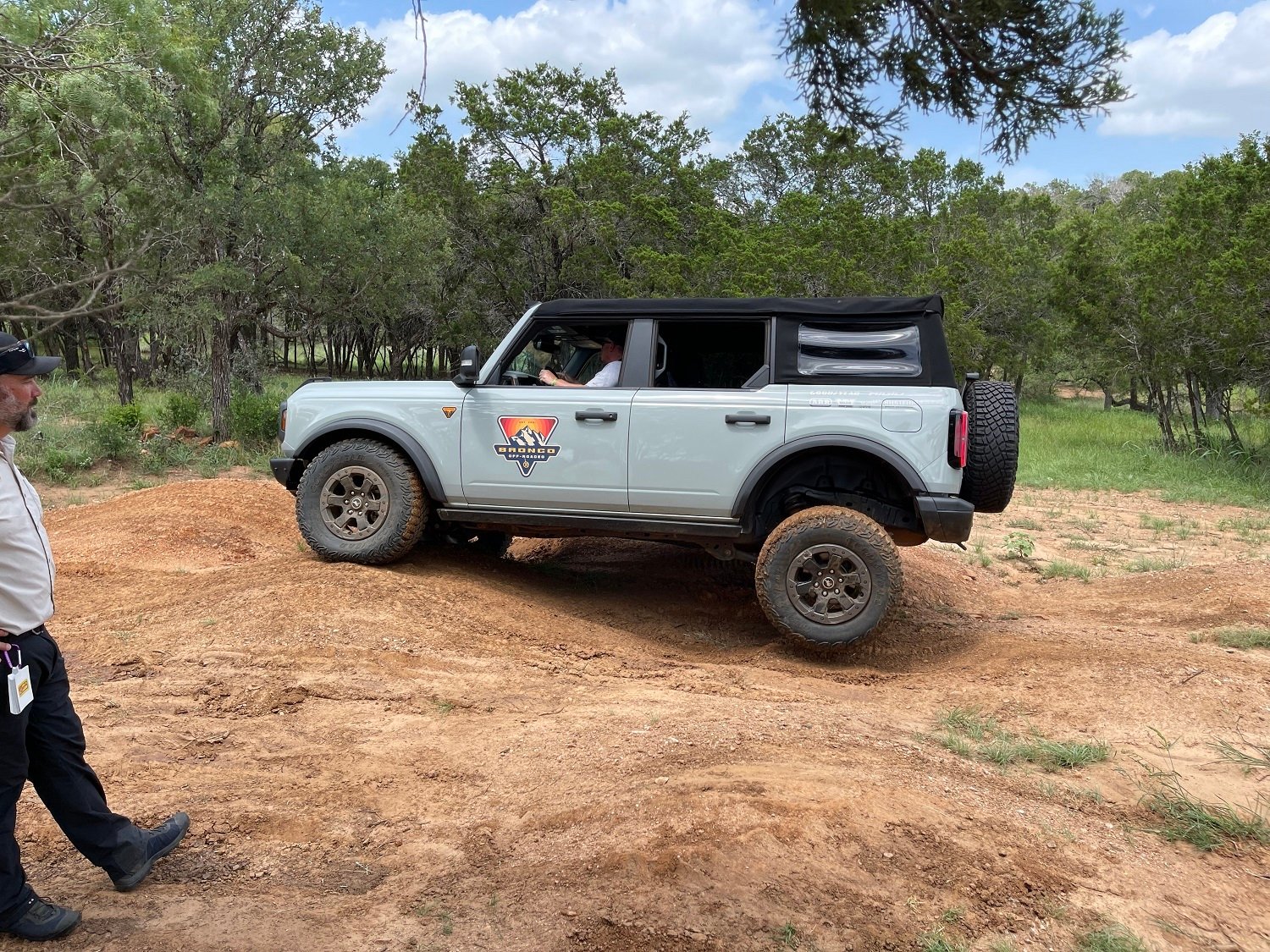 Ford is quick to note that it doesn't matter if attendees have any experience off-roading at all, nor how much experience one might have. The Bronco Off-Roadeo is designed to turn even total newbies into moderately capable off-roaders in just a matter of two days, which seems like a tall task. However, that's precisely what it did, as my group – which consisted of three or four experienced off-roaders (myself included) and over a dozen newbies – managed to conquer every single obstacle unscathed and without any recovery gear needed.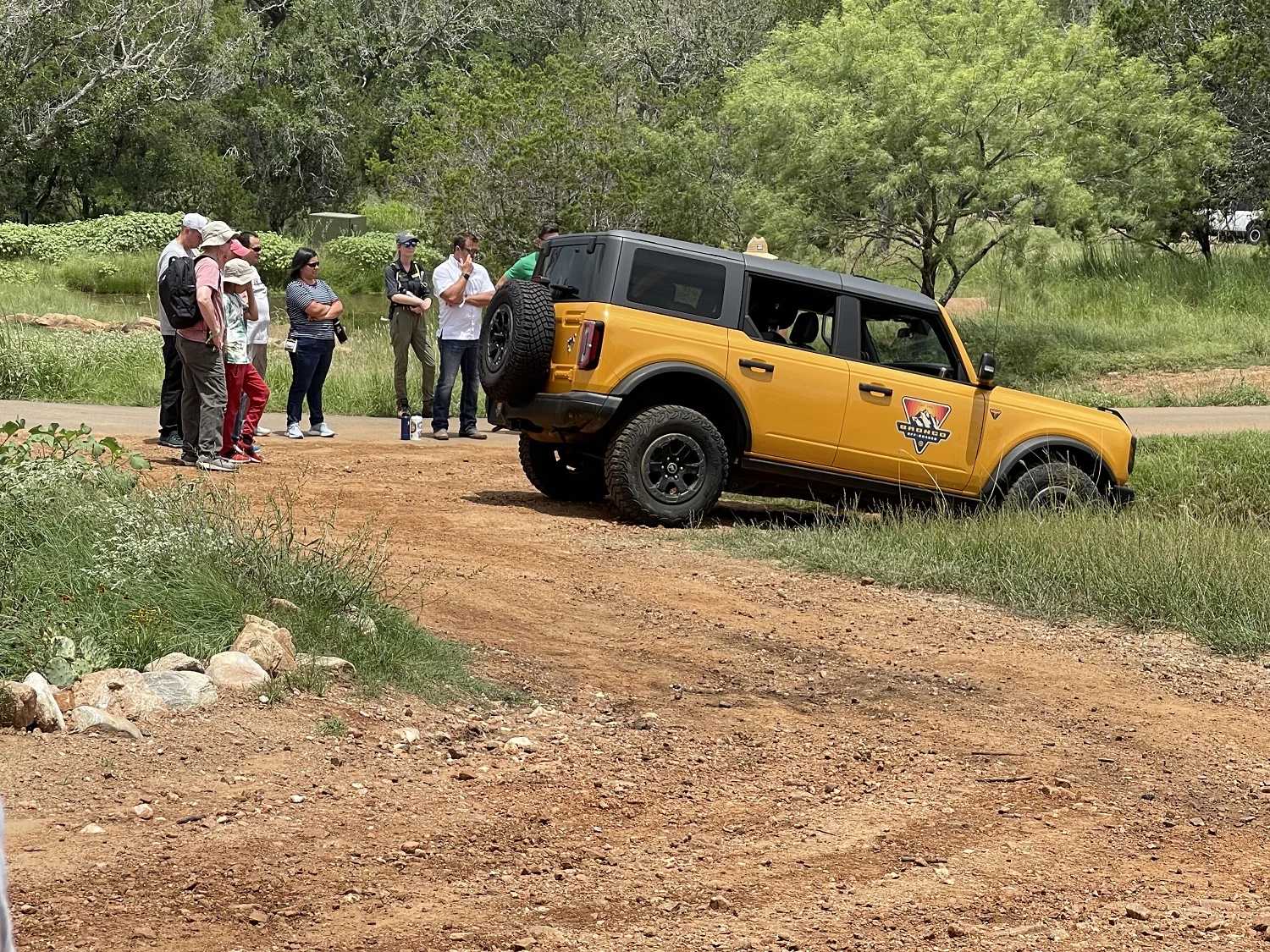 Things started out simple enough, with a mechanical explanation of how four-wheel-drive systems work, as well as the basics of off-roading, like approach, breakover, and departure angles, mechanical sympathy, seating position, and proper hand placement on the steering wheel. We then worked our way through Ford's ORX course, which is designed to show off all of the Bronco's cool off-road-related features, including Trail Control, One-Pedal Driving, Sway Bar Disconnect, G.O.A.T. modes, and front and rear locking differentials.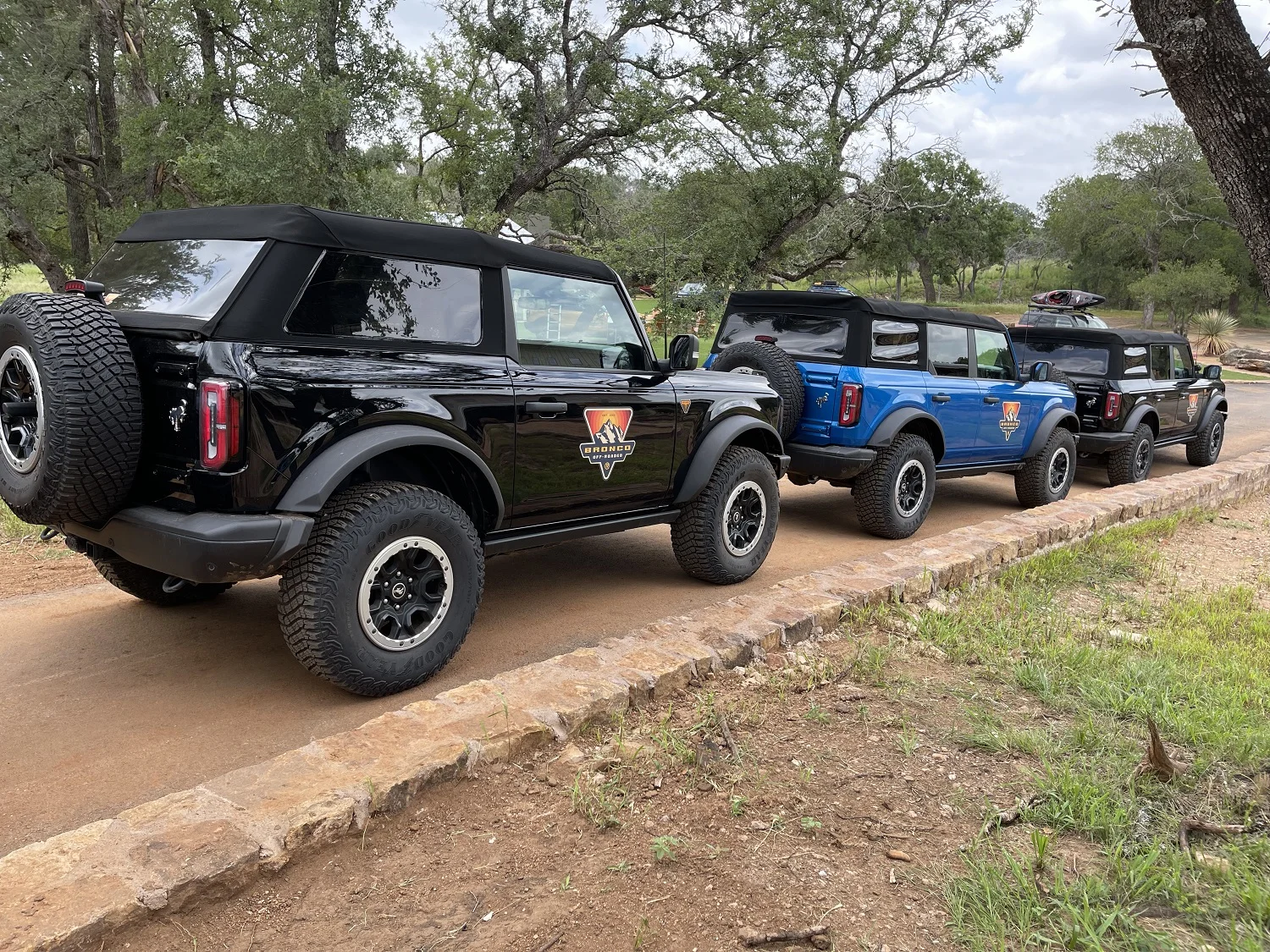 After around two hours of getting acquainted with our Broncos, we set out for our very first trail ride. Each couple was able to choose from a wide variety of two- and four-door models with every trim level represented. I hopped behind the wheel of a four-door Wildtrak to kick things off, and it proved to be incredibly capable over a wide variety of obstacles, including shallow water-filled sections, rocks of modest size, steep inclines and declines, and sandy ruts.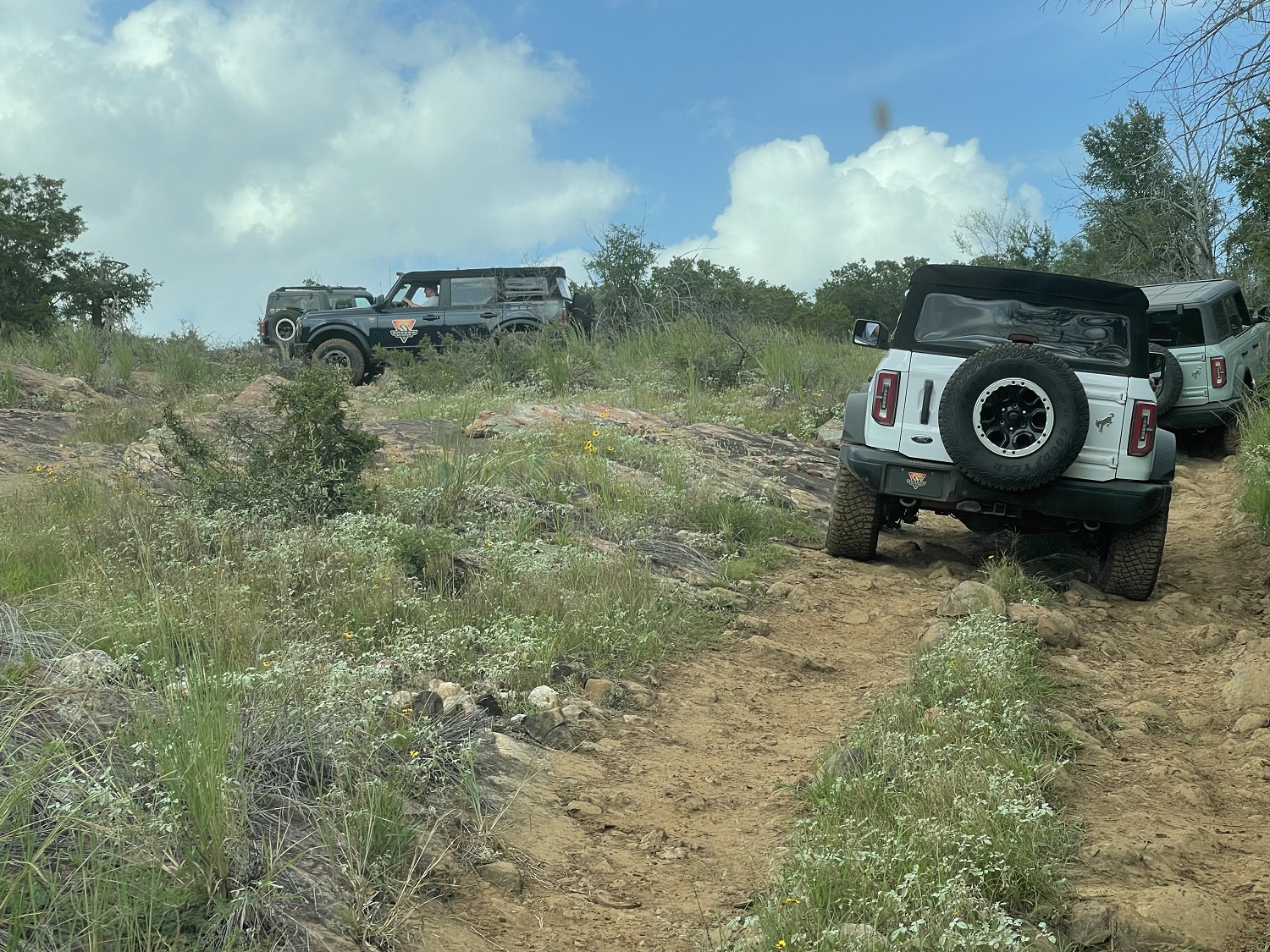 There were a few obstacles on day one that required a bit more thought to overcome, of course. Our instructors – highly experienced off-roaders – took the time to teach everyone how to properly spot other drivers, and also showed us how to choose the best line and conquer obstacles without using the Bronco's many electronic aids. Those were employed only as a last resort, and in almost every instance, weren't really needed. The Bronco is just that good of an off-roader on its own accord.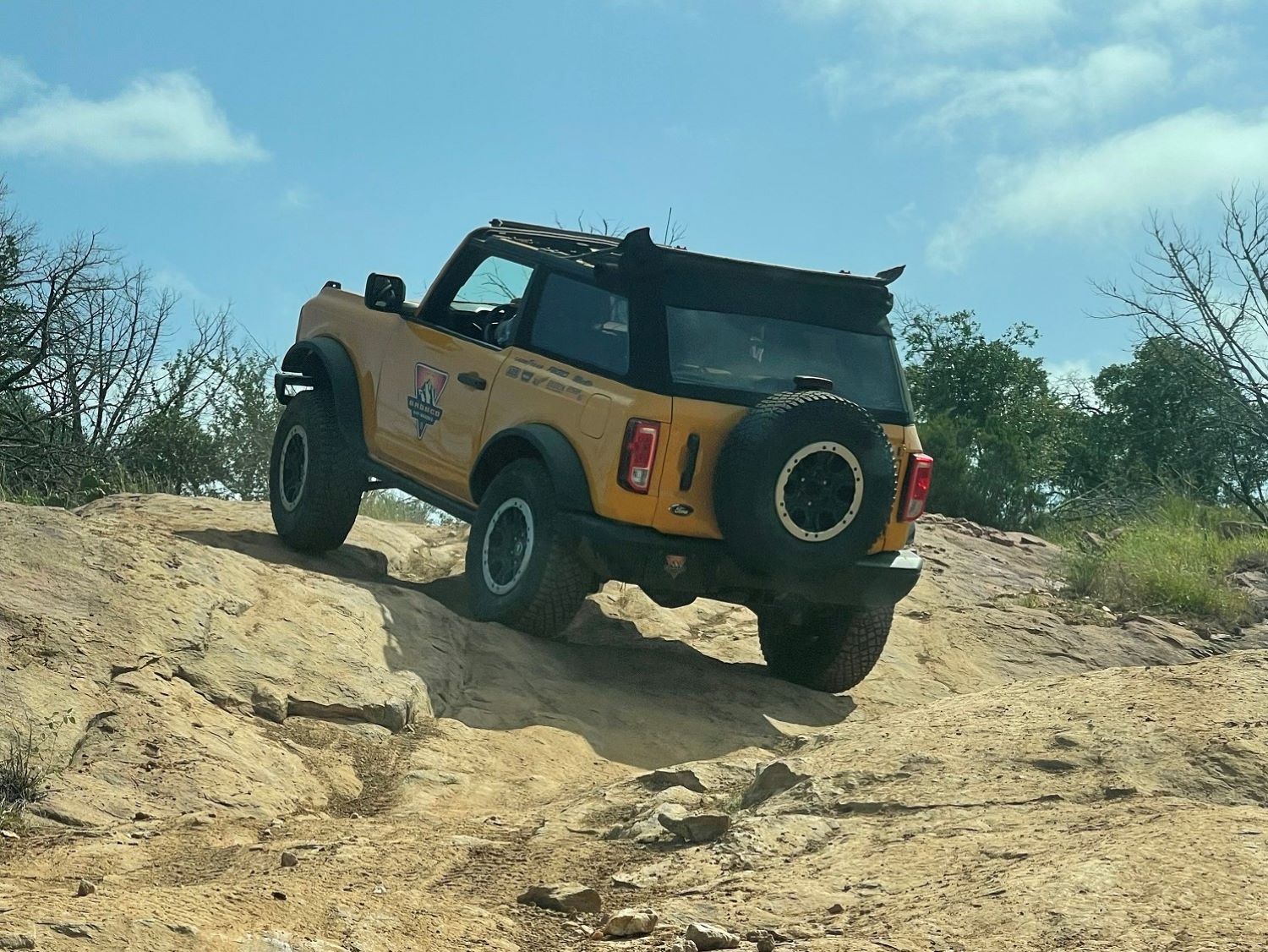 Regardless, we still had fun with those toys. Trail Turn Assist was used several times to navigate tight corners, and I was able to rip off a few four-wheel donuts with ease as well. My Wildtrak climbed a steep rocky section with zero drama or wheelspin with no nannies engaged, then proved its worth descending a steep rocky part of the trail with Trail Control engaged, so that I only had to work the steering wheel. As our instructors told us, "trust the Bronco," and I found that rather easy to do.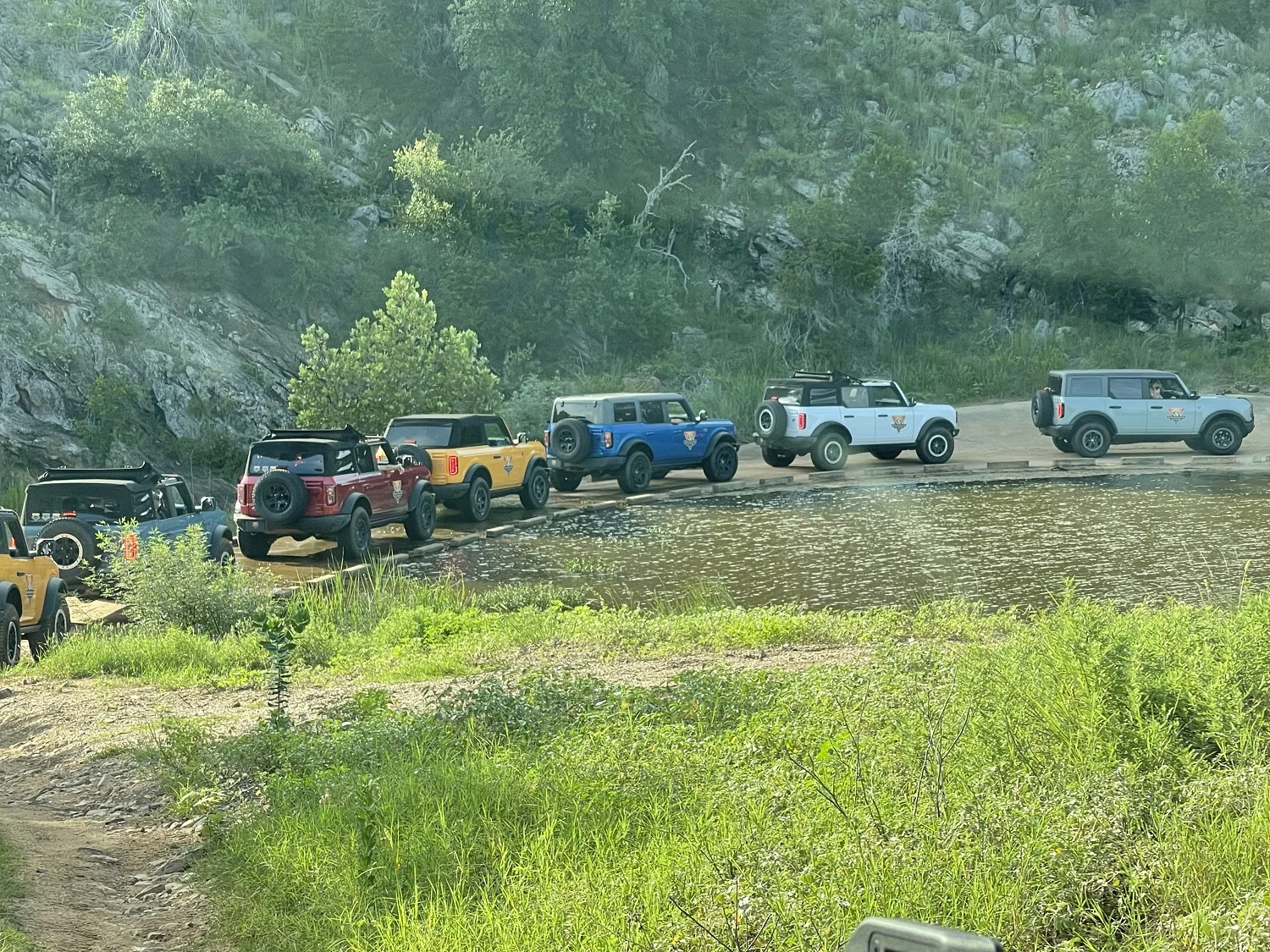 On day two, we didn't waste any time, hopping into our Broncos and hitting a more difficult section of the trail with plenty of confidence. I watched as a few novices struggled with a few admittedly hairy obstacles, but all were able to overcome them with a little instruction and those aforementioned hero buttons. Day two featured a ton of rock crawling – including two particularly challenging sections – though none of them phased my non-Sasquatch four-door Badlands model one bit.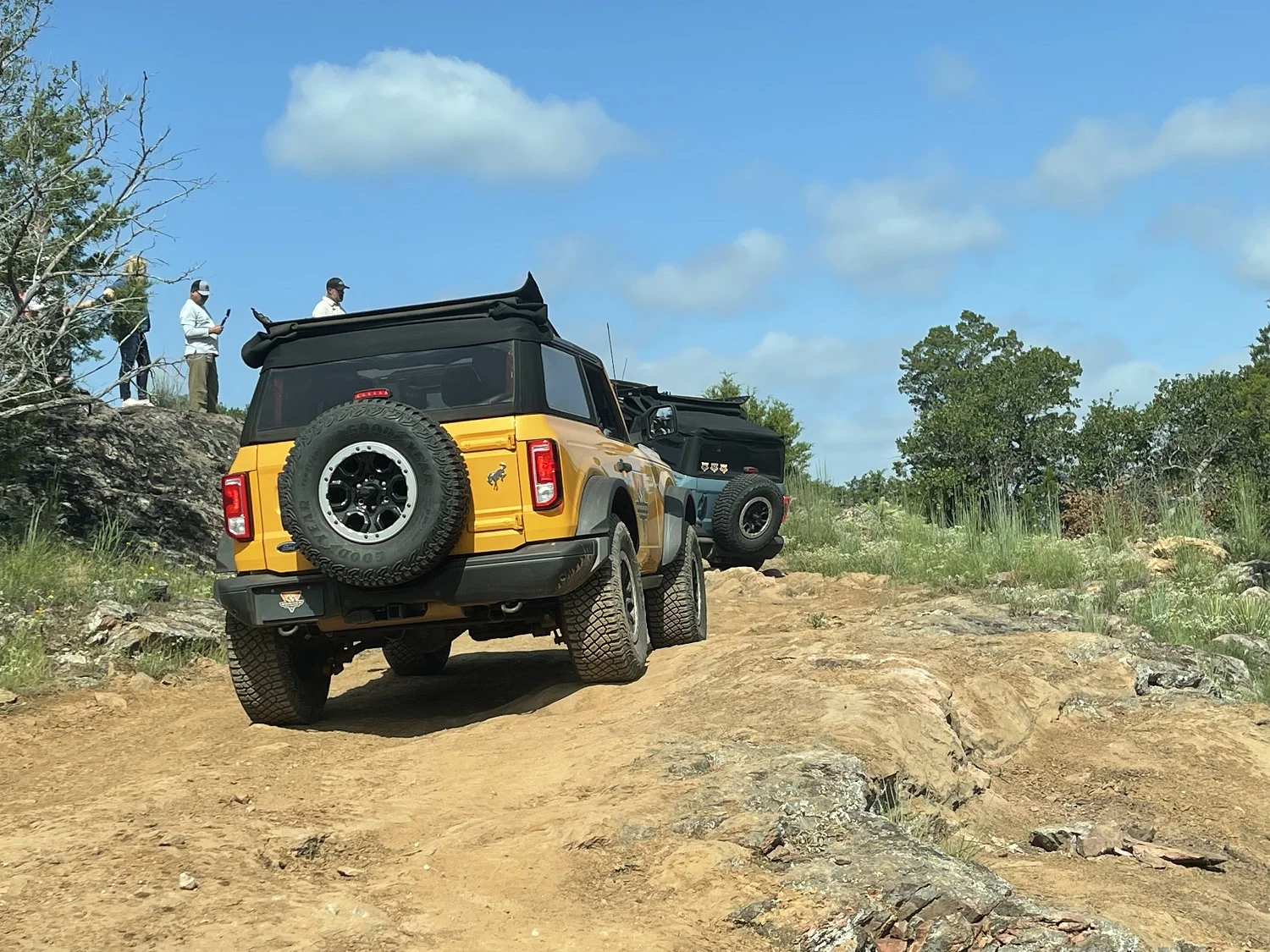 After a brief discussion on recovery, we moved on to a pair of higher-speed courses, which showcased the Bronco's amazing versatility. With a simple flip of the dial, we were in Baja mode and ready to rip around a dirt track. We were told to launch at 1,500 rpm and keep it around 25 miles-per-hour, though we did have to slow down for a couple of hills, as we weren't allowed to jump our Broncos. Regardless, the SUV was incredibly easy to flick around the corners with little or no braking required. I'd go so far as to call it a Ford Mustang for the dirt – it's just that good.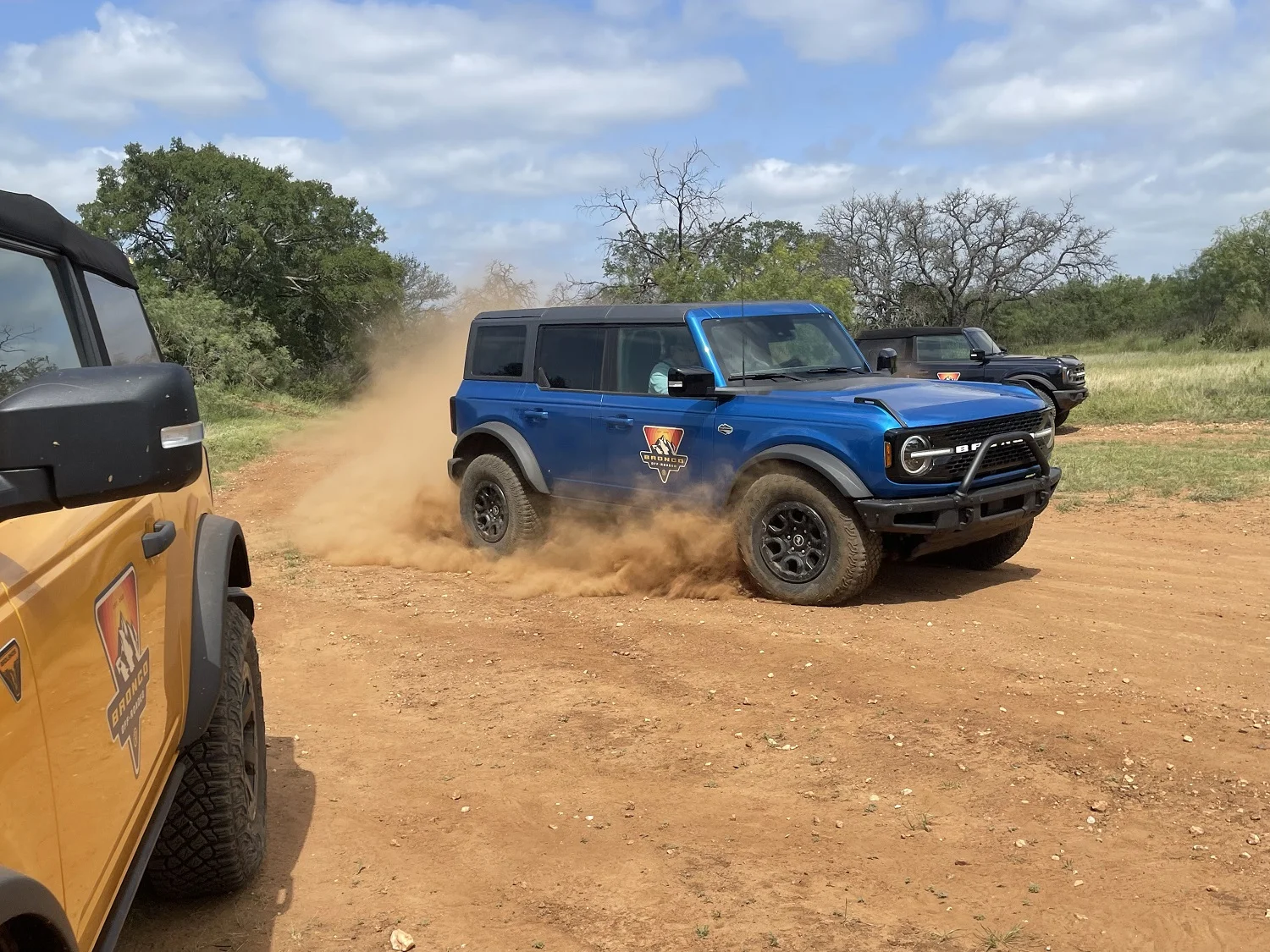 We wrapped up our two-day excursion in Texas Hill Country by experiencing a more formidable high-speed course with our instructors behind the wheel, and they were eager to show off just how good the Bronco truly is at this sort of thing. We all came away truly amazed at how much abuse these pre-production models took, as well as how versatile they are, no matter what sort of off-roading one might be into.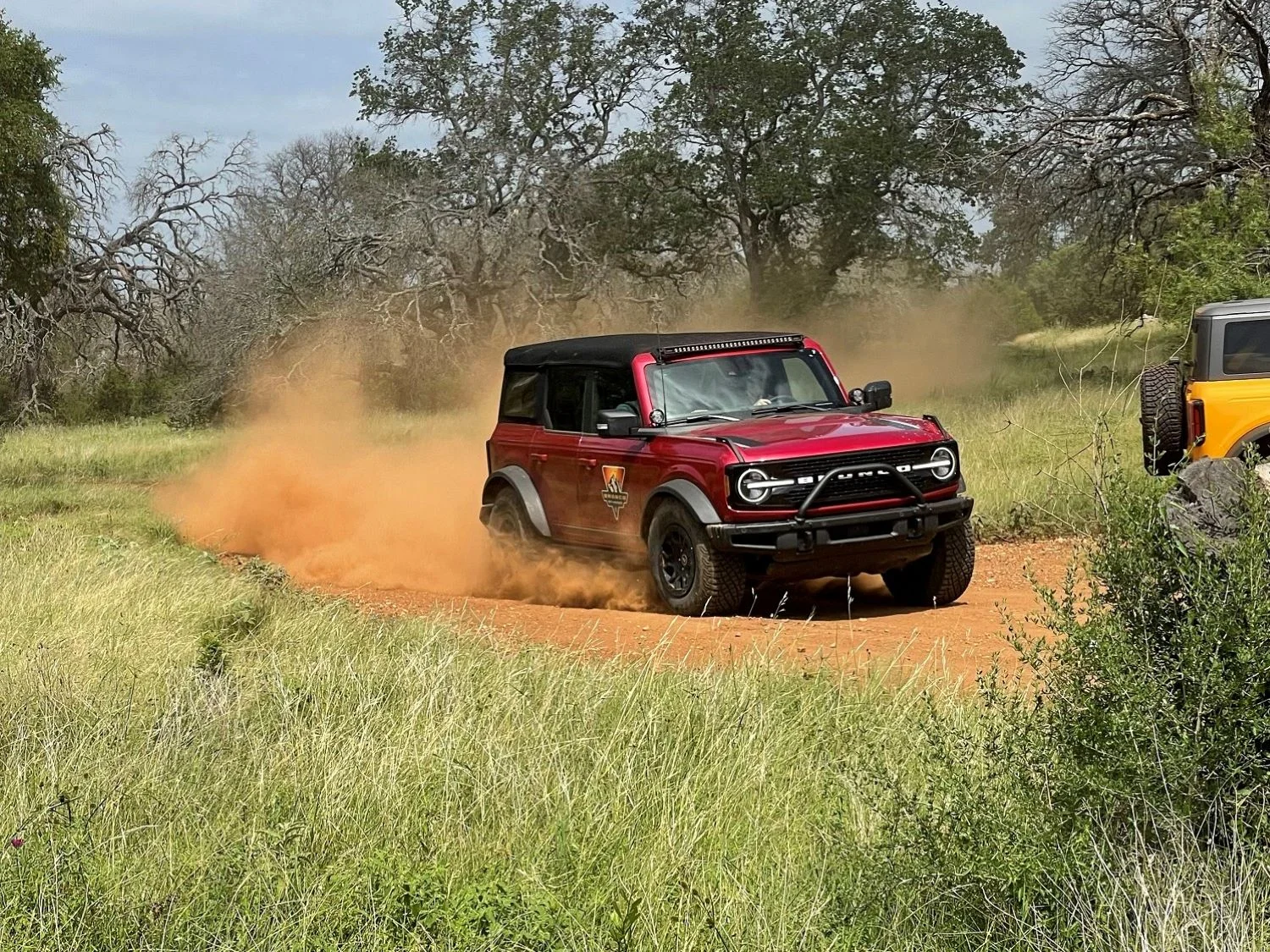 The Bronco Off-Roadeo Texas was, without a doubt, one of the best automotive experiences I've enjoyed in some time. Above all, it was inspiring to see people who had never been off-road in their lives master the basics in such a short period of time, then confidently climb up rocky cliffs they might have never otherwise attempted. It's also a fantastic way for Ford to sell more Broncos, as almost every non-order holder in my group said that they plan on reserving one now, even if they have to wait two years to get it.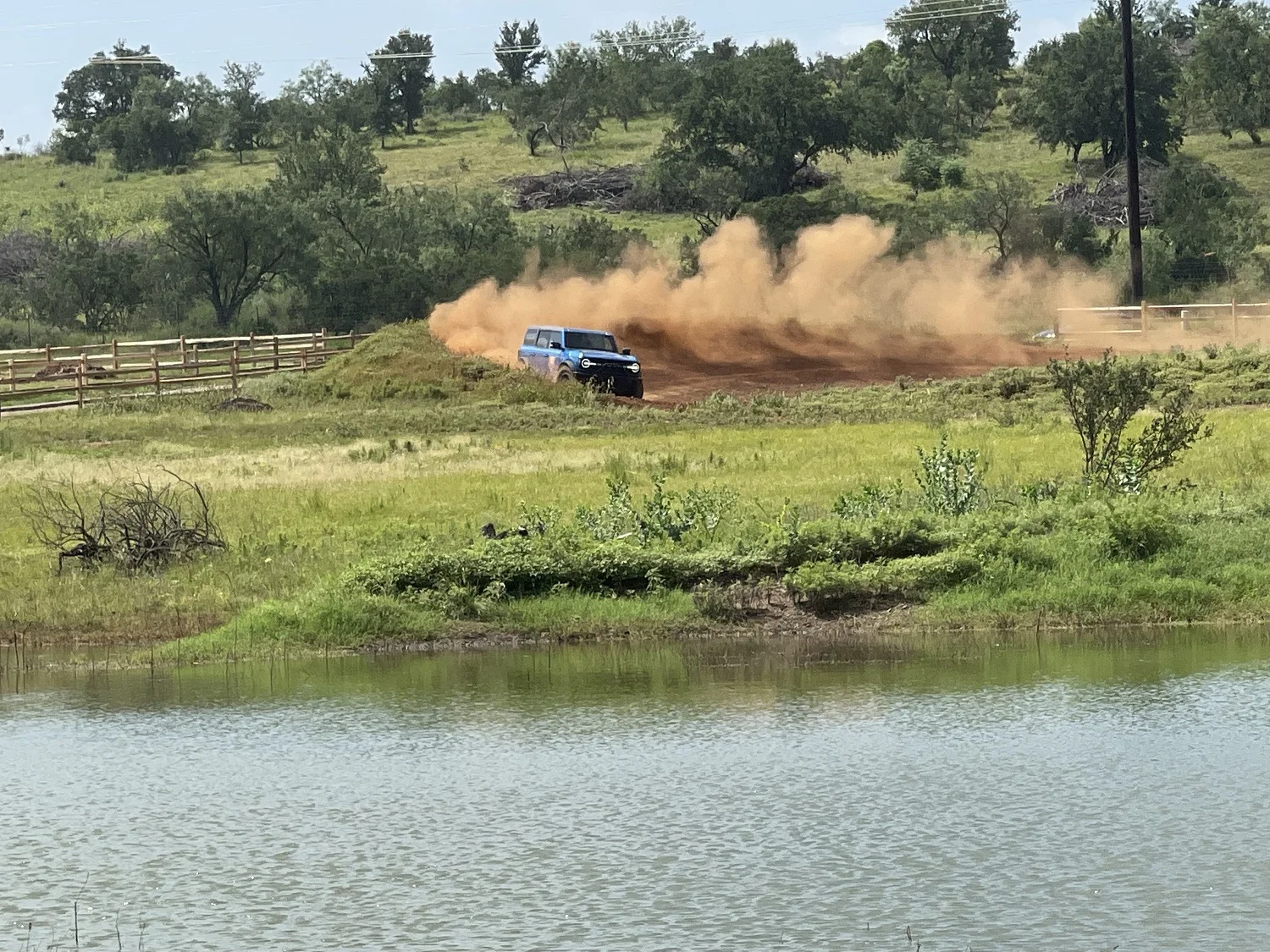 After speaking with the instructors, it's clear that the Bronco Off-Roadeo has been a massive hit after just a few weeks of operation. Over 2,000 people have signed up for the Horseshoe Bay experience thus far, and classes run all day long, 30 minutes apart, seven days a week.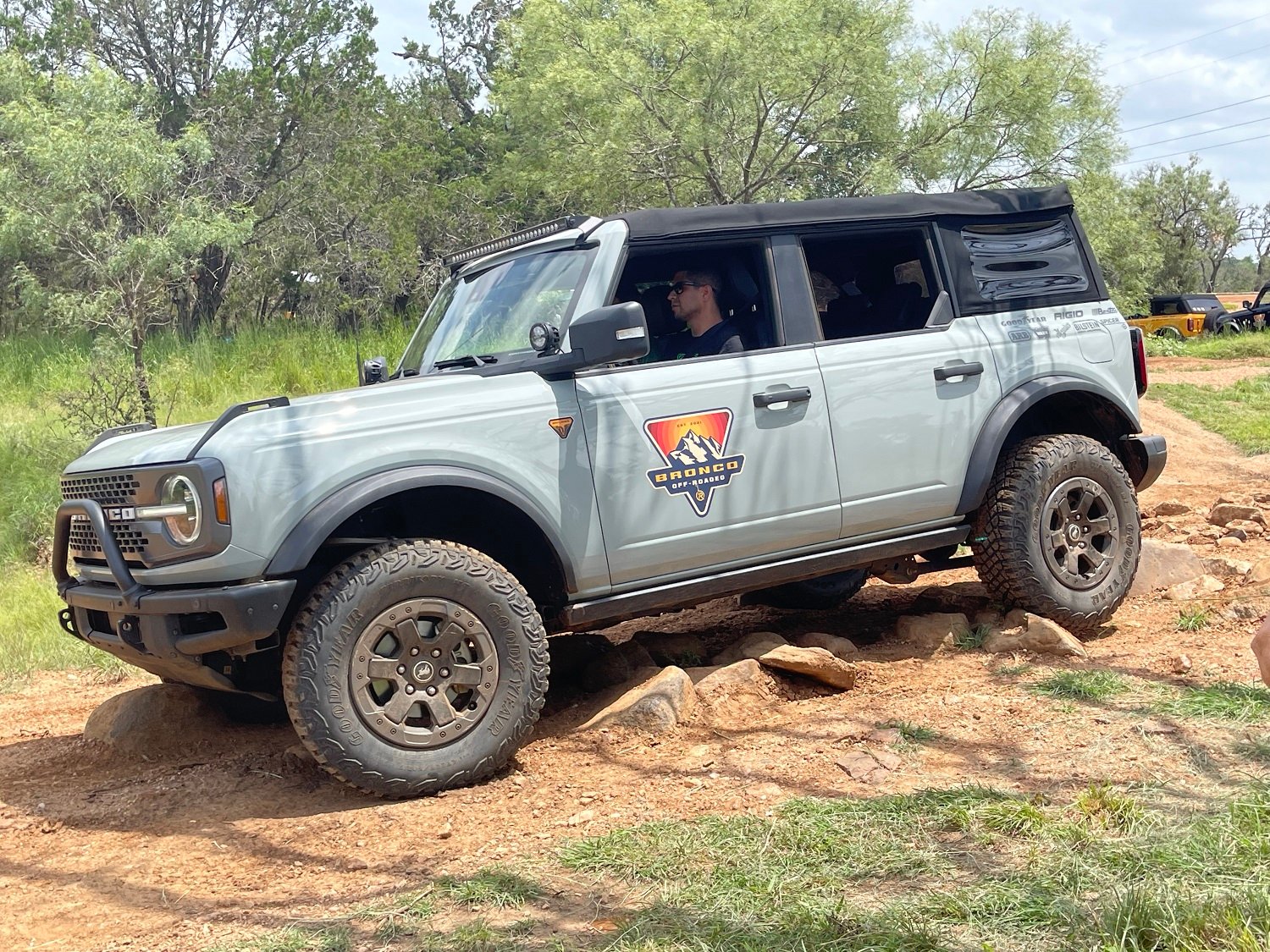 As for the future of the Off-Roadeo, Ford signed a three-year lease on the land it operates on in Texas and plans on expanding the school in the future. As far as what that might entail, I was told that Ford could offer additional classes, including a recovery course and/or a more advanced off-roading class, and the automaker might even eventually let owners bring their own Broncos to the trails, too. It's clear that Ford created this experience specifically to turn Bronco owners into avid off-roaders, and judging from the comments shared by my classmates, it did a darn good job of that.
We'll have more event coverage like this to share soon, so be sure and subscribe to Ford Authority for more Ford Bronco news and around-the-clock Ford news coverage.