The Hennessey VelociRaptor V8 Bronco was revealed way back in October of last year with the promise of 750 horsepower from a supercharged Ford 5.0L Coyote V8. It joins PaxPower – which also plans on selling Coyote-swapped Ford Bronco models in the near future, which is something that Ford isn't planning on doing, as Ford Authority exclusively reported last year. However, those that aren't set on having a V8 can also now opt for the newly revealed Hennessey VelociRaptor 400 Bronco.
The Hennessey VelociRaptor 400 Bronco is powered by Ford's 2.7L EcoBoost V6, which has been treated to a host of modifications to boost output. They include a tune, upgraded exhaust system, a high-flow air induction system, and engine management software upgrade, all of which help the twin-turbo V6 produce 405 horsepower and 503 pound-feet of torque, which is an increase of 75 horsepower and 88 pound-feet of torque over stock.
According to Hennessey, that will allow the VelociRaptor 400 Bronco to do 0-60 in 4.9 seconds. However, there's just one problem that we can see – the 2021 Ford Bronco is fitted with the 10R60 10-speed automatic transmission also present in the Ford Explorer, not the beefier 10R80 used in the Ford Mustang, as Ford Authority reported last week. The 10R60 is only rated to handle 424 pound-feet of max torque when paired with the 2.7, which means that Hennessey will also need to beef up the gearbox to handle this extra power.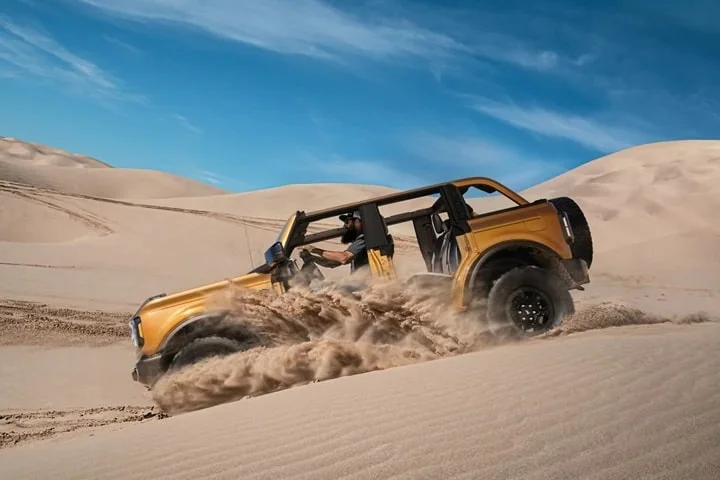 In addition to extra power, VelociRaptor 400 Bronco buyers can also opt for a host of additional upgrades, including unique 18-inch wheels, 35-inch off-road tires, VelociRaptor bumpers and badges, and power-retractable side steps. The model is available in either two- or four-door body styles with pricing set at around $80,000 (including the donor Bronco), though just 200 units are planned for production.
We'll have more aftermarket offerings like this to share soon, so be sure and subscribe to Ford Authority for more Ford Bronco news and around-the-clock Ford news coverage.