In recent months, a flurry of all-electric pickups have emerged on the scene, including the Nikola Badger, Tesla Cybertruck, Rivian R1T, Lordstown Endurance, GMC Hummer EV, and Ford F-150 Lightning, to name a few. However, only a small handful come from established automakers, while companies like Nikola and Lordstown have recently run into a series of problems that threaten each's very existence. Additionally, upstart EV makers are facing increased scrutiny from investors and the SEC. Regardless, there's another new EV pickup on the scene from a relatively new automaker, and it's the Hercules Alpha.

What makes the Hercules Alpha more interesting than most other proposed EV pickups, however, is the fact that it, along with other future models from Detroit-based automaker, will be designed by legendary Italian design firm Pininfarina, which has penned a number of notable models over the years, including a host of vehicles from the likes of Ferrari, Alfa Romeo, Peugeot, and Fiat.
"Pininfarina is the world's foremost designers of performance and luxury automotive products with over 90 years of experience designing vehicles for Ferrari, Maserati, and Alfa Romeo," said James Breyer, Hercules EV Founder and CEO. "We wanted to engage the best to create a truly unique and differentiated product in our Alpha."
The Alpha pickup is currently expected to launch in late 2022 and will be powered by four electric motors – one at each wheel – that produce a combined 1,000 horsepower and 800 pound-feet of torque in its most powerful configuration. The pickup will be constructed from carbon-composite materials to keep it light and will offer bespoke features including a Digital Entertainment Hub and custom interiors, an 8 kWh AC Inverter, and a solar tonneau cover capable of generating up to 1.2 kW of power, adding up to 19 miles of range.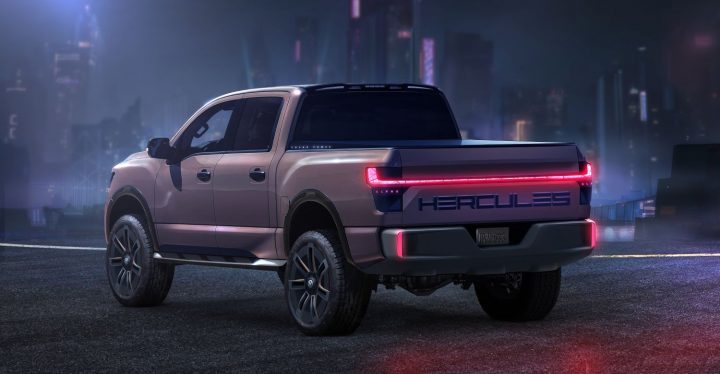 "We are excited to work with Hercules on the design of a new electric vehicle," said Giuseppe Bonollo, SVP, Sales & Marketing of Pininfarina. "Pininfarina has always been at the forefront of electric mobility. We bring to this new venture with a North American partner our ability to develop a new design language having in mind both our client's brand identity and our shared commitment to environmental sustainability."
We'll have more on the Alpha pickup soon, so be sure and subscribe to Ford Authority for ongoing Ford news coverage.