The aftermarket has been experimenting with The Blue Oval's 7.3L Godzilla engine since its release, with much activity focused on the Small Block V8's racing potential and adding boost, or swapping it into a smaller chassis like a Mustang. But recent quarter mile footage from Palm Beach Dyno illustrates what the 445 cubic inch motor can do as a hot rodding platform in its original home, the 2020 F-Series Super Duty pickup. With a camshaft swap, ported OEM cylinder heads, and aftermarket exhaust, their F-250 shop truck managed to pull off a 14.07 second quarter mile time with a 100 mile per hour trap speed.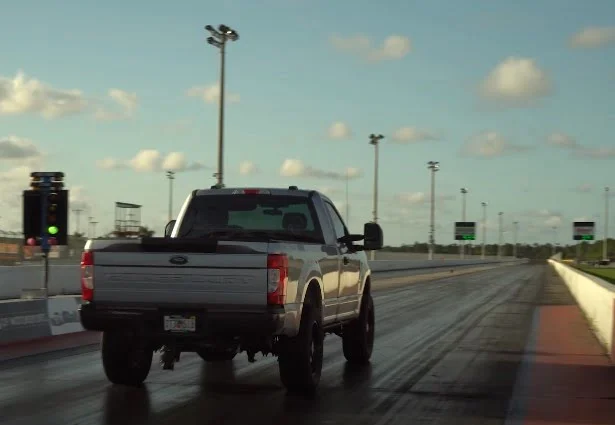 To get the gasoline-powered Super Duty moving so swiftly at the drag strip, Palm Beach Dyno chose Willis Performance Enterprises, a Detroit area shop specializing in the 7.3L Godzilla. Starting with the FoMoCo castings and valvetrain, the intake ports are enlarged with a CNC machine to push flow capability well over 300 CFM (cubic feet per minute). The combustion chamber surfaces are also "cleaned up" or optimized for high-performance, versus what is considered acceptable for a factory truck application.
With a matching camshaft from Willis Performance, and Palm Beach Dyno's custom ECU tuning, the truck laid down 457 horsepower and 478 pound-feet of torque to the wheels. Compared to the stock engine running through the same two inch American Racing Headers and custom dual three inch exhaust setup, the heads and cam combo from Willis resulted in nearly 50 additional horsepower at the tires.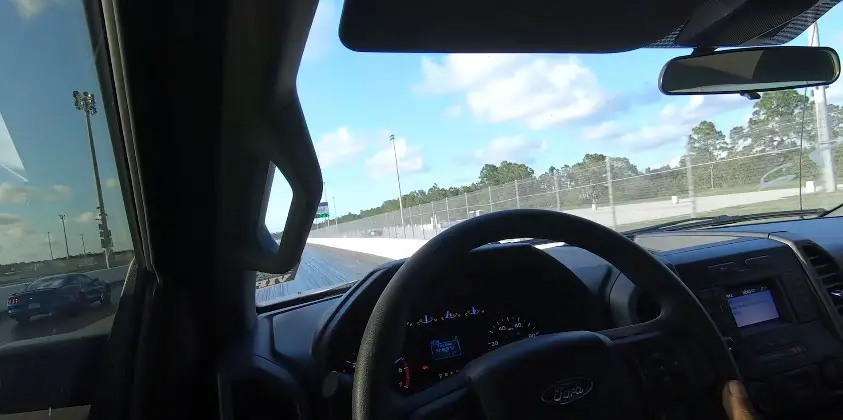 The differences can be readily seen and heard in the video footage, with the performance cam's signature overlap sound, or "lope", at idle, along with ETs that are roughly 1.5 seconds quicker than a stock Super Duty with the 7.3L Godzilla. Over the course of four runs down the quarter mile, the F-250 consistently puts down times in the 14.07 to 14.10 second range, with a maximum trap speed of 100.69 miles per hour.
According to Palm Beach Dyno, additional modifications to the intake system are already in the works, so it's likely that the F-250 Super Duty shop truck will be running deep into the 13s with much further development.
Want the latest on Ford trucks? Then be sure to subscribe to Ford Authority for the latest Ford Super Duty news, Ford F-Series news, Ford Godzilla news, and ongoing Ford news coverage.