Debuting in 1955, the Ford Thunderbird was The Blue Oval's answer to the Chevrolet Corvette. The performance of the Corvette, along with its build quality, was so poor since its 1953 introduction, that Chevy had trouble getting them sold. The Thunderbird arrived just as GM executives were considering giving the Corvette the axe. Power improved greatly for the 1955 model year when the Corvette got the Chevy Small Block, but it took the Thunderbird to save the Plastic Fantastic. Upon seeing Ford's new personal luxury car, GM brass determined they had to improve the Corvette and keep it in production. And like that, Thunderbird wound up saving its direct competitor.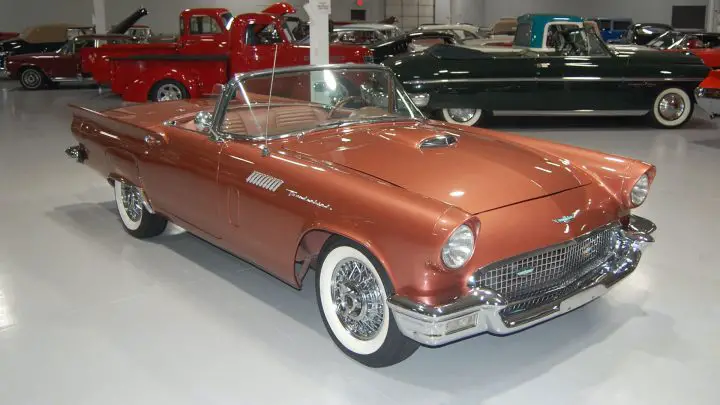 When the Thunderbird arrived, it was far better equipped than the Corvette. From the start, it had a V8, could be had with either a manual or automatic transmission, an optional hard top, engine dress-up kit, wire wheel-style hubcaps, and more. The Thunderbird gave the guys at Chevy an ambitious target for the Corvette.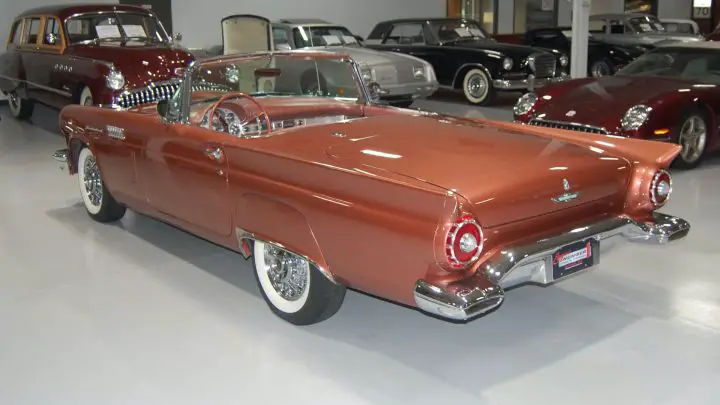 Today, our feature Ford Thunderbird is a beautifully kept example that has spent much of its life in the desert. It has covered just 11,539 miles from new and has been the subject of a fastidious nut-and-bolt restoration.
This Thunderbird is one of 1,499 E-Code cars, meaning it is powered by the 312 cubic-inch V8 topped with dual four-barrel carbs producing 270 horsepower. It's backed by a Ford-O-Matic automatic transmission. The Thunderbird is finished in Thunderbird Bronze Metallic paint over a Copper vinyl interior. It is optioned with both hard and soft tops, power steering, power brakes, and under-dash air conditioning.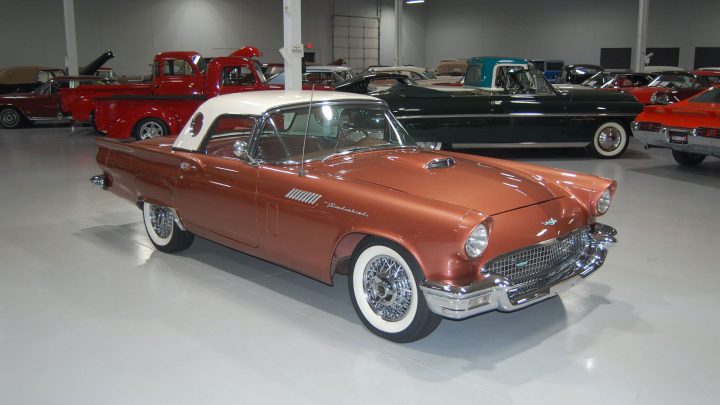 The Thunderbird Bronze finish on this Ford Thunderbird shows considerable time, effort to prep and application. The chrome bumpers, trim, and the Kelsey Hayes chrome wire wheels all sparkle under lights, and the well-polished stainless just gleams. The glass is crystal clear. Dual exhaust exits through the back bumper. The iconic porthole hardtop is finished in Colonial White, and the soft top is a bright white vinyl.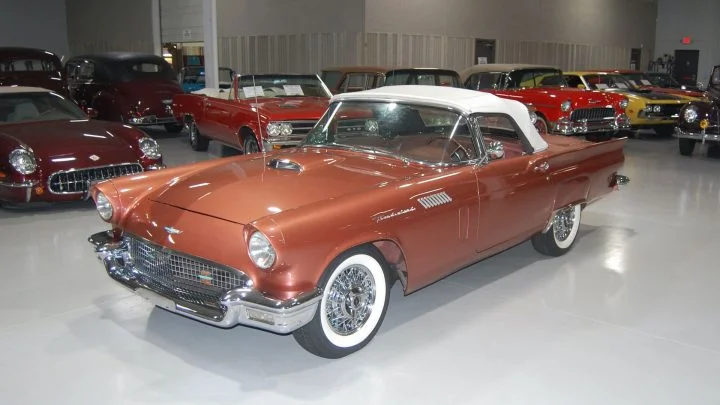 Inside, this Ford Thunderbird is finished in a handsome Copper. The vinyl-covered bench seat shows no appreciable wear. Sweeping, flowing lines arc from the dash down either door panel. A aftermarket air conditioner has been mounted beneath the dash, and auxiliary gauges are just below and left of the steering column. The radio is a later model unit.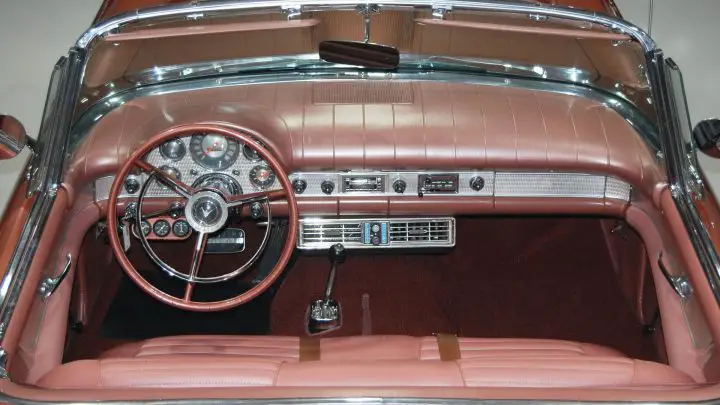 Under the hood, the Ford Thunderbird's 312 cubic-inch V8 has been well detailed. The engine compartment is nearly spotless, as one would expect from a car with fewer than 12,000 miles. All the finishes and components appear to be correct to factory standards.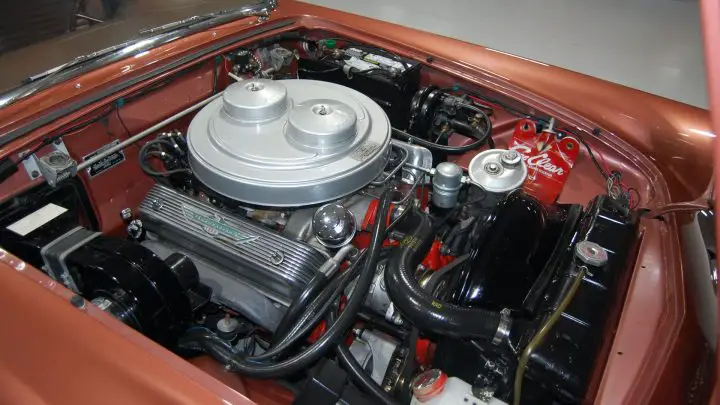 This stunning 1957 Ford Thunderbird is being offered by Ellignson's Number 1 Classic and Collectible Cars for $119,995. The video below shows what it's all about.