The redesigned 2021 Ford F-150 has already been transformed by Shelby American to become something of an F-150 Raptor and Raptor R alternative. And, as Ford Authority previously detailed, The Blue Oval may even be considering some type of high-performance variant down the line. Until then, the 2021 Shelby F-150 Super Snake and Super Snake Sport will no doubt satiate the desires of pickup enthusiasts looking for some heart-pumping thrills at the track or some other activity on the pavement. The company officially pulled the lid off these new models recently, and while they boast many of the same upgrades as the Shelby F-150, they're still a pair of extremely unique vehicles.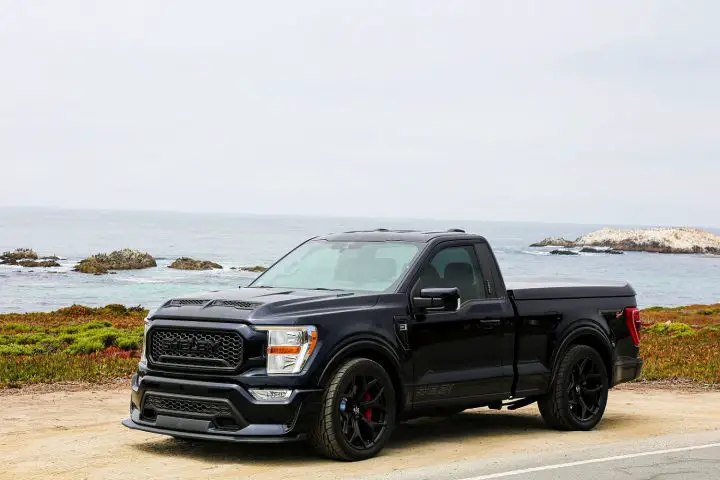 Every 2021 Shelby F-150 Super Snake and Super Snake Sport features a significantly upgraded suspension that gets lowered and outfitted with a whole bunch of goodies, with a set of massive 22-inch wheels to boot. In partnership with Ridetech and Fox, Shelby American includes special rear traction bars, upper control arms, adjustable front and rear shocks, and a rear sway bar with each model. These upgrades, when paired with the optional 775 horsepower supercharged Ford 5.0L V8, allow the two-door Super Snake Sport to rocket from 0-60 miles per hour in 3.45 seconds.
The optional powerplant, which contains components from Whipple and Borla, comes with a performance air intake with a high-flow filter, a carbon fiber air intake tube, an aluminum heat exchanger, billet throttle body, and high flow fuel injectors. The company also paints the custom intake manifold in Ford Racing blue, which is a nice touch. Shelby has not released any information about the transmission, but a modified version of the Ford 10-speed automatic is what most likely transmits power to the wheels, and the company says that both Super Snake models have all-wheel drive.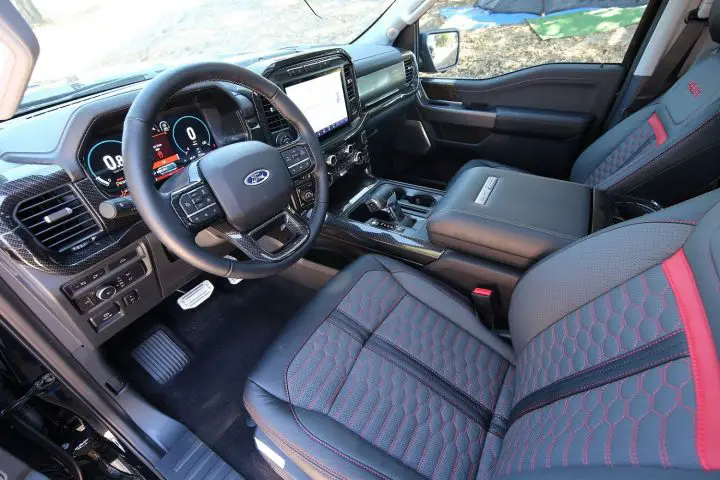 As is tradition, the 2021 Shelby F-150 Super Snake lineup, like past variants, boasts a unique interior that builds upon the cabin featured in stock F-150 pickups. The company installs full two-tone leather seat re-covers into them, and sticks Shelby badging onto various surfaces as well, in addition to tinting the windows and replacing trim pieces with carbon fiber units. Every Super Snake will get its own production number, which should be between 1 to 300, as Shelby American intends to produce a total of 600 Super Snake and Super Snake Sport models.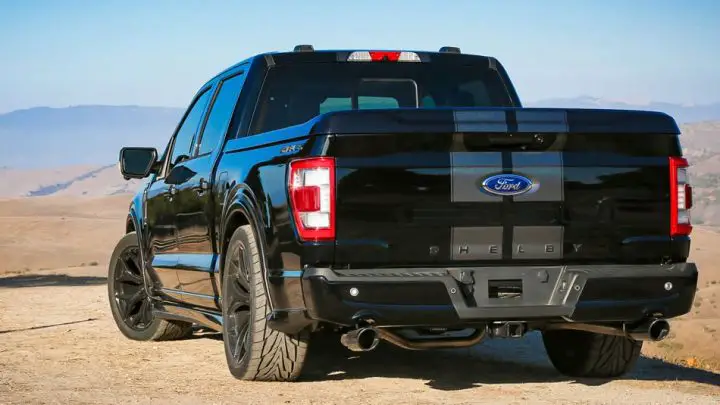 Unsurprisingly, these modifications come with a steep price tag. The cheapest naturally aspirated 2021 Shelby F-150 Super Snake Sport carries a $90,790 MSRP, which includes the cost of a 2021 F-150 XLT with four-wheel drive. Adding the supercharged engine adds just over $8,000 to its cost. The four-door Super Snake has another $15,000 built into its MSRP for both of its variants as well. That said, no automaker is currently making street-oriented muscle trucks right now, so these beasts are in some ways even more exclusive than the regular Shelby F-150 trucks, which are designed to go off-road.
We'll have more news on the Shelby F-150, Shelby F-150 Super Snake, and other tuned Fords soon, so subscribe to Ford Authority for more Shelby American news, Ford F-150 news, Ford Raptor news, and continuous Ford news coverage.