The Ford Skyliner featured a retractable steel hardtop that folded into the trunk, only the second production car ever to do so. It debuted for the 1957 model year as part of the full-size Fairlane lineup.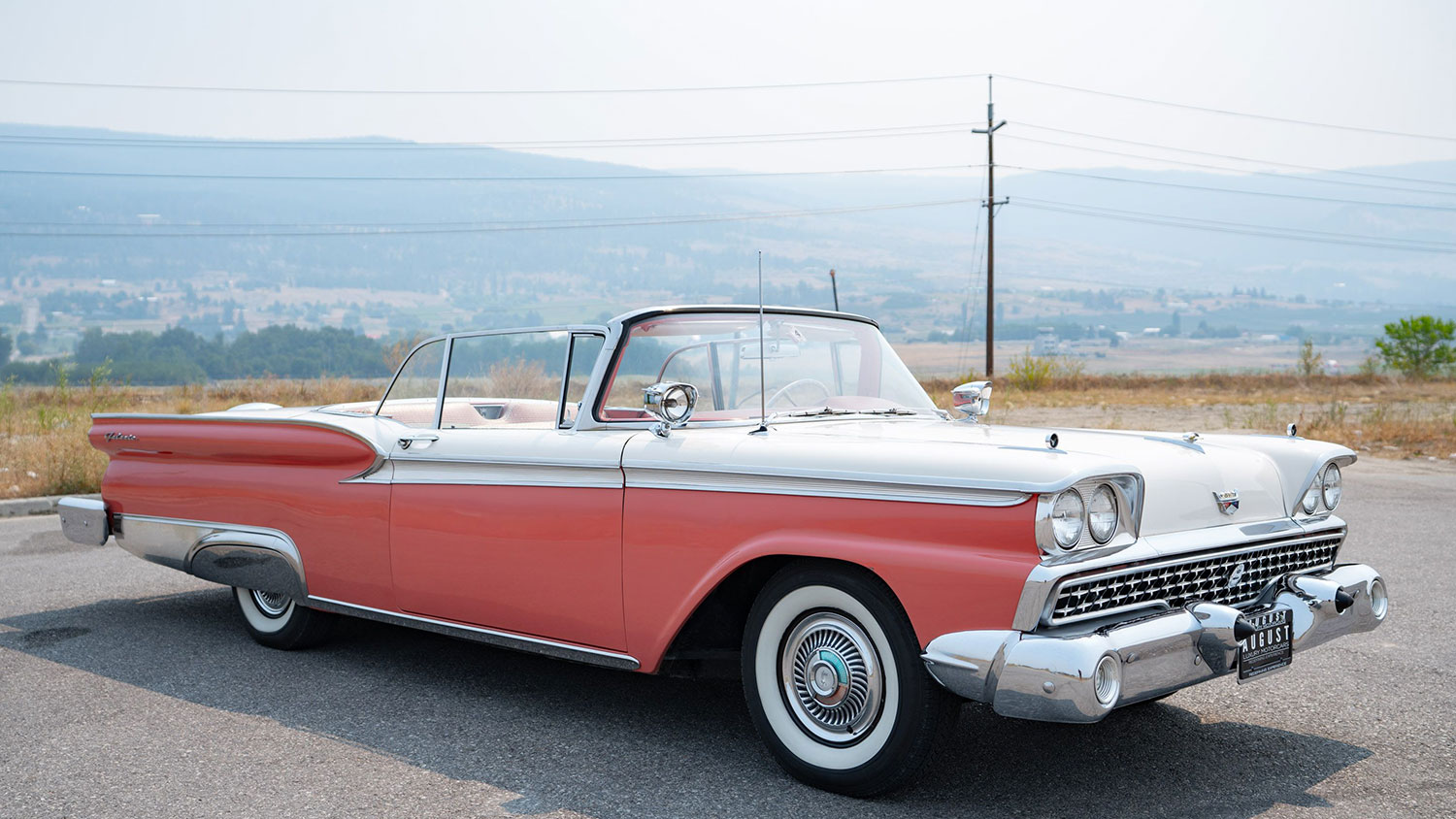 The Ford Skyliner lasted just three years; two as a Fairlane, and its final year as part of the top-of-the-line Galaxie, with the official block-long moniker of Ford Fairlane 500 Galaxie Hardtop.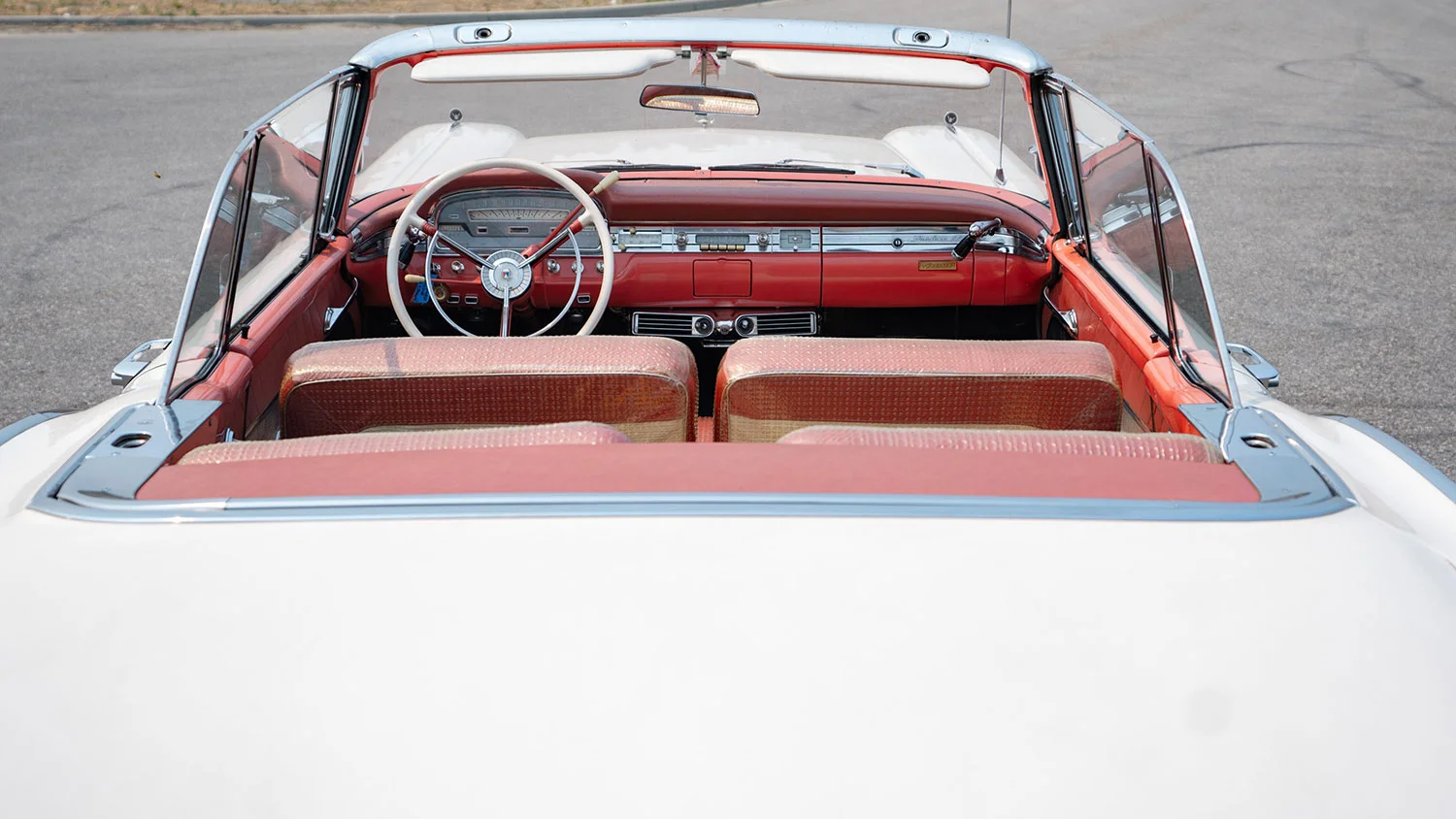 The 1959 Ford Skyliner's "Hide-Away Hardtop" operated using a complex series of mechanisms and wiring, with six reversible electric motors, four lift jacks, ten limit switches, ten solenoids, six total locking mechanisms (four for the top, two for the trunk), a series of relays, and over six hundred feet of wiring. When retracted, the top occupied the majority of the trunk space, though there was a small, centrally located luggage bin. Despite the complexity, the top worked quite reliably.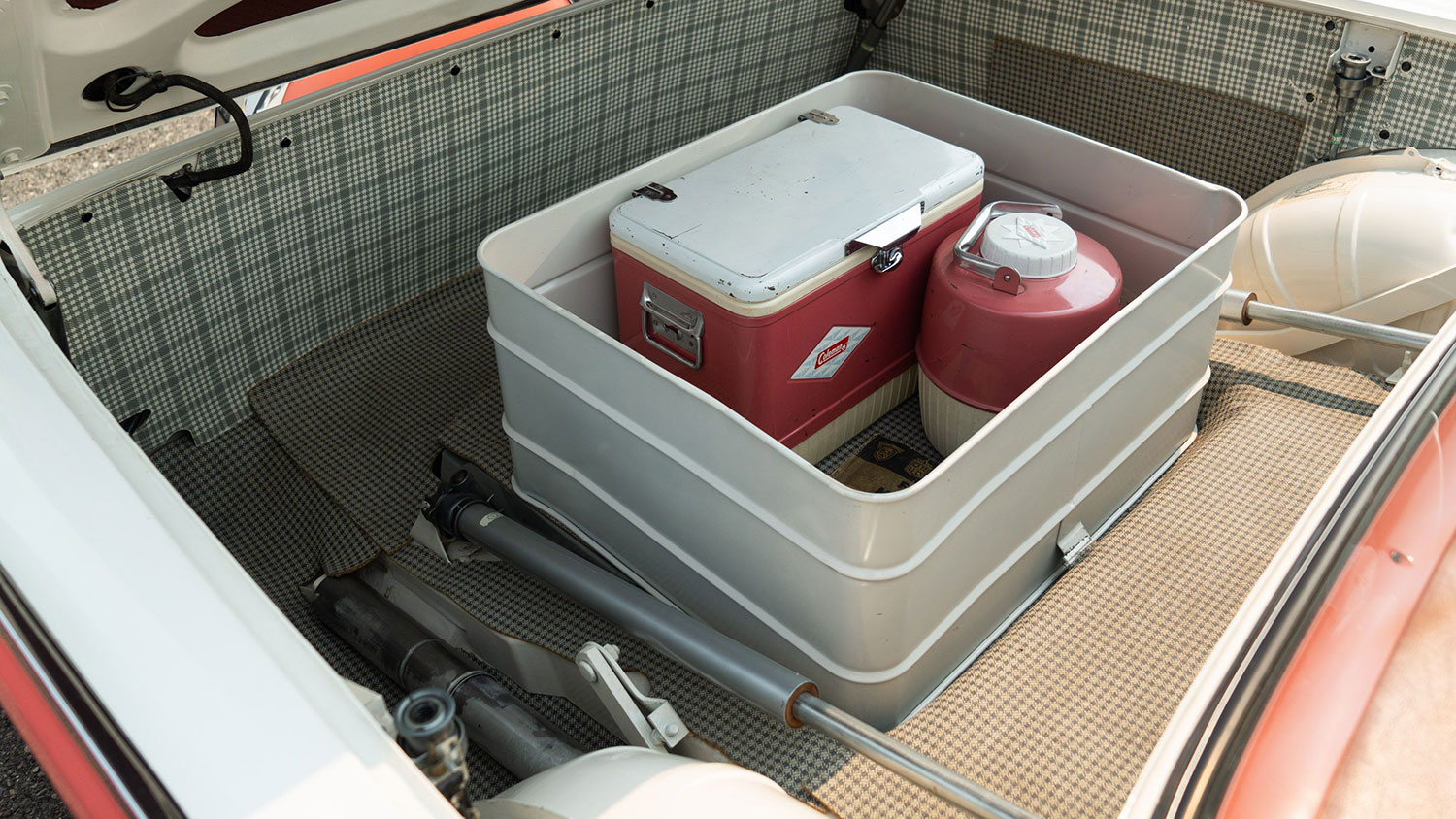 During the three years the Ford Skyliner was in production, 48,394 units were built, of which 20,766 were produced in 1957, 14,713 in 1958, and 12,915 in 1959.
Our feature 1959 Ford Skyliner is finished in a striking Geranium Pink/Colonial White color scheme, over a pink, white, and black Tri-Tone interior. It has been the subject of a professional restoration.
This Skyliner is equipped with the optional 352 cubic-inch Interceptor Thunderbird Special V8 backed by a three-speed Cruise-O-Matic automatic transmission. Fender skirts help shroud the rear wheels.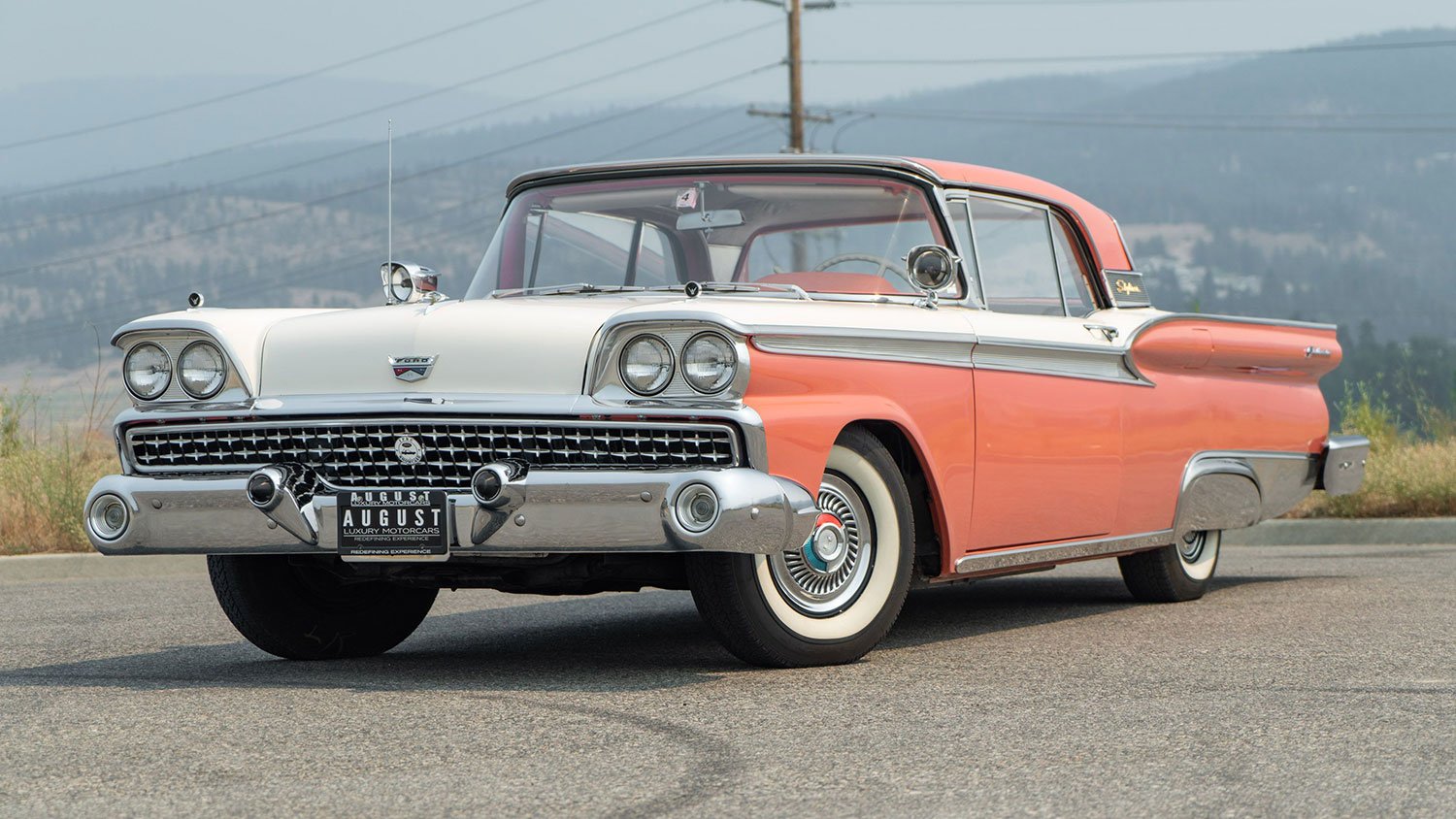 The Geranium Pink and Colonial White paint on the Ford Skyliner has been done to a high standard. Panel gaps are consistent, showing great care to attention in assembly. The bumpers and extensive chrome trim look to have been re-plated or replaced. Stainless trim has been polished throughout. Painted steel wheels wear polished hubcaps and Coker Classic wide white radial rubber. The Continental kit accentuates the short roof/long rear deck proportions needed for the retractable hardtop.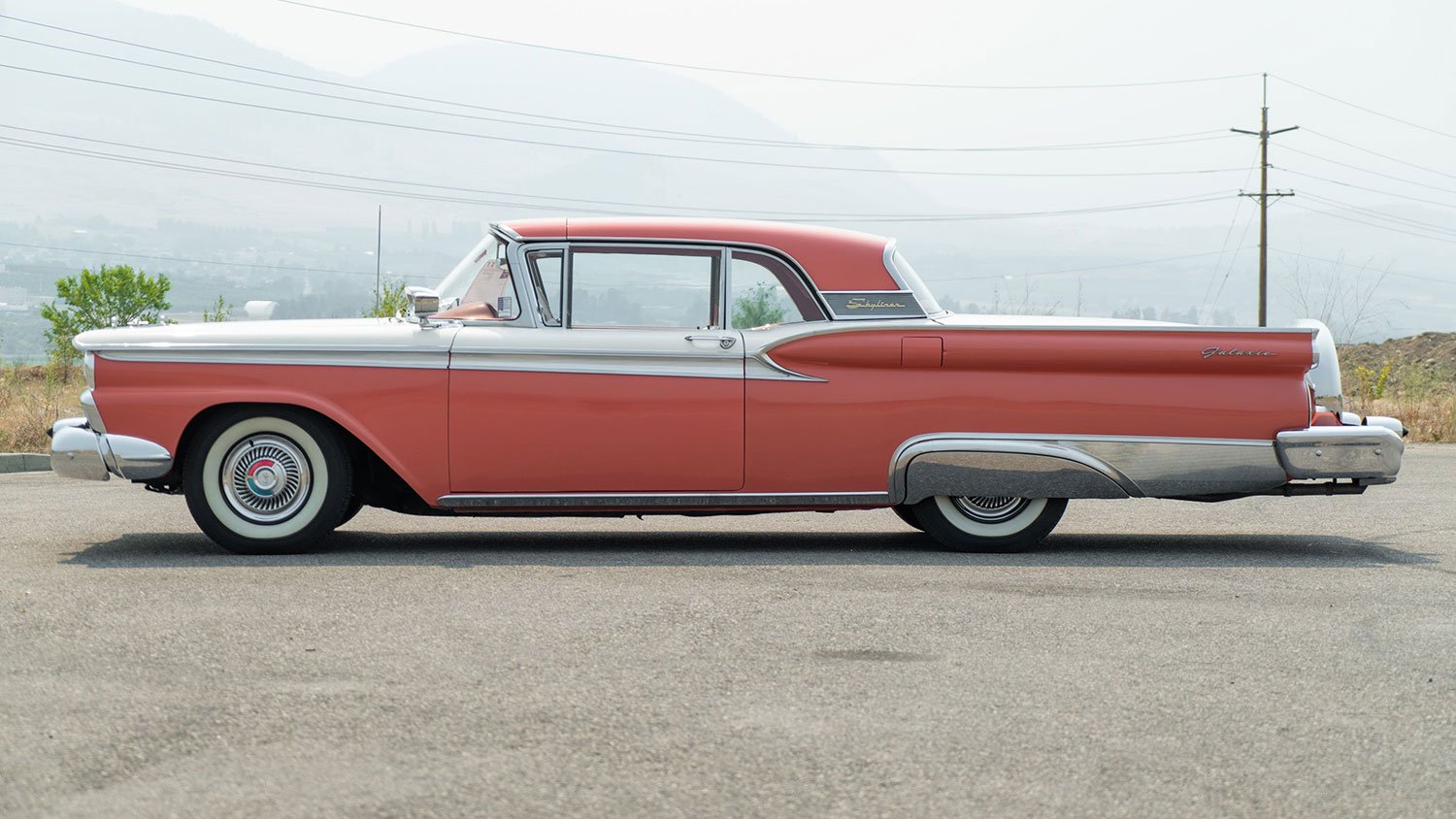 Inside the Ford Skyliner's Tri-Tone interior, luxury abounds. The Skyliner features power steering, power brakes, power windows, Ford Select-Aire air conditioning, and an AM radio. Optional double spotlights promise to brighten the darkness.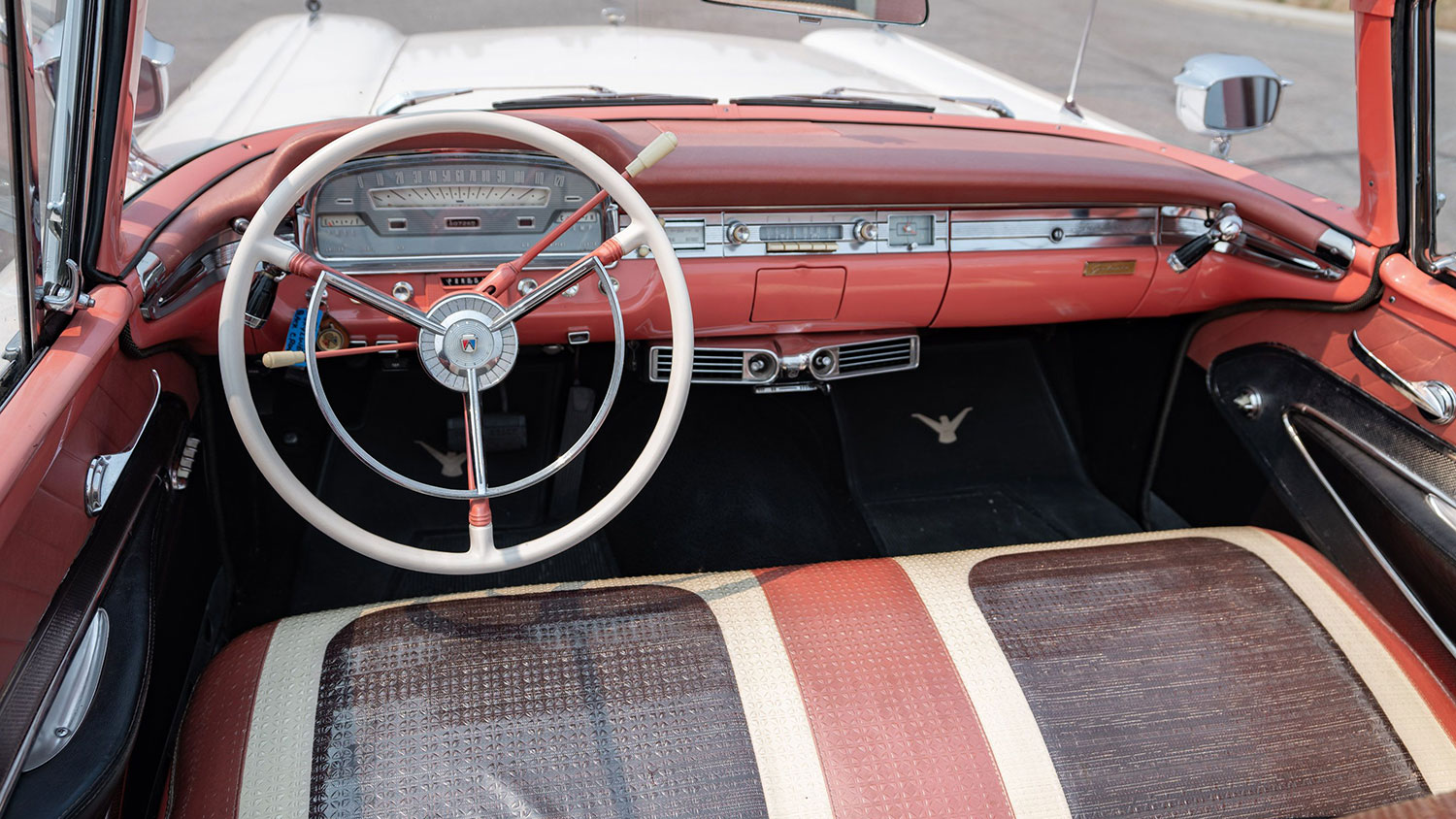 Under the Ford Skyliner's hood, the 352 cubic-inch Interceptor Thunderbird Special V8 resides in a tidy engine compartment. The engine is fed by a Holley four-barrel carburetor, and exhales through a true dual exhaust system.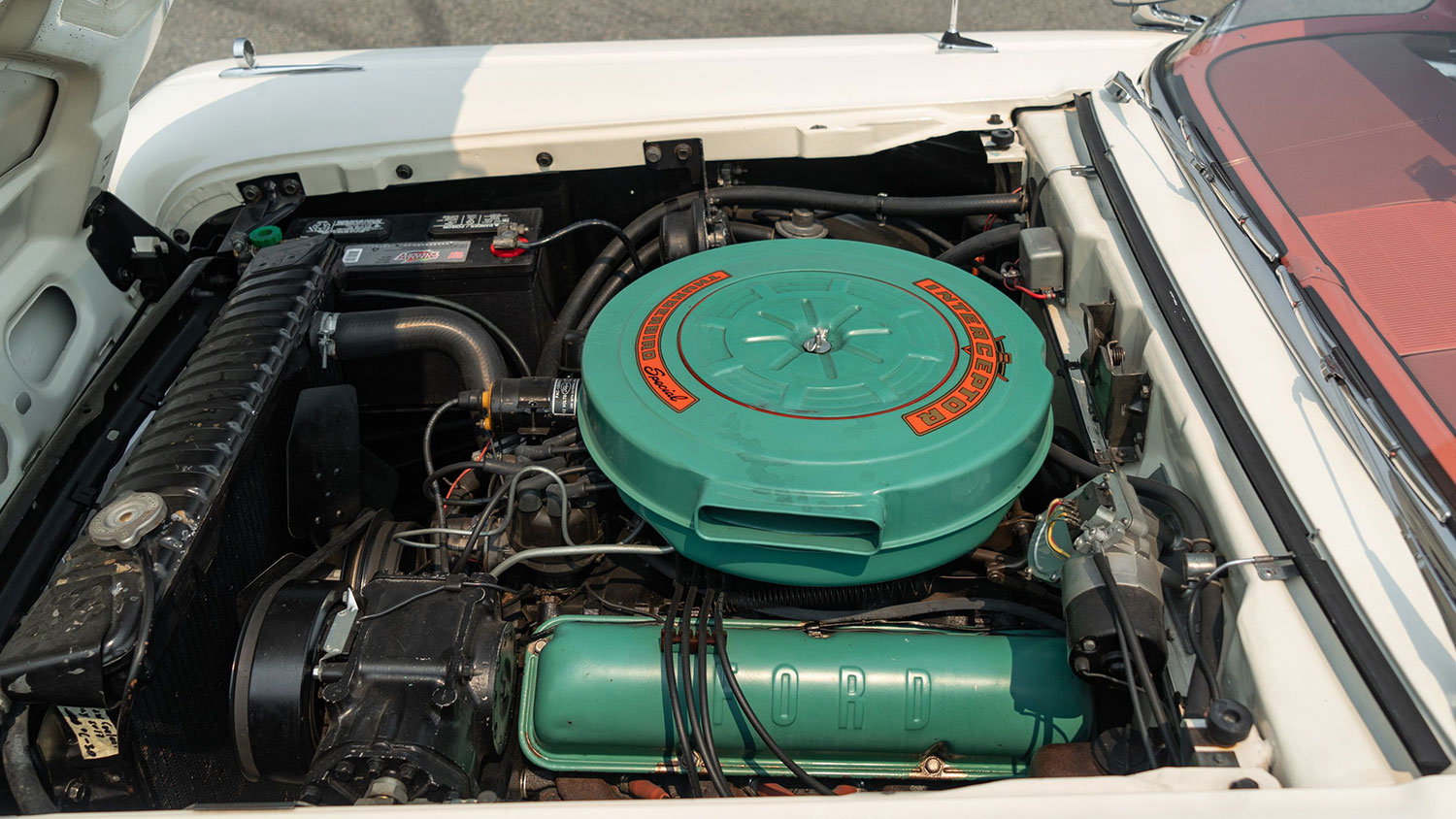 This exceptional Ford Skyliner is being offered by August Luxury Motorcars for $47,392.
Be sure and subscribe to Ford Authority for more Ford Galaxie news and around-the-clock Ford news coverage.