Way back in 2018, word got out that The Blue Oval was thinking about building a four-door Ford Mustang sedan. Just a few weeks later, the automaker reportedly showed a Mustang sedan concept to dealers. After that, things went quiet, until last May, when an unnamed source hinted that this mysterious Ford Mustang sedan was, in fact, still something that FoMoCo was considering. Thus, we decided to take a stab at what a higher-performance Shelby GT500 variant of this theoretical four-door sports car might look like.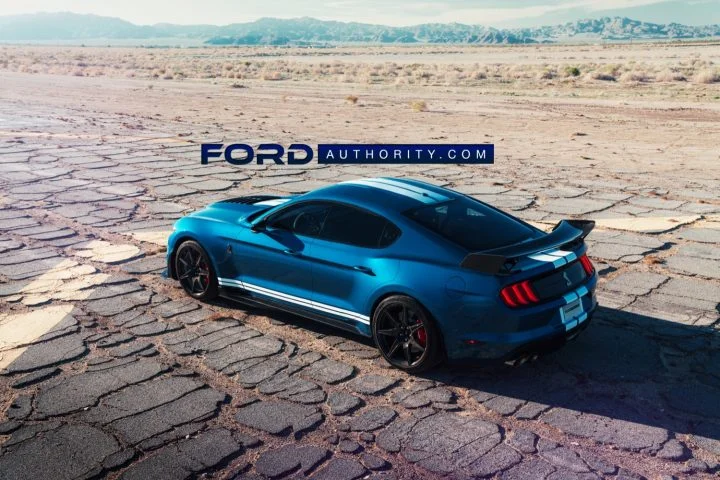 Interestingly, adding a pair of doors to the existing GT500 isn't quite as blasphemous as one might think. They sort of blend in without looking too terribly out of place, and in our opinion, don't detract from the car's lines one bit. The shape of the rear doors means that they're integrated neatly into the rear fenders and follow the shape of the wheel well, which is a nice touch.
Of course, there will be plenty of people that aren't fans of a four-door version of the Mustang, let alone a Shelby variant. But such a vehicle makes a lot of sense on a number of levels, not the least of which is the fact that Ford currently has zero sedans in its North American lineup. Adding a practical yet sporty version of the pony car that isn't the Ford Mustang Mach-E could be appealing to a lot of shoppers that simply don't want a crossover.
Four-door muscle cars aren't uncommon, either. Just look at the highly successful Dodge Charger for proof of that or the fact that Chevrolet has considered making a four-door version of the Camaro as well. Throw in the plethora of muscular German sedans already on the market, and the idea of a Mustang sedan doesn't seem so crazy, especially since we know that Ford is working on an all-wheel drive hybrid configuration for the next-gen pony car.
There are a lot of folks that wish Ford would sell some sort of sedan in North America, so why not a Mustang? After all, it's a model that already enjoys tremendous brand name recognition across the globe, so it seems like a surefire hit. And after that model has a year or two to establish itself, making a higher-performance Shelby model seems like a natural next-step as well.
We'll have more on this rumored Mustang sedan soon, so be sure and subscribe to Ford Authority for more Ford Mustang news, Mustang Shelby GT500 news, and non-stop Ford news coverage.