The 2021 Ford Mustang Mach-E has won over many with its impressive performance thus far, including law enforcement after the crossover recently became the very first EV to pass Michigan State Police testing. The Ford Mustang Mach-E powertrain was also just named a 2021 Ward's 10 Best Engines winner, another big feather in its proverbial cap. However, the Mach-E apparently isn't quite as adept at a maneuver referred to as the "Moose Test."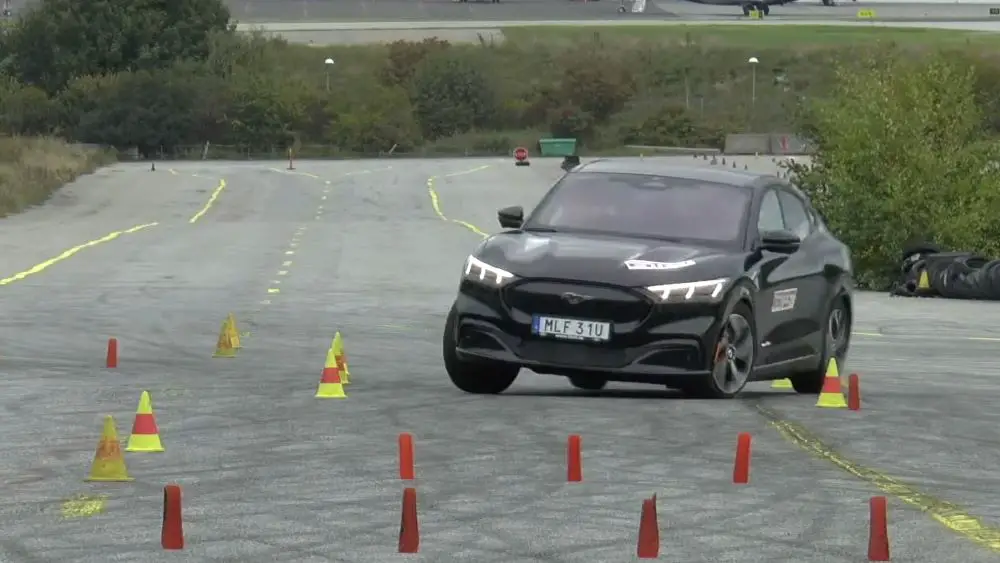 The Moose Test is designed to evaluate a vehicle's electronic stability control system in real life. At speed, the driver of the vehicle conducts an evasive maneuver around an obstacle, while remaining within certain limits or lanes. The same test is then conducted over and over again at increasingly high speeds until the vehicle fails to stay within the designated limits or when it hits the obstacle.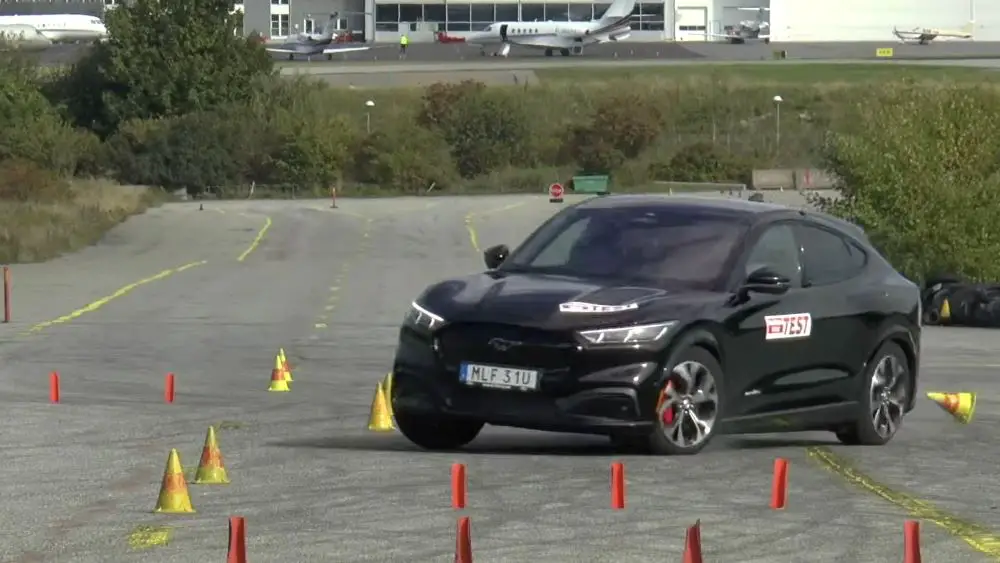 The automotive journalists at Teknikens Värld recently subjected a Mach-E Long Range all-wheel drive model to the Moose Test, along with a variety of other electric vehicles including the Hyundai IONIQ 5, Tesla Model Y, and Skoda Enyaq iV. The Mach-E fared the worst of that bunch, as it proved to be quite difficult to maneuver at speeds of 40.5, 42.3, and 43.5 miles per hour before ultimately failing the test at 44.7 miles per hour.
The testers noted that the rear end of the Mach-E is very unstable at speed, and the vehicle exhibits slow steering and a soft chassis, as well as a slow-to-respond electronic stability control system. At speeds below 44.7 miles per hour, the Mach-E hits the cones that represent the edge of the road and proceeds to go off the "road" completely at 44.7 miles per hour. Meanwhile, all three of the Mach-E's competitors manage to pass the test at higher speeds and do so without hitting any of the cones.
We'll have more interesting videos like this to share soon, so be sure and subscribe to Ford Authority for more Mustang Mach-E news and ongoing Ford news coverage.