For the 1955 model year, Mercury revamped its product line, adding the full-size Mercury Montclair as a new addition to the lineup. The Montclair slotted above the Monterey but below the Turnpike Cruiser and Park Lane. The Montclair was available as either a two-door hardtop or convertible. It was powered by a 292 cubic-inch Ford Thunderbird V8 making 195 horsepower, and backed by either a three-speed manual transmission or an optional three-speed automatic.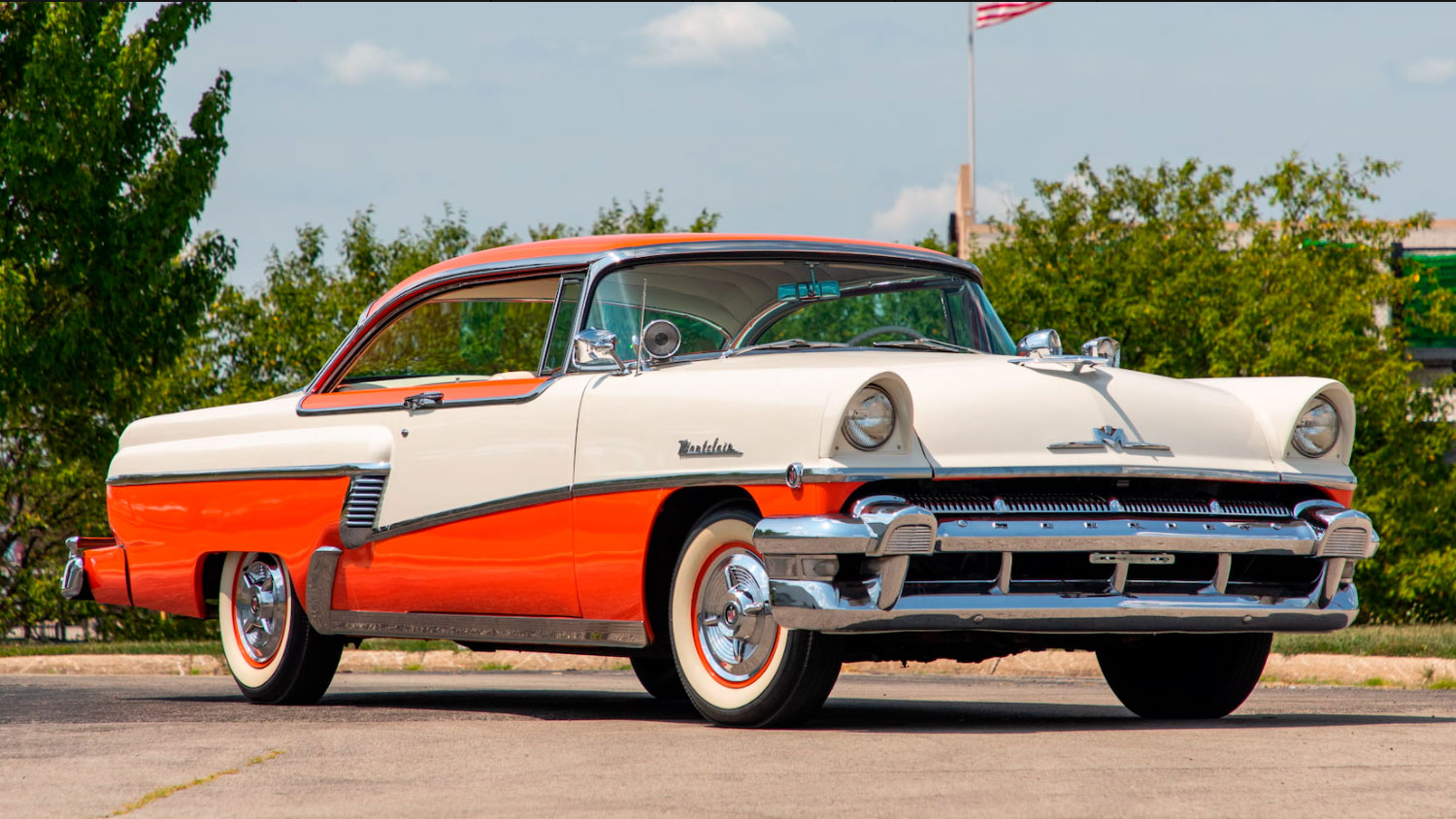 The 1956 model year introduced some design revisions to the then-new Montclair, with the former hood crest being replaced by a large "M" script emblem. Side trim morphed into a full-length chrome spear, separating the two-tone paint scheme that was becoming more prominent at the time. Additionally, the 292 cubic-inch T-Bird V8 was replaced by a 312 cube V8 making 225 horsepower. Additionally, a 12-volt electrical system was adopted, along with dual exhaust, a steering and front suspension self-lube system, a deep dish steering wheel, breakaway rearview mirror with safety glass, tubeless tires, and safety door locks. More safety features became available as options, including a padded dashboard, seatbelts, and childproof rear door locks.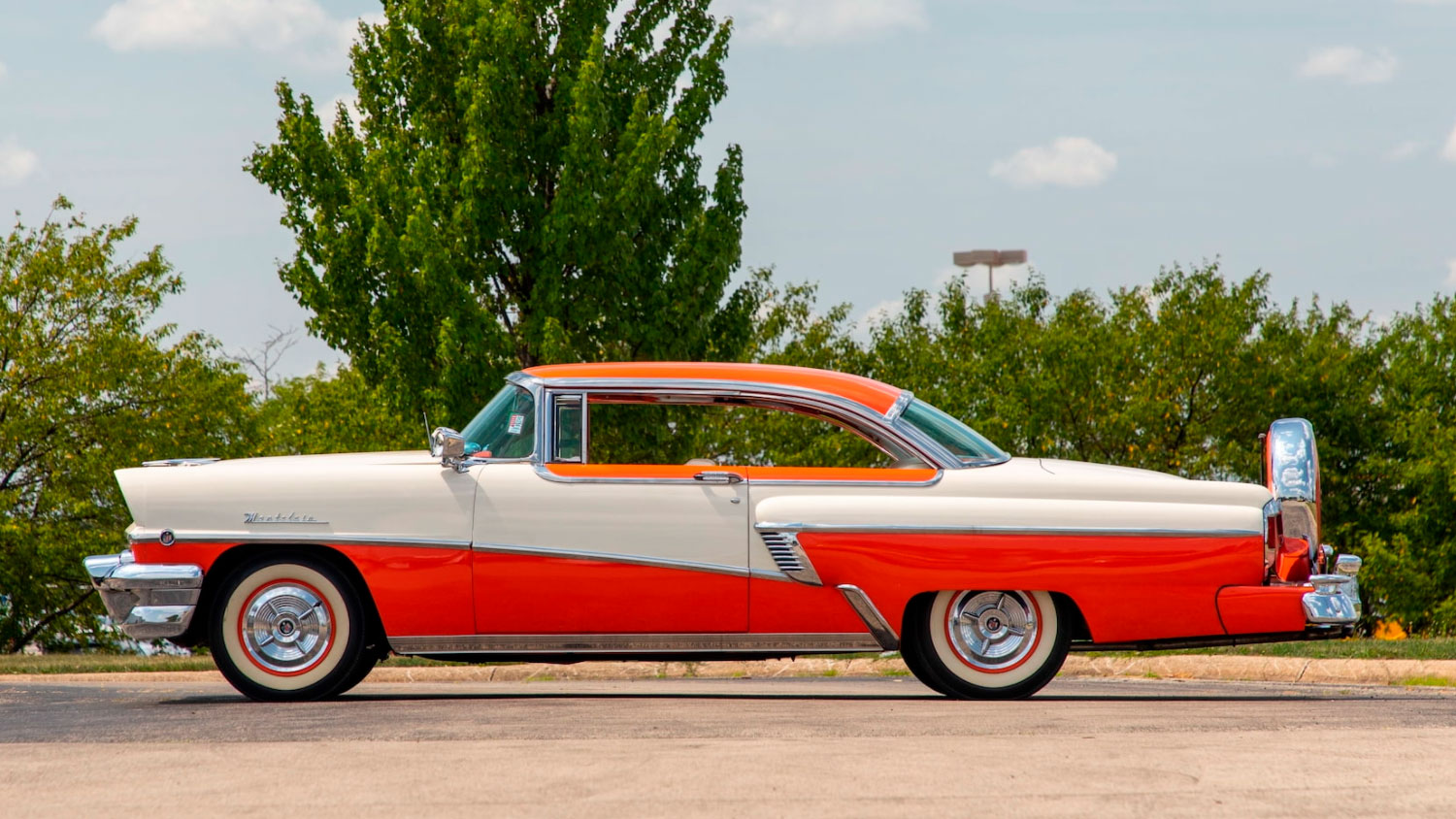 Our feature 1956 Mercury Montclair is an eye-popping Persimmon and Classic White over a matching orange and white interior. The paint has terrific shine, the bumpers appear to have been re-pated, and the stainless trim is well polished. The dual chrome spotlights are a cool touch. The length of the car is accentuated by the low, sloping roofline and curving rear deck leading to the Continental kit spare. Painted steel wheels have polished full hubcaps and wear wide whitewall tires.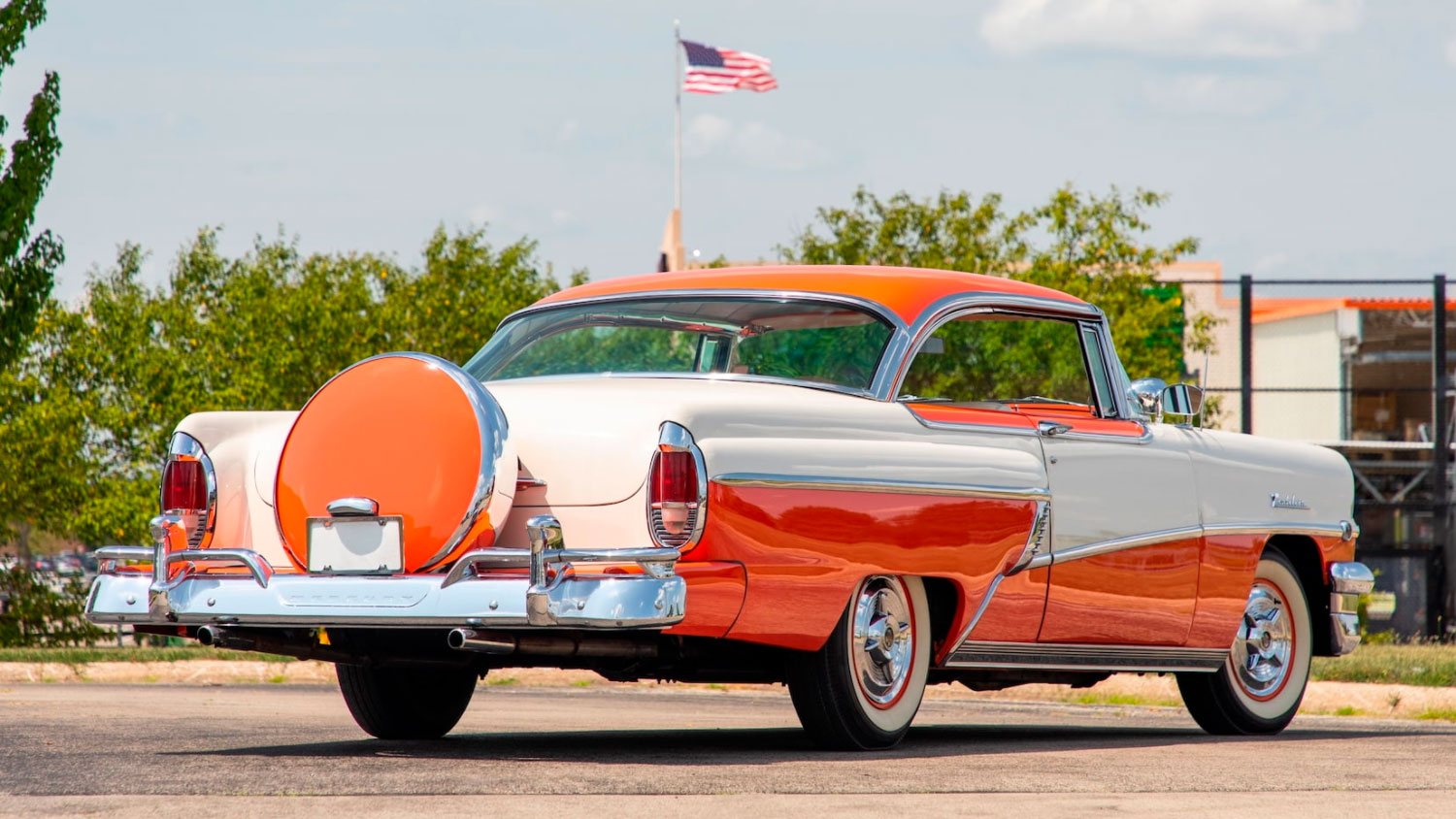 Inside the Mercury Montclair is awash in brilliant orange and white. You won't need a Starbucks stop in this Mercury, and you wouldn't have a place for the cup anyway. The bench seats look to have been recently recovered or used sparingly since restoration, as there is no indication of wear. Everything in the interior has either been immaculately maintained or lovingly restored. The Montclair is equipped with power steering, power brakes, a heater, an AM radio, clock, and dual spotlights.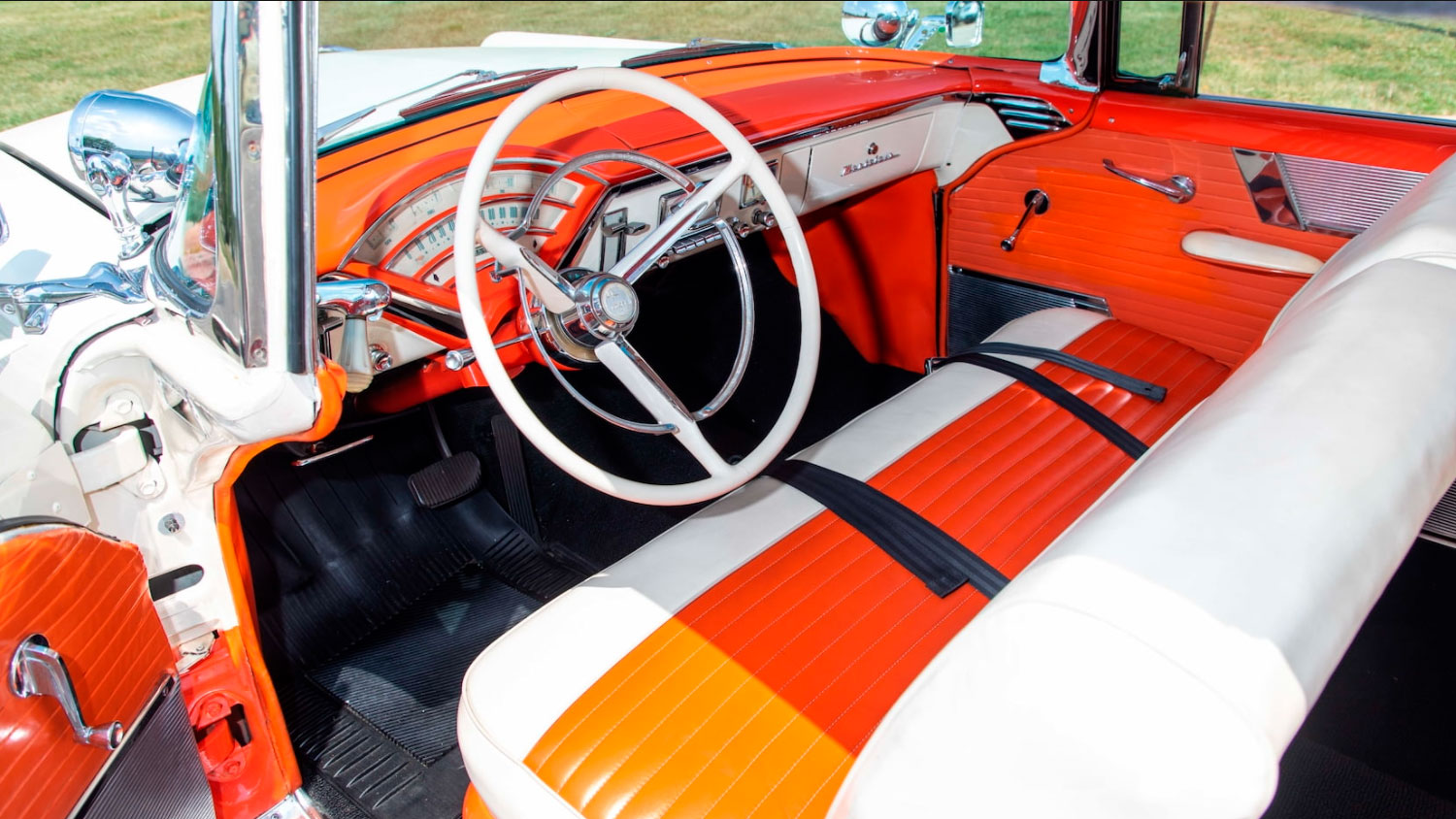 Under the Mercury Montclair's hood resides the 225 horsepower, 312 cubic-inch V8, backed by the optional three-speed automatic transmission. The engine bay is clean, and the engine well detailed. There is some paint flaking off the exhaust manifolds, as happens with engines that have been used. The engine bay looks to be largely original.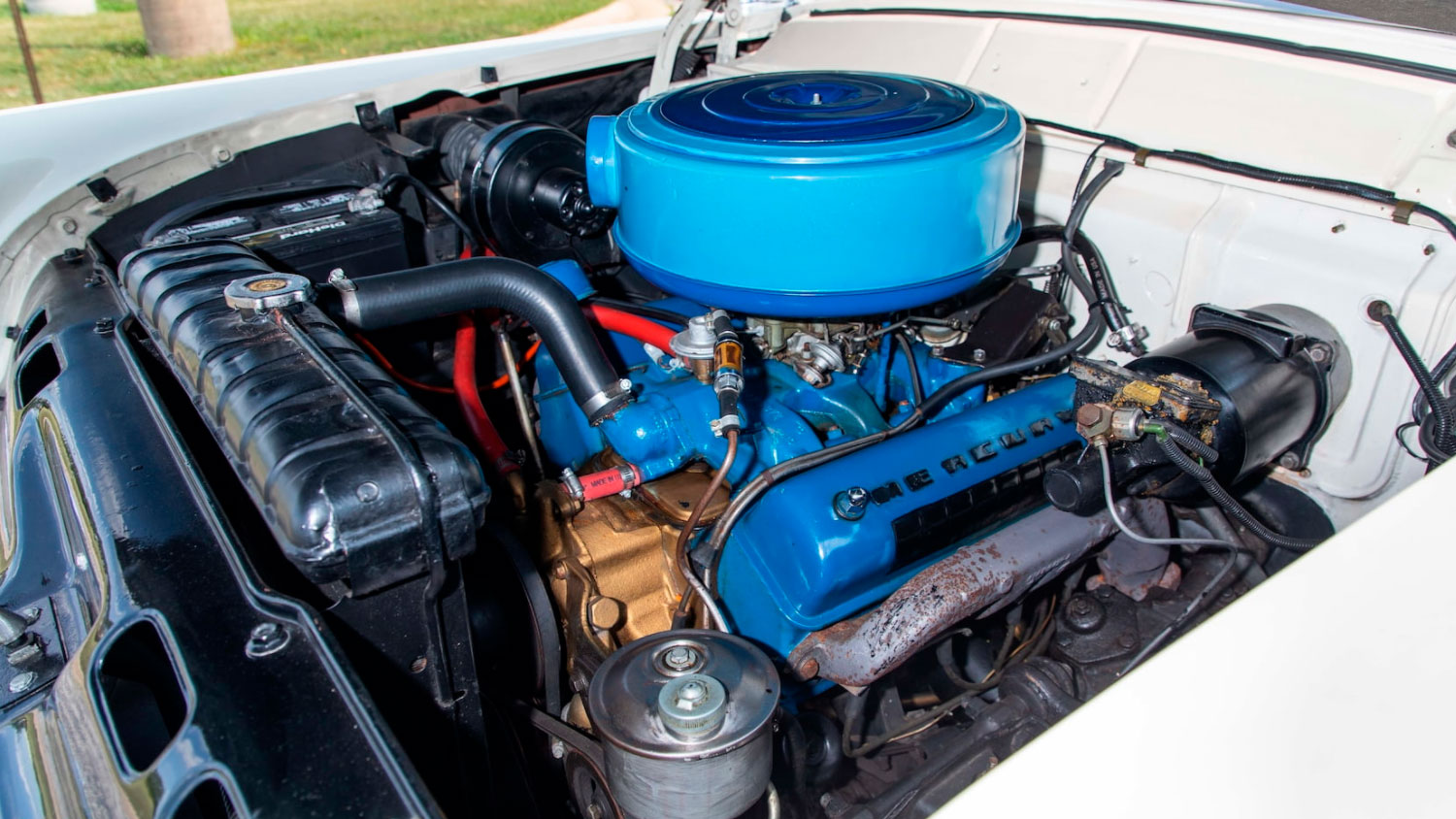 This attractive Mercury Montclair will cross the auction block at the Mecum Auctions Chicago sale October 21st-23rd.
Want the latest on cool Mercuries, Fords and Lincolns? Then be sure to subscribe to Ford Authority for more Mercury news and around-the-clock Ford news coverage.