The first Saleen S281 Ford Mustang was built by then-Formula Atlantic racer Steve Saleen in 1996. Saleen Performance Parts differed from other purveyors of aftermarket parts in that it had become an original equipment manufacturer to Ford. Meanwhile, 1996 was the first year for the Ford Mustang's new modular 4.6-liter single overhead cam V8, rated at 220 horsepower. The S281 designation referred to the 281 cubic inches of displacement. In 1996, only 424 units of the Saleen S281 were built.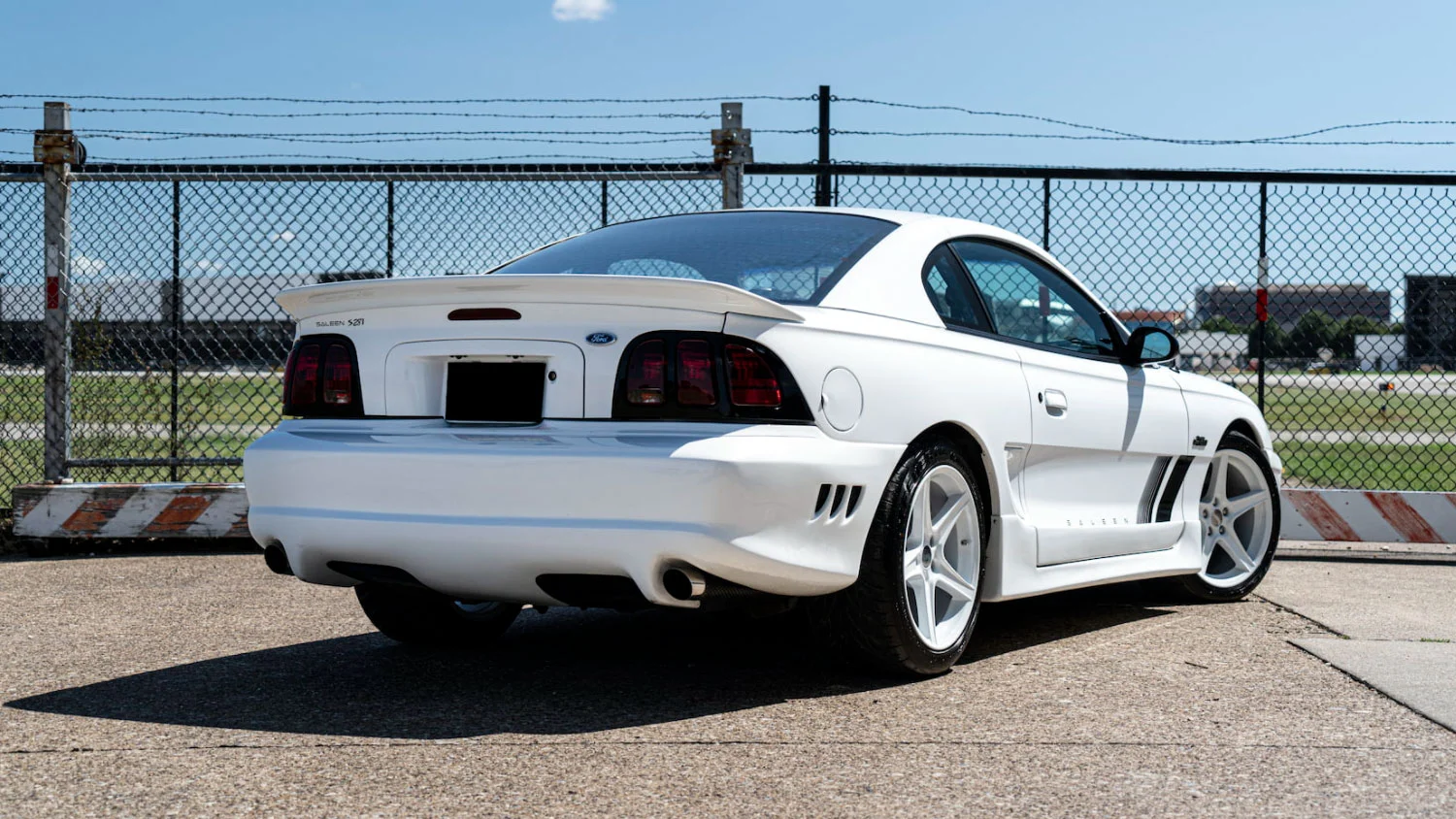 The 1996 Saleen S281, produced in both coupe and convertible variants, was naturally aspirated. The supercharged S281SC would not arrive until the following year. The S281 was modified with Racecraft suspension upgrades, as well as a Saleen-branded air cleaner and Borla exhaust, delivering a very modest bump in power. The S281 was also equipped with a shorter throw shift linkage, a 3.55 rear gear ratio, and grippier tires, reducing the zero-to-sixty run by a tenth of a second, according to the August 1996 issue of MotorTrend magazine.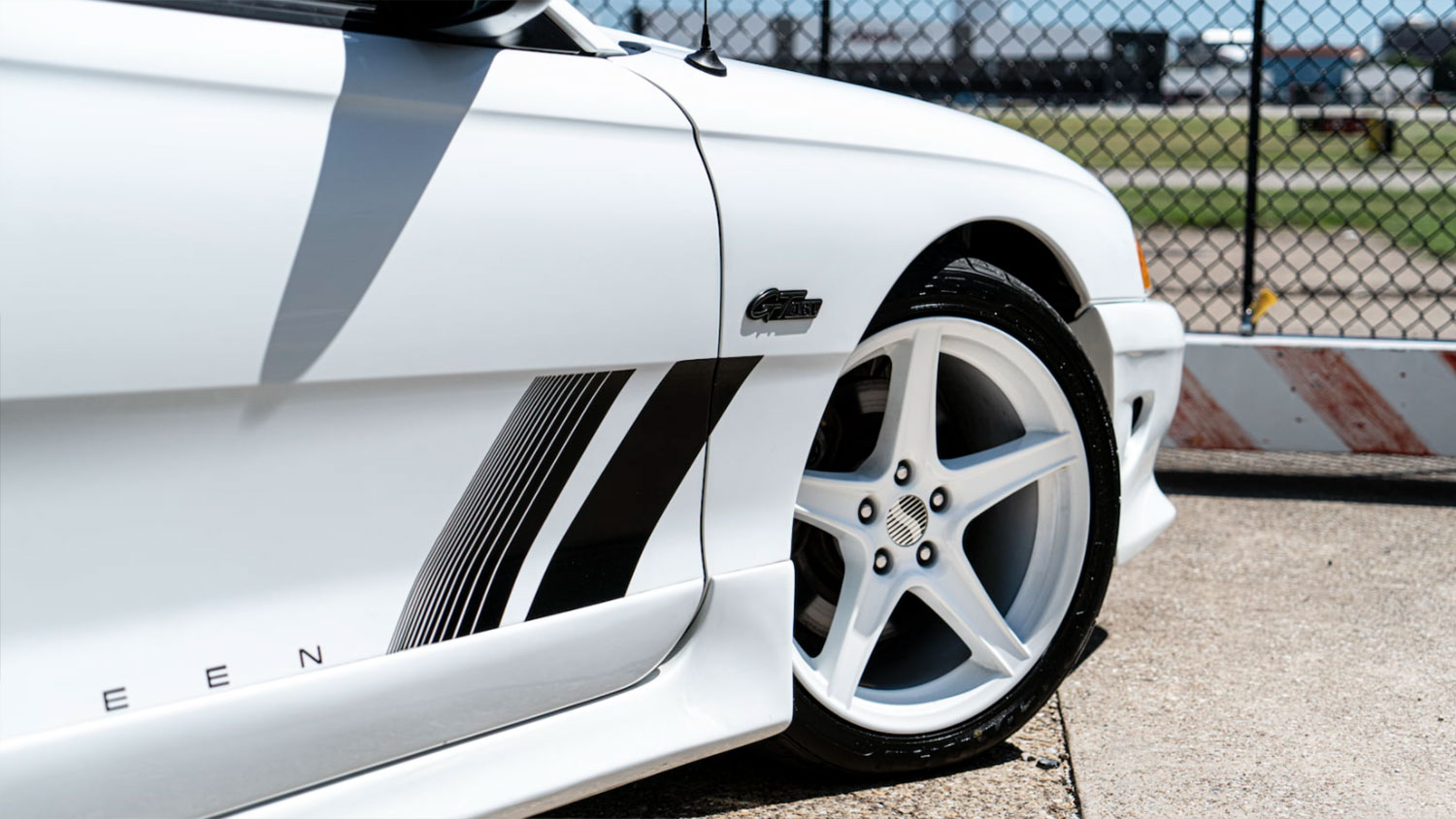 It was in the handling and braking department that the Saleen S281 was significantly better than stock, courtesy of shorter and stiffer springs, struts, shocks, urethane sway bar bushings, urethane upper strut mounts, beefier front sway bar, and a lowered ride height. Changes to the braking system included Saleen/Alcon front brake calipers with 13-inch rotors. Rear brakes remained stock. As mentioned, the handling was improved, but bordered on rough, and the front spoiler was prone to scrape on uneven surfaces and hard corners. There were also reported issues with tramlining, both on highways and under braking.
Cosmetically, the Saleen S281 received a new urethane front fascia, side skirts, and rear valance, as well as a composite wing. Saleen five-spoke alloy wheels were shod in Dunlop SP Sport 8000 rubber measuring 255/35ZR18 in front and 285/35ZR18 in the back. The low-profile sidewalls did nothing to aid an already firm ride.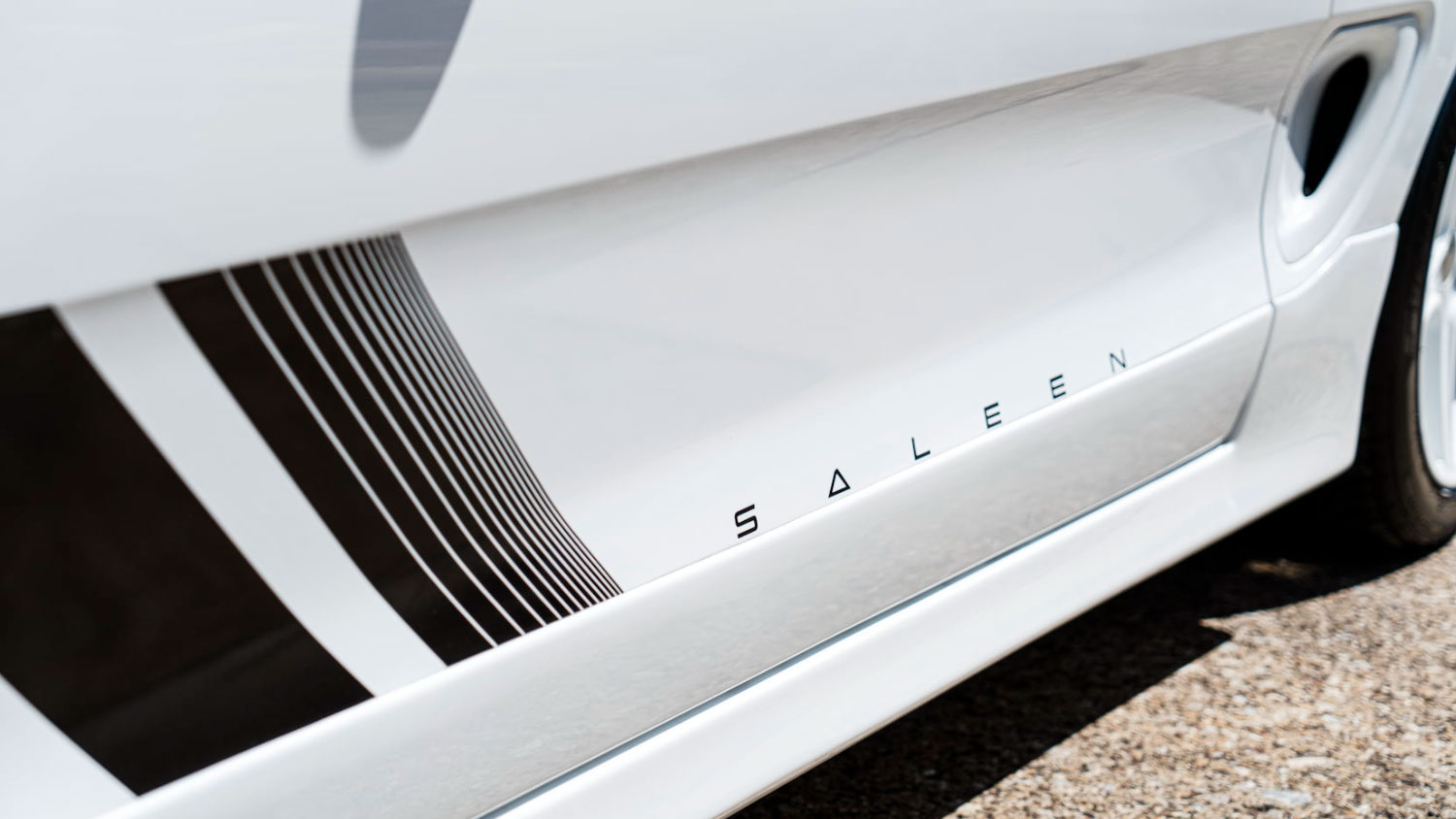 Inside the Saleen S281, gauges were swapped for a set of white-face Saleen units, a Saleen registration plate, and the previously-mentioned short shift lever.
Our feature 1996 Ford Mustang Saleen S281, finished in Saleen White over black leather, has covered just 6,600 miles from new. It is powered by its 4.6-liter V8 that has been fitted with a Paxton supercharger. Backing the modular V8 is a five-speed manual transmission.
The exterior of this Saleen S280 is spotless from nose to tail, with no damage or signs of use observed. The monochromatic white wheels show no scuffs, curb rash, or even brake dust. A "130" decal can be seen on the front bumper, which is presumably the sequence number for the vehicle.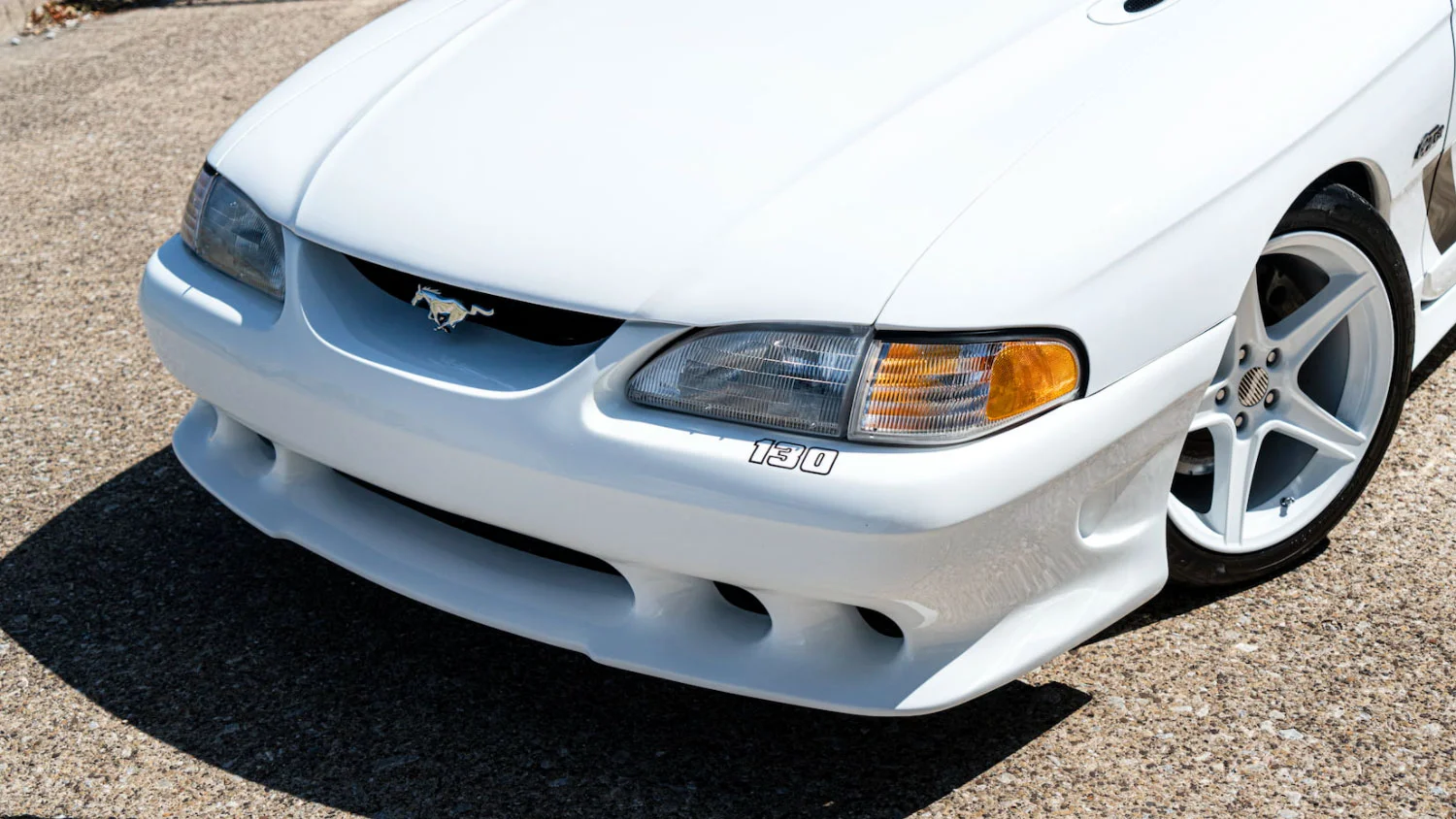 The black leather interior of the Saleen S281 presents as new. The outside seat bolsters show no wear, wrinkling, or creasing. Heavy rubber floor mats cover the carpet in the front footwells. Atop the center control stack are Saleen boost and fuel pressure gauges, affixed with what appears to be Velcro.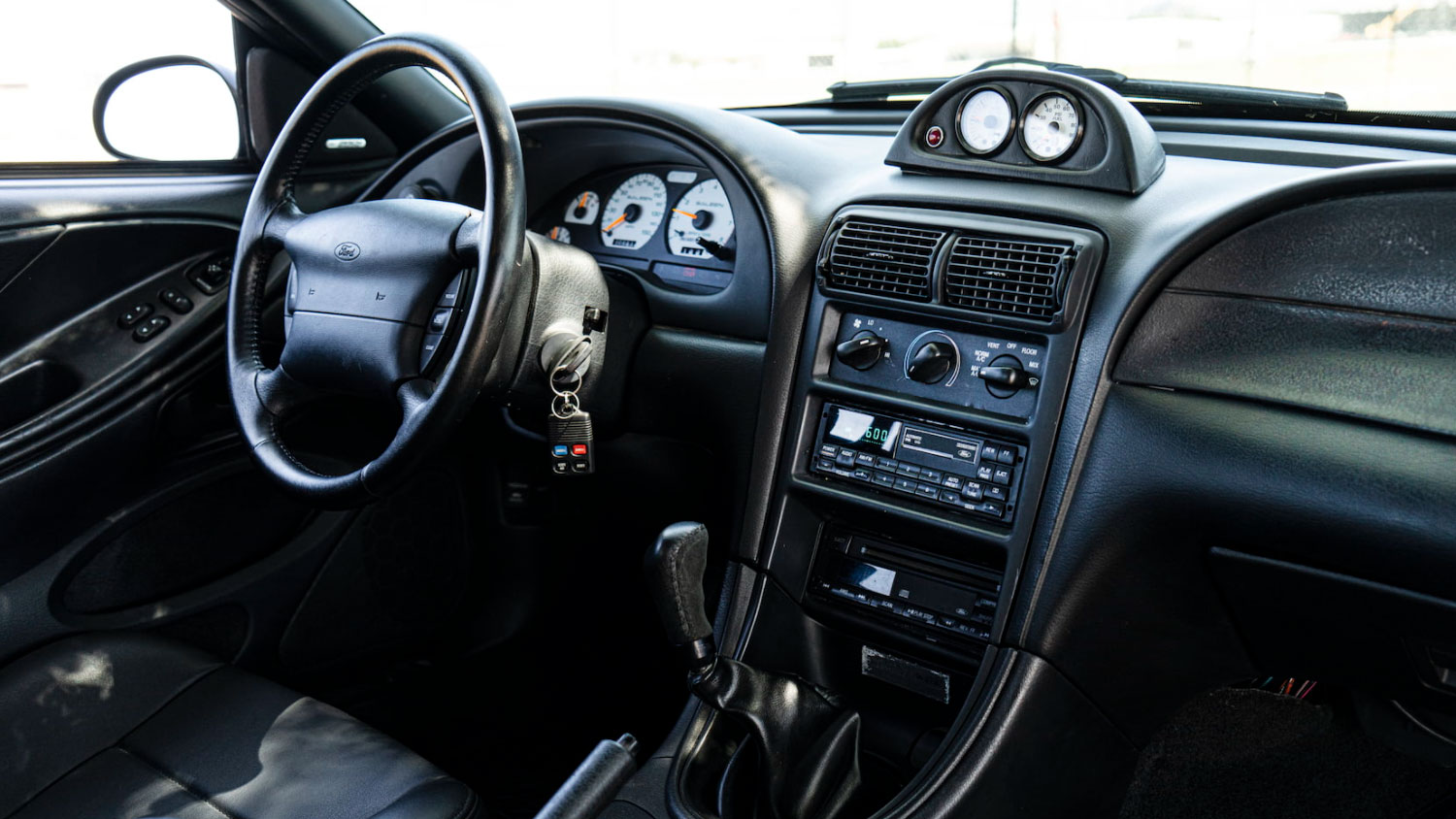 The Saleen S281's engine compartment is as clean as one would expect from a sub-seven thousand mile car, although there are myriad wires, lines, and hoses running everywhere. As mentioned, a Paxton supercharger has been fitted to Ford's 4.6 modular V8, but there is no word on if that was a special order item, or done some time after purchase. The V8 exhales spent gasses through a performance dual exhaust system.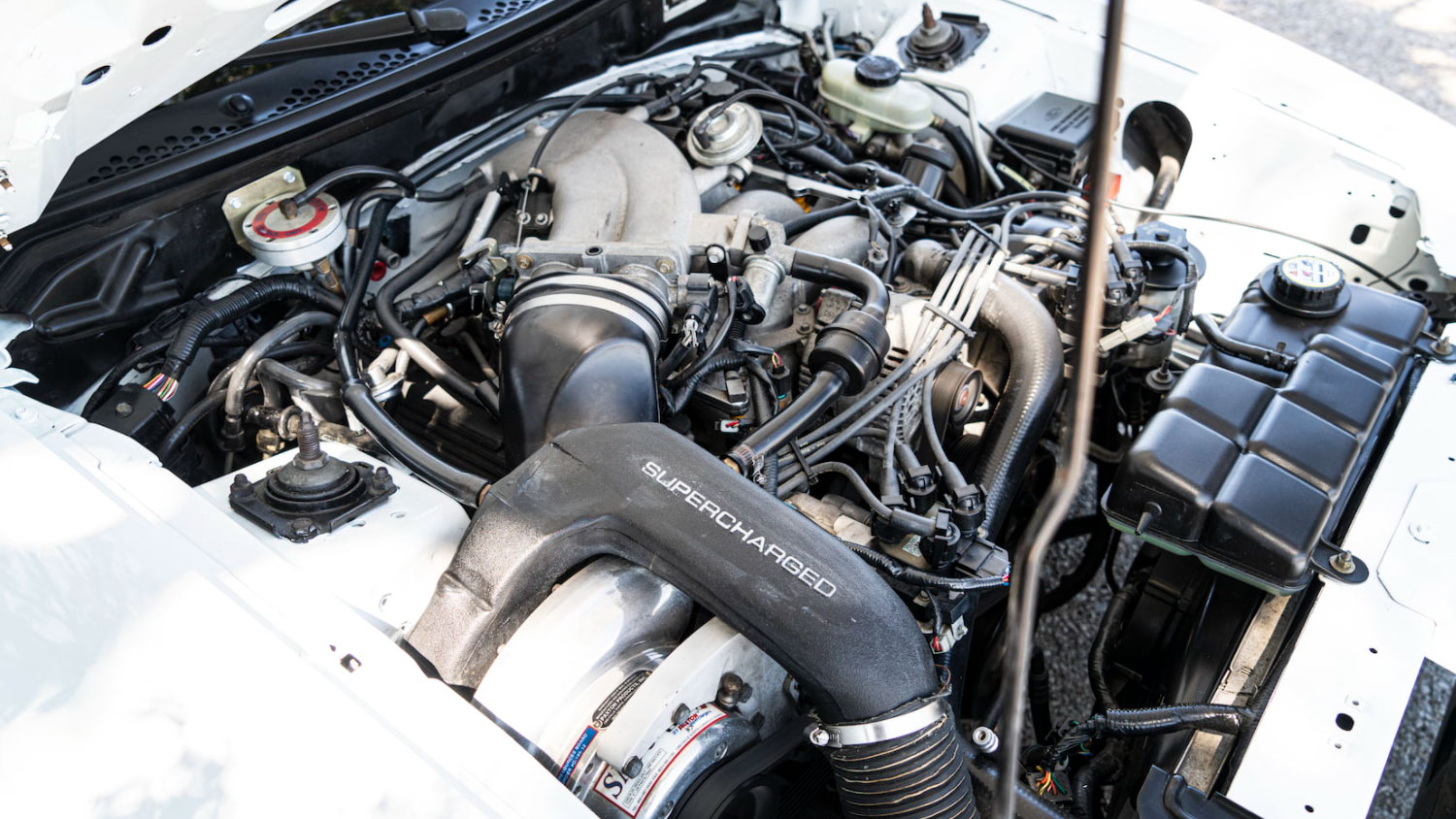 This rare Saleen S281 will be sold with both the Ford and Saleen window stickers, as well as extensive service receipts and records. It will cross the auction block at the Mecum Auctions Kansas City event taking place December 2nd-4th.
Be sure to subscribe to Ford Authority for more Ford Mustang news and continuous Ford news coverage.