The 2022 Ford Expedition recently debuted as a technologically updated version of the current model, complete with some interesting additions in the form of the Stealth Performance Package and the Timberline off-road oriented trim. Both variants certainly add more flair to the three row SUV, but it's the latter that has seemingly inspired The Blue Oval to build on its standard capabilities with the new Off-Grid concept, a one-off project the company constructed for the Overland Expo East event in Arrington Virginia that may inspire future Timberline buyers looking to get away from civilization, at least for a little while.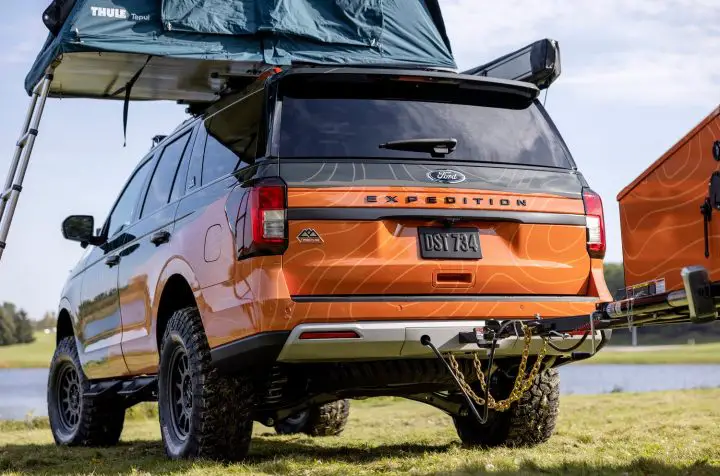 The Off-Grid concept retains all of the beefed-up components and features of the 2022 Ford Expedition Timberline, like the underbody shielding, improved approach and departure angles, and Trail-Turn Assist software, but adds even more capability so the SUV can morph into a multi-day off-roading vehicle. Chief among these upgrades are custom Fox Performance Elite Series 2.5-inch shocks, which add another two inches of ground clearance for 12.6-inches total, and 35-inch General Grabber all-terrain tires, which are also two inches more than the stock 33-inch Goodyear Wrangler rubber.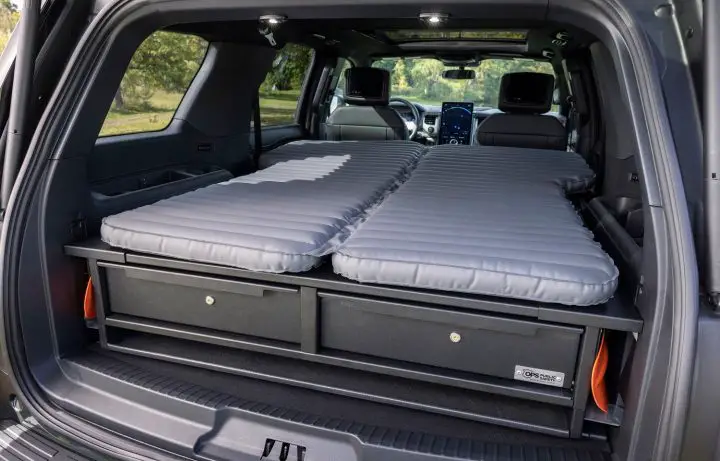 A plethora of purpose-built camping gear inside the cabin of the 2022 Ford Expedition Timberline Off-Grid concept could help future Expedition owners build out their own overlanding rigs. For starters, the company worked with Ez Stak on a custom aluminum storage drawer system that resides under a custom Luno camping mattress that can accommodate two people. Additionally, Luno built custom window shades for the Off-Grid and a portable USB-powered fan for the vehicle.
Aside from the items that were purpose-built for the concept, The Blue Oval did outfit its unique 2022 Ford Expedition Timberline with plenty of equipment that camping enthusiasts can buy right now, like the Thule Tepui Explorer tent, a portable privacy room shower from Wild Land, and an awning setup from Overland Vehicle Systems. Ford says that these accessories are available at the dealer level as part of the Outfitter collection, which also offers equipment bundles for the 2021 Ford Explorer and 2021 Ford Edge.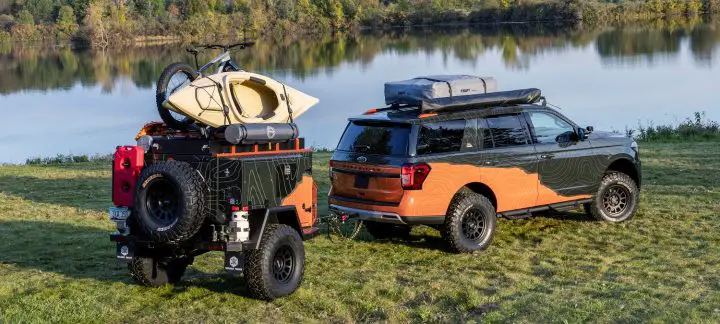 The concept also got a major assist from the fittingly-named Turtleback Expedition Series Trailer, which was also equipped with the same wheel and tire combo as the SUV. The trailer contains additional storage, plus a propane stove, sink, tables, 42-gallon water tank, and six gallon water heater with external hookup. The 2022 Ford Expedition Timberline Off-Grid will be on display at the Overland Expo East from October 8th 2021 to October 10th, 2021 and will also be featured at SEMA 2021 in November.
We'll have more on the 2022 Ford Expedition soon, so subscribe to Ford Authority for the latest Ford Expedition news and continuous Ford news coverage.