In September 2020, Ford Authority spoke with Eric Loeffler, Bronco Chief Engineer, about the possibility of the Ford 5.0L Coyote V8 ever making its way into the Ford Bronco. Not only did he state that the engine wouldn't see action in the all-new off-road SUV, he also said that the automaker never even tried fitting it in. A little over one year later, it is now clear that the company changed its mind about using the venerable V8, as the 2023 Ford Bronco DR has been revealed as the ultimate Baja racer for outfits who want a Bronco that can cruise through the desert as effortlessly as something that Paul Atreides would ride on Arrakis.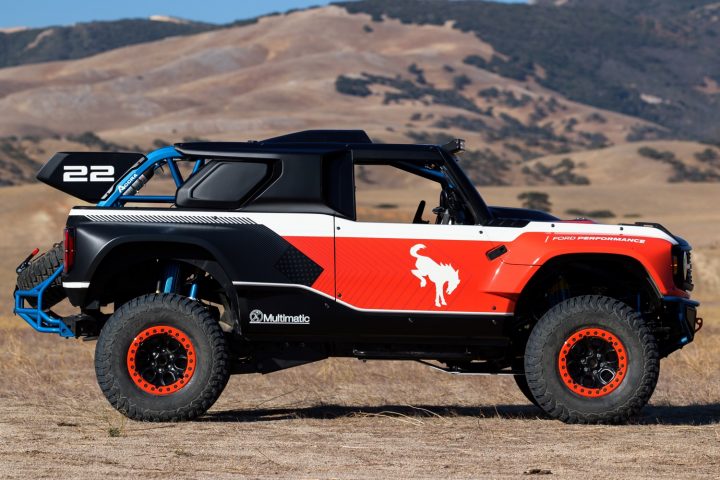 While news of a factory-built V8-powered Bronco will no doubt delight many enthusiasts, this new extreme off-road variant is not meant for everyday customers. Instead, the approximately $250,000 desert hog is a limited-production vehicle intended for professional racers and the companies that employ them. Multimatic is spearheading the sales and service of the 2023 Ford Bronco DR (Desert Racer) and is also responsible for outfitting it with its trademark suspension tech, since it will come with the Multimatic Positional Selective DSSV Dampers and a Multimatic safety cage.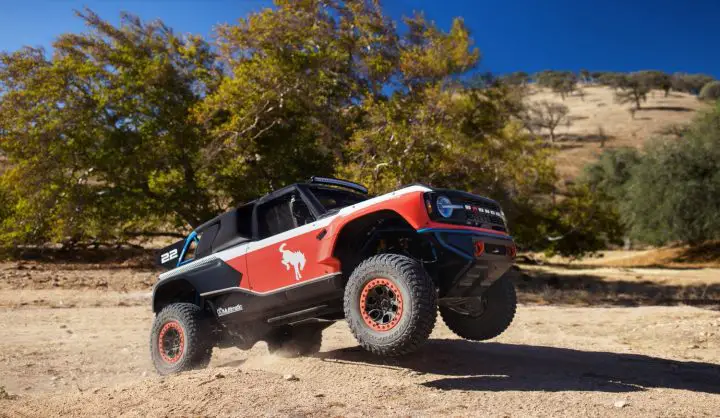 But the big news is that the Coyote V8 is part of equation, and that should make this desert racer a real force to be reckoned with, as Ford says it should boast at least 400 horsepower. It's also equipped with 37-inch BF Goodrich KM3 all-terrain tires with beadlock wheels, upgraded tie-rod ends, larger brake pads, and a host of other custom fabrications. The 6,200-pound vehicle is expected to debut at the 2022 Baja 1000 event. Multimatic will produce an initial batch of 50 units for a late 2022 debut.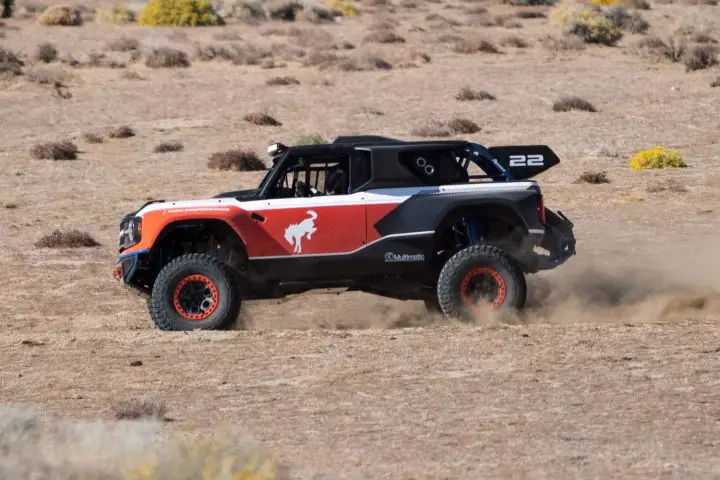 "Bronco DR is our ultimate turnkey off-road racing SUV, engineered to put enthusiasts behind the wheel of a desert racing force," said Mark Rushbrook, Ford Performance Motorsports global director. "This collaboration between Ford Performance and Multimatic continues the Bronco desert racing legacy that dates back to Rod Hall and Larry Minor's never-repeated overall Baja 1000 win in a stock Bronco in 1969."
We'll have much more on the 2023 Ford Bronco DR soon, so subscribe to Ford Authority for the latest Ford Bronco news and continuous Ford news coverage.