Ford Motor Company sales decreased 4 percent to 175,918 units during October 2021 in the United States. Sales decreased at both FoMoCo divisions – the namesake Ford brand as well as at the Lincoln luxury marque.
"Continuous improvement in inventories and new products made Ford the best-selling automaker in America for the second month in a row, which was last accomplished 23 years ago. Retail sales improved 16 percent, relative to September, with retail share up 1.6 percentage points," said Vice President, Ford Sales U.S. and Canada, Andrew Frick. "We also had our third consecutive month with over 30 percent of our retail sales coming from customer orders, while also adding 77,000 new orders in October. F-Series, strong SUV sales driven by Bronco, Bronco Sport, Mustang Mach-E and the first full month of Maverick sales really fueled our performance," he added.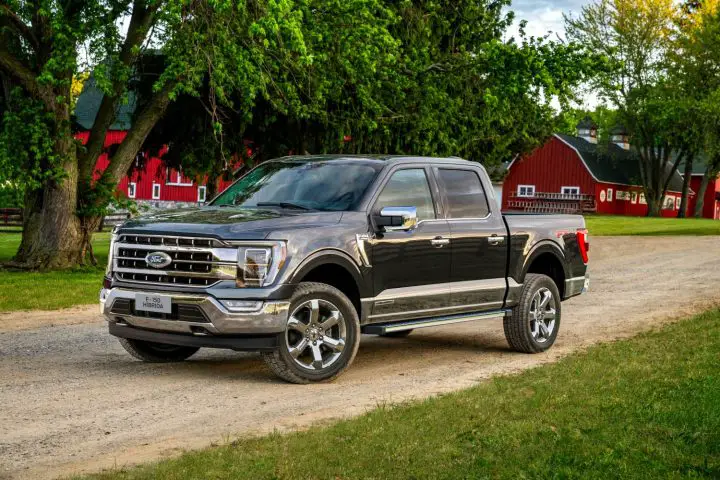 FoMoCo Sales Notes – U.S. October 2021
Sale types:
Total Ford Motor Company sales during October 2021 decreased 4 percent to 175,918 units

Ford did not provide any information on retail vs. fleet deliveries, a departure from the way it reported previously (on a monthly basis)

Expanding inventories and new products made Ford America's Number 1 selling automaker for a second straight month

Stronger inventories going into October, along with new product introductions, pushed Ford's retail sales to another sequential retail gain of 16.2 percent. Retail share expanded to an estimated 14.5 percent – up 1.6 percentage points over September share results

Ford gross stock levels continue to grow, totaling 243,000 vehicles at the end of October – this is up 7,000 vehicles over last month, placing Ford in a strong position relative to its competition as Ford closes out the year.
Ford took in 77,000 retail orders for new vehicles in October – up 25,000 compared to September's new vehicle orders. With improving vehicle inventory, Ford is filling these customer orders at record rates, with 32 percent of retail sales in October coming from a previously placed new vehicle order. This is Ford's third straight month above 30 percent of retail sales coming from previously placed new vehicle orders, comparing favorably to just 6 percent last year.
Total Ford pickup truck retail sales jumped 25 percent over September 2021
Ford brand SUVs posted their best October retail sales in 21 years. Retail sales were up 17.4 percent over a year ago on the strength of the new Bronco, Bronco Sport and Mustang Mach-E

These three new SUVs drove sales higher with total combined sales of 19,413 units
Ford was America's best-selling SUV brand in October, with sales of 70,002 units

Lincoln retail sales gained 8.0 percent from September, with gross stock inventory continuing to improve
Inventory & SAAR:
Ford did not provide inventory or SAAR information, representing a notable change in the details provided by Ford for its sales reporting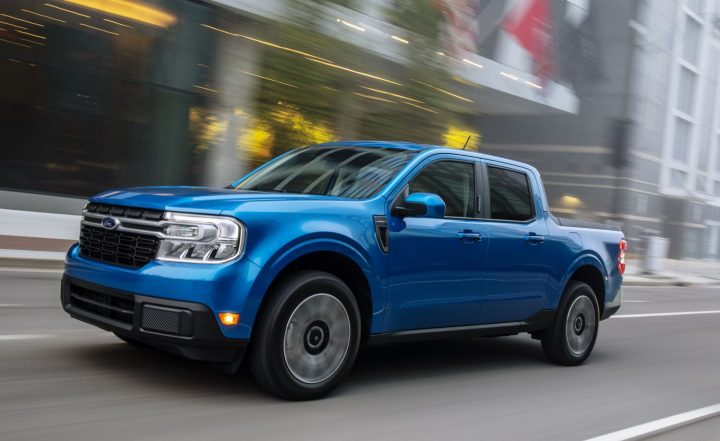 Brand & Model Sales
Ford sales decreased 3.3 percent to 167,572 units:
Lincoln sales decreased 17 percent to 8,346 units:
Lincoln Aviator sales decreased 2.3 percent to 2,134 units

Aviator sales increase 21.8 percent over September, as Aviator in-transit inventories expanded 6.2 percent over last month

Lincoln Continental sales decreased 96.8 percent to 16 units
Lincoln Corsair sales decreased 17 percent to 2,535  units

These figures include those of the outgoing Lincoln MKC
Lincoln's Corsair was up 24 percent relative to September

Lincoln MKZ sales decreased 99.4 percent to 5 units
Lincoln Nautilus sales increased 15.8 percent to 2,458 units
Lincoln Navigator sales decreased 13.6 percent to 1,198 units
Lincoln retail sales improved 8 percent from September, with gross stock inventory continuing to improve
During the first ten months of the 2021 calendar year, Ford Motor Company sales decreased 6.6 percent to 1,573,422 units.
Ford Brand Sales - October 2021 - USA
| Model | October 2021 / October 2020 | October 2021 | October 2020 | YTD 2021 / YTD 2020 | YTD 2021 | YTD 2020 |
| --- | --- | --- | --- | --- | --- | --- |
| Total | -3.3% | 167,572 | 173,248 | -6.4% | 1,499,114 | 1,600,847 |
| Bronco Sport | * | 9,201 | 0 | * | 90,405 | 0 |
| Bronco | * | 7,364 | 0 | * | 17,568 | 0 |
| E-Series | -8.7% | 4,078 | 4,469 | +3% | 30,545 | 29,655 |
| EcoSport | -66.8% | 1,398 | 4,210 | -30.2% | 35,892 | 51,410 |
| Edge | -10.2% | 9,329 | 10,387 | -26.3% | 64,280 | 87,249 |
| Escape | -15.4% | 13,500 | 15,959 | -15.2% | 125,291 | 147,712 |
| Expedition | -37.3% | 5,648 | 9,014 | +15% | 69,852 | 60,761 |
| Explorer | -1.7% | 20,714 | 21,079 | -0.2% | 180,888 | 181,288 |
| F-Series | -4.7% | 68,259 | 71,593 | -8.7% | 603,090 | 660,627 |
| Fusion | -99.5% | 33 | 6,526 | -88% | 11,711 | 97,190 |
| GT | -14.3% | 12 | 14 | -28.6% | 115 | 161 |
| Heavy trucks | -1.6% | 1,454 | 1,478 | +53.1% | 11,343 | 7,408 |
| Maverick | * | 4,140 | 0 | * | 4,646 | 0 |
| Mustang | -30.1% | 3,076 | 4,399 | -15.2% | 44,141 | 52,036 |
| Mustang Mach E | N/A | 2,848 | 0 | N/A | 21,703 | 0 |
| Ranger | -17.8% | 7,218 | 8,779 | -3.8% | 79,924 | 83,117 |
| Transit | -36.6% | 7,862 | 12,403 | -18.3% | 86,661 | 106,073 |
| Transit Connect | -50.2% | 1,438 | 2,886 | -25.1% | 21,059 | 28,127 |
Lincoln Sales - October 2021 - USA
| Model | October 2021 / October 2021 | October 2021 | October 2020 | YTD 2021 / YTD 2020 | YTD 2021 | YTD 2020 |
| --- | --- | --- | --- | --- | --- | --- |
| Total | -17% | 8,346 | 10,050 | -12% | 74,308 | 84,446 |
| Aviator | -2.3% | 2,134 | 2,184 | -2.1% | 17,608 | 17,984 |
| Continental | -96.8% | 16 | 501 | -67.7% | 1,411 | 4,373 |
| Corsair | -17% | 2,535 | 3,053 | -8% | 19,540 | 21,230 |
| MKZ | -99.4% | 5 | 791 | -84.7% | 1,670 | 10,924 |
| Nautilus | +15.8% | 2,458 | 2,123 | +13.5% | 20,634 | 18,175 |
| Navigator | -13.6% | 1,198 | 1,386 | +15.9% | 13,445 | 11,596 |
Ford Motor Company Sales - October 2021 - USA
| | October 2021 / October 2020 | October 2021 | October 2020 | YTD 2021 / YTD 2020 | YTD 2021 | YTD 2020 |
| --- | --- | --- | --- | --- | --- | --- |
| Total | -4% | 175,918 | 183,298 | -6.6% | 1,573,422 | 1,685,293 |
| Ford | -3.3% | 167,572 | 173,248 | -6.4% | 1,499,114 | 1,600,847 |
| Lincoln | -17% | 8,346 | 10,050 | -12% | 74,308 | 84,446 |
About The Numbers
All percent change figures compared to Ford Motor Company sales for October 2020, unless noted otherwise
Further Reading & Sales Reporting
Running Ford Motor Company sales numbers
Ford Motor Company Q4 2021 sales reports:

Ford Motor Company sales Q4 2021 U.S.A

Ford sales Q4 2021 U.S.A. (Ford brand)
Lincoln sales Q4 2021 U.S.A.
Ford Motor Company sales October 2021 U.S.A. (this page)

Ford sales October 2021 U.S.A. (Ford brand)
Lincoln sales October 2021 U.S.A.

Ford Motor Company sales November 2021 U.S.A.

Ford sales November 2021 U.S.A. (Ford brand)
Lincoln sales November 2021 U.S.A.

Ford Motor Company sales December 2021 U.S.A.

Ford sales December 2021 U.S.A. (Ford brand)
Lincoln sales December 2021 U.S.A.

Ford Motor Company Canada sales Q4 2021

Ford Canada sales Q4 2021
Lincoln Canada sales Q4 2021

Ford Motor Company Argentina sales Q4 2021
Ford Motor Company Brazil sales Q4 2021
Ford Motor Company Korea sales Q4 2021

Ford Motor Company Korea sales October 2021

Ford Korea sales October 2021
Lincoln Korea sales October 2021

Ford Motor Company Korea sales November 2021

Ford Korea sales November 2021
Lincoln Korea sales November 2021

Ford Motor Company Korea sales December 2021

Ford Korea sales December 2021
Lincoln Korea sales December 2021

Ford Motor Company Mexico sales Q4 2021
Ford Russia sales Q4 2021

Ford Russia sales October 2021
Ford Russia sales November 2021
Ford Russia sales December 2021