In the 1960s, Shelby American built eight Cobra roadsters called "Dragonsnakes" that were intended for drag racing. Five had 289 cubic-inch V8s, and of those five – yes, only one – was built with the factory Stage III spec that included a quadruple Weber carb set-up. That Shelby Cobra, CSX2427, was special ordered new by Don Reimer of Pennsylvania. He specified the Cobra be painted bright yellow to match his Thunderbird tow car.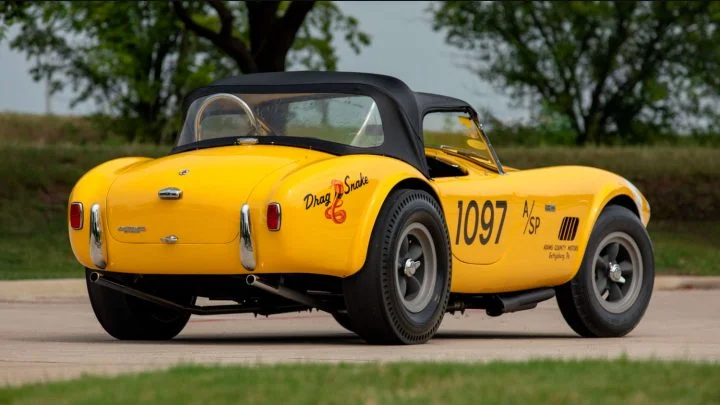 Don, along with his younger brother Mike, campaigned the Shelby Cobra at the York U.S. 30 Drag-O-Way dragstrip in A/Modified and AA/Modified Production racing. Mike drove the Cobra, while Don managed the racing team. They were successful enough to make it to the Indianapolis Nationals.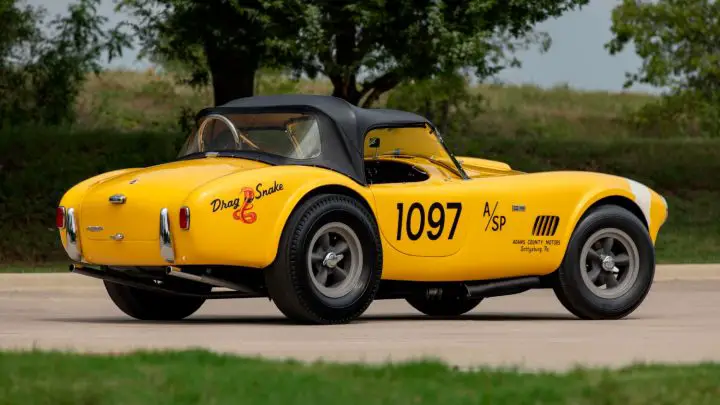 At the end of the 1965 summer season, younger brother Mike decided he wanted to go back to school, and the brother's father said the Shelby Cobra would have to be sold. The classified ad in Car and Driver magazine read, "SELL – 1965 Cobra – built by Shelby American especially for drags, complete with special suspension system, drag shocks, modified springs, dyno tuned headers, mag wheels, chrome roll bar, Hurst shifter, M&H Racemaster slicks, 4.56 rear. $4650.00 firm. Also will sell many extras: mag wheel and tire, new clutch and pressure plate, aluminum oil pan, Webers including many jets, trailer. Reason for selling, son returned to college."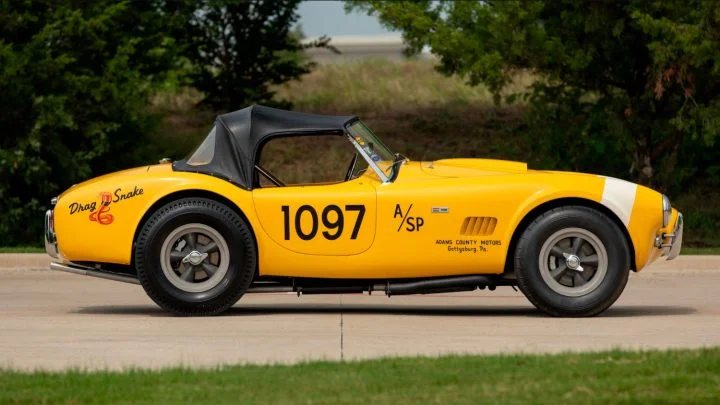 The Shelby Cobra's second owner was a Chesterton, Indiana man by the name of Doug Casey. It is unknown if Mr. Casey raced CSX2427, but the car's third owner, Dodge Olmstead of Arlington, Virginia, certainly did. Buying the car in July of 1966, Mr. Olmstead modified the Cobra for road racing and competed in a number of Sports Car Club of America events. An unfortunate crash found Mr. Olmstead rebuilding the car and changing the color to Candy Aplle Red. The car was sold to Harold Hammond of Ohio in May of 1969, then to Howard Heath of Columbus, Ohio. Mr. Heath returned the Shelby to its original yellow hue.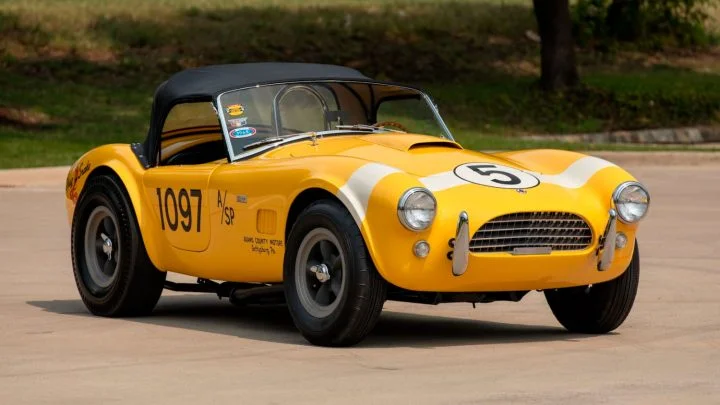 After moving to Canada, Mr. Heath painted the Shelby Cobra silver. In 1988, the Cobra was sold to Peter Klutt of the Shelby Shop (later renamed Legendary Motor Cars) of Toronto. Mr. Klutt began the restoration of the car, showing it in the raw at the SAAC 18 (Shelby American Automobile Club) meet at Watkins Glen, New York in July of 1993. At SAAC 20 in Atlanta, Georgia, Mr. Klutt unveiled the completed Cobra in its original color and correct Dragonsnake livery. CSX2427 took home a Silver at the Cobra Concours class. LMC subsequently advertised the Cobra with the following description: "One of two factory 289 Dragonsnake Cobras built. Custom ordered yellow in color… 3,596 original miles, complete documented history since new…Factory stage III with Webers…NHRA and SCCA race history…Perhaps the finest, rarest Cobra in the world."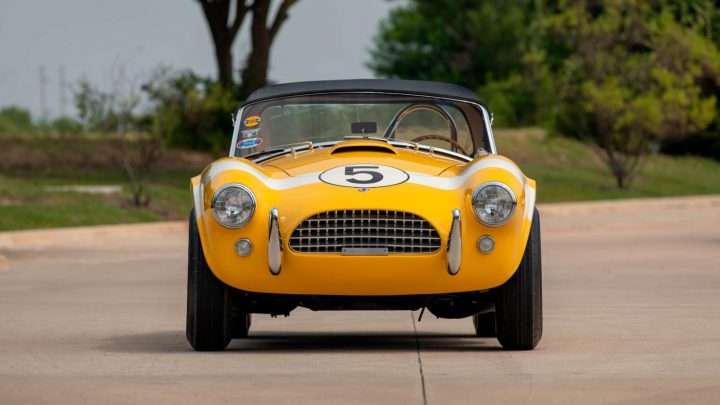 That's when the Shelby Cobra was offered in conjunction with a Ford Thunderbolt CSX2427, and was purchased by dealer Prova International of North Carolina in 1996. Prova then sold the Cobra to Richard Scaife of Pittsburgh. CSX2427 was then sold to Harry Yeagey at auction in January 2001, who traded the car to Rich Mason of Carson City, Nevada in April 2004. Mr. Mason took it vintage road racing after converting the Cobra back to road racing configuration. Mr. Mason sold the CSX2427 to noted Shelby collector Steve Juliano in February 2007.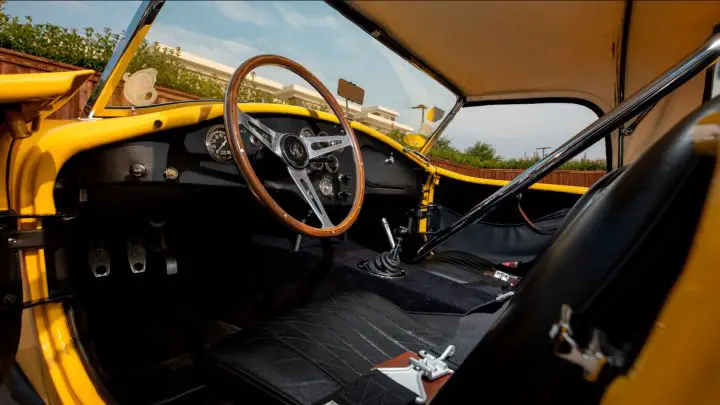 Mr. Juliano began a fastidious restoration of the Shelby Cobra, even seeking the input of the original driver, Mike Reimer, to get the car back to its original state. Upon completion, the Cobra was displayed in Mr. Juliano's private museum in San Clemente, California. At SAAC 34 in August 2009, CSX2427 was awarded SAAC's Premiere Award with the highest points score in SAAC judging history to that point. CSX2427 was featured in a number of publications and was a feature car at the 2012 Monterey Motorsports Reunion.
Without question, this is one of the rarest and most correct Shelby Cobras in existence. This historic Shelby Cobra will cross the auction block at Mecum Auctions Kissimmee sale taking place January 6th-16th.
Subscribe to Ford Authority for around-the-clock Ford news coverage.